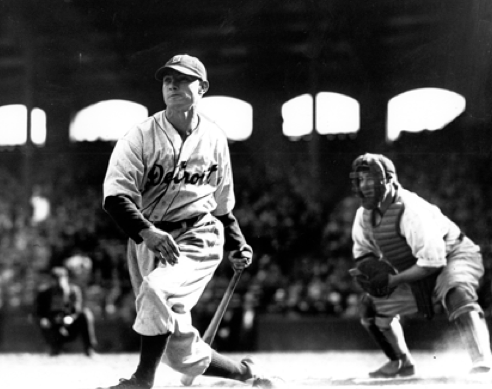 April 20, 1937: Detroit's Gee Walker hits for the cycle on Opening Day
---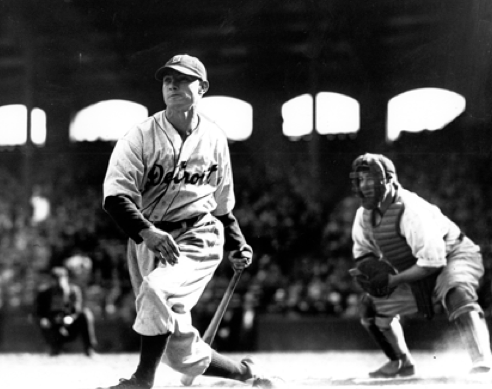 The Detroit Tigers and Cleveland Indians were coming off second- and fifth-place finishes, respectively, in 1936, and Detroit was just two seasons removed from back-to-back World Series appearances. Each team had high expectations for the new campaign. On Opening Day 1937, Detroit hosted Cleveland at Navin Field before a crowd of 38,200, who saw right fielder Gee Walker, the "Reconstructed Rebel, hit for the cycle with a home run, a triple, a two-base hit, and a single for a perfect day at the plate."1 The Detroit Free Press ran a banner headline that read, "Walker's Big Day at Plate Starts Tiger Pennant Drive."2
Tigers manager and catcher Mickey Cochrane named Elden Auker, the "big submarine hurler,"3 as his Opening Day starter. Cleveland skipper Steve O'Neill, in his third season leading the Tribe, countered with Mel Harder, a 6-foot-1 right-hander. Action started right away. The Indians' Lyn Lary led off the game with a double to right. Roy Hughes followed with a bunt single to the left of the batter's box. Auker retired Earl Averill on a pop fly to third baseman Rudy York. With Hal Trosky batting and runners at the corners, Hughes broke for second as Trosky struck out. Cochrane threw directly to shortstop Billy Rogell, who fired right back as Lary raced toward the plate. Cochrane, "in characteristic fashion, lunged for the Cleveland shortstop and turned a complete somersault while tagging him out"4 for a 2-6-2 double play.
In their half of the first, the Tigers also got things going right away. Jo-Jo White doubled down the left-field line and Cochrane sacrificed him to third. Charlie Gehringer worked a full count and then drove a single to right center to knock in White with the game's first run.
In the top of the second, Moose Solters walked and an out later Bruce Campbell forced Solters at second. Auker hit Frankie Pytlak with a pitch, and pitcher Harder's two-out single into right field brought Campbell around to score. In the bottom half, in his first at-bat of the season, Walker launched a home run over the left-field wall to lead off the inning, once again giving Detroit the lead.
The Tigers' lead did not last, as the Indians got three more hits off Auker in the top of the third. With Hughes on first after a single, "Averill whistled a drive down to first baseman Hank Greenberg,"5 who threw out Hughes at second, but Averill beat the relay to first. He advanced to second when Auker walked Trosky. Odell Hale then drove in Averill with a single to center to knot the score at 2-2.
An inning later, Cleveland took the advantage, as Lary singled with one out. Hughes attempted a sacrifice bunt. Auker "picked up the ball and threw it wildly past Greenberg, allowing Lary to score and moving Hughes to third."6
Leading off the bottom of the fourth inning, Walker tripled to center. Harder then walked Goose Goslin on four pitches.7 With rookie York at the plate, Harder "uncorked a pitch that catcher Pytlak couldn't hold,"8 allowing Walker to race home and Goslin to scamper to second. York's grounder to shortstop moved Goslin to third. Rogell grounded to second baseman Hale, who fired home for the out, but Goslin slid safely under the catcher and jarred the ball loose. The two unearned runs made the score 4-3 in favor of the hometown Tigers. That was all the scoring; the fans could probably tell that both teams were a bit rusty, with all the walks and errors.
In the home half of the fifth, Greenberg drew a one-out walk and Walker doubled to start another rally, but the Tigers could not score. In the seventh, Walker singled to left to complete the cycle. He was forced out at second by Goslin's grounder to the pitcher. In four trips to the plate, Walker had scored two runs and driven in one (on his solo homer).
Auker was touched for seven hits in the first four innings and, according to the Detroit Free Press, "was in all sorts of trouble. But when his mates rallied and gave him the lead again in that eventful fourth, Elden pitched like he never had before. He allowed only two scratch hits over the rest of the way and protected that slim one-run margin with a bitter determination."9 That included getting out of a jam in the eighth inning when Cleveland loaded the bases10 with two outs, but Auker was able to get Averill on a groundout to second. When he struck out Hale, looking, to end the game, Auker had his first win of the season. He had to wait more than a month, until May 28, for win number two. After two more starts, both losses, his ERA ballooned to 10.22, and Auker was sent to the bullpen after a May 9 start until Cochrane started him again on May 28.
The Tigers won nine of their first 13 games, but on May 10, they lost to Philadelphia and never saw first place for the rest of the season. The Indians were tied with Detroit on May 9 for the top American League spot, but by May 11, they too dropped from first and failed to reclaim the lead,11 owning fourth place when the 1937 season ended.12 Cleveland's bright spot of the game had to be seeing Lary and Hughes collect three hits each. Even though Harder took the loss, he allowed only two earned runs in seven innings pitched. Of the eight hits he allowed, half were for extra bases, and three of those went to Walker.
Walker, who had batted .353 in 1936, collected his first four hits of the season and the quartet just happened to accomplish the rare feat of hitting for the cycle. He became the first player to hit for the cycle on Opening Day. Baby Doll Jacobson of the St. Louis Browns hit for the cycle on April 17, 1924, an earlier calendar date, but it was the Browns' third game of the season. Thirty-five years after Walker, on April 16, 1972, San Francisco's Dave Kingman used his first four hits of the season to hit for the cycle, but it was his second game of the season.
In describing Walker's batting, the United Press told readers that Walker "paced the Detroiters with a grand slam at bat, blasting a homer, triple, double and single in four trips, for a perfect day."13 In 1937, "grand slam" was used to describe the four different hits.14 In fact, in reporting to his readers about this game, W.W. Edgar of the Detroit Free Press became one of the first baseball beat writers to use the term "cycle."
Walker's rare feat was also the fourth reverse natural cycle – he attained his hits in reverse order of total bases: home run, then triple, then double, then single. As of the start of the 2020 season, the 10 players who have hit reverse natural cycles are listed below:
Henry Larkin, Philadelphia (AA), June 16, 1885
Bid McPhee, Cincinnati (AA), August 26, 1887
Sam Mertes, New York (AL), October 4, 1904
Gee Walker, Detroit (AL), April 20, 1937
Arky Vaughan, Pittsburgh (NL), July 19, 1939
Jackie Robinson, Brooklyn (NL), August 29, 1948
Jim Fregosi, California (AL), July 28, 1964
Luke Scott, Houston (NL), July 28, 2006
Carlos Gomez, Minnesota (AL), May 7, 2008
Rajai Davis, Cleveland (AL), July 2, 2016
Two other players, both Yankees, hit for the cycle in 1937. Joe DiMaggio accomplished the feat on July 9 against the Washington Senators, and Lou Gehrig on August 1 against the St. Louis Browns.
At the end of this historic first game of the 1937 campaign, Walker was batting 1.000. He had an on-base percentage of 1.000 and a slugging percentage of 2.500, making his OPS 3.500. He batted .335 for the season, drove in a career-high 113 runs, and made his only All-Star team in a 15-year career in both leagues, but had only four triples. However, one of them contributed to this notable cycle.
Sources
In addition to the sources mentioned in the Notes, the author consulted Baseball-Reference.com, Retrosheet.org, and sabr.org.
https://www.baseball-reference.com/boxes/DET/DET193704200.shtml
http://www.retrosheet.org/boxesetc/1937/B04200DET1937.htm
Notes
Additional Stats
Detroit Tigers 4
Cleveland Indians 3
---
Navin Field
Detroit, MI
Box Score + PBP:
Corrections? Additions?
If you can help us improve this game story, contact us.
Tags
http://sabr.org/sites/default/files/Walker-Gee.png
600
800
admin
/wp-content/uploads/2020/02/sabr_logo.png
admin
2017-08-07 17:49:28
2020-07-28 12:45:09
April 20, 1937: Detroit's Gee Walker hits for the cycle on Opening Day