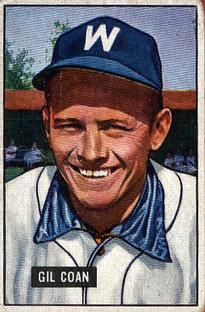 April 21, 1951: Mantle hits first career double; Gil Coan ties record with two triples in same inning
---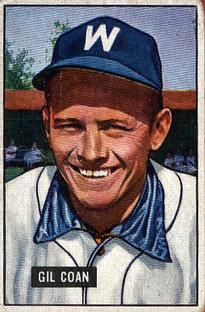 Granted, it was only the first week of the 1951 season, but the Washington Senators, perennial denizens of the American League second division, were perched atop the standings as they hosted the defending world champion New York Yankees on Saturday, April 21. The Senators were 4-0 with a pair of road wins at Philadelphia to open the season and an uncharacteristic doubleheader sweep of the formidable Yankees (2-2) at Griffith Stadium the day before.
Under manager Bucky Harris, Washington had young talent in Pete Runnels, Eddie Yost, and Cass Michaels, none older than 25. First baseman Mickey Vernon, 33, who debuted in the majors in 1939 before losing the 1944 and 1945 seasons to military service, was a veteran presence.1 Outfielders Sam Mele and Gil Coan were in the middle, both 29.2 Coan had been with the Senators since 1946,3 but had blossomed in 1950 with a .303 batting average in 104 games. He'd lost six weeks of that season to a fractured skull suffered June 2 on a slide into second base, but 1951 looked bright. Washington owner Calvin Griffith had recognized his efforts with a $3,000 raise for 1951; "For the first time in his five seasons in a Washington training camp, outfielder Gil Coan is enjoying the novel experience of being an accredited big leaguer."4 He had been "ailing,"5 in spring training and was playing in only his second game of the young season, batting second and playing left field.
With aging stars like Joe DiMaggio, 36, and Johnny Mize, 38, the 1951 Yankee regulars were considerably longer in the tooth than the Senators. But this day they had 19-year-old rookie Mickey Mantle batting leadoff. Signed in 1949, the switch-hitter had worn out pitching in Class D, and then Class C, and had jumped to a spot on manager Casey Stengel's Opening Day roster with a .403 average and nine home runs in spring training.6 Mantle had started each of the Yankees' first four games in right field and was there again today, with DiMaggio in center. Mantle had more strikeouts (4) than hits (3) as a major leaguer and was batting .188.
The afternoon's starting pitching matchup featured two 30-year-olds, each making his first 1951 start. Washington's Gene Bearden, a left-hander, had been a major factor as a rookie with the Cleveland Indians' 1948 World Series champions, but had been acquired off waivers by the Senators only two years later.7 Righty Spec Shea, the New York starter, had his own World Series bona fides, winning two games for the Yankees in the 1947 classic after a 14-5 All-Star rookie season.
With 10,971 Washington faithful assembled and hoping for a fifth straight win, Bearden got five outs before back-to-back doubles by Mize and third baseman Billy Johnson plated a New York run in the second. Then in the third, walks to Mantle and Jackie Jensen mixed with hits by Shea, Yogi Berra, DiMaggio, and Johnson chased Bearden as four more runs scored. Alton Brown got the last out of the inning for Washington but surrendered a run of his own in the Yankee fourth when Shea singled to lead off the inning, hustled to third on Mantle's single, and scored on Berra's sacrifice fly.
Shea, meanwhile, cruised through four innings yielding only two singles and a walk. With a 6-0 lead, though, he ran through some raindrops in the Washington fifth. Gene Verble and Sam Dente singled. Verble then moved to third on Mickey Grasso's fly ball out. With Sherry Robertson pinch-hitting for Brown, Dente stole second, posting two Senators in scoring position with only one out. But Robertson struck out and Yost popped to short to end the inning.
After Bob Ross, Washington's third pitcher on the day, disposed of the Yankees one-two-three in the top of the sixth, Shea's fifth inning raindrops became a deluge in the bottom of the inning. Coan, who had grounded out to second and lined out to right field earlier, opened the inning with a triple to right and promptly scored on Irv Noren's single. Vernon then moved things along with another single, and Mele scored Noren and chased Shea with yet another single. The new Yankee pitcher, Allie Reynolds 8, calmed things briefly by getting Verble on a foul pop to Joe Collins, who had replaced Mize at first base. Then wildness struck as Reynolds walked Dente to load the bases and Grasso to force in Vernon as the Senators cut the margin to 6-3. Reynolds got pinch-hitter Michaels on another foul pop to Collins, but then walked Yost to score Mele with the fourth Washington run.
That was it for Reynolds, as Stengel summoned journeyman right-hander Tom Ferrick. The bases were still loaded with Dente, Grasso, and Yost. The Senators had batted around, bringing Coan to the plate for the second time in the inning. The lithe, speedy North Carolinian solved Ferrick for his second triple of the inning, this one to center field. The three runs batted in put Washington ahead, 7-6. Ferrick finally quieted the crowd, getting Noren on a foul fly to Jensen in left field and stranding Coan on third.
Lefty Mickey Harris took the mound for Washington in the seventh but a shut-down inning eluded him. With one out, DiMaggio walked, then worked his way to third on Jensen's single and an error by second baseman Verble. Stengel spun managerial magic and demonstrated the depth of his bench by pinch-hitting right-hander Hank Bauer for lefty Joe Collins; Bauer delivered the tying run with a sacrifice fly to right.
Ferrick found a groove and shut down the Senators in the seventh, getting Vernon and Mele on ground outs and striking out Verble.
Harris encountered more trouble after one out in the eighth. Phil Rizzuto singled and Ferrick sacrificed him to second, bringing up Mantle. Lefty Bearden had gotten him out back in the first inning, but this time against another southpaw, the future Hall of Famer cracked a double, the first of 344 in his 18-year career, to left field.9 It scored Rizzuto and lifted the Yankees to an 8-7 lead.
And it ended that way. Washington coaxed two walks out of Ferrick in the eighth and got a leadoff double from Noren in the ninth. He got no further than third, though, as Ferrick hung in and, despite having been greeted by Coan's three-run triple back in the sixth, got the seesaw win for New York. Harris, who had entered the game with a lead, took the loss.10
Gil Coan's two triples in the same inning tied a major-league record accomplished only four times since 1901, initially in 1926 and most recently in 2006.11 He went on to hit .303 again for the 1951 season, posting what, at least by modern sabermetric reckoning was his best of his five seasons as a major-league regular.12 Oddly, he'd hit his first triple of the 1951 season the day before; after two in this game he hit only four more in 1951.
Mickey Mantle was hitting .260 with 52 strikeouts in 69 games when the Yankees optioned him to Triple-A Kansas City (American Association) in mid-July. "Mantle, after a fast start, slumped and became an easy mark for American League hurlers."13 He lost confidence and nearly quit baseball after initially faltering at Kansas City, but a stern lecture from his father convinced Mantle to stick with the game.14 He snapped back to hit .361 in 166 at-bats at Kansas City and was recalled by the Yankees on August 24. He hit .28415 over the rest of the Yankees' 1951 schedule, finished the season at .267, and never played in the minor leagues again. He retired as a lifetime Yankee after the 1968 season and was inducted into the National Baseball Hall of Fame in 1974.
Sources
In addition to the sources cited in the Notes, I also used the Baseball-Reference.com, Baseball-Almanac.com, and Retrosheet.org websites for box score, player, team, and season pages, pitching and batting game logs, and other material pertinent to this game account. The Newspapers.com website provided access to articles other than The Sporting News items, which were accessed through PaperofRecord.com.
Notes
Additional Stats
New York Yankees 8
Washington Senators 7
---
Griffith Stadium
Washington, DC
Box Score + PBP:
Corrections? Additions?
If you can help us improve this game story, contact us.
Tags
http://sabr.org/sites/default/files/CoanGil.jpg
600
800
admin
/wp-content/uploads/2020/02/sabr_logo.png
admin
2016-08-08 15:56:55
2020-10-08 15:01:37
April 21, 1951: Mantle hits first career double; Gil Coan ties record with two triples in same inning