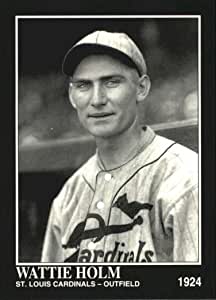 April 22, 1925: Cardinals inflict death by a thousand singles to win home opener over Reds
---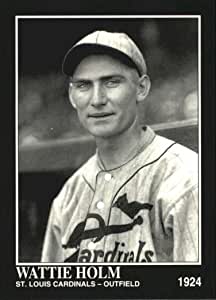 The National League celebrated the Golden Jubilee of the league founding in 1925. The St. Louis Cardinals had a pregame ceremony at their home opener, led by St. Louis Mayor Victor Miller. A Golden Jubilee pennant was raised along with the American flag, while a brass band played "The Star Spangled Banner." The band continued to play popular music throughout the game. Both the Cardinals' and the Reds' managers were involved with the ceremony and waved to the enthusiastic fans. Mayor Miller threw out five first pitches, only two of which weren't strikes.1
Partly cloudy and unseasonably warm weather (88 degrees)2 drew a crowd of about 15,500 to the ballpark at the corner of Grand and Dodier for the opener. There were 14,000 cash customers while the knothole-gang kids, admitted free under Branch Rickey's plan to build a long-lasting fan base, numbered about 1,500.3
Cardinals manager Rickey sent out young prospect Flint Rhem to start the home opener. Rhem had seven games of major-league experience, six with St. Louis in 1924 and one poor start against Cincinnati at Redland Field five days earlier. Cincinnati skipper Jack Hendricks wrote in Pete Donohue as his moundsman. Although only 24, Donohue was already a veteran of four quality big-league seasons and had won his first two starts of 1925, including a shutout of the visiting Cardinals in Cincinnati's home opener. On paper it looked like a major mismatch, although St. Louis was riding a four-game winning streak. A hundred members of the Royal Reds Rooters, the Cincinnati fan organization, came to St. Louis for the game, anticipating a victory. They brought a string orchestra with them to entertain their fans.4
Rhem was shaky in the top of the first. He retired Hughie Critz on an easy groundball 1-3, but Babe Pinelli, who 31 years later was the home-plate umpire for Don Larsen's World Series perfect game, knocked a single to center field. Edd Roush greeted Rhem roughly with a triple, scoring Pinelli. Cleanup hitter Rube Bressler singled Pinelli home. Rhem settled down, however, retiring Curt Walker and Elmer Smith on a fly out and popup respectively. The Reds had jumped out to a 2-0 lead.
The Cardinals must have learned something from that Opening Day shutout at the hands of Donohue because they were ready for him. Leadoff hitter Ray Blades singled, and was quickly followed with a single by right fielder Wattie Holm. Rogers Hornsby duplicated their efforts, driving in Blades, and cleanup hitter Jim Bottomley made it four straight singles when he drove in Holm. Hendricks had watched his number-one starter give up four line-drive singles without retiring a batter and had seen enough. He brought in Tom Sheehan to relieve Donohue. (Donohue didn't let this bad outing affect his year. He went on to win 21 games for the second time.)
Now it was Sheehan's job to put out the fire. He retired Les Bell on a groundout that scored Hornsby and moved Bottomley to second. But then the hit parade resumed. Heinie Mueller hit a bullet to center field, scoring Bottomley and himself advancing to third when Roush muffed it. Cuban catcher Mike Gonzalez singled up the middle to drive in Mueller. Light-hitting shortstop Tommy Thevenow singled through the box. And finally, pitcher Rhem joined the fun, singling up the middle and plating Gonzalez. Nine batters had come to the plate with eight of them hitting singles and six of them reaching home.
Unfortunately for Sheehan, the Cardinals lineup wasn't done. The leadoff man, Blades, grounded to the pitcher and the Reds retired Thevenow trying to score for the second out. Holm singled in Rhem for his second hit of the inning. Just as Sheehan was getting warm, Hendricks decided a new pitcher was needed to secure the last out so he waved in Cincinnati's Cuban representative, Pedro Dibut.
Dibut had a good, if limited, season in 1924, pitching 36⅔ innings with a 2.21 ERA. However, on this day he gave up a single to the best right-handed hitter in baseball, Hornsby, which drove in Blades. Bottomley, changing things up, doubled, driving in Holm and Hornsby. Bell then singled in Bottomley. Hendricks pulled Dibut after he surrendered three hits without recording an out. This inglorious outing was Dibut's last major-league appearance. He was unconditionally released by the Reds two weeks later. Hendricks went with his fourth pitcher of the inning, Harry Biemiller, who came in and retired Mueller, mercifully ending the carnage. The Cardinals had scored 11 runs.
The Cincinnati Enquirer's beat writer, Jack Ryder, was descriptive about the first-inning display. He wrote, "Bottomley's double, his second time up in the inning, was the only extra baser, but the eleven singles were beautiful drives, without a scratch or questionable hit among them."5
With a minor exception, this ended the competitive portion of the baseball game. Cincinnati did threaten Rhem in the third inning. With one out, Bressler doubled and was singled home by Walker. Then Smith reached on an error on Thevenow. With two on and one out, Rhem retired Ike Caveney and Bubbles Hargrave to end the threat. In the bottom of the fifth, the Cardinals got that run back when Rhem was hit by pitch and Holm doubled to left. Rhem scored on a muff of Holm's hit by Smith. That completed the scoring with the Cardinals leading 12-3.
Biemiller pitched a solid 6⅓ innings in relief, allowing only one hit, one walk, and one unearned run. He was relieved in the eighth by Neal Brady, who pitched a scoreless inning. Rhem went the distance for St. Louis, allowing 10 hits and three walks and three earned runs. Holm ended the day 3-for-5 at the plate with Blades, Hornsby, and Bottomley each on the ledger at 2-for-5. Even with 15 runs scored and the Reds using five pitchers, the game took only an hour and 47 minutes to complete.
Cincinnati took a measure of revenge for the 11-run first inning outburst and swept the final three games of the series, moving into a tie for first place. However, the Reds couldn't keep up that level of play over the course of the season. They finished in third place with a record of 80-73.
The St. Louis win moved the Cardinals into a tie with Cincinnati for second place in the National League, one game behind the New York Giants. This proved to be St. Louis's high-water mark for the season. The Cardinals played poorly, leading to a 13-25 record before the team kicked Rickey upstairs and installed Hornsby as manager. Hornsby had a pretty good season as a player-manager, batting .403 and managing the Cardinals to a 64-51 record. St. Louis ended the year at 77-76, in fourth place, 18 games behind the Pittsburgh Pirates.
Sources
In addition to the sources cited in the Notes, the author used Baseball-Reference.com and the SABR BioProject bios for box scores, player statistics, and background information.
https://www.baseball-reference.com/boxes/SLN/SLN192504220.shtml
https://www.retrosheet.org/boxesetc/1925/B04220SLN1925.htm
Notes
1 John Sheridan, "Opening Ceremonies Created Enthusiasm That Cardinals Continued in First Inning," St. Louis Globe Democrat, April 23, 1925: 11.
2 "Partly Cloudy, Not Much Change in Temperature," St. Louis Post-Dispatch, April 22, 1925: 1.
3 "Cards Score 11 Runs in One Inning and Win 5th Straight Game," St. Louis Post-Dispatch, April 23, 1925: 34.
4 Sheridan.
5 Jack Ryder, "Help! Cardinal's Sluggers Slaughter Queen City Hurlers," Cincinnati Enquirer, April 23, 1925: 14.
Additional Stats
St. Louis Cardinals 12
Cincinnati Reds 3
---
Sportsman's Park
St. Louis, MO
Box Score + PBP:
Corrections? Additions?
If you can help us improve this game story, contact us.
Tags
https://sabr.org/sites/default/files/HolmWattie-STL.jpg
600
800
admin
/wp-content/uploads/2020/02/sabr_logo.png
admin
2020-04-04 10:10:20
2020-06-22 16:23:16
April 22, 1925: Cardinals inflict death by a thousand singles to win home opener over Reds