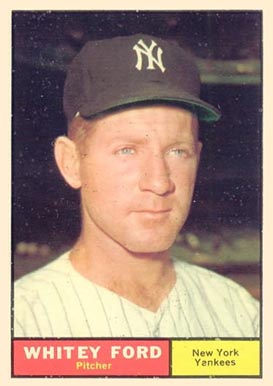 April 22, 1959: Whitey Ford pitches 14 shutout innings in 1-0 win
---
I guess it was the best game I ever pitched — Whitey Ford1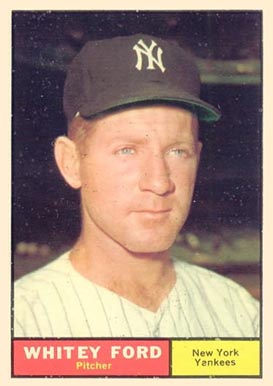 During a 16-year career, Whitey Ford pitched a total of 3,170⅓ innings. On eight occasions, he pitched more than nine innings. His longest outing, a 14-inning shutout in 42-degree weather, occurred in Griffith Stadium on April 22, 1959.2 The Yankees defeated the Senators 1-0.
A week before in Baltimore, the Yankees won their third game in as many starts, defeating the Baltimore Orioles in Memorial Stadium 3-1, behind Ford's complete-game win.3 The Yankees were 5-3 when Ford took the mound in Washington for the second game of a three-game series.
The New York Yankees began the 1959 season having finished in first place the previous four seasons. There was every expectation that 1959 would be no different.4 The Washington Senators, on the other hand, finished in last place in three of the prior four years. They finished in seventh place the one year they escaped the cellar.5
The 3-6 Senators' Bill Fischer opposed Ford on that chilly evening before 7,337 fans. He entered the game 0-0, after working six innings and getting a no-decision in a game the Senators lost to the Orioles, 4-3, in Baltimore. Described as an "undistinguished righthander,"6 Fischer spent time with the Chicago White Sox and Detroit Tigers before the Senators claimed him on waivers from Detroit on September 11, 1958.
Ironically, the game began inauspiciously for Ford. After Fischer retired the visiting team one-two-three in the top of the first inning, Reno Bertoia led off the bottom of the first with a double off Ford. Albie Pearson then lined out to third baseman Andy Carey. Ford settled down, retiring Bob Allison on an outfield fly and Jim Lemon on a groundout. Bertoia was stranded at second base. Throughout the 14 innings, the Senators never got a baserunner beyond second.
Ford gave up seven hits and walked seven. Harmon Killebrew singled with one out in the second inning, but was erased when Ken Aspromonte hit into an inning-ending double play. The Senators got two men aboard in the bottom of the third. Jay Porter opened the inning with a single. Two outs later he advanced to second when Ford walked Pearson. The inning ended when Allison grounded into a force play at second base.
Meanwhile, Fischer retired the first six Yankees he faced. He didn't give up a hit until Tony Kubek's fourth-inning single, his first of three singles off Fischer. Mickey Mantle walked, sending Kubek to second base, but Fischer retired the next three Yankees.
The Yankees threatened in the top of the sixth inning. With two men on and one out, Yogi Berra lined out to first baseman Norm Zauchin, who stepped on the bag, completing an unassisted double play. Their greatest chance came in the eighth inning. The Yankees loaded the bases on two hits and a walk, but Fischer retired Norm Siebern on a groundout to second.
With the game scoreless through nine innings, Ford was the scheduled leadoff hitter in the 10th inning. Yankees manager Casey Stengel let Ford hit, and he responded with a double off Fischer. Hank Bauer sacrificed Ford to third base. But the Yankees pitcher was stranded there when Fischer retired Kubek and Mantle on groundballs to second base. "With first [base] open and two out, the pitcher [Fischer] wanted to walk Mantle. After all, Mickey had blasted 17 of his 'road' homers here. He was a menacing sight at bat as he set himself. But manager Cookie Lavagetto talked Bill into pitching to the Switcher, and Mickey was out on a close play as he grounded to Reno Bertoia."7
The Senators threatened in their half of the 10th inning. Aspromonte opened the inning by walking. Porter bunted Aspromonte to second base. Ed Fitz Gerald, pinch-hitting for Fischer, grounded out to third base. Ford intentionally walked Bertoia before retiring Pearson on a pop fly to second base to end the inning.
Left-hander Chuck Stobbs came in to relieve and worked a one-two-three 11th inning. Ford answered, retiring the Senators in order. The game remained scoreless going into the 14th inning. Elston Howard, pinch-hitting for Siebern, began the frame by fouling out to catcher Porter. Bill Skowron then hit Stobbs' second pitch to him over the left-field fence to give the Yankees a 1-0 lead. It was Skowron's third home run of the young season and his first hit of the day. Stobbs retired Carey, but then gave up a double to Bobby Richardson. Stengel, sticking with his pitcher, sent Ford up to bat. When Stobbs walked Ford, Lavagetto replaced Stobbs with Dick Hyde. Hyde got Bauer on a comebacker to the mound.
Ford had allowed only one hit since the fourth inning, but the Senators weren't about to lay down. Zauchin opened the inning with a single. He was lifted for pinch-runner Bobby Malkmus. Killebrew's failed sacrifice bunt attempt resulted in a fielder's choice and put him at first base with one out. After Aspromonte popped out to second, Porter singled to center field: two on, two out. Ron Samford pinch-hit for Hyde. He ended the game by grounding out to second base.
Bill Fischer attributed his early-season success to Senators pitching coach Walter Beck.8 Fischer said, "Beck taught me how to relax out there when there was no need for bearing down with all I had all the time."9
It took 3 hours and 40 minutes to complete the game. Each team left 12 men on base. In earning his second win of the season, Whitey Ford's line score was 14 innings pitched, 0 runs, seven hits, seven walks, and 15 strikeouts (including Zauchin four times).
Interestingly, catcher Yogi Berra, who went hitless in six at-bats (he walked once), caught the entire game wearing a white cotton glove under his mitt. An allergic reaction to leather had caused a skin rash.10
Sources
https://baseball-reference.com/boxes/WS1/WS1195904220.shtml
https://retrosheet.org/boxesetc/1959/B04220WS11959.htm
Notes
1 Joe Trimble, "Ford Whiffs 15 as Yanks Win, 1-0, in 14th," New York Daily News, April 23, 1959: 76.
2 The seven other extra-inning games Ford pitched in his career are: September 18, 1956 (10 innings vs. Chicago); June 12, 1958 (10⅓ innings vs. Kansas City); August 6, 1961 (10 innings vs. Minnesota); August 1, 1962 (10 innings vs. Washington); April 16, 1964 (11 innings vs. Boston); June 20, 1964 (11 innings vs. Chicago); September 17, 1965 (10 innings vs. Detroit).
3 Ford ended the 1959 season with 16 wins, 10 losses, and two saves.
4 The Yankees finished the 1959 season 79-75, in third place, 15 games behind the Chicago White Sox and five games behind the Cleveland Indians.
5 In 1959 the Senators again finished in last place with a record of 63-91.
6 Joe Trimble.
7 Joe Trimble.
8 After his 10-inning shutout performance, Fischer tossed eight consecutive scoreless innings in his next start (April 26), against the Boston Red Sox before surrendering an unearned run in the ninth inning. After that game, he pitched on April 30 against the Detroit Tigers, limiting them to one run (an Eddie Yost fourth-inning home run) in nine innings.
9 Shirley Povich, "Nats Collect Big Dividend on Waiver-Price Twirler," The Sporting News, May 6, 1959: 9.
10 Joe Trimble.
Additional Stats
New York Yankees 1
Washington Senators 0
14 innings
---
Griffith Stadium
Washington, DC

Box Score + PBP:
Corrections? Additions?
If you can help us improve this game story, contact us.
Tags
https://sabr.org/sites/default/files/images/Ford-Whitey-Topps.jpg
600
800
admin
/wp-content/uploads/2020/02/sabr_logo.png
admin
2019-12-19 17:09:03
2020-04-17 10:22:21
April 22, 1959: Whitey Ford pitches 14 shutout innings in 1-0 win