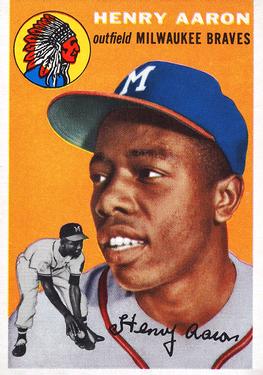 April 23, 1954: Hank Aaron hits first career home run as Braves and Cardinals battle for 14 innings
---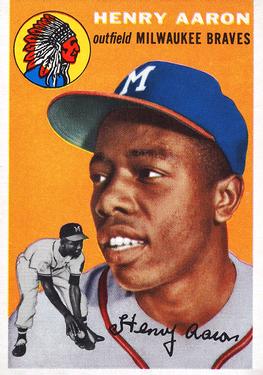 Unlike the gentleman who preceded him as baseball's home-run king, Hank Aaron was not, by any stretch, a flamboyant figure. Babe Ruth brought excitement into every train car, barroom, and ballpark. His home runs were mammoth; his presence, electrifying. Aaron was the opposite in demeanor, bringing a quiet consistency to fans in Milwaukee and Atlanta; his career total bases (6,856) and RBIs (2,297) lead the major leagues.
Aaron broke Ruth's record of 714 home runs on April 8, 1974, against the Los Angeles Dodgers and finished his career two years later with 755 home runs — it held until Barry Bonds hit his 756th in 2007. Bonds as of 2020 holds the career record with 762, though it's tainted because of the steroid controversy.1 Bud Selig was Major League Baseball's commissioner when Bonds broke the record — acting commissioner from 1992 to 1998 and commissioner from 1998 to 2015 — but despite MLB's official noting of Bonds as the home-run leader, he has affirmed, on occasion, Aaron to be the legitimate owner of the record.
During a 2019 radio interview on The Dan Patrick Show to promote his book For the Good of the Game, Selig — who had a personal connection to Aaron generated by his ownership stake in the Milwaukee Braves that he sold when the team moved to Atlanta after the 1965 season — declared his affinity for Aaron.2 They reunited in the mid-1970s when Selig signed him to the Milwaukee Brewers, the successors to the one-season Seattle Pilots (1969).3
On April 23, 1954, Aaron's home-run journey began in a 14-inning bout against the St. Louis Cardinals.
The rookie outfielder went 3-for-7; bashed a solo home run in the sixth inning; and scored an insurance run when a pinch-hit single by Jim Pendleton with the bases loaded sent Andy Pafko and the rookie across Busch Stadium's home plate in the top of the 14th.
Milwaukee's first-inning confrontation against Cardinals hurler Vic Raschi resulted in four hits and one run. Danny O'Connell and Eddie Mathews singled after the leadoff hitter, second baseman Jack Dittmer, lined out to left fielder Rip Repulski. Cleanup hitter Joe Adcock flied to 1954 Rookie of the Year Wally Moon, then Pafko singled to load the bases and Aaron singled home O'Connell. Raschi ended the barrage when Johnny Logan hit a pop fly to second baseman, team favorite, and future Hall of Famer Red Schoendienst.
Gene Conley, a rookie right-hander on a Braves pitching staff4 that included aces Warren Spahn and Lew Burdette, went 14-9 in 1954; began the game with walks to Repulski and Moon; and got a chance to help his cause by fielding a Schoendienst grounder and cutting off Repulski at third base. Stan Musial singled to score Moon and Schoendienst, the latter because of an error by Aaron.
The score stayed at 2-1 until the bottom of the third, when the Cardinals added two runs in an inning that had a little bit of everything. Moon singled and stole second base. (He tallied 18 steals for the season.) After striking out Schoendienst, Conley intentionally walked Musial and picked off Moon. Third baseman Ray Jablonski – not a power hitter but a solid batsman who hit .296 and had 104 RBIs in 1954 — banged one of his 12 home runs for the season to make the score 4-1. Conley escaped further damage with a 6-3 grounder by Tom Alston.
The Braves crept toward the Cardinals in the top of the fourth with Logan's solo homer. Cardinals bats were quiet in their half of the fourth; one fly out, two strikeouts.
Conley and Raschi kept each other's squads in run stagnation for the fifth inning, then Aaron hit his first major-league homer, a one-out solo shot in the top of the sixth. Raschi retired Logan and Braves backstop Del Crandall, both on 6-3 plays.
In the bottom of the sixth, Conley retired Musial on a grounder to Logan, walked Jablonski, and ended the inning with a 1-6-3 double play grounder by Alston.
Until the top of the ninth, the score was 4-3. Sibby Sisti scored from second on Dittmer's single; Crandall had doubled and left the game for pinch-runner Sisti.
Cardinals skipper Eddie Stanky tried three pinch-hitters in the bottom of the ninth: Frazier for Sal Yvars; Hemus for Alex Grammas; and Tom Burgess for Raschi. The farthest one of them got was Alston singling and stealing second.
Neither St. Louis nor Milwaukee broke the 4-4 tie until the top of the 13th, when Milwaukee catcher Charlie White hit a solo home run off the Cardinals' Cot Deal. Moon knocked one of his nine triples for the season and scored on Schoendienst's sacrifice fly; the rookie ended the day going 5-for-5.
The Braves went ahead for good in the top of the 14th. Pafko and Aaron each singled, then Logan was safe on Cardinals shortstop Solly Hemus's second error of the game. Pendleton batted for Milwaukee pitcher David Jolly and his bases-loaded single "broke up the wearisome struggle,"5 wrote Bob Wolf in the Milwaukee Journal.
St. Louis sent five hurlers to the mound for the game: Raschi, Al Brazle, Cot Deal, Joe Presko, and Royce Lint; the Braves, four: Conley, Ernie Johnson, Jolly, Ray Crone.
Two days before Aaron bashed his first home run, a newspaper article indicated a combination of nonchalance and confidence in the rookie. "On the way north this spring we were playing somebody with a pitcher he'd batted against last year," said Braves manager Charlie Grimm. "The boys were asking Henry if he'd had any trouble hitting this guy last year. 'Naw,' he tells 'em, I hit him in my sleep' and I'll bet he doesn't even know the guy's name."6
Aaron played in 122 games and hit .280 during his rookie season; he placed fourth in the National League Rookie of the Year voting. Power was not apparent — he hit 13 home runs. When Aaron broke Ruth's record, Atlanta Braves manager and former teammate Eddie Mathews recalled the 1954 season: "He hit everything, pitches up, down, inside, outside. What an aggressive hitter he was. He knew then he was something special, but it would be a lie to say we knew he might break Babe Ruth's record someday."7
Sources
The author used Baseball Reference and Retrosheet for box scores and play-by-play information.
baseball-reference.com/boxes/SLN/SLN195404230.shtml
retrosheet.org/boxesetc/1954/B04230SLN1954.htm
Notes
1 This article was written in 2020.
2 The Dan Patrick Show, AT&T Sports Networks, Premiere Radio Networks; Jared Schwartz, "Bud Selig Says Hank Aaron, Not Barry Bonds, Is True Home Run King," New York Post, July 17, 2019.
3 Aaron spent the last two years of his career (1975 and 1976) in Milwaukee.
4 Conley played in four games for the Braves in 1952, not enough to qualify for rookie status.
5 Bob Wolf, "Pendleton's Pinch Hit in 14th Gives Braves 7 to 5 Victory," Milwaukee Journal, April 24, 1954: 9.
6 Associated Press, "Pitchers Don't Awe Henry Aaron; He Doesn't Even Know Their Names," Janesville (Wisconsin) Daily Gazette," April 21, 1954: 16.
7 Eddie Mathews, "Just Amazing: That's All Mathews Can Say About Aaron's No. 715," Atlanta Constitution, April 9, 1974: 58.
Additional Stats
Milwaukee Braves 7
St. Louis Cardinals 5
14 innings
---
Busch Stadium
St. Louis, MO
Box Score + PBP:
Corrections? Additions?
If you can help us improve this game story, contact us.
Tags
https://sabr.org/sites/default/files/Aaron-Hank-1954.jpg
600
800
sabr
/wp-content/uploads/2020/02/sabr_logo.png
sabr
2020-04-19 15:42:35
2020-06-22 16:45:38
April 23, 1954: Hank Aaron hits first career home run as Braves and Cardinals battle for 14 innings