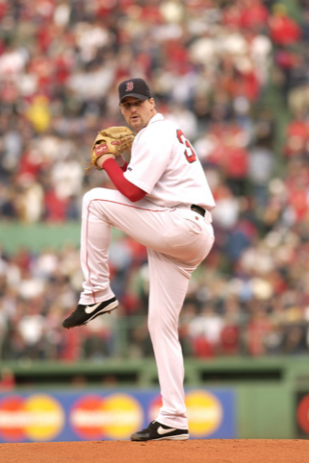 April 27, 2002: Pitcher and catcher are in sync as Boston's Derek Lowe no-hits Devil Rays
---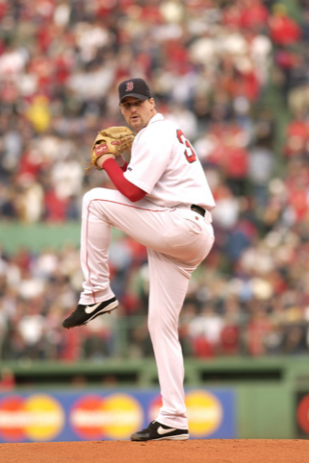 To throw a no-hitter typically takes a pitcher and catcher working in sync, among any number of other things going right. Red Sox right-hander Derek Lowe had Jason Varitek behind the plate; both pitcher and catcher had come to the Red Sox together in the same trade.
This was the second major-league no-hitter caught by Varitek; he had previously caught Hideo Nomo's on April 4, 2001. Tek later caught no-hitters by Clay Buchholz (September 1, 2007) and Jon Lester (May 19, 2008). No other catcher has caught four regular-season no-hitters, but if one includes the postseason (and why not?) Carlos Ruiz matched the accomplishment in 2015.1
After Lester's 2008 no-hitter, Varitek said, "I'm very fortunate. It's so exciting to be part of one as a catcher. Each one's so different."2
Of course, it was Lowe who threw the no-hitter. He had worked primarily as a reliever through the 2001 season. In 2000, he'd led the American League in closes (64) and saves (42). He'd appeared in 67 games in 2001 but had a bit of an off year. "I was booed off the field," he remembered.3 In fact, he was so reviled, he said, that when he had to use the bathroom in the bullpen, "I kind of slithered along the wall so they wouldn't see me."4 He added, "It's tough when you don't do well – especially in this town. When you don't win, you get it from everyone. It's not like in other cities, where you can just drift away."5
Lowe was given the opportunity to become a starter in 2002. It paid off; he had a 21-8 season with a 2.58 earned-run average.
In his first 2002 start, Lowe allowed the Orioles just one hit in seven innings of work, a base hit in the bottom of the eighth. On April 15 against the Yankees, he'd allowed just two hits, again in seven innings. He was 3-1 (2.73) when Tampa Bay came to Fenway on April 27. It was Kids' Opening Day.
Lowe was a sinkerball/groundball kind of pitcher, and he worked well with Varitek. He struck out six batters and got 13 groundball outs. Only five balls were hit out of the infield. But all it takes is one to drop in, or hit off the wall, and there's no no-hitter. He walked one batter in the third, and he faced only that one batter over the minimum. Even with all the scoring the Red Sox did, the game lasted only 2:28.
In the first inning Lowe struck out the first batter, then saw a flyball to deep center get reeled in by Rickey Henderson, then induced a grounder to short. Had the wind been blowing out, Randy Winn's deep fly to Henderson might have hit the wall or gone out. It was the closest thing to a hit the Rays rendered all Saturday afternoon. Boston took a 1-0 lead on a Henderson leadoff homer (the 80th leadoff shot of his long career).
There were three groundouts in the second. After a leadoff walk to Brent Abernathy in the third, there were three more groundouts. The Red Sox scored six more times in the bottom of the third, giving Lowe a comfortable cushion. While all that scoring was going on, Boston pitching coach Tony Cloninger said of Lowe, "He came up [to the clubhouse] and he was kind of dissatisfied with his mechanics. I just followed him up here and he was by the mirror working on mechanics a little bit. I said, 'Hey, don't worry about things. Just keep pitching the way you are. You're pitching a good game.'"6
In the fourth, there was a K, another fly ball (tracked down by Trot Nixon in right field, the only other ball struck that came close), and another groundout. In the fifth, it was two more groundouts bracketing a fly ball. And in the sixth inning, Lowe struck out the side. It's a safe bet that almost everyone in Fenway Park knew of the possibility at that point.
Nine pitches in the seventh inning set down three Rays in order – a strikeout, an unassisted groundout to first baseman Jose Offerman, and another fly ball to Nixon. The first and fourth innings had also been nine-pitch innings, as was the ninth.
The Red Sox added one more run in the fourth, and – after Lowe got the Rays on a fly ball to Manny Ramirez in left, a foul out to first base, and a 6-3 groundout, they added two more in the bottom of the eighth, the final run coming in when Shea Hillenbrand was hit by a pitch with the bases loaded.
There was a potential downside to adding on those couple of extra runs. Sitting on the bench was Lowe, waiting, well aware that he needed to get only three more outs before giving up a hit. "It was hard," he said. "Obviously, in a perfect world, you go 1-2-3 and run back out there. But the hitters don't care what's going on. They want to go out there and get RBIs, get hits."7
Varitek and Nixon both struck out and then it was time for Lowe to take the mound again and work the ninth. That's the time it can really get to you. "I saw Nomo do it. I thought, 'What would it be like to actually do it?' The second it comes into your mind, you've got to get back to the real world."8
"You've got a ground ball pitcher in Derek, so anytime a ball could just go right through the infield," said Varitek.9 The Rays hitters were impatient; Lowe threw only 28 pitches over the final three innings.
In the ninth, nothing went through the infield. Russ Johnson popped to Rey Sanchez at second base. Felix Escalona flied out to Henderson in center field; Henderson got a very good jump on the ball and caught it without drama. "I just told it to stay in the glove," he said.10 And the final batter, Jason Tyner, grounded out on a 2-and-2 pitch, Sanchez to Offerman at first base. Both fielded the ball cleanly. Lowe had his no-hitter. "I got him on a changeup with that last pitch," he said. "I didn't know how to react. I never stepped in this path before. …You know, it's funny, but it was after the game that I got nervous and jittery. I felt as though I still had to do something."11 A day later, he said he'd been "overtaken by 'a weird feeling' that he was somehow out of place, apparently unaccustomed to glory after last year's trials. 'I just was embarrassed,' he said. 'I wanted to have everybody get off the field and get back to the clubhouse.'"12
It was the first no-hitter at Fenway Park since Dave Morehead's in 1965.13 Because he'd saved so many games in 2000, he became the third pitcher (joining Dennis Eckersley and Dave Righetti) to have had both a 40-save season and a no-hitter.
"Jason called a great game," Lowe said, "I didn't shake him off once."14 Tek said he had done so, once, in the sixth or seventh inning. It took all of 97 pitches. He threw first-pitch strikes to 20 of the 28 batters.
Varitek thought back to the years he'd spent as Lowe's teammate since coming to Boston in 1995: "I was pretty bad, and he was a one-pitch pitcher on one side of the plate. And that's where we've come from. I couldn't hit, catch, or throw, and he couldn't throw except for one pitch over one side of the plate, so we've come a long way. … I understand Derek, and that's half the battle – understanding your pitchers."15 It's almost hard to believe," wrote Bob Hohler, that "Varitek once wanted almost nothing to do with Lowe because he had such a hard time catching his sinking fastball."16
Red Sox owner John Henry was seated next to the Red Sox dugout. "I think I was the only person in the ballpark not standing," he said. "I don't like to stand up with two strikes and two outs."17
Lowe had the last word: "It's almost surreal. You almost don't think it's you. I still don't feel I did what I did, as amazing as it sounds. You still think it's happened to somebody else."18
This article was published in SABR's "No-Hitters" (2017), edited by Bill Nowlin. To read more Games Project stories from this book, click here.
Notes
1 The no-hitters caught by Ruiz are: a combined no-hitter with Cole Hamels, Jake Diekman, Ken Giles, and Jonathan Papelbon on September 1, 2014, against the Braves; two in 2010 by Roy Halladay (May 29 against the Marlins and October 6 in the NLDS against the Reds), and then a complete game by Cole Hamels (July 25, 2015, against the Cubs).
2 Gordon Edes, "Varitek Gets His Mitts on History, Too," Boston Globe, May 20, 2008: D3. Edes also quoted pitching coach John Farrell: "That's a team effort, and Jason had a huge impact. Jon threw every pitch, but Jason's guidance got him to that point."
3 Ken McGuire, Associated Press, "Lowe Fires No-Hitter," April 28, 2002.
4 Bob Hohler, "High Time for Lowe; Fenway Sees First No-Hitter in 37 Years," Boston Globe, April 20, 2002: A1.
5 Jackie MacMullan, "Lowe's Theater Show-Stopper Status Was Tough to Picture," Boston Globe, April 28, 2002: D1.
6 David Heuschkel, "Hey, Lowe! Once Reviled Closer Nearly Perfect in First Fenway No-Hitter Since '65," Hartford Courant, April 28, 2002: E1.
7 Ibid.
8 Murray Chass, "Lowe No-Hits the Devil Rays, And Tames the Green Monster," New York Times, April 28, 2002: G1.
9 David Heuschkel.
10 Bob Hohler, "'Lucky Charm' Keyed the Sox' Hit Parade," Boston Globe, April 28, 2002: D13.
11 Jackie MacMullan.
12 Bob Hohler, "A Stunning Feat; No-No Afterglow Overwhelms Lowe," Boston Globe, April 29, 2002: D1.
13 The author of this game account was at the September 16, 1965 Morehead no-hitter, too.
14 Murray Chass, G5.
15 Michael Smith, "The Day Came To Stand Still; Wary Teammates Held Their Ground," Boston Globe, April 29, 2002: D12.
16 Hohler, "A Stunning Feat."
17 Mike Shalin, "Henry Seated as a Witness," Boston Herald, April 28, 2002: B23.
18 Tony Massarotti, "Lowe Soars to New High, No-Hits Rays," Boston Herald, April 28, 2002: B22. And David Heuschkel, Hartford Courant. After the game, first baseman Jose Offerman presented Lowe the game-winning ball on a platter, and the Hall of Fame asked him to donate something from the game. "Now you go there and see your hat and grubby old pair of shoes. And you can say, 'I've done something to be in here.'" Tony Massarotti," 'Tek Support," Boston Herald, April 28, 2002: B24.
Additional Stats
Boston Red Sox 10
Tampa Bay Devil Rays 0
---
Fenway Park
Boston, MA
Box Score + PBP:
Corrections? Additions?
If you can help us improve this game story, contact us.
Tags
https://sabr.org/sites/default/files/LoweDerek.png
600
800
admin
/wp-content/uploads/2020/02/sabr_logo.png
admin
2018-10-23 14:18:02
2020-04-17 10:23:50
April 27, 2002: Pitcher and catcher are in sync as Boston's Derek Lowe no-hits Devil Rays