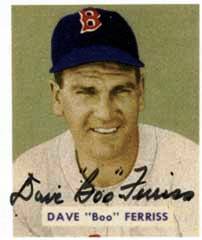 April 29, 1945: Boo Ferriss wins major-league debut and launches historic run
---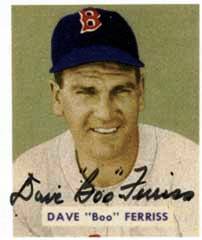 Like all the other major-league teams, the Boston Red Sox had lost many of their best players to military service during World War II. In 1945 five pitchers who had been regulars, Tex Hughson, Joe Dobson, Mickey Harris, Earl Johnson, and Mace Brown, were serving in the military.
The Red Sox had finished in fourth place in 1944, but with the turnover in the pitching staff, including the loss of Hughson, who led the team with 18 wins, they headed into the 1945 season with a largely unproven starting rotation that included rookies Jim Wilson and Randy Heflin and relative newcomers Emmett O'Neill, Rex Cecil, Vic Johnson, Clem Hausmann, and Clem Dreisewerd. Two veteran pitchers, 42-year-old Mike Ryba and 35-year-old Joe Bowman, were on the downside of their careers.
Thus, it was no great surprise that the Red Sox got off to a rough start in 1945, losing their first eight games. Desperate for pitching help, manager Joe Cronin got some advice from Bill McKechnie, manager of the Cincinnati Reds, whom Dave "Boo" Ferriss had faced in a spring-training game. "I think this young fellow Ferriss can help you," McKechnie told Cronin.1
Ferriss had been discharged from the Army Air Corps on February 24, 1945, because of an asthma condition. Red Sox general manager Eddie Collins assigned him to Louisville, the Red Sox' top farm team.2
Ferriss's only minor-league experience before he entered the military was 130 innings pitched for Class B Greensboro in 1942. However, he had gained considerable experience pitching for the team at Randolph Field in Texas while serving as a physical-training instructor for two years. His manager was former major leaguer Bibb Falk. Years later, Ferriss said of Falk, "He took me under his wing. I thought I knew a lot about baseball until I played for him. I guess he saw my potential, and he took a liking to me. I had a goal in mind [to play in the major leagues] and I was willing to work for it, and he liked that."3
Cronin heeded McKechnie's recommendation, and Ferriss got the call to join the Red Sox without ever pitching in a regular-season game for Louisville. Ferriss learned of his call-up from his manager at Louisville, Nemo Leibold. "I didn't know what Nemo wanted to see me about," Ferriss recalled. "I was worried he was going to tell me I was being sent down to Scranton or Greensboro. Instead he told me to catch the 5:30 train to Washington to join the big-league club."4 Ferriss watched five games from the Red Sox bench before he got the starting nod on April 29 at Shibe Park to face the Philadelphia Athletics in the first game of a Sunday doubleheader.5
Before a crowd of 23,828, the 23-year-old right-hander from Shaw, Mississippi, got off to an inauspicious start in the bottom of the first inning. He walked A's leadoff batter Charlie Metro on four pitches and then threw a wild pitch to Hal Peck, allowing Metro to advance to second base. Peck also walked on four balls. Red Sox coach Del Baker, filling in for manager Joe Cronin, who had broken his leg in a slide nine days before, emerged from the dugout to settle the rookie pitcher down. If Baker was about to yank Ferriss from the game, catcher Bob Garbark talked him out of it. Garbark told Baker that Ferriss was throwing the ball well, but just missing the plate.6
After Ferriss threw two balls to number-three batter Bobby Estalella (making it 10 straight balls to start the game), he retired Estallela on a pop fly. Frankie Hayes drew Ferriss's third walk, loading the bases, but Dick Siebert's grounder caromed off Ferriss's glove to shortstop Skeeter Newsome, who stepped on second and threw to first for a double play to end the nerve-wracking inning.
The Red Sox went ahead in the second. Bob Johnson singled off pitcher Bobo Newsom leading off. Pete Fox beat out a grounder to A's shortstop Ed Busch, and when Busch threw wild to first, Johnson scored.
Ferriss's second inning also started with a walk. But he soon got over his jitters and got two strikeouts to retire the side. Ferriss yielded the first A's hit to Hal Peck in the bottom of the third. The 6-foot-2 hurler then seemed to go into auto-pilot mode, giving up only two more walks and four hits the rest of the game.
In the third inning, Ferriss led off with a single, went to third on two sacrifices, and scored on a hit by George Metkovich. A left-handed batter, he got two more hits for a perfect 3-for-3 day at the plate. (Ferriss developed a reputation as a decent hitter for a pitcher, and occasionally pinch-hit for the Red Sox. His career batting average was .250.)
With the help of three double plays by the Red Sox – two of them started by Ferriss – he was able to keep the A's off the scoreboard. The only other Athletics threat came in the bottom of the ninth inning when outfielder Larry Rosenthal tripled with two outs. Ferriss retired Hal Peck and had his shutout.
Ferriss's gem over Connie Mack's A's lifted the Red Sox' record to 2-8. It was the first time in the 1945 season that the Red Sox pitchers had held the opposition to fewer than four runs in a game.
The Red Sox also won the second game of the Sunday doubleheader, scoring two runs in the top of the ninth inning to tie the game and winning it, 6-3, on Bob Johnson's home run in the 13th inning.
McKechnie's prediction about Ferriss had been spot-on. Ferriss's shutout performance was the first of eight consecutive wins to start his career. The unassuming ex-soldier from the town of Shaw in Mississippi's Delta region captured the nation's attention as an unexpected star.
Ferriss went on to win 21 games for the lackluster Red Sox, who finished the season in seventh place. Some surmised that his success was due in large part to having faced the weak lineups caused by the loss of experienced players to the armed forces. But Ferriss proved he was no fluke by winning 25 games in 1946, when most of the players had returned from the war and team rosters were largely restored. He led American League pitchers with a won-lost percentage of .806, while helping the Red Sox to their first pennant since 1918.
Ferriss's career was cut short by an arm injury suffered during the 1947 season. He made only nine major-league starts from 1948 to 1950. He was the pitching coach for the Red Sox from 1955 to 1959. Despite his shortened career, he was elected to the Boston Red Sox Hall of Fame in 2002.
Sources
In addition to the sources mentioned in the Notes, the author also consulted:
Aaron, Marc Z., and Bill Nowlin, eds. Who's on First: Replacement Players in World War II (Phoenix: Society for American Baseball Research, 2015).
Birtwell, Roger. "Rookie Paces Sox' Sweep, 2-0 and 6-3," Boston Globe, April 30, 1945, 4.
Pietrusza, David, Matthew Silverman, and Michael Gershman, eds. Baseball: The Biographical Encyclopedia (New York: Total/Sports Illustrated, 2000).
Notes
Additional Stats
Boston Red Sox 2
Philadelphia A's 0
Game 1, DH
---
Shibe Park
Philadelphia, PA
Box Score + PBP:
Corrections? Additions?
If you can help us improve this game story, contact us.
Tags
http://bioproj.sabr.org/bp_ftp/images3/FerrissBoo.jpg
600
800
admin
/wp-content/uploads/2020/02/sabr_logo.png
admin
2016-05-25 15:16:25
2020-04-17 10:26:41
April 29, 1945: Boo Ferriss wins major-league debut and launches historic run