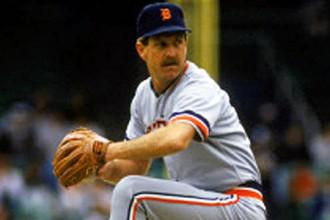 April 29, 1984: Petry takes no-hitter into 8th to cap Tigers' historic April
---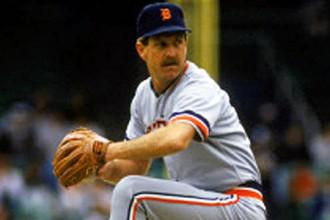 "Something is in the air in Detroit. It's contagious. It's glorious, and it just gets better every day," wrote Charles Green of the Associated Press as the Tigers closed out the first month of the 1984 season. "Tigermania has Detroit, and a good part of the rest of Michigan, by the throat and the victims are euphoric."1
The electricity in the air at Tiger Stadium reminded fans of 1968, when the Tigers last won it all, and 1976, when eccentric rookie Mark "The Bird" Fidrych captured fans' hearts and national attention. The Tigers won their first nine games of 1984 and 16 of their first 17. Jack Morris threw a no-hitter on national TV on the season's first weekend. Alan Trammell hit .400 through the first three weeks. A grueling 19-inning loss to the Cleveland Indians on April 27 was just the second blemish on the Tigers' record. After bouncing back with a win over the Indians the next day, the Tigers' record stood at 17-2 with one game left in April.
"There are many ways to describe what is happening in this town these days," wrote Detroit Free Press columnist Mike Downey, "but one sentence can sum it up nicely. Detroit has baseball on the brain."2
The Tigers closed out the series with Cleveland at Tiger Stadium on a Sunday afternoon. Taking the hill was Dan Petry, the Tigers' top starter behind Morris. Under the tutelage of masterful pitching coach Roger Craig, Petry was forming a formidable one-two punch with Morris; the two combined for 29 complete games and 39 wins in 1983. Thanks to early offdays and rainouts, Morris and Petry had started seven of the Tigers' first 10 games this season.
"Morris and Petry are hard to beat," said the Royals' Frank White on April 19 after Kansas City handed Petry and the Tigers their first loss. "They've both got four pitches they can get over. Morris has an excellent fastball, and Petry's arm motion is so fast it's hard to pick up his pitches."3
Tigers manager Sparky Anderson said, "I'd take them over any other two pitchers in the majors."4
While Morris and Petry were selected in the same draft and were nearly the same height and weight (Morris is listed at 6-feet-3-inches, 195 pounds at baseball-reference.com. Petry is listed at 6-4, 185.), and wore nearly the same uniform numbers (47 and 46 on their respective jerseys), they had much different personalities. Where Morris could be cocky and cranky, and disagreeable with reporters, Petry was understated, self-effacing, and easy-going.
"Once I suggested to Dan that he's probably too sweet a person to dominate and become a superstar," wrote Toledo Blade columnist Tom Loomis, adding that Petry politely conceded the suggestion. "'I'm working on that, Mr. Loomis. I have to get tougher.'"5
In the April finale, Petry struck out three of the first four Cleveland batters he faced, before running into trouble in the top of the second. He walked Pat Tabler, who advanced to second on Ron Hassey's groundout to first. Petry threw a wild pitch to Brook Jacoby that moved Tabler to third and subsequently walked Jacoby to put runners at the corners. But he fanned the next batter, George Vukovich, to snuff out the threat.
The game was scoreless until the bottom of the third, when Kirk Gibson doubled to score Tom Brookens and Lou Whitaker. Lance Parrish followed with a double to bring home Gibson, and the Tigers led 3-0. They added another run in the bottom of the fifth on a Gibson RBI single.
Petry cruised after his tenuous second inning. He added three more strikeouts and hadn't allowed another baserunner as he took the mound in the top of the eighth. He got Ron Hassey to ground out to Whitaker at second for the first out of the inning.
Tiger Stadium buzzed with anticipation of a possible no-hitter. Morris's no-hitter in Chicago earlier in the month was the Tigers' first since Jim Bunning's in 1958. After 26 years between no-hitters, the Tigers were poised to get two in 23 days, this one in front of the home crowd.
The next batter, pinch-hitter Broderick Perkins, lined a rocket down the third-base line. Brookens made a diving stop after one hop, got to his feet, and fired to first for the out.6 Petry was four outs away, and his defense had just snared one of the hardest-hit balls of the day.
"When Brookens made that play … I said, 'Hey, this is it,'" Petry said after the game. "I thought I was gonna get it."7
Next up was Vukovich. Petry had fanned him to escape the jam in the second. But this time, Vukovich connected and launched a double to the gap in left-center. The no-hitter was gone.
"I kidded [center fielder] Chet Lemon that he should have caught the ball, but there was no chance," wrote manager Sparky Anderson, in his diary published after the season.8
"I've always said I never wanted to lose a no-hitter on a bunt or a bloop," Petry said. "He hit it good."9
Vukovbich spoke about his double afterward. "[I] waited almost the whole game to get a pitch I could handle, one that was a strike, instead of going for those borderline pitches he was throwing. I got the hit off a fastball over the middle of the plate because I didn't give in."10
The Tiger Stadium crowd gave Petry a standing ovation. Petry tipped his cap to the crowd. The California native later said he'd seen a picture of his childhood idol, Nolan Ryan, doing the same thing after losing a no-hitter with the Angels, and wanted to follow suit.11 Petry got Indians pinch-hitter Mike Hargrove to pop out to second to end the inning.
In the bottom of the eighth, Trammell came to the plate for the first time, after Anderson had rested him the first seven innings. Anderson later said he forgot that his shortstop had a 16-game hitting streak and didn't realize that bringing him in for one at-bat put the streak at risk.12 But Trammell hit a double.13 After Lemon was intentionally walked, Dave Bergman singled to bring home Trammell. Then Brookens, who had starred on defense, showed off his bat, hitting a single to score Lemon. The two-out rally gave the Tigers a 6-0 lead.
In the dugout, Anderson decided his starter's day was done. Petry had left his last start in the fourth inning earlier in the week due to elbow stiffness, and with the no-hitter gone, it wasn't worth the risk.
"I told them, 'My arm feels good but I'm running out of gas,'" Petry said. "Sparky said, 'I'll make the decision for you. That's enough. No reason to go out and hurt (the arm) again.'"14
In came Willie Hernandez, acquired a month earlier from the Phillies to anchor the bullpen. He walked Brett Butler to lead off the inning before striking out Tony Bernazard. Then Julio Franco hit a double to score Butler and ruin the shutout. Hernandez induced a popup and a fly ball to end the game.
"It was a weird feeling," Petry said of his near miss. "I wasn't nervous – just one of those feelings like, when you're out there, you're unhittable. I've never come anywhere close to that in my career."15
He added, "It's every pitcher's dream to throw one. I never thought I was capable. Now I know what it feels like."16
Skipper Anderson offered his praise. "Danny is coming so close to greatness now. He is a tremendous young man, and so dedicated."17
The win ended the Tigers' unforgettable first month at 18-2. Incredibly, they had suffered only one nine-inning loss and had already opened a six-game lead over Toronto in the AL East.
"No Tiger team has ever had an 18-2 April," Anderson wrote. "I never dreamed we would. May might even be better!"18
Sources
In addition to the sources mentioned in the notes, the author consulted Retrosheet.org and Baseball-Reference.com.
http://retrosheet.org/boxesetc/1984/B04290DET1984.htm
http://baseball-reference.com/boxes/DET/DET198404290.shtml
Notes
Additional Stats
Detroit Tigers 6
Cleveland Indians 1
---
Tiger Stadium
Detroit, MI
Box Score + PBP:
Corrections? Additions?
If you can help us improve this game story, contact us.
Tags
https://sabr.org/sites/default/files/PetryDan.jpg
600
800
admin
/wp-content/uploads/2020/02/sabr_logo.png
admin
2017-05-19 00:28:45
2020-04-17 10:25:50
April 29, 1984: Petry takes no-hitter into 8th to cap Tigers' historic April