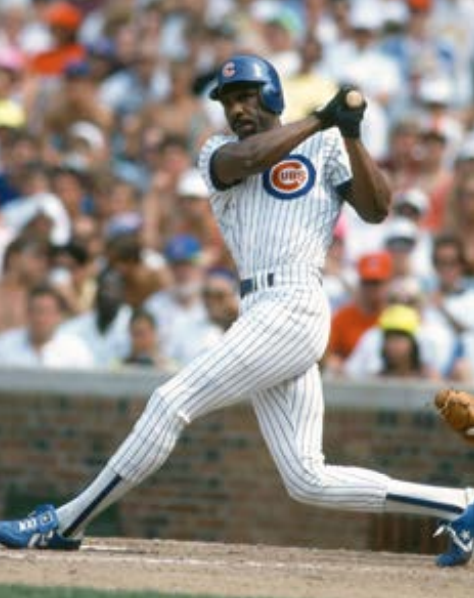 April 29, 1987: Andre Dawson hits for cycle as rookie Greg Maddux earns first win of the year
---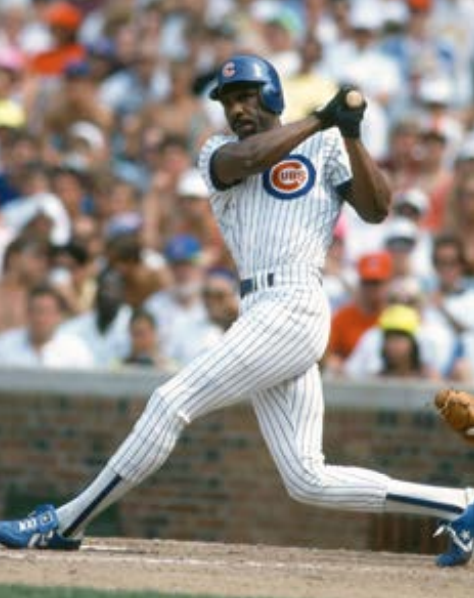 In 1987, his first season with the Chicago Cubs, Andre Dawson got his MVP season going with a 5-for-5 performance against the San Francisco Giants, including joining the ranks of those who have hit for the cycle. After 11 seasons in Montreal, he had signed with the Cubs as a free agent in March, taking less money than the Expos offered, in order to "play in Wrigley Field on natural turf that he thought might benefit his tender knees."1
It was almost the end of the first month of baseball, and the NL East second-place Cubs were hosting the NL West first-place Giants in a midweek day game. Only 11,120 fans braved the April weather, as Chicago lived up to its nickname, the Windy City. "Battling a bright sun and strong wind,"2 the Giants committed four errors and the Cubs one, and "numerous windblown hits drove both managers and fans crazy."3 Pitching for Chicago was a right-handed rookie named Greg Maddux, making his fourth start of the season,4 bringing a record of 0-2 and an earned run average of 6½ runs per game. For the Giants, skipper Roger Craig called on right-hander Roger Mason to toe the rubber.
The Giants struck first on doubles by Chili Davis and Candy Maldonado. Chicago answered in the bottom half when Dawson launched a two-out home run, his sixth of the season, to tie the score. The Chicago Tribune's sports section showed a photo of the fans scrambling for the ball in the left-field bleachers.
In the second inning, Maddux "took a low blow,"5 as former Cub Chris Speier drilled the pitcher just below the belt with a line drive. He stayed in the game, and after a few practice tosses to recuperate, Maddux pitched to Mason. Mason sent a one-hopper into right field. Dawson charged it and threw to first in time to nail Mason for the out. After the game, Dawson said, "I was cheating in a little bit and hoping he'd hit the ball to me."6 The box score listed the play as a lineout, RF-1B.
Davis singled in the third for the Giants. With Jeffrey Leonard batting, Maddux had Davis picked off at first base, but the young pitcher threw the ball away, enabling Davis to go to third. Leonard then stroked a single to the right side and Davis scored an unearned run. Again the Cubs answered. Dave Martinez hit a single into right field. Maldonado fielded it but dropped the ball twice, allowing Martinez to scamper to third. Maldonado was charged two errors on the play. After Maddux grounded to short, Chico Walker singled, driving in Martinez. Walker stole second and Ryne Sandberg walked, bringing Dawson to the plate. He lined a double to right. Walker scored, but Sandberg was out at home. Keith Moreland struck out, but the Cubs had taken the lead.
The Giants scored the equalizer in the fourth on rookie Matt Williams's second home run of the season. In the bottom of the fourth, Chicago took the lead for good. Leon Durham led off with a single to right. An out later, Shawon Dunston reached on a wind-blown error when center fielder Davis misplayed his fly ball. Martinez then tripled to deep center, clearing the bases. This brought San Francisco skipper Craig to the mound to make a change. Righty Greg Minton came in from the bullpen and Mason left for the showers. Maddux reached on a fielder's choice and Walker singled, making the score now 6-3. Dawson added a two-out single to load the bases, but Minton retired Moreland on a comebacker to the mound to end the rally.
In the bottom of the fifth, Chicago added another run. Durham led off with a single, Jody Davis doubled, and Minton intentionally walked Martinez after Dunston had flied out. When Jerry Mumphrey, pinch-hitting for Maddux, reached on second baseman Speier's error, Durham scored.
With Maddux done for the day, Dickie Noles was now pitching for Chicago, but he had trouble finding the strike zone. Although he allowed no runs in the top of the sixth, he walked two and threw a ball in the dirt with Mike Aldrete batting (the Cubs' catcher Jody Davis was charged with a passed ball).
Mike LaCoss became San Francisco's third pitcher in the sixth. After Sandberg grounded out, Dawson bashed an opposite-field triple, but he was stranded when his teammates could not bring him home. According to Dawson, "The toughest at-bat was probably the triple, because the pitcher was ahead in the count, and you never know what pitch he's going to get you out with in that situation. It was a good pitcher's pitch, over the plate and on the way down."7 With the triple, Dawson had now hit for the cycle, becoming the 10th Cub to hit for the cycle and the first since Ivan de Jesus accomplished it on April 22, 1980. Dawson told the Associated Press, "I didn't know I had never hit for the cycle, but this is a game I won't forget. It came with a new club after playing 10 years with another club."8
In the seventh, Noles's wildness on the mound continued as Leonard drew a walk. Maldonado advanced him to third with a single, and Harry Spilman lifted a sacrifice fly to left, Leonard scoring. Ed Lynch came in to try to save the win for the Cubs. Chicago got a run in the seventh inning. Dunston walked, stole second, and scored on Martinez's single, his third hit of the game.
Maddux picked up his first win of the season while lasting only five innings and allowing three runs (two earned). He struck out six, walked two, and yielded seven hits. Despite the short outing, his manager, Gene Michael, had faith in him, saying, "I still feel Maddux can pitch better than he did. I think everybody does, because he has a good arm."9 Lynch pitched 2⅔ shutout innings and earned his first save in three seasons (when he struck out Dawson to end a game on July 25, 1984), as the Cubs won for only the second time in nine home games for the season (they were 8-2 on the road). Chicago kept pace with the division-leading Cardinals by remaining only one game back. Mason took the loss for the Giants, and after getting only 10 outs in the game, this was his last appearance in the big leagues until September 1989. San Francisco's three-game winning streak was halted. Manager Craig described the weather conditions: "The winds made it look like Candlestick Park. It wasn't pretty, but it was a lot prettier for them than it was for us."10
This was the fourth time the Hawk had collected five hits in a game. "Whenever you get five hits in five at-bats, I guess you've done all you're capable of doing," he told the Chicago Tribune.11 His batting average had shot up 119 points in his last seven games, from .167 to .286, as he went 14-for 29 (a .483 clip). His slugging percentage rose from .313 to .610 in that span, and he knocked in 12 runs. Three other players, all from the National League, hit for the cycle in 1987 (San Francisco's Maldonado on May 4, Montreal's Tim Raines on August 16, and Atlanta's Albert Hall on September 23).
Dawson, the 1977 National League Rookie of the Year, finished the 1987 campaign with a league-leading 49 home runs, 137 RBIs, and 353 total bases (11 in this game).12 His season culminated in winning the NL's Most Valuable Player Award, playing in his fourth All-Star Game, and taking home his seventh Gold Glove Award and fourth Silver Slugger Award. The Cubs did not fare so well, finishing the season with a 76-85 record.
This article appears in "Wrigley Field: The Friendly Confines at Clark and Addison" (SABR, 2019), edited by Gregory H. Wolf. To read more stories from this book online, click here.
Sources
In addition to the sources mentioned in the notes, the author consulted baseball-reference.com, mlb.com, and retrosheet.org.
https://www.baseball-reference.com/boxes/CHN/CHN198704290.shtml
http://www.retrosheet.org/boxesetc/1987/B04290CHN1987.htm
Notes
1 "Dawson Still Taking His Cut, Goes 5 for 5 for the Cubs," Los Angeles Times, April 30, 1987: 303.
2 "Dawson's Cycle Runs Over Giants," St. Louis Post-Dispatch, April 30, 1987: 32.
3 Fred Mitchell, "Dawson's Cycle Gets Cubs Rolling at Home," Chicago Tribune, April 30, 1987: 47, 54.
4 Maddux had appeared in six games in 1986, making five starts and throwing 31 innings. He had a 2-4 record and 5.52 ERA.
5 Mitchell.
6 Ibid.
7 Ibid.
8 Los Angeles Times.
9 Mitchell.
10 St. Louis Post-Dispatch.
11 Mitchell.
12 Dawson hit 27 of his 49 home runs at Wrigley Field in 1987. Of his 49 blasts, 37 came in day games.
Additional Stats
Chicago Cubs 8
San Francisco Giants 4
---
Wrigley Field
Chicago, IL
Box Score + PBP:
Corrections? Additions?
If you can help us improve this game story, contact us.
Tags
https://sabr.org/sites/default/files/DawsonAndre.jpg
600
800
admin
/wp-content/uploads/2020/02/sabr_logo.png
admin
2019-12-16 15:21:40
2020-04-17 10:22:21
April 29, 1987: Andre Dawson hits for cycle as rookie Greg Maddux earns first win of the year