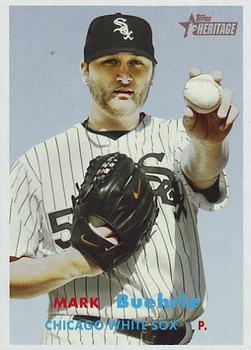 April 4, 2005: A magical season begins for White Sox (in under two hours)
---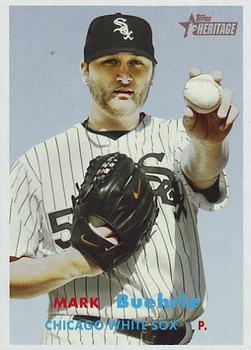 Sometimes a magical season begins with offensive thunder, other times more quietly. For the 2005 Chicago White Sox, the road to the franchise's first World Series championship in 88 years began quickly: with a 1-0 victory over the Cleveland Indians on April 4 in just an hour and 51 minutes. Credit White Sox starting pitcher Mark Buehrle, never a man to dawdle, and closer Shingo Takatsu, who worked a one-two-three ninth.
Buehrle, who retired the first 12 Cleveland batters to start the game, allowed only two hits and one walk in his eight innings of work, and — helped by two 5-4-3 double plays started by White Sox third baseman Joe Crede — faced only 25 batters, one over the minimum. He struck out five. The only hits he permitted were singles by Victor Martinez to lead off the fifth and Coco Crisp to open the seventh. Both were erased on double plays. "We have a good defense, so let them put the ball in play," Buehrle said after the game. "Buehrle was as good as I've ever seen him," said Cleveland manager Eric Wedge.1
Indians starter Jake Westbrook was excellent as well, pitching a complete game while permitting only four hits and one walk. "You've got to match him pitch for pitch," Westbrook said of Buehrle. "It's tough to go out and continue to put up zeroes. He one-upped me today."2
Buehrle's performance was a near-duplicate of his start against the Indians at Cleveland's Jacobs Field on July 21, 2004.3 In that contest, a 14-0 White Sox victory, Buehrle had a perfect game for 6⅓ innings before finishing with a two-hit shutout in which he faced the minimum 27 batters, thanks to two double plays. Wedge felt that Buehrle's 2005 Opening Day performance surpassed the 2004 gem. "I really thought he was even better [than last season]," said Wedge. "He commanded the game. He didn't give in, and when he got behind he was still able to make pitches. You just have to tip your cap to him today."4 Those two starts were not typical of Buehrle's career work against the Indians. Overall, he was 16-18 against Cleveland for his career, with a 4.93 ERA that was his second highest against any American League opponent (6.03 vs. the Yankees).
The White Sox team that began the season at US Cellular Field featured a revamped roster with a greater emphasis on speed, defense, and pitching.5 The White Sox front office felt that change was needed after the 2004 team finished only four games over .500 (83-79) despite slugging a franchise-record 242 home runs (tied with the New York Yankees for the most major-league home runs in 2004). Buehrle was making his fourth consecutive Opening Day start for the White Sox, but the other eight position players who took the field featured only three holdovers from the 2004 opener in Kansas City: first baseman Paul Konerko, center fielder Aaron Rowand, and Crede.
"The manner in which the Sox scored their only run was a victory in itself for general manager Ken Williams and manager Ozzie Guillen, who had grown tired of watching the team fall short year after year despite a lineup stacked with sluggers," wrote Chicago Tribune reporter Mark Gonzales.6 Leading off the bottom of the seventh. Konerko doubled to left field, then took third on a fly out to right by offseason free-agent signee Jermaine Dye. Indians shortstop Jhonny Peralta, the first player other than Omar Vizquel to start a season at shortstop for the Indians since 1993, then fumbled Rowand's grounder, allowing Konerko to score. "He started to run and I started to go into the ball. I couldn't catch the ball," said Peralta. Said the slow-footed Konerko, "If the guy throws the ball, I'm going to be out probably."7
After only one game, White Sox players seemed to sense that this was a different team from years past, and perhaps one heading for something special. "I like seeing the home run like anyone else," said Konerko. "[But] I enjoy this team because a lot of the guys are on the same wavelength, how they feel about their teammates and check everything at the door." On the fly out to right that allowed Konerko to advance to third, Dye commented that "you've got to get him over, somehow, some way. That's what Ozzie preached in spring training. Late in the ballgame, I know as a veteran player what it takes to get him over. I'm not trying to drive the ball." Rowand added praise for Kenny Williams: "Hats off to Kenny for bringing in the guys who want to get it done. … We don't have anyone on this team who is selfish. …"8
Those glowing comments proved to be an accurate assessment of how the White Sox would perform in 2005. Though they were threatened by the Indians late in the season, the White Sox held first place in the American League Central Division for all 183 days of the season. The team was particularly strong early in the year. Chicago held a lead at some point in each of its first 37 games of the season, breaking a record of 25 straight games from the start of the season with a lead set by the 1955 Brooklyn Dodgers. The team also recorded three separate eight-game winning streaks prior to July 1, becoming only the fifth team since 1900 to accomplish that feat (1912 New York Giants, 1978 Boston Red Sox, 1998 New York Yankees, 2001 Seattle Mariners). As for the "small-ball" skills displayed in the Opening Day win, the White Sox postseason media guide reported that the 2005 team led the American League in sacrifice hits (53) and bunt hits (37), while ranking third in stolen bases (137).9
Buehrle finished the 2005 season with a 16-8 record, while posting a career-low 3.12 ERA. He led the American League in innings pitched (236⅔) for the second straight season. In addition, Buehrle was he winning pitcher for the American League in the 2005 All-Star Game at Detroit's Comerica Park. In his 2-1 victory over the Seattle Mariners in his third start of the season on April 16, Buehrle bettered even his Opening Day performance when it came to quick work: The game took just an hour and 39 minutes.
For Buehrle and the White Sox, the year culminated in a dominant postseason in which the team posted an 11-1 record, defeating the Houston Astros in four straight games for its first World Series championship since 1917. Fittingly, the White Sox year ended the way it began: with a 1-0 victory.
Sources
In addition to the sources cited in the Notes, the author consulted Baseball-Reference.com and Retrosheet.org.
Notes
1 Associated Press, "Buehrle Shuts Out Indians with Two-Hit Gem," espn.com/mlb/recap?gameId=250404104; accessed January 12, 2020.
2 "Buehrle Shuts Out Indians."
3 Jacobs Field was renamed Progressive Field in 2008.
4 Bolt Foltman, "Indians Baffled by the Same Old Stuff," Chicago Tribune, April 5, 2005: 4-4.
5 The White Sox ballpark was renamed Guaranteed Rate Field in 2017.
6 Mark Gonzales, "Small Ball Rules: Buehrle's Gem, 1 Run Just Enough to Top Cleveland," Chicago Tribune, April 5, 2005: 4-1.
7 "Buehrle Shuts Out Indians."
8 Gonzales.
9 Bob Beghtol, ed., 2005 Chicago White Sox Season in Review (Chicago: Chicago White Sox: 2005), 3-5 (all statistics cited in this paragraph).
Additional Stats
Chicago White Sox 1
Cleveland Indians 0
---
U.S. Cellular Field
Chicago, IL
Box Score + PBP:
Corrections? Additions?
If you can help us improve this game story, contact us.
Tags
https://sabr.org/sites/default/files/Buehrle-Mark.jpg
600
800
admin
/wp-content/uploads/2020/02/sabr_logo.png
admin
2020-03-05 11:07:08
2020-04-17 10:22:16
April 4, 2005: A magical season begins for White Sox (in under two hours)