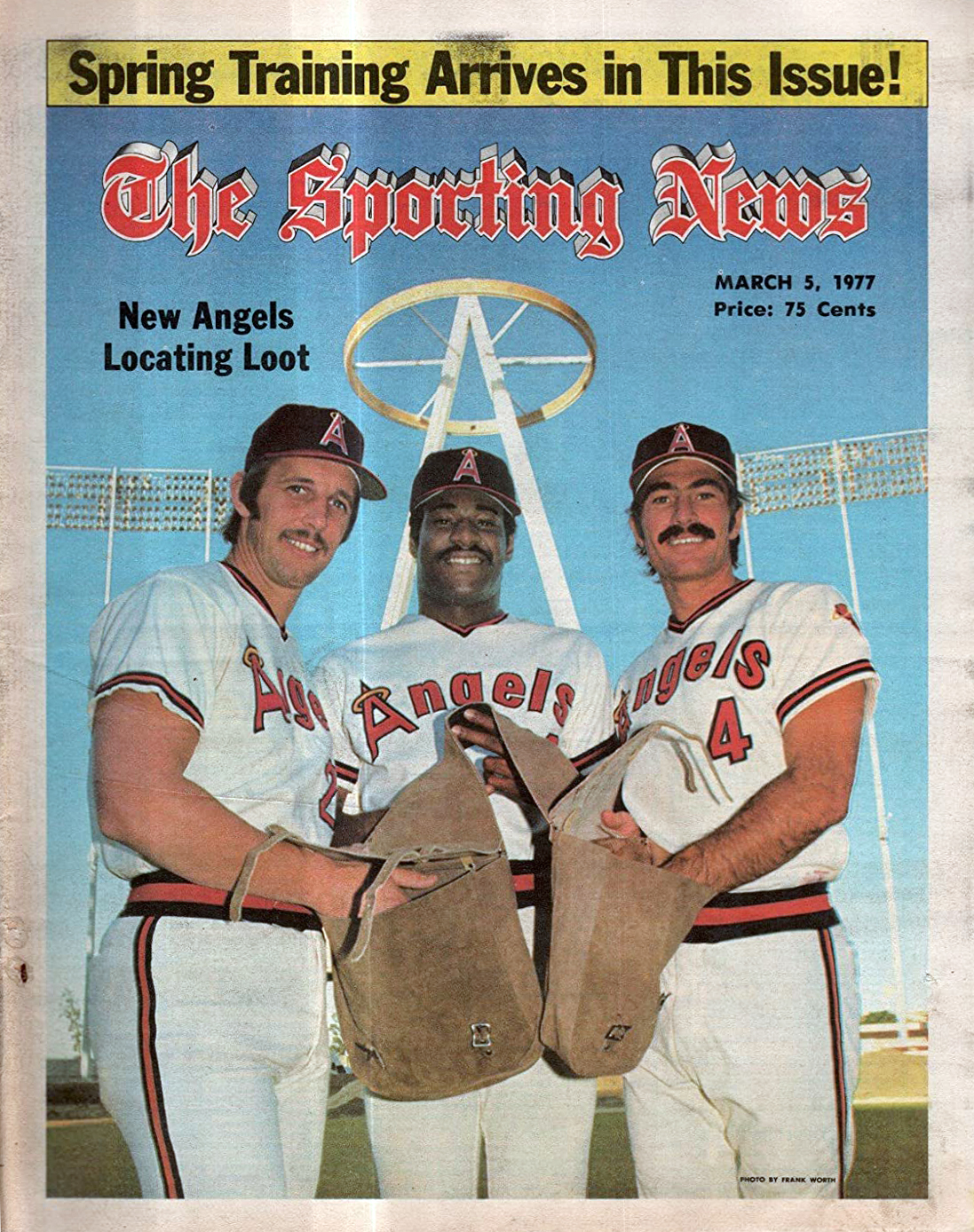 April 6, 1977: Angels debut their first free-agent class; Mariners open play in Seattle
---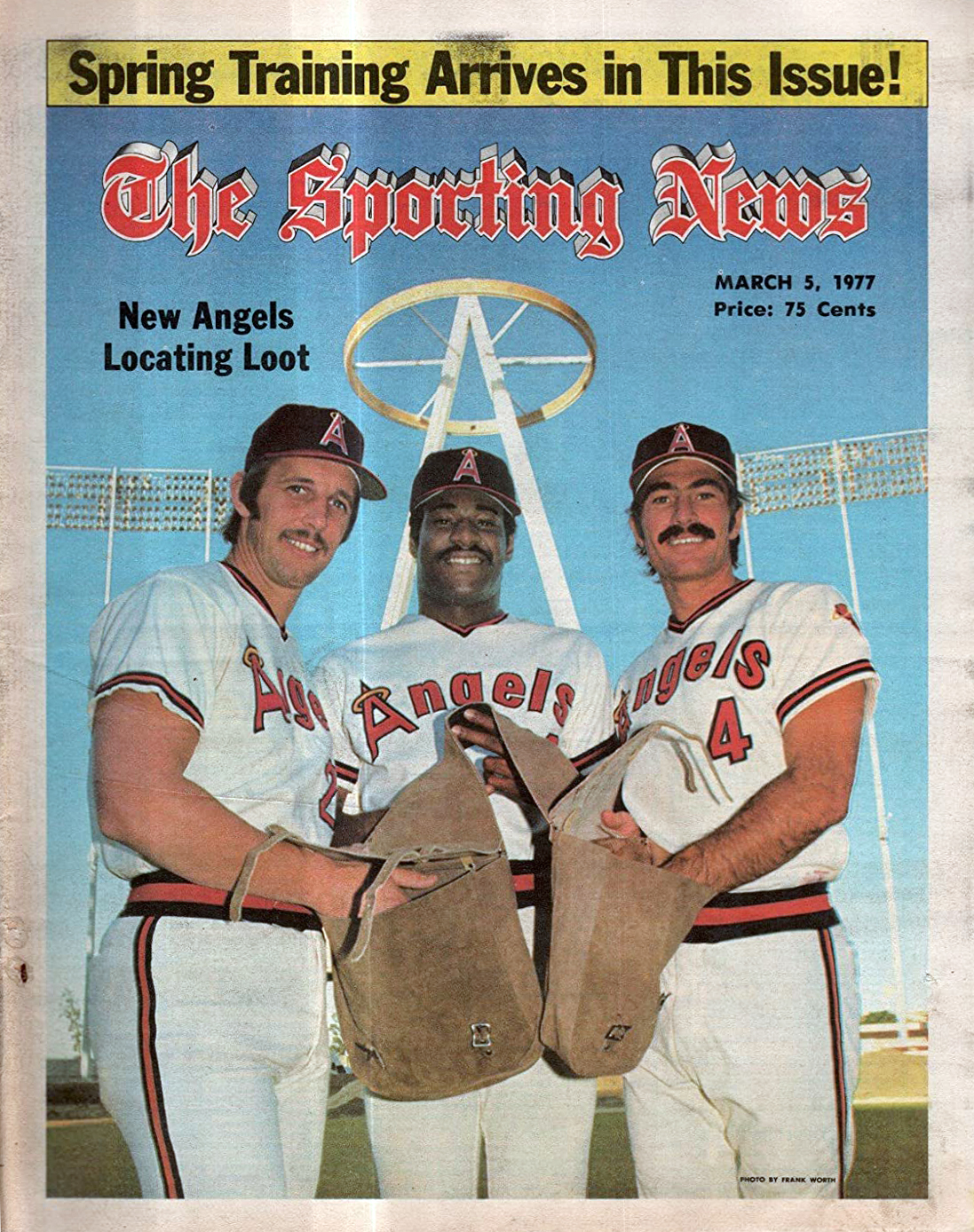 The Sporting News cover for March 5, 1977, featured a picture that was worth a thousand words: Joe Rudi, Don Baylor, and Bobby Grich, all clad in their new California Angels uniforms, were posed reaching into a pair of leather saddlebags, a metaphor for team owner Gene Autry's wallet. With the 1975 Messersmith decision having opened the door to free agency, the newest Angels were signed to multiyear contracts that totaled $5 million, an astronomical amount at the time, and the signings were emblematic of the Singing Cowboy's effort to bring a pennant to Anaheim.1
The trio of new regular players was meant to infuse the Angels' lineup with a large degree of offensive potency while also shoring up the defense in left field and the middle infield, Rudi and Grich having won Gold Gloves in 1976. With the time-honored rules now changed for filling a roster's critical needs — formerly by trade or patience with the development of a prospect in the farm system — voids could be filled at the expense of bidding for the best talent available on the open market. Autry proved to be one of the least bashful owners when it came to spending on free agents, but landing Baylor, Grich, and Rudi was actually the handiwork of general manager Harry Dalton. The Angels executive was very familiar with Baylor and Grich from their days in the Baltimore Orioles organization, and now Dalton had been "[s]uccessful in persuading the talented trio to become Angels (with the full support of Board Chairman Gene Autry)."2
Brimming with optimism for a run at the AL West pennant, California's free agents took turns expressing hope for a productive season ahead. Baylor stated that "[o]ne of the best things about coming to the Angels is that I no longer have to face Nolan Ryan and Frank Tanana"; Grich was delighted to be reunited with Baylor, his minor-league roommate, and excitedly told the press, "It's a dream to get to the majors but to play in Southern California is the ultimate"; while Rudi — praised by Yankee manager Billy Martin as "[f]undamentally the best player of this generation" — presciently observed, "You know we will score runs if we stay healthy."3
The opening of the 1977 American League season for the Angels conflated with another event of historical significance. When the city of Seattle was left in the lurch following the opprobrious departure of the expansion Pilots to Milwaukee in the spring of 1970 after just one season in the Pacific Northwest, part of the settlement of the municipality's legal action against Major League Baseball was the creation of a new franchise, the Mariners, that would take up residence at the recently completed multipurpose stadium known as the Kingdome. "Because of the need to draw fans, the [team] went after name veterans in the expansion draft," wrote author Bill Mullins, and, indeed, Seattle's inaugural roster included former Angels Leroy Stanton and Dave Collins.4
With spring training of 1977 now in the past, it was time to get on with the business of the regular season. The Mariners' Opening Day lineup card, as written by manager Darrell Johnson, featured the speedy Collins serving as the designated hitter batting leadoff, followed by second baseman Jose Baez, Steve Braun in left field, Stanton in right and batting cleanup, Bill Stein at third, Dan Meyer at first, Ruppert Jones in center field, Bob Stinson behind the plate, and Craig Reynolds at shortstop. The honor of throwing Seattle's first pitch went to Diego Segui, a journeyman who had also pitched in the Pilots' opening game in 1969.
On the mound facing the 39-year-old Segui — his nickname of "The Ancient Mariner" was well-earned — was the Angels' brash young fireballing southpaw, Frank Tanana, whose high-kick, time-elapsed pitching delivery graced the cover of the team's media guide. The California batting order was, as expected, stacked with the three new arrivals, who were interspersed in the top five slots. Fleet-footed Jerry Remy, the diminutive second baseman, led off for manager Norm Sherry's charges, while Grich, who was a four-time Gold Glover at second for the Orioles, played shortstop. Batting third in right field was veteran holdover Bobby Bonds, who spent a lost season in his first year with the Angels after suffering a hand injury in a 1976 spring-training game that never healed correctly. "Don't slide into home plate head first," Bonds later cautioned, as he anticipated a better coming season.5
Trusted with chores in the cleanup slot was Don Baylor as the designated hitter, followed by Rudi at his accustomed position in left field. The bottom half of the order — Tony Solaita at first, Bruce Bochte in center, Dave Chalk at third, and Terry Humphrey catching — was not likely to instill much fear in many opposing pitchers, although Solaita had some pop in his bat (nine homers for the Angels in 1976), Bochte was a .270 hitter to that point in his young career, and Chalk was a two-time AL All-Star.
California wasted no time in jumping out to a lead, as Remy opened the top of the first inning with a walk, stole second and then third, and scored on Baylor's double to right field. The Angels plated another run in the second — Bochte came in on a fielder's choice by Humphrey — and then a pair more in the third when Rudi belted a two-run homer that also scored Baylor. In the fourth, the Angels loaded the bases to chase Segui with two out, at which point reliever John Montague was greeted by Rudi's double to left-center, sending home two more runners, but Baylor was cut down at the plate to end the inning. California's scoring ended in the fifth when Humphrey delivered a two-out single to drive in Bochte.
When the Angels were in the field, Tanana pitched in the same manner that earned him a berth on the AL All-Star team, Cy Young Award consideration — he placed third in the balloting — and 19 wins in 1976. Fanning nine Mariners while walking only two, Tanana wearied a bit in the eighth when Seattle loaded the bases with two out, but he kept his shutout intact by catching his former teammate, Stanton, looking at a third strike. In the final frame, Tanana teased the Mariners a bit when he surrendered a leadoff double to Stein and a two-out walk to Stinson, but Reynolds' fly out to Bochte finished the 7-0 drubbing. Ever confident, Tanana envisioned securing a victory total that would rival the great Sandy Koufax: "I've said I will win 25 games," he crowed shortly after beating the Mariners a second time on April 10.6    
There was much to like about the Angels' performance that Opening Day of 1977. But the season unraveled in slow motion over the course of the ensuing months. After he injured his back and missed three weeks of spring training, persistent pain forced Bobby Grich to the sidelines for good in early June — he underwent surgery weeks later — and Joe Rudi followed Grich to the disabled list when he was hit by a pitch in late June and suffered a broken left hand. In mid-July, as California languished with a 39-42 record, third-base coach Dave Garcia replaced Norm Sherry as manager.
When Rudi went on the disabled list, Baylor took over in left field but had spent most of the season as the DH, thus his move to the outfield came with no small degree of angst on his part. Already resenting the "ruse" he believed Sherry pulled on him by leading him to think he would be the center fielder, Baylor actually contemplated asking for a trade to escape the boo-birds he heard occasionally at Anaheim Stadium.7 The dismal campaign ended with the team in fifth place — not exactly the finish Autry had expected — and another shoe dropped when Harry Dalton was let go near the end of October, with Buzzie Bavasi taking the reins as general manager.
Better days would be ahead — and more money spent by Gene Autry for free agents — when the Angels captured their first AL West championship in 1979. But that robust 1977 Opening Day in Seattle, fronted by the triumvirate of Baylor, Grich, and Rudi, gave Angels fans a foretaste of how serious California was about fielding a contender.
Sources
In addition to the sources cited in the Notes, the author consulted Baseball-Reference.com.
https://www.baseball-reference.com/boxes/SEA/SEA197704060.shtml
https://www.retrosheet.org/boxesetc/1977/B04060SEA1977.htm
Author's Note
Speaking of how the Angels' season fell apart, I was among the boo-birds on August 21,1977, which was Camera Day at the "Big A." Don Baylor was playing center field when Toronto's Doug Rader hit an easy fly ball in the top of the fifth inning that got lost in the hazy sun and went for what was scored an inside-the-park homer. I think my friends and I marked it as a four-base error on our scorecards, and the crowd voiced its displeasure when Baylor came to bat his next time up in the bottom of the sixth. And it got worse: After drawing a leadoff walk, Baylor was doubled off first base on a fly ball by Dave Chalk, prompting more — and louder — boos. It's little wonder that Baylor was seeking a trade by then, but in fairness, he may have felt an obligation — to say nothing of a heavy burden — to pick up the slack in the absence of the injured Bobby Grich and Joe Rudi.    
Notes
1 Baylor, Grich, and Rudi salaries can be found at baseball-reference.com. Their contract figures were: Baylor: six years, $1.6 million including $580,000 prorated bonus; Grich: five years, $1.35 million with $600,000 bonus; Rudi: five years, $2.09 million with $1 million prorated bonus.
2 Harry Dalton biography, 1977 California Angels Media Guide, 5.
3 Baylor, Grich, and Rudi biographies, 1977 California Angels Media Guide, 10, 24, 41; Martin quoted in Rudi biography. Emphasis added.
4 Bill Mullins, Becoming Big League: Seattle, the Pilots, and Stadium Politics (Seattle: University of Washington Press, 2013), 281.
5 Bobby Bonds biography, 1977 California Angels Media Guide, 12.
6 Tanana quoted in Dick Miller, "'Count on Me to Win 25,' Tanana Tells the Angels," The Sporting News, April 23, 1977: 14.
7 Don Baylor with Claire Smith, Don Baylor — Nothing but the Truth: A Baseball Life (New York: St. Martin's Press, 1989), 111.
Additional Stats
California Angels 7
Seattle Mariners 0
---
Kingdome
Seattle, WA
Box Score + PBP:
Corrections? Additions?
If you can help us improve this game story, contact us.
Tags
https://sabr.org/sites/default/files/1977-Angels-TSN-cover.jpg
600
800
admin
/wp-content/uploads/2020/02/sabr_logo.png
admin
2020-03-19 19:11:56
2020-09-08 12:51:39
April 6, 1977: Angels debut their first free-agent class; Mariners open play in Seattle