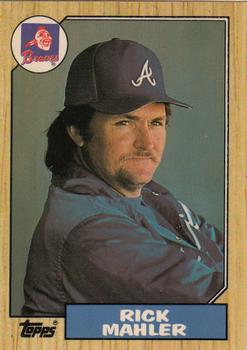 April 7, 1987: Braves' Mahler continues opener shutout string with 3-hit gem
---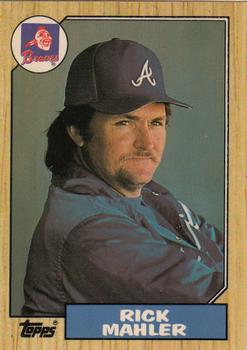 The Atlanta Braves of the mid-1980s weren't progressing toward the ultimate World Series appearance Ted Turner had projected when the bombastic cable television pioneer/yachtsman acquired the team before the 1976 season.1 Earlier in the decade, the Braves had breached .500 three times, captured a division title, and used the promotional tag, "How Much Excitement Can You Stand?" But as the 1987 season rolled around, that had evolved into "New Look, A New Spirit,"2 as the club had been mired in the depths of the National League West Division since 1985 and was known for "a shallow pitching staff, a slow team, a weak bullpen, and not much of an offense," as Street & Smith's 1987 season preview issue described the Braves.3
The 1987 Braves were scheduled to open the season at home for the third time in four seasons — the prospect of relatively warm early April weather in the Southeast carried some clout with the schedule makers before the proliferation of domed ballparks. And despite their dismal finishes in recent seasons, Atlanta had rewarded fans with a modicum of Opening Day success, particularly through the efforts of durable right-handed starting pitcher Rick Mahler.
Mahler, 33 on Opening Day of 1987, was beginning his ninth season with Atlanta. The native Texan had reached the majors for 15 relief appearances in 1979, and was a double-digit-winning starter from 1984 to 1986. He had opened the 1982, 1985, and 1986 campaigns for the Braves and had recorded shutout wins in the 1982 and 1986 games while going seven shutout innings in the 1985 opener. The 1987 Opening Day start for manager Chuck Tanner thus presented Mahler with an opportunity for yet another kick-starting win — and potentially another shutout in the bargain.4
Although Mahler was a continuing presence in the starting rotation, the 1987 Braves had done some positional retooling. They had dealt underperforming outfielder Brad Komminsk, 26, to Milwaukee for 24-year-old Dion James. They allowed Bob Horner, a franchise fixture from 1978 through 1986, to leave as a free agent.5 Dale Murphy, who arrived in the majors in 1976 as a catcher but was an outfielder by 1980, was shifted from his center-field post to right field as James took over in center. Right fielder Omar Moreno, one of the leaders of the Pittsburgh Pirates' "We Are Family" World Series championship club in 1979, was released at the end of the previous season and retired at age 33.
The Braves had finished 72-89 and last in the NL West in 1986, but hope was back — as it always is each spring in baseball — for 1987. The municipal authority that owned Atlanta-Fulton County Stadium had put $18 million into stadium renovation during the offseason, including installation of a Prescription Athletic Turf system under a new sand base and better-quality grass to upgrade the ballpark's drainage and infamous "raggedy playing surface."6 The Braves had stumbled early in spring training, but rebounded to leave Florida with a 16-14 record. "I think we're improved over last year. The younger guys have a little more experience," Murphy told writers.7
And with Doyle Alexander8 an unsigned free agent, Mahler was ready, hurling five scoreless innings against the Baltimore Orioles in his last spring start. He closed his spring work with just one earned run allowed over 13 innings. "I've thrown about four good games in a row. I feel like now my pitches are where they need to be."9
It was dry but breezy and in the mid-50s as 31,343 fans arrived at the ballpark on Tuesday evening, April 7, for the opener. The Philadelphia Phillies, Mahler's victims10 just two years earlier in the 1985 opener, were the opponents. Manager John Felske11 named 31-year-old lefty Shane Rawley, coming off his selection to the 1986 National League All-Star team, as the Phils' starter.
Mahler had a down year in 1986, finishing with 18 losses, and fans must have wondered if they were in for a repeat of that form when he yielded an infield single to Milt Thompson, the first batter he faced. But with Juan Samuel up next, Atlanta backstop Ozzie Virgil helped his pitcher out, cutting Thompson down at second base on an attempted steal. Mahler then struck out Samuel and got Von Hayes on an unassisted groundball to first baseman Gary Roenicke.12
Likewise, Rawley put the first batter he faced — James — on base with a walk, then balked him to second base. But Andres Thomas lined into an unassisted double play at second to clear the bases. Roenicke walked, but Murphy closed the inning with a foul fly to right field.
Mike Easler touched Mahler for a one-out single in the top of the second inning but didn't advance. In the Braves' half Ken Oberkfell singled, but then was out on a stolen-base attempt with Glenn Hubbard batting. Mahler forged on, holding Philadelphia hitless and getting double plays to negate his walks in the fourth and fifth innings. Rawley matched him, escaping a first-and-third-with-no-outs situation in the fifth inning by striking out Mahler and Thomas, with James' lineout to second base sandwiched between.
But Rawley cracked in the Atlanta sixth. Roenicke and Murphy both singled. Ken Griffey Sr. bunted and the Phillies were able to force Roenicke at third base. Virgil then worked a walk, loading the bases, before Oberkfell, lefty on lefty, rifled a double to left field that scored Murphy and Griffey. Virgil tried to score as well, but the relay throw nailed him at the plate for the second out. Rawley intentionally walked Hubbard to get to Mahler. The career-to-date .201 hitter got the bat on the ball, but flied out to center field.
Now up 2-0, Mahler needed a shutdown inning in the seventh. It may not have been textbook, but he got it with stellar defensive help. Mahler walked Hayes with one out, then wild-pitched him to second with Mike Schmidt batting. Hayes was off to the races when Schmidt ripped a shot up the middle. But second baseman Hubbard got to the ball, snagged it, and nipped Schmidt at first base. Oblivious to what had happened behind him, Hayes tried to score but was out at the plate and Mahler out of the inning as Roenicke alertly relayed to Virgil.
Mahler complimented his infielders. "Every ball they hit on the ground, we sucked it up somewhere and threw somebody out and a lot of times we got two guys out. It's a big lift for a pitcher to see that."13
The Philadelphia eighth inning was easier, as Mahler walked Lance Parrish with one out but got two routine fly-ball outs to keep the Phillies scoreless.
Rawley had yielded to Tom Hume to start the seventh inning. Hume retired three straight then, but the Braves rallied against him with a vengeance in their half of the eighth, scoring four insurance runs. Mahler got in on the fun with a two-run double that chased Hume. Dan Schatzeder finished up for the Phillies.
Tanner sent Mahler and his 6-0 lead back out for the Phillies' ninth. With one out, he gave up only his third hit of the game — another infield single by Thompson. But the game ended appropriately moments later as Samuel hit into a 5-4-3 double play, the Braves' fourth of the night. The twin killings were highlighted by the snazzy Hubbard-Roenicke-Virgil defensive gem in the seventh, while Virgil's caught-stealing throw in the first inning got Atlanta off to a solid defensive start.
Mahler's shutout vaulted him to 34 consecutive scoreless innings in four Opening Day starts. The third season-opening shutout of his career put him in company with Hall of Famer Walter Johnson and two other outstanding pitchers, Rip Sewelland Chris Short.14
Tanner, participating in the 42nd opener of his professional baseball career, liked everything he saw. He singled out Mahler's effort and seconded Mahler's praise for the defense: "We did what I had hoped we would. We got great pitching and played super defense. We got runs when we had to have them."15
Mahler started again four days later in New York. He lasted only 3⅔ innings and didn't figure in the decision in the Braves' 4-3 win. The opening masterpiece was his only shutout in 1987; he slogged to an 8-13 record in 28 starts as the Braves moved up a notch to fifth place in the NL West, but at 69-92 won three fewer games than the 1986 club.
Three more last-place finishes awaited Atlanta in 1988, 1989, and 1990. But with Bobby Cox at the managerial helm,16 the 1991 club shocked baseball by winning the National League pennant and taking the Minnesota Twins — another "worst to first" team that season — to the seventh game of the World Series. By then, Mahler had gone on to pitch for Cincinnati and Montreal. He did, though, have a brief curtain call with the 1991 Braves that ended in August.17
Sources and acknowledgments
In addition to the sources cited in the Notes, the author consulted Weather Underground.com, Baseball-Reference.com, and Retrosheet.org websites.
https://www.baseball-reference.com/boxes/ATL/ATL198704070.shtml
https://www.retrosheet.org/boxesetc/1987/B04070ATL1987.htm
Thanks to my SABR colleague James Forr for his always-observant assistance.
Notes
1 "I'm confident we can have a winner. My goal is to bring a World Series to Atlanta. I am civic-minded and I'm tired of that Loserville image." Jesse Outlar, "Fans Welcome New Owner of Braves," Atlanta Constitution, January 7, 1976: 33, 36. By 1987, the perception, at least to the Voice, Atlanta's African-American newspaper, was that Turner had made a "prediction" in 1976 that the Braves would reach the World Series "in seven years." "It has now been eleven years since the promise, and most experts say that 1987 will prolong the broken promise one more year." Herbert Denmark Jr., "Commentary," Atlanta Voice, March 7, 1987: 11.
2 Denmark Jr., "Commentary." The earlier promotional tag is from the author's memory of a much-anticipated trip to a Braves game from his home in southwest Florida in 1983. (The Cubs won, 7-5, on Monday night, August 29. The loss dropped the Braves into second place behind the Dodgers in the NL West; Atlanta never regained first place that season.)
3 L.I. Rosenberg, "Publications Say Braves Will Finish Last Again," Atlanta Constitution, March 25, 1987: 59. The shallow pitching staff was about to get some depth. Lefty Tom Glavine made his major-league debut on August 17, 1987, and except for rehab assignments, never pitched in the minors again. John Smoltz, acquired in a trade with Detroit for Doyle Alexander, also in August 1987 when Smoltz was still a minor leaguer, debuted with the Braves on July 23, 1988. Both were 21 when they made their first starts; by 1991 they helped propel Atlanta to an improbable World Series appearance and the start of a string of divisional titles that ran through the 2005 season. Greg Maddux, who arrived as a serendipitous free-agent signing from the Cubs before the 1993 season, complemented Glavine and Smoltz to give the Braves one of the most heralded starting staffs in baseball history. By 2015 all three were in the Hall of Fame.
4 Mahler, with a NL-leading 18 losses in 1986, would not have had an opportunity for three consecutive Opening Day shutouts had Doyle Alexander, acquired from Toronto in July 1986 but a free agent after the season, re-signed with Atlanta before May 5, 1987. Because of Alexander's experience and record in both leagues and his 17 starts with Atlanta in 1986, Tanner had considered him, at age 36 in 1986, the ace of his staff. Gerry Fraley, "Mahler Is Magic Again," Atlanta Constitution,April 8, 1987: 63.
5 Horner, still only 29 years old after nine major-league seasons, played in Japan in 1987. He signed for 1988 with the St. Louis Cardinals for around half of what he had been making with Atlanta and played in 60 games through June 18. That was it for his baseball career, as Horner had made the majors straight out of Arizona State University, never played in the minor leagues, and didn't return to Japan after his brief sojourn in St. Louis.
6 Rachel Blount, "Braves Hope New Surface Will Mean Fewer Rainouts," Atlanta Constitution, April 4, 1987: 45.
7 Thomas Stinson," Braves Heading North on a Winning Note," Atlanta Constitution, April 4, 1987: 45.
8 See: Note 4.
9 Stinson.
10 Mahler pitched seven scoreless innings in the 1985 opener against the Phillies and 40-year-old Steve Carlton. Bruce Sutter pitched the final two shutout innings for Atlanta. The Braves won, 6-0.
11 Felske, who took over as the Philadelphia manager in 1985, had steered the club to a second-place finish in the 1986 NL East race, but was gone 61 games into the 1987 season, replaced by Lee Elia.
12 Atlanta had signed Roenicke, primarily an outfielder, as a free agent in January 1987. He was slotted in at first base as the Braves worked to replace the departed Horner. Roenicke played only nine games at first base for the 1987 Braves – Gerald Perry, with Atlanta since 1983, ultimately settled in as the first baseman.
13 Fraley.
14 Fraley. Johnson pitched seven opening shutouts: 1910, 1914, 1915, 1917, 1919, 1924, and 1926, all with the Washington Senators. Sewell (1943, 1947, and 1949, all with the Pittsburgh Pirates), Short (1965, 1968, and 1970, all with the Philadelphia Phillies), and Mahler (1982, 1986, and 1987, all with the Atlanta Braves) are the only other pitchers with three. Baseball Almanacshutout records, baseball-almanac.com/recbooks/rb_shut1.shtml, accessed December 27, 2019. Given today's handling of pitchers, the chances of another starter joining the group seem slim.
15 Jesse Outlar, "Mahler Joins Select Company," Atlanta Constitution, April 8, 1987: 67.
16 Cox, the Atlanta general manager beginning with the 1986 season, moved over to replace Russ Nixon in the dugout 65 games into the 1990 season. Nixon had replaced Tanner 39 games into the 1988 season.
17 Atlanta declined to re-sign Mahler after the 1988 season. He joined Cincinnati as a free agent and went 16-19 there in 1989-90. After spending part of the 1991 season with the Montreal Expos, Mahler, 37, returned to the Braves for 13 appearances between June 16 and August 6, 1991.
Additional Stats
Atlanta Braves 6
Philadelphia Phillies 0
---
Atlanta-Fulton County Stadium
Atlanta, GA
Box Score + PBP:
Corrections? Additions?
If you can help us improve this game story, contact us.
Tags
https://sabr.org/sites/default/files/MahlerRick.jpg
600
800
admin
/wp-content/uploads/2020/02/sabr_logo.png
admin
2020-03-04 16:20:41
2020-04-17 10:22:17
April 7, 1987: Braves' Mahler continues opener shutout string with 3-hit gem