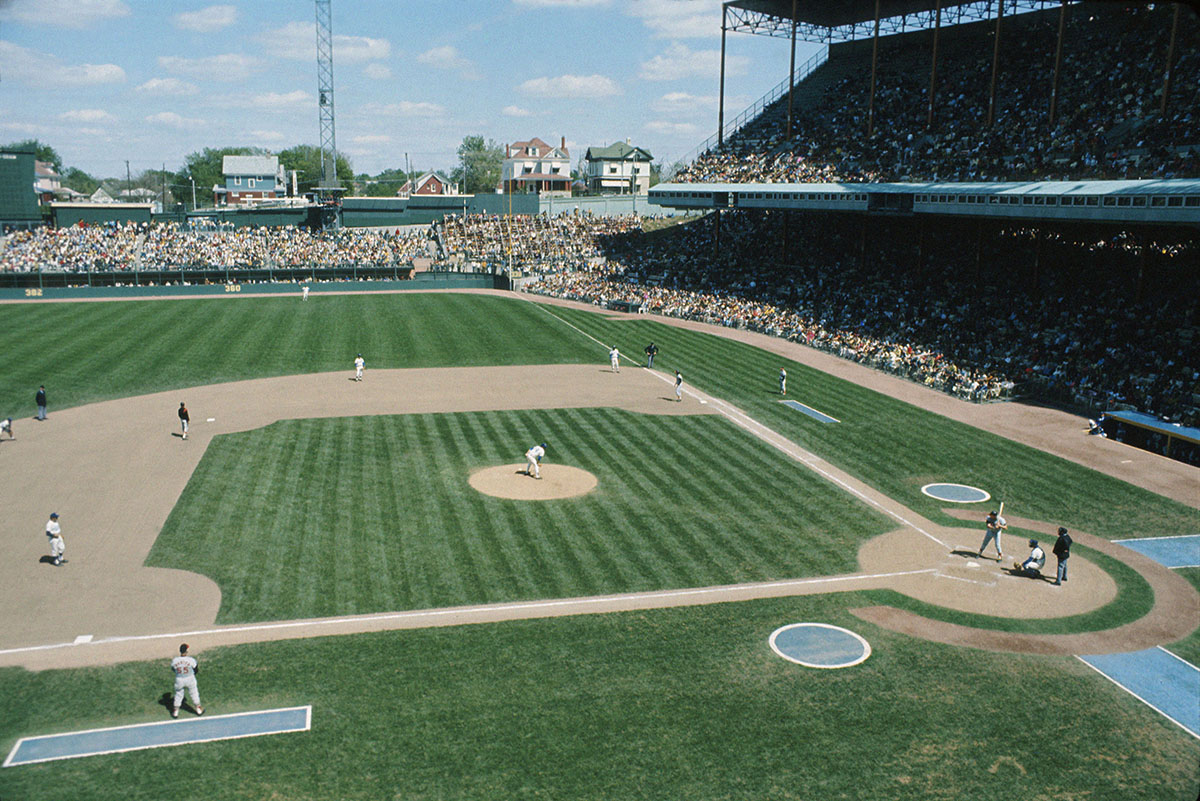 April 8, 1969: Baseball returns to Kansas City as Royals win debut
---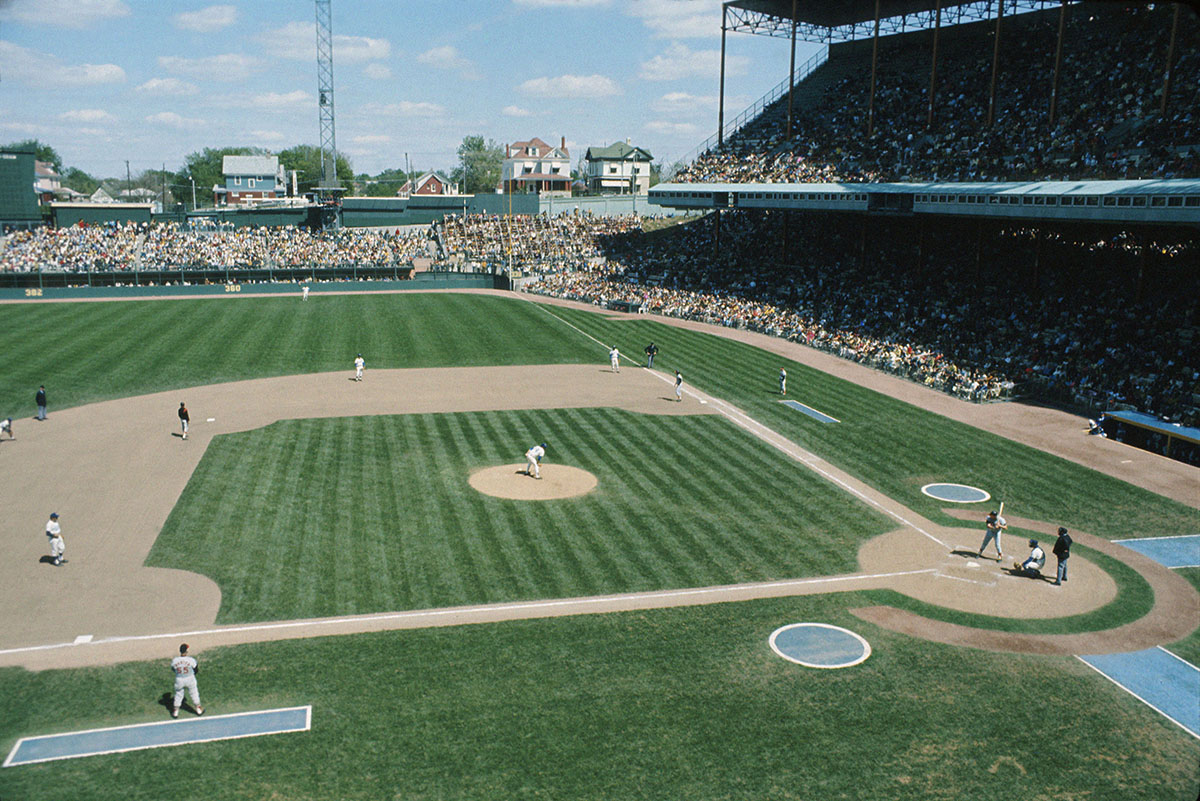 Senator William Stuart Symington of Missouri was a fighter. A second lieutenant during World War I, he eventually became the first secretary of the Air Force, serving fellow Missourian Harry S Truman. After being elected to the Senate in 1952, Symington was a strong opponent of Senator Joseph McCarthy, took on the Pentagon over wasteful spending, and later opposed the Vietnam War. So when Kansas City A's owner Charlie Finley decided to move the Athletics from Kansas City, Symington saw another fight coming. On the Senate floor, Symington described Finley as "one of the most disreputable characters ever to enter the American sports scene."1
Symington's appearance at the American League owners meeting in Chicago in 1967 and his threats to have Congress review baseball's antitrust exemption helped get Kansas City an expansion franchise for the 1969 season. The city would be without baseball for a year but, according to Symington, "This loss is more than recompensed for by the pleasure resulting from our getting rid of Mr. Finley."2 And Finley was most definitely gone. "There will be no parades down Main Street or promises of instant success, the sheep are gone from Lamb Chop Hill behind the outfield fence, and conservative blue and white uniforms have replaced Kelly green and gold."3
In a year that promised firsts and new faces, something that wasn't new was the Royals manager, Joe Gordon. The manager of the Athletics in 1960, Gordon had the unenviable task of leading an expansion team filled with expansion-team players. "I'll have 16 different lineups before we open," Gordon told the Minneapolis Star.4 Making his major-league debut as a manager for the Twins on Opening Day in Kansas City was Billy Martin. The fiery Martin would lead the Twins to the newly formed American League West Division title in 1969 but would lose to Baltimore in the AL playoffs and be fired shortly thereafter.
Opening Days are always special, and for a new team in town, the pregame ceremonies are a time for speeches. First to speak was Royals owner Ewing Kauffman, who was greeted with a lengthy standing ovation. Once the crowd settled, Kauffman brought them to their feet again, stating, "As long as I am alive, this will be your team, forever and ever."5 American League President Joe Cronin, whose greeting was less enthusiastic due to the turmoil over the A's relocation, spoke next, and then Symington addressed the crowd. After telling the crowd that he was looking forward to the time in the not-so-distant future when there would be an all-Missouri World Series, he bounced the ceremonial first pitch to Royals catcher Ellie Rodriguez. Symington would leave the Senate in 1976, nine years before the first all-Missouri World Series he had hoped to see. With the ceremonies over, baseball could finally return to Kansas City.
Wally Bunker got the honor of throwing the first pitch in Royals history. Bunker was selected by the Royals from Baltimore in the expansion draft (skipping over Jim Palmer), and he retired the Twins in order in the first inning.6 Leading off the first for the Royals was Lou Piniella, who had been acquired from expansion partner Seattle toward the end of spring training. "We needed a right-handed hitter," explained Gordon simply.7 Piniella greeted Twins starter Tom Hall with a double down the left-field line. When Jerry Adair singled to left to score Piniella, the Royals had their first RBI and lead, and their faithful could be excused for thinking this baseball stuff was easy, at least the Royals version of it.
As was typical of expansion teams, though, the lead didn't last. After Bunker retired Harmon Killebrew to start the second inning, Graig Nettles homered to right field to tie the game. The score remained that way until the sixth inning, although both teams squandered chances in the fifth. The Twins led off the top of the fifth with a base hit by Rich Reese, but Reese was caught stealing second. Leo Cardenas then walked and John Roseboro singled to center, but Bunker retired the next two Twins to end that threat. The Royals had an even better chance to score in the bottom of the fifth when Bunker led off with a double to the right-field corner and moved to third on Piniella's third hit of the game. Adair followed with a fly to short center, but Bunker was held at third. Hall then retired Ed Kirkpatrick and Joe Foy to strand two runners in scoring position.
The Twins took the lead in the sixth but ran themselves out of a chance to score more. Rod Carew chased Bunker with a single to left, and Tony Oliva greeted reliver Tom Burgmeier with a single that moved Carew to third. Carew scored on Killebrew's groundout with Oliva taking second. Manager Martin brought in Cesar Tovar for Nettles, but Oliva was caught trying to steal third. Tovar singled to center, a hit that would likely have brought in the speedy Oliva. Reese followed with a double to score Tovar but was thrown out trying to stretch his hit to a triple.
The Twins brought their baserunning errors out to the field with them in the bottom of the sixth. With two out, Rodriguez hit a long fly to left field. Tovar, who had replaced Nettles in left, called for the ball but it carried over his head for a double. "You don't call someone off a ball to let it fall 10 feet behind you," Martin complained.8 Jackie Hernandez hit an easy grounder to Killebrew, who booted it, but did not incur Martin's wrath. "Killebrew made two exceptional fielding plays," Martin said. "Players are going to miss groundballs."9 In a meeting on the mound, Martin told Hall to throw curveballs to pinch-hitter Jim Campanis. After two curves and two strikes, Hall threw a fastball that Campanis drove to center to score Rodriguez. "I couldn't believe it when Hall threw a fastball down the middle on the next pitch. Hall's fastball was the pitch that lost the game for us," Martin said with his customary frankness.10 Martin replaced Hall with Bob Miller, who gave up Piniella's fourth hit of the game to tie the score, 3-3.
The score remained that way until the bottom of the 12th. After Ron Perranoski shut down the Royals for 5⅓ innings, Martin relieved him with Joe Grzenda to start the 12th. After one out, Foy beat out a grounder to deep short for a hit, although an error could have been charged.11 Foy went to second on Roseboro's passed ball, and Martin elected to intentionally walk Chuck Harrison. Both runners moved up on Grzenda's wild pitch, and Martin ordered Bob Oliver walked, loading the bases. Gordon brought in the Royals' leading hitter in the spring, Joe Keough, to face Dick Woodson, whom Martin had brought in for his major-league debut in a major jam. "I saved you for almost four hours, now go up there and rip one," Gordon told Keough.12 Keough took his manager's advice and hit the first pitch he saw from Woodson over Oliva's head to end the game. "Keough's a real ripper," Gordon said after the game. "It was a tough game and I would have been disappointed if we lost it after battling all day long."13 Martin was understandably less pleased. "We beat ourselves," he said. "We had enough hard-hit balls to score nine runs in the first few innings. We made some mistakes, but there were two (in the sixth) that really killed us."14
The Royals won another extra-inning, walk-off 4-3 win the next day, this time in 17 innings. But winning their first game was special. Gordon was asked what Ewing Kauffman said about the victory, and he answered, "The boss was too speechless for words."15
Sources 
In addition to the sources listed in the Notes, the author accessed Retrosheet.org and Baseball-Reference.com.
https://www.baseball-reference.com/boxes/KCA/KCA196904080.shtml
https://www.retrosheet.org/boxesetc/1969/B04080KCA1969.htm
Notes
1 "Symington Castigates Finley in the Senate," New York Times, October 20, 1967: 67.
2 Ibid.
3 Neil Amdur, "Royal Welcome for Kansas City," New York Times, April 8, 1969: 53.
4 "KC's Gordon to Have 16 Different Lineups," Minneapolis Star, April 7, 1969: 30.
5 Joe McGuff, "Kaycee Fans Stand and Cheer Royals' Boss," The Sporting News, April 26, 1969: 5.
6 On skipping over Palmer, see Mark Armour, "Jim Palmer," at sabr.org/bioproj/person/69cb6266.
7 Sid Bordman, "Royals Get Piniella," Kansas City Star, April 2, 1969.
8 Dave Mona, "Twins Drop Opener to Kansas City 4-3," Minneapolis Tribune, April 9, 1969: 27.
9 Ibid.
10 Ibid.
11 Ibid.
12 Paul O'Boynick, "Royals Enjoy Moment of First Victory," Kansas City Star, April 9, 1969: 1C.
13 Ibid.
14 Mona.
15 O'Boynick.
Additional Stats
Kansas City Royals 4
Minnesota Twins 3
12 innings

---
Municipal Stadium
Kansas City, MO
Box Score + PBP:
Corrections? Additions?
If you can help us improve this game story, contact us.
Tags
https://sabr.org/sites/default/files/KC-Municipal-Stadium-day.jpg
600
800
admin
/wp-content/uploads/2020/02/sabr_logo.png
admin
2020-03-11 01:48:25
2020-09-27 23:06:08
April 8, 1969: Baseball returns to Kansas City as Royals win debut