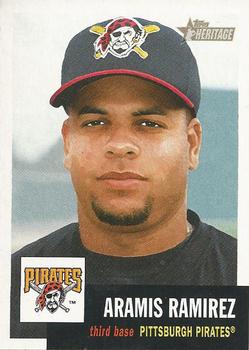 April 8, 2001: Aramis Ramirez attains liftoff for Pirates with three home runs
---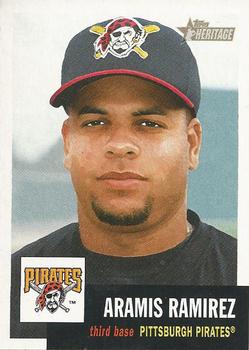 Earmarked for greatness during his rapid rise through the Pirates' farm system, Aramis Ramirez mixed promise with struggle for three seasons after reaching the major leagues as a teenager in 1998. On the first Sunday of the 2001 season, Ramirez's career countdown hit liftoff with a three-home-run barrage at Houston's Enron Field, igniting his breakthrough as one of the game's best third basemen of the early twenty-first century.
The Pirates signed Ramirez from the Dominican Republic in 1994 at age 16. He drew prominent praise upon his US debut with the New York-Penn League's Erie Sea Wolves two years later.  Hall of Famer Reggie Jackson, scouting the New York-Penn League that summer, heralded Ramirez as "a better prospect than anybody in the Yankees' organization" and asserted that Ramirez "should be in the big leagues in two years – if he bears down and comes to play every day."1 In 1997 Ramirez jumped to the High-A Lynchburg Hillcats. The Carolina League's youngest regular position player, he earned league Most Valuable Player honors with a .278 average, 29 home runs, and 114 RBIs in 137 games.
An accelerated promotion followed: Ramirez started 1998 with the Pirates' Triple-A affiliate in Nashville. In Pittsburgh, however, springtime exposed a desperate need for reinforcements at third base. Joe Randa was a solid regular for 1997's surprising divisional contenders, but the Diamondbacks claimed him in the expansion draft after the season. The Pirates gave Triple-A graduate Freddy Garcia and free-agent utilityman Doug Strange early-season opportunities to replace Randa, but neither hit well enough to secure the job.2
By May 26, with the Pirates' collective third-base efforts for the season at a .176 batting average and two home runs, Ramirez received the call from Nashville, less than a month before his 20th birthday and after only 47 games of Triple-A experience.3 He started slowly, going hitless in his first 24 major-league at-bats before doubling off the Mets' Greg McMichael on June 3. Nevertheless, he held the Bucs' starting third-base slot for the rest of the season, outside of an August and September absence with a hyperextended shoulder.4 Ramirez's .235/.296/.351 (BA/OBA/SLG) performance in 72 games confirmed that the promotion was premature, but glimpses of potential lurked within his numbers, such as his home run off Randy Johnson in the future Hall of Famer's Astros debut on August 2.5
In 1999 the Pirates provisioned a sturdier alternative at third base, signing veteran Ed Sprague to a one-year contract.6 Ramirez received a full year of development in Nashville, where he again was the youngest regular position player in the league. He battered Pacific Coast League pitching with a .328 average, 21 home runs, and 74 RBIs in 131 games, but also committed 42 errors.7  He returned to the major leagues only when rosters expanded in September.
With Sprague departed in 2000, the Pirates named Ramirez their Opening Day third baseman. He did not capitalize on the opportunity: A .167 average in 18 games and shaky fielding at third facilitated his demotion to Triple A on April 27.8 Recalled to the Pirates on June 18, Ramirez made a quantum leap over the next two months, batting .284/.316/.448 in 55 games.9 A separated shoulder while diving for a groundball on August 28 ended his season prematurely, but Ramirez appeared to have earned a long-term spot in the major leagues.10
For the second season in a row, Ramirez started at third base on Opening Day for the Pirates in 2001. Echoing his 1998 debut and 2000 April struggles, the 22-year-old Ramirez began the year slowly, with just two hits in 15 at-bats in the Pirates' first four games. First-year manager Lloyd McClendon gave Ramirez a day off on April 7, for the middle game of a three-game series against the Astros. Ramirez utilized the down time to work with batting coach Dave Clark, reporting to Enron Field in the morning and hitting off a tee during the game. His day of study and experimentation led Ramirez to close his stance and shorten his swing.11 
Before Ramirez's first opportunity to deploy the adjustments in Sunday afternoon's series finale, the Pirates already had a 1-0 lead over the Astros. With two outs in the first inning, John Vander Wal drew a walk against Scott Elarton. Brian Giles doubled to left field, driving in Vander Wal and bringing up Ramirez.
Elarton threw a first-pitch strike. His second pitch was a cut fastball low and away.12 Ramirez hit it over the 404-foot sign in left-center for his first home run of the season and a 3-0 advantage.
"[Ramirez] concentrated on the middle of the field, got pitches he could drive and he drove them," McClendon said. "He didn't miss them."13
The Astros responded with Jeff Bagwell's solo home run in the bottom of the first, but the Pirates countered in the third. Adrian Brown led off with a single to right and stole second. Former Astro Derek Bell's groundout advanced him to third. Vander Wal's single to center drove in Brown. Giles added another single, setting the table for Ramirez.
Ramirez took Elarton's first pitch for a ball. The next offering was a changeup. Ramirez hit it into the Crawford Boxes in left field for a three-run home run and a 7-1 Pirates lead.
"I can live with the cutter away," Elarton said. "It's one of those pitches you tip your hat to the guy, but the changeup was just a mistake."14
Astros manager Larry Dierker pinch-hit Jose Vizcaino for Elarton in the bottom of the third, when Bagwell's RBI single cut the Astros' deficit to 7-2. That score remained when Ramirez batted for the third time, with two outs in the top of the fifth.
Right-handed reliever Nelson Cruz, like Ramirez a native of the Dominican Republic, had entered the game for the Astros. On a 2-and-1 count, Cruz attempted a changeup. Ramirez pulled it inside the left-field foul pole for his third home run and sixth RBI of the game. No Pirate had hit three home runs in a game since Darnell Coles in 1987.
"I just tried to hit the ball hard during all my at-bats," Ramirez said. "It might have been because of the weather. Cincinnati was cold, but the weather here was nice. It's not easy to hit a homer. I just hit the ball good and they curved for me."15
Ramirez had one opportunity to tie the major-league record of four home runs in a game, but Wayne Franklin walked him on four pitches in the seventh inning.
"You've got a guy that's 3-for-3 with three homers and a man on third with two outs, so I knew they weren't going to throw anything over the plate," Ramirez said. "I was happy to take the walk."16
Ramirez's home-run spree delivered its most immediate dividend to Pirates starting pitcher Joe Beimel, appearing in his first major-league game. The left-hander grew up in St. Marys, Pennsylvania, about 120 miles northeast of Pittsburgh. The Pirates drafted him out of Pittsburgh's Duquesne University in 1998. He entered the 2001 season with only 10 games of experience above Class A, and none above Double A.
A cluster of pitching injuries and his strong preseason work enabled Beimel to secure an Opening Day roster spot.17 Now, after injuries sidelined four veteran starting pitchers, the Pirates needed him for an emergency start.18
Beimel met the challenge of a lineup featuring future Hall of Famers Bagwell and Craig Biggio, along with emerging slugger Lance Berkman. He surrendered Bagwell's home run in the first inning, but limited Houston to two runs in five innings, ensuring that Ramirez's production would not disappear into a mutual slugfest.
"I felt real fortunate to get out there and help the team out," Beimel said. "Any time the team goes out and scores as many runs as we did in the first three innings, it makes it a heck of a lot easier to pitch. When that happens, you can concentrate on keeping the ball down and throwing strikes, getting ahead of the batters. I can probably count on two hands how many changeups and sliders I threw."19
After Beimel's five innings, relievers Billy Taylor — in his only Pittsburgh appearance and final outing of his major-league career — and Jose Silva set down the Astros with one run over the final four innings to close out the Pirates' 9-3 win.
With his big day in Houston, Ramirez had a career breakout. Three days later he had three hits and scored the winning run in the Pirates' first-ever victory at their new home, PNC Park.20 The 2001 Pirates quickly collapsed from injuries to several starting pitchers and to catcher Jason Kendall, but Ramirez established himself as a force at third base with 34 home runs, 112 RBIs, and a .300/.350/.536 batting line. He went on to hit 386 career home runs with the Pirates, Cubs, and Brewers, make three All-Star teams, and win a Silver Slugger Award, remaining an outstanding third baseman until his retirement after the 2015 season.
Author's note
A Pittsburgh native, I attended this game with a friend from college who lived in the Houston area. During pregame warm-ups, my friend and I lingered by the railing down the third-base line. We asked a nearby man to take our picture with Enron Field's diamond behind us. The man had been speaking with Pirates shortstop Jack Wilson, then in his first week in the major leagues.  "So, you seem to know Jack Wilson, the new shortstop?" I asked.
"His mother and I are very proud of him," replied the man. His son went on to play over 1,300 major-league games over the next 12 seasons.
Sources
In addition to the sources cited in the Notes, the author relied on his own memories from attending the game and following Aramis Ramirez's career, along with game and season data from Baseball-Reference and Retrosheet:
baseball-reference.com/boxes/HOU/HOU200104080.shtml
retrosheet.org/boxesetc/2001/B04080HOU2001.htm
Notes
1 Paul Meyer, "'Snacks' Shore Had a Lot of Fun in Baseball," Pittsburgh Post-Gazette, August 18, 1996: D6.
2 Paul Meyer, "Quad Squad: From Childless to Quadruplets, Strange Finds Incentive," Pittsburgh Post-Gazette, March 11, 1998: D1; Paul Meyer, "Garcia Bound for AAA," Pittsburgh Post-Gazette, April 30, 1998: C1.
3 Paul Meyer, "No Escape: Blown 2-1 Lead in Ninth Overshadows Ramirez Debut," Pittsburgh Post-Gazette, May 27, 1998: D1. In addition to Garcia and Strange, Keith Osik, Kevin Polcovich, and Chance Sanford also started games at third base before Ramirez's promotion. 
4 Paul Meyer, "High Fives for Ramirez and Pirates: Rookie's First Hit in Major Leagues Seals 3-0 Win," Pittsburgh Post-Gazette, June 4, 1998: D1; "Pirates Notebook," Pittsburgh Post-Gazette, September 5, 1998: B3.
5 Paul Meyer, "The Big Whiff: Johnson Fans 12 in Debut, Tops Pirates," Pittsburgh Post-Gazette, August 3, 1998: C1.
6 Paul Meyer, "Sprague Signed to Fill Hole at 3B: Veteran Hit 36 Homers in 1996 for Blue Jays," Pittsburgh Post-Gazette, December 16, 1998: D1.
7 Paul Meyer, "Focus, Focus, Focus: Mantra the Key to Ramirez Filling the Hole at Third Base," Pittsburgh Post-Gazette, February 23, 2000: D7.
8 Paul Meyer, "Ramirez Demoted to AAA Nashville: Left-Hander Wallace Recalled for Struggling Third Baseman," Pittsburgh Post-Gazette, April 29, 2000: C6.
9 Paul Meyer, "Aramis Ramirez Makes His Way at Last," Pittsburgh Post-Gazette, August 18, 2000: C3.
10 Paul Meyer, "Ramirez Injured in 5-4 Loss to Giants: Pirates 3B Likely Out for Season After Shoulder Dislocated," Pittsburgh Post-Gazette, August 29, 2000: E6.
11 Robert Dvorchak, "Pirates Power Past Astros, 9-3: Ramirez's 3 Homers Help Beimel Win Debut," Pittsburgh Post-Gazette, April 9, 2001: D1.
12 Jose De Jesus Ortiz, "Pirates, Ramirez Rip Elarton, Astros: Infielder Launches 3 HRs in 9-3 Rout," Houston Chronicle, April 9, 2001: 1.
13Dvorchak, "Pirates Power Past Astros, 9-3."
14 Brian McTaggart, "Ramirez Stands Tall for Pirates," Houston Chronicle, April 9, 2001: 7.
15 McTaggart.
16 McTaggart.
17 Robert Dvorchak, "Former Duquesne Pitcher Added to Bullpen," Pittsburgh Post-Gazette, March 30, 2001: C8.
18 "Notebook," Pittsburgh Post-Gazette, April 6, 2001: B6.
19Dvorchak, "Pirates Power Past Astros, 9-3." Beimel went on to pitch in 676 major-league games in 13 seasons.
20 Robert Dvorchak, "A Wild Night of Firsts: Rally for Two Runs in Seventh Inning; Bullpen Holds Reds," Pittsburgh Post-Gazette, April 12, 2001: D1.
Additional Stats
Pittsburgh Pirates 9
Houston Astros 3
---
Enron Field
Houston, TX
Box Score + PBP:
Corrections? Additions?
If you can help us improve this game story, contact us.
Tags
https://sabr.org/sites/default/files/RamirezAramis-2001.jpg
600
800
sabr
/wp-content/uploads/2020/02/sabr_logo.png
sabr
2020-04-28 22:58:05
2020-06-18 11:49:03
April 8, 2001: Aramis Ramirez attains liftoff for Pirates with three home runs