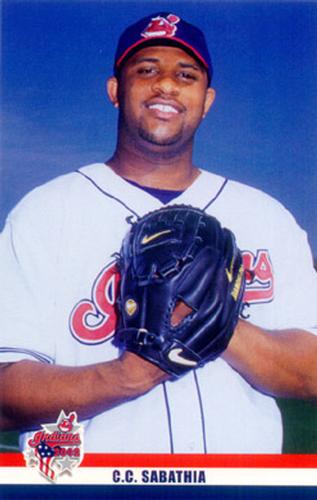 April 8, 2001: CC Sabathia overcomes rocky start in major-league debut
---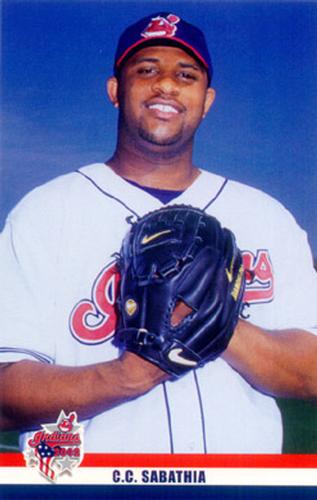 CC Sabathia strode to the mound at Jacobs Field on a bright and breezy Sunday afternoon, debuting as a 20-year-old from Vallejo, California, only three years removed from high school. The heralded youngster made the Indians out of spring training as Cleveland's No. 4 starting pitcher.1 Cleveland's first-round pick from the June 1998 Amateur Draft was the first left-handed pitcher the Indians selected in the first round since Greg Swindell in 1986.2
Sabathia pitched parts of three seasons in the minors before his major-league debut. The youngster debuted professionally with the Burlington Indians in the rookie Appalachian League in July 1988. Sabathia was described as having a friendly face and easy manner; however, opponents shouldn't underestimate his demeanor, as he commented during his first professional season, "I'm a totally different person on the mound. I come at you with everything I have … so you better watch out."3 He quickly advanced through Cleveland's rich farm system, and even skipped Triple-A baseball after splitting time between Double-A Akron and High A Kinston in 2000. Sabathia led all Cleveland farmhands with 159 strikeouts, averaging 9.8 strikeouts per nine innings, while earning accolades by Baseball America as the Indians' best prospect.4
The 2001 Indians were eager to reclaim the AL Central Division title; after they won the division title from 1995 through 1999, the Chicago White Sox pieced together a 95-67 record in 2000, five games ahead of Cleveland. Even though the Indians won 90 games, they missed the playoffs for the first time since 1994. Charlie Manuel returned as manager, with future Hall of Famers Roberto Alomar and Jim Thome leading the offense and Bartolo Colon anchoring the pitching staff. The Indians were expected to compete with Chicago for the division crown, with Cleveland's pitching its biggest uncertainty.5
The imposing Sabathia opposed the Baltimore Orioles in his major-league debut. The rebuilding Orioles were a marked contrast from Cleveland. Though the Orioles reached the postseason in 1996 and 1997, they finished fourth in the powerful AL East Division for three consecutive years. They ended the 2000 season with a 74-88 record, and entered 2001 without stars Mike Mussina, Charles Johnson, and Albert Belle. The Orioles finished last in The Sporting News preseason power poll and little was expected of the ballclub.6
The pleasant Sunday afternoon was the final game of a three-game series between the teams. Cleveland won the first game, 4-3, while Baltimore rebounded to take the second game, 4-2 in extra innings. The teams were evenly matched through the first few games in the 2001 season; through April 7, both Cleveland (11) and Baltimore (18) scored as many runs as they allowed. The Orioles struggled offensively, compiling a .176 team batting average through their first five games.7 Before the game Indians' veteran Ellis Burks complimented Sabathia's mature approach, even when facing a seemingly inferior opponent: "You look at a kid like that and you can tell he's already had a lot of successes. But everybody struggles at some point and how he bounces back from that will be important."8
Sabathia stared down Baltimore leadoff hitter Brady Anderson to begin the game. He fired his first pitch, a 95-mph fastball9 for a strike, to his batterymate, Einar Diaz. Sabathia followed with another strike; Anderson fouled off Sabathia's third offering, then flied out to left field as Sabathia successfully retired his first big-league hitter. The good start quickly soured. Mike Bordick laced a double into Jacobs Field's cavernous center field and Delino DeShields walked on five pitches. With two runners on base, Sabathia uncorked a wild pitch on a 0-and-1 count to Jeff Conine. Both runners advanced as the Orioles threatened early. Conine blasted a 2-and-2 fastball into the left-field seats and Baltimore quickly staked a 3-0 lead. Following Conine's — and Baltimore's — first clout of the season, Sabathia settled down. Mike Kinkade struck out on five pitches and Brook Fordyce grounded out. Sabathia had already thrown 33 pitches in his first big-league inning: 31 fastballs, one changeup, and one curveball, including 28 consecutive fastballs at one point.10
The Indians' top of the lineup didn't immediately provide any support to the rookie hurler as Jolbert Cabrera, Omar Vizquel, and Alomar all grounded out. Orioles starter Chuck McElroy required only 10 pitches to retire Cleveland in the first inning of his own season debut.
Sabathia quickly settled down in the second, retiring veteran Cal Ripken on a groundout and Melvin Mora on a fly out, and striking out Jerry Hairston Jr. to prevent Baltimore from building on their three-run lead. In the bottom half, McElroy continued strong by striking out Juan Gonzalez looking on three pitches. Burks gave Cleveland its first offensive jolt by crushing a 2-and-0 McElroy pitch into the center-field seats. Subsequently, Thome struck out and Wil Cordero flied out in foul territory as Baltimore led 3-1 after two innings.
In the third inning Sabathia needed only 10 pitches to set down the Orioles on a fly ball and two groundouts; both groundouts were weak grounders back to the mound. Russell Branyan and Diaz grounded out to start the Cleveland half; Cabrera singled up the middle and then stole second base on an 0-and-2 count to Vizquel. However, Cabrera advanced no farther as Vizquel struck out on the next pitch.
Sabathia established his rhythm during the middle innings, allowing a lone double to Fordyce but no other baserunners during the fourth and fifth innings. His counterpart started showing signs of succumbing to Cleveland's powerful offense, allowing a lead-off solo home run to Branyan in the fifth that reduced Baltimore's lead to one run. Diaz subsequently walked, and advanced to third on successive groundouts, but was stranded when Alomar flied out. Baltimore now led 3-2 after five innings.
Bordick opened the sixth inning with a fly out, and DeShields followed with a popout. Conine walked on five pitches, and Sabathia's debut was finished. Walking off the mound to a rousing ovation after 5⅔ innings, Sabathia finished his afternoon keeping Cleveland in the ballgame after a rough first inning.11 Justin Speier relieved him and Kinkade flied out to close the book on Sabathia. Sabathia allowed three runs on three hits while striking out three and walking two for a solid debut. After Conine's homer, Sabathia limited Baltimore to one hit and one walk while retiring 16 of the last 18 batters he faced.
Calvin Maduro entered the game for Baltimore in the sixth and was greeted rudely by Cleveland's offense. Gonzalez doubled to left field and Burks walked on four pitches. Thome lined out for the inning's first out. A passed ball allowed both runners to reach scoring position, but Maduro bore down, striking out both Cordero and Branyan looking.
Speier fared better than Maduro during his relief appearance; his only baserunner resulted from a walk to Ripken in the seventh; Ripken was caught stealing to end the inning. Maduro struggled again starting an inning as Diaz led off the seventh with a double. After an unsuccessful bunt attempt, Vizquel walked on four pitches. Although Alomar grounded out, both Diaz and Vizquel advanced 90 feet. Willis Roberts, who relieved Maduro, didn't slow down Cleveland's offense; Gonzalez singled home Diaz and Vizquel with the tying and go-ahead runs, respectively. Gonzalez's hit snapped an 0-for-26 drought for Cleveland with runners in scoring position.12 Burks struck out on a full count, but the Indians grabbed the lead for the first time, ahead 4-3 after seven frames.
In the eighth inning, Paul Shuey relieved Speier and retired the Orioles in order while Buddy Groom relieved Roberts and also faced the minimum number of batters. Cleveland closer Bob Wickman entered the game for the ninth inning. DeShields grounded out to second, and the dangerous Conine popped out. Jay Gibbons, who pinch-hit for Kinkade, walked on five pitches. Down to their last out, the Orioles sent Chris Richard to run for Gibbons while pinch-hitter David Segui substituted for Fordyce. Segui was caught looking on a 1-and-2 pitch as the Indians triumphed 4-3.
Manuel praised his burgeoning star's resilience: "C.C. handled it pretty good. After a couple of innings, he started getting better. He hung in there and bounced back (after the homer). I thought he would be nervous, but he didn't show that."13 Sabathia exceeded 95 mph on several fastballs, and threw 63 of his 103 pitches for strikes.14 He overcame his rocky first inning to settle down and limit Baltimore's offense. After the game he commented, "I had a lot of fun today."15
Throwing a mid-90s fastball, mid-80s curveball, and an advanced changeup,16 Sabathia finished the season with a 17-5 record and a 4.39 ERA in 180⅓ innings. His overpowering fastball led to 171 strikeouts. Sabathia finished second in AL Rookie of the Year voting to Ichiro Suzuki, gaining one first-place vote and 21 second-place votes.17 He earned July Rookie of the Month honors, and also led all rookie pitchers in victories, starts, and strikeouts. Cleveland won the 2001 AL Central Division but eventually lost to the Seattle Mariners in the ALDS, when Sabathia won Game Three.
Sources
Besides the sources cited in the Notes, the author consulted Baseball-Almanac.com, Baseball-Reference.com, Retrosheet.org, and the following:
baseball-reference.com/boxes/CLE/CLE200104080.shtml
retrosheet.org/boxesetc/2001/B04080CLE2001.htm
Snyder, John. Indians Journal: Year by Year & Day by Day with the Cleveland Indians Since 1901 (Cincinnati: Clerisy Press, 2008).
Notes
1 Steve Herrick, "Cleveland," The Sporting News, April 9, 2001: 57.
2 Ken Berger, "Tribe Introduces Top Draft Pick," Fremont (Ohio) News-Messenger, July 10, 1998: 13.
3 Sheldon Ocker, "A Nice Guy, but 'Watch Out,'" Akron Beacon Journal, July 10, 1998: 33.
4 2001 Buffalo Bisons Information Guide (Buffalo, NY: Buffalo Bisons, Inc., 2001), 41.
5 Steve Herrick, "Cleveland Season Preview," The Sporting News, March 26, 2001: 77.
6 Dave Sheinin, "Baltimore Season Preview," The Sporting News, March 26, 2001: 91.
7 Associated Press, "Sabathia Lives Up to Hype in Indians' Win," Mansfield (Ohio) News-Journal, April 9, 2001: 13.
8 Tom Withers (Associated Press), "Indians Rookie Sabathia Primed for Major League Debut," Zanesville (Ohio) Times Recorder, April 8, 2001: 15.
9 Tom Withers, "Sabathia Solid in Tribe debut," Fremont (Ohio) News-Messenger, April 9, 2001: 11.
10 Sheldon Ocker, "C.C., Tribe Both Have Fun," Akron Beacon Journal, April 9, 2001: C005.
11 Withers, "Sabathia Solid."
12 Associated Press, "Sabathia Lives Up to Hype."
13 Ocker.
14 Withers, "Sabathia Solid."
15 Ocker.
16 "CC Sabathia," in Josh Dewan (ed.), The Scouting Notebook 2002 (Morton Grove, Illinois: Stats, Inc. Publishing, 2002), 108.
17 Ronald Blum, "Baseball Rookie Awards Nearly Unanimous," Dayton Daily News, November 13, 2001: 14.
Additional Stats
Cleveland Indians 4
Baltimore Orioles 3
---
Jacobs Field
Cleveland, OH
Box Score + PBP:
Corrections? Additions?
If you can help us improve this game story, contact us.
Tags
https://sabr.org/sites/default/files/Sabathia-CC-2001.jpg
600
800
admin
/wp-content/uploads/2020/02/sabr_logo.png
admin
2019-07-17 00:54:08
2020-04-17 10:22:36
April 8, 2001: CC Sabathia overcomes rocky start in major-league debut