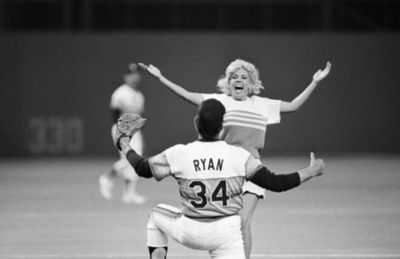 April 9, 1985: Morganna smooches Nolan Ryan at the Astrodome
---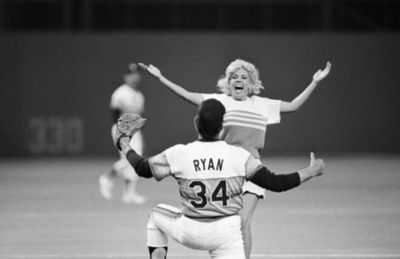 She was the Kim Kardashian of her day.
During the pre-Internet era, Morganna "The Kissing Bandit" Roberts was a busty stripper who gained a degree of notoriety in the 1970s and 1980s by running onto baseball diamonds, football fields, and other playing surfaces across America to kiss an athlete, and then returning to the stands whence she came.1 She occasionally exited the field accompanied by the gendarmes of the city in question, facing trespassing charges on 19 occasions, although she was never convicted.2
By the mid-1980s she was famous nationwide, having kissed, among others, Pete Rose, Steve Yeager, George Brett, and Steve Garvey. Then she decided to attend the Houston Astros' season opener on April 9, 1985, against the Los Angeles Dodgers and plant a peck on Nolan Ryan.
Morganna's shenanigans aside, the Astros' first game of the season offered some intriguing scenarios. One was the matchup between two pitchers trying to rebound from mediocre 1984 seasons. Ryan was coming off an injury-plagued 12-11 campaign in which he had a 3.04 ERA and a pedestrian–for him–197 strikeouts in 183⅔ innings. Dodgers starter Fernando Valenzuela labored to a 12-17 record the previous season with a 3.03 ERA and 240 strikeouts in 261 innings.
The game also marked the return of shortstop Dickie Thon to the Astros' lineup from a horrific injury he suffered almost exactly a year earlier, on April 8, 1984, when the New York Mets' Mike Torrez hit him in the temple with a pitch, fracturing his orbital bone and ending his season.
The game also celebrated the Astrodome's 20th anniversary. Guests for the pregame ceremonies included Mickey Mantle, who hit the first-ever home run at the Dome in a 1965 exhibition game, and Olympic sprinter Carl Lewis, who threw out the ceremonial first pitch.
Morganna didn't wait long to make her appearance; she jumped out onto the field in the first inning, and ran up to Ryan on the mound with a bunch of, um, hooters and hollerers yelling their approval. Ryan, upon seeing her, went down on one knee and spread his arms as if he were going to do an impression of Al Jolson belting out Mammy, then reportedly said, "Hurry up, Morganna! The cops are right behind you!"3 She bent down and kissed him, then ran over to Thon and pecked him as well. After that Morganna ran to the Dodgers' dugout, where Houston's Finest arrested her for trespassing. The game resumed after the commotion, with Ryan throwing an easy 1-2-3 inning.
Thon led off the bottom of the first for Houston and was greeted with a rousing standing ovation from the 42,876 fans before grounding out to third.
As expected, runs were hard to come by in this game, but Los Angeles managed to open the scoring in the top of the second. Mike Marshall doubled with one out and, after Mike Scioscia flied out, came home on a single by Sid Bream. Ryan shut the door after that, retiring 16 of the next 17 hitters before giving way to reliever Frank DiPino in the eighth.
Valenzuela pitched well enough to win, but was undermined by uncharacteristically poor defense by his teammates. Thon got the home crowd cheering in the third when he singled; he moved to second when Scioscia, the Dodgers catcher, threw wild trying to pick him off first. After Enos Cabell struck out, Phil Garner singled Thon home with the tying run.
Houston took the lead for good in the fourth. Number-eight batter Bill Doran hit a one-out double, bringing up Ryan. Ryan hit a grounder to second, where Mariano Duncan misplayed the ball, enabling Doran to sprint home. That made the score 2-1 and that's how the game ended.
The outcome was not a harbinger of how each team's season would unfold. Los Angeles ended up winning the National League West with a 95-67 record. They lost the NLCS to St. Louis, four games to two. Houston finished third in the division with an 83-79 record, 12 games behind the Dodgers. Aside from the intriguing pitching matchup, this was a typical National League game. The really interesting stories were Morganna's appearance and subsequent ride into judicial history, and Thon's return.
Judicial history may be overstating things a bit, but Morganna's lawyer, Richard "Racehorse" Haynes, said that she had no intention of trespassing, but that she leaned over the railing, then her boobs and gravity did the rest. As for how Newton's Law led to Morganna running to the mound to kiss a ballplayer, he explained that she "panicked and ran to pitcher Nolan Ryan as thousands of fans cheered her name."4
It would have been very interesting to find out what a judge thought of this explanation, but the case never went to court, as the district attorney dropped the charges at the request of the Houston Sports Association, which ran the Astrodome. This was fortunate for Morganna, as she could have been sent to jail for six months and fined $1,000.
As for Thon, his return from that horrible injury was remarkable, considering how the blow had affected his eyesight during his recovery. At one point, his vision, which was 20-20 before the accident, was at 20-150. Nevertheless he persevered, and his determination inspired his teammates. "I had a lump in my throat when he went up for the first time," said Doran. "I talked with him a lot during the spring. He's been through so much. We just had to be patient with him and let him come through on his own."5
"I was anxious but not nervous," said Thon. "I'm just glad to be back and we won the game."6
The promising results of that first game didn't continue during the season; in fact, the injury ruined a potentially great career. In 1983, the year before the beaning, Thon hit .286 with 20 home runs and 79 runs batted in, was an All-Star, and won the Silver Slugger award at his position. It was clear early in 1985 that he was not the same. He had trouble seeing outside breaking pitches and inside fastballs. He eventually became a platoon player, and appeared in only 84 games that year, hitting .251 with six home runs and 29 RBIs. Thon ended up playing in the majors for 15 years with six different teams, and never again attained the heights he had reached in 1983.
This article appears in "Dome Sweet Dome: History and Highlights from 35 Years of the Houston Astrodome" (SABR, 2017), edited by Gregory H. Wolf. To read more articles from this book at the SABR Games Project, click here.
Sources
In addition to the sources cited below, the author also used:
Houston.astros.mlb.com.
Galveston Daily News.
Los Angeles Times.
Miami News.
Orlando Sun-Sentinel.
Srvofficial.com.
Notes
1 Morganna's first foray onto a field of play occurred in 1969, 1970, or 1971—sources differ – when, on a dare, she ran out to kiss Pete Rose at Crosley Field in Cincinnati.
2 ESPN E:60 documentary, "Morganna: The Kissing Bandit."
3 Bruce Nash and Allan Zullo, The Baseball Hall of Shame 4 (New York: Pocket Books, 1990), 132.
4 J.R. Gonzales, "30 Years Ago: Morganna the Kissing Bandit, the Dome's 20th and Stevie Ray Vaughan," Houston Chronicle, April 14, 2015.
5 "Ryan helps Astros start on positive note," Baytown (Texas) Sun, April 10, 1985.
6 Ibid.
Additional Stats
Houston Astros 2
Los Angeles Dodgers 1
---
Astrodome
Houston, TX
Box Score + PBP:
Corrections? Additions?
If you can help us improve this game story, contact us.
Tags
https://sabr.org/sites/default/files/RyanNolan-Morganna-1985.jpg
600
800
admin
/wp-content/uploads/2020/02/sabr_logo.png
admin
2018-10-01 22:33:28
2020-04-17 10:23:54
April 9, 1985: Morganna smooches Nolan Ryan at the Astrodome