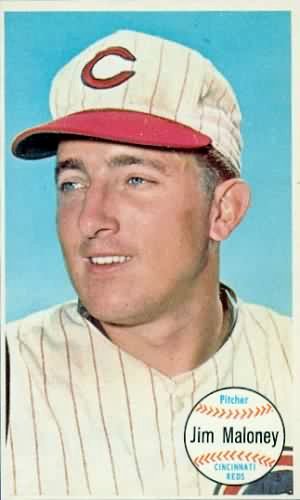 August 11, 1960: Reds' Jim Maloney goes route for first time while Sandy Koufax fans 13
---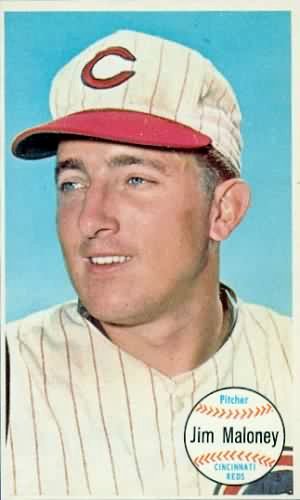 By the end of the 1960s, future Hall of Famer Sandy Koufax and All-Star Jim Maloney stood among the best pitchers of the decade: they were two of only seven with at least 1,500 strikeouts from 1960 to 1969; over the period, Koufax ranked seventh in victories with 137 while Maloney was eighth with 134. Koufax had the best won-lost percentage (.695) while Maloney's (.626) ranked fifth.
At Crosley Field on August 11, 1960, however, when they met for the first time in their careers, their statistics to that point did not portend greatness.
Koufax, then 24, was in his sixth major-league season but his performance up to then was far from that of his dominating run from 1962 until he retired at 30 in 1966, when he led the National League in ERA every season, in strikeouts three times, and won three Cy Young Awards. In his first five seasons (1955-59), he was 28-27 with an ERA above 4.00.
Koufax's 1960 season prior to that August meeting with Maloney was in line with his early résumé: He was 4-8, with an ERA of 4.25. Koufax's lack of effectiveness, in fact, had led to his being pulled from the rotation after a July 4 game against St. Louis when he lasted a third of an inning, "being bombed," giving up two runs on three hits (two of them doubles) and two walks.1 He'd returned to the rotation on July 30 against Milwaukee when scheduled starter Johnny Podres came up with a sore back.2 He'd lasted only four innings, allowing four runs on five hits, including two homers. In his next start, on August 7, at Philadelphia, however, Koufax found the groove that had been eluding him, going the distance, striking out 11, and gaining his first victory in more than a month.
For his part, Maloney, 20, was making just his fourth major-league start since Cincinnati recalled him on July 23 from Double-A Nashville, where he'd gone 14-5 with what The Sporting News described as an "impressive" ERA of 2.79.3 Over his first three big-league appearances, Maloney had been less than impressive, however: He was 0-2 with a 5.17 ERA; in his previous start, he'd lasted 3⅓ innings, giving up three runs on five hits and a walk.
Coming into this day, the two teams seemed on opposite tracks. Although they began the previous month virtually tied (the Dodgers were 33-35 while the Reds were 32-35), the Dodgers since then had been "one of the hottest teams in baseball,"4 going 24-11, while Cincinnati, 15-24, was one of the coolest. The Dodgers stood tied for third with the Milwaukee Braves, seven games behind Pittsburgh, while the Reds were in sixth, 18½ back.
Also, coming into the game, the two teams had mutual bad blood, stemming from their meeting of May 2 in Los Angeles when the Reds' Vada Pinson, in a rundown, crashed into Dodgers hurler Roger Craig at the plate, breaking Craig's collarbone and sidelining him for nearly two months.5 Ever since, they had been in a beanball war, in which Dodgers hurlers had hit Reds batters six times in 10 games, Pinson three times, leading Frank Finch of the Los Angeles Times to warn, "Things could become … deadly when the Dodgers move into Cincinnati to open a five-game series with the hard-nosed Reds. … General manager Gabe Paul of the Reds accused the Dodger pitching staff of having a 'planned program' of bean balls. … And [Reds] skipper Fred Hutchinson warned that his pitchers will be ordered to retaliate if the Dodgers start anything."6
League President Warren Giles warned the teams, telling Hutchinson and the Dodgers' Walt Alston, "There have been so many charges and counter charges about pitchers intentionally throwing at hitters … that you … must advise your pitchers to be doubly careful in their so-called tight pitches."7
As it turned out, the all-out war did not happen: As Finch wrote in his game account, "If the small turnout of 7,530 fans came out to see the feud between the Dodgers and the Reds revived, they were sorely disappointed. There was only one pitch remotely resembling a bean ball … in the eighth inning when … Maloney buzzed one past Charlie Neal's ear."8
Instead, what they got was a well-pitched game. For Cincinnati, Maloney at last seemed to suggest he might live up to the hype when the team called him up: He threw the first of what became 74 career complete games. While he surrendered seven hits and six walks, he held the visitors to three runs while striking out eight, his most in a game thus far.
Koufax, for his part, turned in the kind of performance we associate with his name. Throwing pitches that Cincinnati Enquirer sports editor Lou Smith said resembled "an aspirin tablet shot out of a blow gun,"9 he allowed only two hits, walked one, and struck out 13, including Pinson three times.
The Dodgers took the lead in the top of the first, when Maloney started shakily. After fanning Maury Wills leading off, he walked Jim Gilliam before Wally Moon singled and both advanced on a groundout by Norm Larker. Gilliam scored on a Tommy Davis single to right. With Moon on third, Maloney fanned Frank Howard, getting out of the inning.
The Reds got one of their two hits in the bottom of the first, when Frank Robinson singled to center. Their only other hit came in the next inning, when Gordy Coleman beat out a groundball to second. After that, Koufax retired the next 19 batters before walking Willie Jones, leading off the ninth as a pinch-hitter for Leo Cardenas. None of the Reds' three runners got past first: In the first, Robinson was stranded at first; in the second, Coleman was caught trying to steal second; in the ninth, Jones was forced at second on a game-ending grounder by Pinson.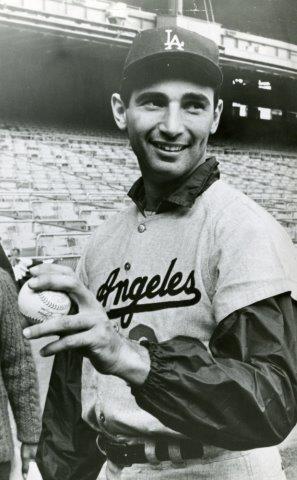 Meanwhile, the Dodgers added a second run in the fifth. Wills led off with a single, stole second, and went to third when catcher Ed Bailey's throw sailed into center. When Pinson's throw to try to catch Wills advancing to third sailed over the head of Cliff Cook, Wills scored. They added their final run in the eighth when Larker led off with a double and left for pinch-runner Joe Pignatano, who advanced on a Davis groundout. After Howard fanned, Maloney walked John Roseboro then gave up a run-scoring double to Neal. The inning ended when Roseboro was caught trying to steal home.
The Reds had a small hope in the ninth when Jones walked leading off but Koufax fanned Jerry Lynch and got Eddie Kasko on a popup to second, bringing up Pinson. Closing out a day he'd likely want to forget, Pinson grounded to second, forcing Jones for the final out.
Despite the brilliant day by Koufax and solid one by Maloney, both were inconsistent the balance of the season. In his next outing, against the Cubs, Koufax lasted four innings, giving up five runs; in another start later that month he managed two innings, surrendering four runs to the Braves. On the other hand, in back-to-back games in September, he went the distance, striking out a combined 21 batters.
For his part, Maloney recorded his first major-league win in his next start, 5-3 over the Braves, going 8⅓ innings. In his start after that, however, he gave five runs to the Pirates before getting the hook in the second. By mid-September, his ERA was above 5.00. Like Koufax, however, he gave another hint of his later success, when he shut out Philadelphia 5-0, on September 24, notching 11 strikeouts.
Koufax ended the season 8-13 with a 3.91 ERA, while Maloney finished 2-6 with a 4.66 ERA.
For both, their glory days still lay ahead.
This article was published in "Cincinnati's Crosley Field: A Gem in the Queen City" (SABR, 2018), edited by Gregory H. Wolf. To read more articles from this book at the SABR Games Project, click here.
Sources
In addition to the sources in the notes, the author also consulted BaseballReference.com and Retrosheet.org.
https://www.baseball-reference.com/boxes/CIN/CIN196008110.shtml
https://www.retrosheet.org/boxesetc/1960/B08110CIN1960.htm
Notes
1 Frank Finch, "LA Splits; 'Dusters' Set Off Fireworks," Los Angeles Times, July 5, 1960: IV-1.
2 Frank Finch, "250,000 Fans in One Week!," Los Angeles Times, July 30, 1960: II-2.
3 Earl Lawson, "Quartet of Prized Prospects Add Zing to Sagging Reds," The Sporting News, August 3, 1960: 17.
4 Lou Smith, "Maloney to Face Red-Hot Dodgers," Cincinnati Enquirer, August 11, 1960: 39.
5 Frank Finch, "LA Splits; Dusters Set Off Fireworks," Los Angeles Times, July 5, 1960: IV-1.
6 Frank Finch, "Look for Hot Time in Old Cincy Tonight as L.A. Opens 5-Game Set," Los Angeles Times, August 11, 1960: IV-1.
7 Lou Smith, "Hutch, Walt Warned," Cincinnati Enquirer, August 12, 1960: 31.
8 Frank Finch, "Dodgers Win as Koufax Hurls 2-Hitter," Los Angeles Times, August 12, 1960: IV-1.
9 Lou Smith, "Koufax Fans 13, Blanks Reds on 2 Hits, 3-0," Cincinnati Enquirer, August 12, 1960: 31.
Additional Stats
Los Angeles Dodgers 3
Cincinnati Reds 0
---
Crosley Field
Cincinnati, OH
Box Score + PBP:
Corrections? Additions?
If you can help us improve this game story, contact us.
Tags
https://sabr.org/sites/default/files/images/MaloneyJim1.jpg
600
800
admin
/wp-content/uploads/2020/02/sabr_logo.png
admin
2019-10-07 00:43:07
2020-04-17 10:22:30
August 11, 1960: Reds' Jim Maloney goes route for first time while Sandy Koufax fans 13