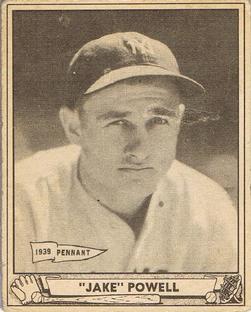 August 16, 1938: Lou Gehrig, Jake Powell battle for headlines in Yankees sweep
---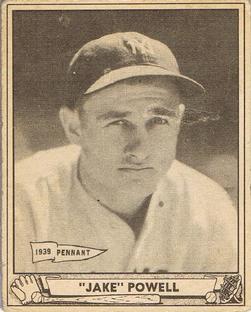 For much of the 1938 season, Lou Gehrig struggled to hit with his usual consistency and power, and some sportswriters called for him to end his renowned consecutive-games streak, by then over 2,000 games long.1 Finally, in mid-August he found his groove, hitting .419 with seven homers, seven doubles and 27 RBIs over a 15-game stretch. "He is the menace of old," wrote Rud Rennie in the New York Herald Tribune. "The fans sense it. They greeted him yesterday with those bursts of hurrahs which they reserve for strong men whom they expect to do big things."2
One day later, on August 16, Larrupin' Lou erupted for his biggest offensive explosion of the year. Not many noticed, however, thanks to a backup outfielder with a nasty streak and a racist attitude.
The events unfolded during the August 16 doubleheader at Griffith Stadium between Gehrig's pennant-bound Yankees and the Washington Senators. In game one, the Senators started a rookie pitcher, Ken Chase. Statwise, Chase looked like a sacrificial lamb, boasting a poor 3-7 record and 6.03 ERA. But one week earlier, the 24-year-old lefty had pitched his best game of the season, limiting the mighty Yanks to six hits and overcoming nine walks in a complete-game 4-2 victory.
If the Senators hoped for a repeat performance, the hope unraveled early. The game was scoreless in the second inning when Chase hit Gehrig with a pitch. The Iron Horse suffered no injury, but it appears that getting hit got him fired up:
After taking first, Lou advanced to second on a passed ball and came around to score on Joe Gordon's double. Yankees 1, Senators 0.
In the fourth, Lou lashed his own double to leftoff Chase, driving in Joe DiMaggio from first. He scored on another hit from Gordon. Yankees 3, Senators 0.
The Yankees batted around in that inning, ousting Chase. His replacement, Chief Hogsett,
intentionally walked DiMaggio to pitch to Gehrig. The Yankees captain made Hogsett pay, blasting a homer to right that scored DiMaggio, Red Rolfe, and himself. Yankees 10, Senators 0.
In the sixth, Gehrig singled off Pete Appleton, pushing DiMaggio to third. Both men soon scored, with Lou galloping in from first on Joe Glenn's triple. Yankees 14, Senators 0.
In the seventh, Gehrig singled off Appleton again, this time driving in Myril Hoag. Yankees 15, Senators 0.
And after seven innings, Gehrig rested. Babe Dahlgren played the last two innings at first in the 16-1 rout. Gehrig's stats for the game: four hits, four runs scored and five RBIs, all but one of them coming with two out.
The newspapers would have showered Gehrig with more praise, except that his career-long tendency to get overshadowed reared up again. In game two, manager Joe McCarthy decided to start Jake Powell in left field.
The Yankees had acquired Powell from the Senators in a June 1936 trade for another ill-tempered player, Ben Chapman. Since then, Powell had shown himself to be a capable hitter and fielder, mostly off the bench. But he was best known for his aggressive, sometimes dirty play. In April 1936, still with the Senators, he crashed into Hank Greenberg on a close play at first base, breaking Greenberg's wrist and knocking the Tigers first baseman out for the entire season.3 In July 1937 in Washington, he ran into his former teammate Joe Kuhel on another play at first, prompting Senators faithful to hurl expletives and objects from the stands.4 When the teams met again a week later, Kuhel and Powell got into a midgame fistfight in which Powell landed a solid right to Kuhel's jaw.5
Tolerance for hostilities in baseball was higher then, and the only subsequent punishment the players received was a $25 fine.6 The American League was less lenient with Powell in May of '38 when he turned his fists on Red Sox manager-shortstop Joe Cronin in an on-field altercation. This time, AL President Will Harridge handed Powell a three-game suspension in addition to fining him $25.7
All this was in the background when the Yankees went to Chicago for a series at the end of July. Before the first game on July 29, Powell gave a live interview to WGN radio's Bob Elson. When Elson asked how Powell stayed in shape during the offseason. Powell responded: "I'm a policeman in Dayton, Ohio, and I keep in shape by cracking niggers on the head with my nightstick."8
WGN cut off the interview but was barraged by outraged callers, prompting several on-air apologies that emphasized the live nature of the broadcast.9 The next day, three local black civic groups filed a protest with Commissioner Kenesaw Mountain Landis, saying Powell had insulted "twelve million Negro citizens" and should never play professional ball ever again.10
Landis — a tacit supporter of baseball's long-standing ban on black players — refused to go that far but suspended Powell for 10 days. In a statement, he said Powell had made "unethical and disparaging remarks" but added that he believed the comments were more careless than intentional.11 Yankees general manager Ed Barrow echoed that comment, saying Powell's remark was a slip of the tongue that caused him "to say something that he did not mean at all."12
Such was the stance of baseball toward racism in 1938.
Powell did not play again until the 16th, when McCarthy put him in the lineup for game two. Senators fans — some enraged by Powell's racist remark, others angered by his punching of Kuhel — showered the outfielder with boos and thrown objects all afternoon.13 The situation nearly boiled over in the sixth, when Powell had to dodge a torrent of pop bottles and endure chants of "Take him out!" as he tried to take the field. According to the New York Times, the game was "halted several minutes while five Negro ground attendants gathered the glassware in baskets." The paper said another bottle whizzed behind Powell's shoulders, missing him by inches, after he reached first base in the seventh on an error.14
When Times editors wrote headlines that night, they had a choice whom to emphasize — Gehrig, one of the most accomplished and beloved players in baseball, or Powell, one of the most hated.
The result: "Powell Survives Bottle Barrages as Yankees Rout Senators 16-1, 6-2." Lou merited a third-line subhead.15
In retrospect, the Times and other papers should have focused on Gehrig, for the first baseman was in the midst of a hot streak that was truly miraculous. Even as he pounded American League pitching, Lou's durable frame was starting to wither under the effects of the paralyzing, fatal disease ALS. The disease would end his career early in the 1939 season and kill him in less than three years.
What enabled Gehrig to enjoy his renaissance in August 1938? Some sportswriters at the time reported that he had switched to a lighter bat, to enable a faster swing.16 Another explanation was an adjustment in his batting stance. "He returned the style of hitting that made him famous," Rud Rennie wrote, "and suddenly regained the power stroke that had eluded him all season."17
There's another possible reason for Gehrig's resurgence — a temporary reversal of his ALS symptoms. In the 2010s, researchers led by Dr. Richard Bedlack at Duke University analyzed 17 ALS clinical studies where participants' symptoms had been tracked using the ALS Functional Rating Score. Under the system, doctors evaluate ALS patients' ability to speak, walk, and perform other basic motor functions. The study found that nearly one in seven showed brief improvements in their scores, indicating an upturn in their condition.18
Bedlack says scientists aren't sure why that happens. He says one possibility is that patients are making physical and/or mental adjustments of the kind Gehrig did. But, he says, there could also be a medical phenomenon at play.19
Whatever caused the change, the Washington Senators felt the effects of it on that hot August day in 1938. For one of the final times in his career, Lou Gehrig was truly Larrupin' Lou, and worthy of a page-topping headline.
Sources
The author adapted this article from his book Last Ride of the Iron Horse: How Lou Gehrig Battled ALS to Play One Final Championship Season (Sunbury Press, 2019). Descriptions of the game action come from box scores and play-by-play accounts on baseball reference.com and retrosheet.org.
baseball-reference.com/boxes/WS1/WS1193808161.shtml
baseball-reference.com/boxes/WS1/WS1193808162.shtml
retrosheet.org/boxesetc/1938/B08161WS11938.htm
retrosheet.org/boxesetc/1938/B08162WS11938.htm
Notes
1 Examples of this include Lester Rodney, "2,005, Or How About a Week Off, Lou?" Daily Worker, June 14, 1938, and Stanley Frank, "Gehrig Holding Bag in Decline of Yankee Power," New York Post, July 12, 1938.
2 Rud Rennie, "Yankees Down A's, 4-3, 9-2," New York Herald Tribune, August 15, 1938.
3 Charles P. Ward, "Greenberg's Broken Wrist Will Keep Him Out for Month," Detroit Free Press, April 30, 1936. The prediction in the headline was wrong: Greenberg did not play another game that season.
4 Jack Smith, "Fans Toss Pop Bottles," New York Daily News, July 4, 1937.
5 Associated Press photo, published on the back page of the New York Daily News, July 10, 1937.
6 "Powell, Kuhel Fined $25 for Fist Fight," Baltimore Sun, July 11, 1937.
7 "Powell, Yank Fielder, Fined and Suspended," Baltimore Sun, June 1, 1938.
8 "Powell Talk Costly," New York Daily News, July 31, 1938.
9 "Powell Talk Costly."
10 "Powell Insult Gets Boot of Judge Landis," Pittsburgh Courier, August 4, 1938.
11 "Powell Talk Costly."
12 "Powell Glad to Apologize," Pittsburgh Courier, August 4, 1938.
13 Jack Smith, "Yanks Win 2; Rip Nats 16-1, 6-2," New York Daily News, August 17, 1938.
14 "Powell Survives Bottle Barrages as Yanks Rout Senators, 16-1, 6-2," New York Times, August 17, 1938.
15 "Powell Survives Bottle Barrages."
16 United Press and Associated Press stories, August 17, 1938.
17 Rennie.
18 Richard Bedlack, Timothy Vaughn, Paul Wicks, Jamie Heywood, Ervin Sinani, Roger Selsov, Eric Macklin, David Schoenfeld, Merit Cudkowitz, and Alex Sherman, "How Common Are ALS Plateaus and Reversals?" Neurology, March 1, 2016.
19 Author interview of Dr. Bedlack, February 2019.
Additional Stats
New York Yankees 16
Washington Senators 1
New York Yankees 6
Washington Senators 2
---
Griffith Stadium
Washington, DC
Box Score + PBP:
Game 1:
Game 2:
Corrections? Additions?
If you can help us improve this game story, contact us.
Tags
https://sabr.org/sites/default/files/PowellJake.jpg
600
800
admin
/wp-content/uploads/2020/02/sabr_logo.png
admin
2020-02-04 11:00:10
2020-04-17 10:22:19
August 16, 1938: Lou Gehrig, Jake Powell battle for headlines in Yankees sweep