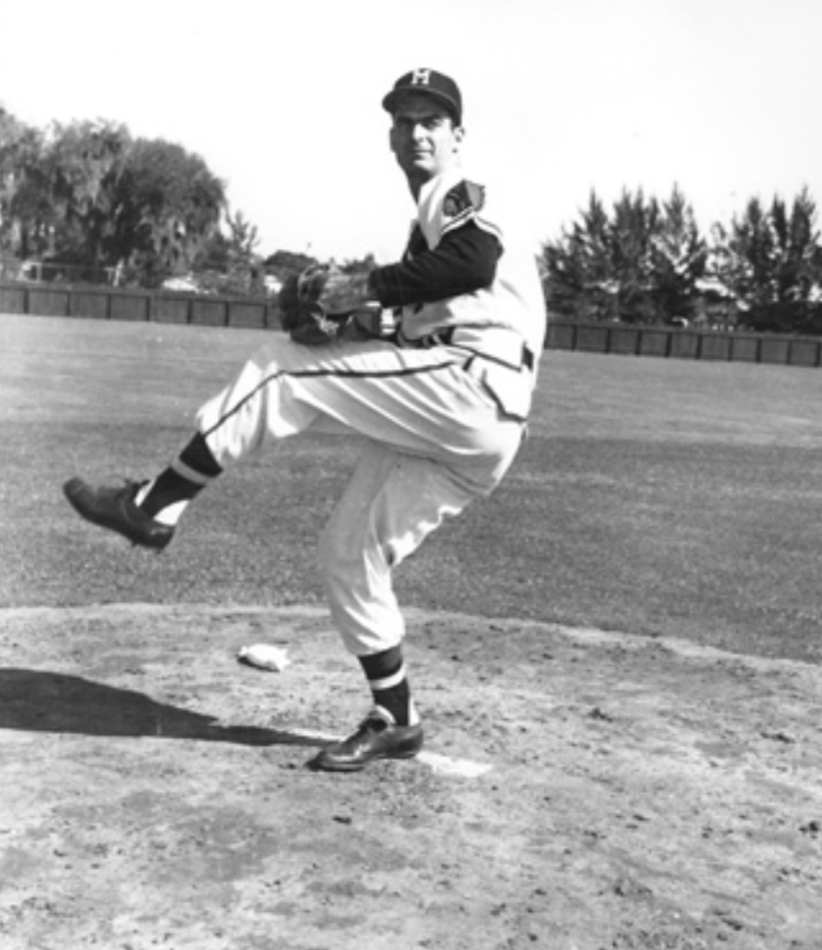 August 22, 1953: Johnny Logan's walk-off single secures Bob Buhl's 14-inning gem
---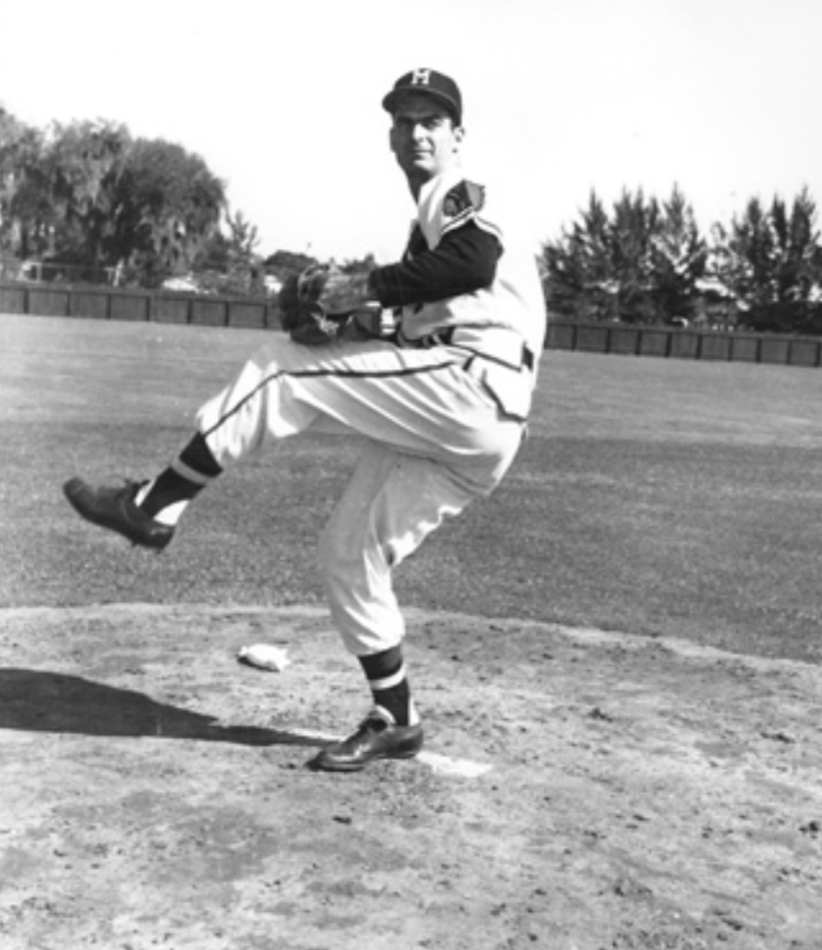 "A perfect example of poetic justice in action," wrote Lou Chapman of the Milwaukee Sentinel about right-hander Bob Buhl's commanding 14-inning complete-game 2-1 victory over the Chicago Cubs.1 Buhl had surrendered only one hit over the first nine innings, but seemed destined to be on a short end of a 1-0 pitchers' duel before pinch-hitter Walker Cooper tied the game with a two-out single in the ninth. Five innings later, shortstop Johnny Logan's walk-off single sealed the Cubs' fate. Buhl was "nothing short of superb," exclaimed Braves beat reporter Red Thisted.2
Fifty-two years after the Milwaukee Brewers, a charter team of the American League, relocated to St. Louis in 1901 after their first and only season in the upstart league, big-league baseball was back in "Beer City." Lured by newly built County Stadium and the prospect of big money in the untapped market of the upper Midwest, the perennial second-division Boston Braves were the first major-league franchise to shift since the Baltimore Orioles moved to New York and became the Highlanders in 1903. While the Braves struggled to attract just over 281,000 spectators in Boston in 1952, baseball-hungry fans in Milwaukee enthusiastically embraced the team and had surpassed that mark by the end of May.
While the Braves finished in seventh place in 1952, they were the surprise team in baseball in 1953. They moved into first place in late May and occupied the top spot for much of June, led by a core of young players, including third baseman Eddie Mathews, catcher Del Crandall, and first sacker Joe Adcock. Milwaukee was the hottest team in baseball as it prepared to play the second game of a four-game series against the Cubs on August 22. The Braves had won 14 of their last 16 games; however, manager Charlie Grimm's squad was in second place (74-47), a distant eight games behind the Brooklyn Dodgers. The Cubs, piloted by their longtime former first baseman Phil Cavarretta, were in their usual territory, firmly ensconced in the second division, in seventh place (45-73).
A good crowd of 31,854, including 1,392 in the knothole gang, was treated to a pitchers' duel on a pleasant Saturday afternoon in "Cream City." Making just his 12th start among his 23 big-league games was hard-throwing rookie Bob Buhl, a former paratrooper who had missed the previous two seasons while serving in the military. Unimpressive in his last year of Organized Ball, going 8-14 with a 3.47 ERA with the Dallas Eagles in the Double-A Texas League in 1950, the 24-year-old entered the game on a roll. In his previous five starts he was 3-1 with an outstanding 1.70 ERA in 42⅓ innings.
Over the first nine innings, Buhl dominated Cubs hitters, surrendering just one hit. The hit occurred in the fourth inning when Frank Baumholtz led off with a walk and moved to second on shortstop Eddie Miksis's infield out.3 Dee Fondy rapped what Thisted described as a "solid swipe" to right field to drive in Baumholtz.4 Crandall threw out Fondy attempting to steal second and Buhl retired Ralph Kiner to end the Cubs' only threat in the first nine innings. The game's defensive highlight, according to Thisted, occurred in the ninth when 21-year-old Mathews made a "back-handed stab of Dee Fondy's sizzling hopper" for the first out of the frame.5
For most of the afternoon the Braves had no answer for 32-year-old Howie Pollet, who was acquired by the Cubs earlier that summer. Once among baseball's best southpaws, Pollet twice won 20 or more games with the St. Louis Cardinals (1946 and 1949) and owned a 114-101 record over 11 seasons but had been plagued by arm problems the previous four years. Pollet "mesmerized the Braves with his southpaw 'junk,'" wrote Thisted, as he held the Braves to just four hits in eight innings.6 Adcock led off the ninth with a single; he was replaced by pinch-runner Harry Hanebrink who moved to second on Crandall's sacrifice. After Sid Gordon was retired, Walker Cooper pinch-hit for Sibby Sisti. Cooper, an eight-time All-Star and Pollet's batterymate with the Redbirds in the early 1940s, hit what Lou Chapman described as a "routine hopper" to the shortstop, but the ball took a "giant hop over the surprised Miksis' head and sped into center field," driving in Hanebrink to tie the score, 1-1. "[The ball] rolled end over end just like a pigskin," said Cooper.7
Energized by Cooper's "fluke hit," Buhl's only demon was wildness, with which he contended for most of his career.8 "He got himself into several troublesome spots but also had something in reserve to snap out of it," wrote Chapman.9 In the 12th inning Buhl squelched a Cubs rally whose sequence of events differs in the Milwaukee Sentinel and on Retrosheet.10 According to Thisted, Buhl issued leadoff walks to Randy Jackson and Bill Serena. Clyde McCullough forced Jackson at third and Hal Jeffcoat flied to Jim Pendleton, playing center field since pinch-hitting for starter Bill Bruton in the seventh inning. Pitcher Warren Hacker, who had taken over to start the 10th, singled off Hanebrink's glove to load the bases. But then Buhl, who recorded seven strikeouts to go along with his six walks and two hit batters, threw a heater that George Metkovich "gazed at [for] a third strike."11
In the bottom of the 14th, Milwaukee first baseman George Crowe rapped his second hit in as many at-bats since taking over for Adcock by "rolling a ground ball single into center" off the "side-wheeler" Hacker.12 The Cubs sported a major-league worst .967 fielding percentage, and fittingly they were doomed by two fielding miscues. Fondy threw Buhl's bunt into center field; Hacker fumbled Pendleton's bunt and did not attempt a throw, thus loading the bases. With the Cubs' outfielders playing shallow to prepare for a play at the plate, 27-year-old shortstop Johnny "Yatcha" Logan, whom Chapman described as an "unsung hero … with his unassuming play," collected the Braves' 12th and final hit by smashing a single over Kiner's head in left field. The seven-time NL home-run champion acquired from the Pirates with Pollet in June "didn't even bother to chase it," wrote Chapman.13 Crowe jogged to home plate to give the Braves a dramatic 2-1 victory in Milwaukee's longest game of the year, 3 hours and 29 minutes.
Buhl was uniformly praised for his route-going effort, which improved his record to 10-6, while Hacker lost for the 16th time on his way to leading the NL with 19 defeats. Buhl "speed-balled" all afternoon, wrote Irving Vaughan of the Chicago Tribune.14 "Bob was still throwing them pretty hard right down to the finish," said his batterymate Crandall, who had earned the first of his eight All-Star berths in 10 years the previous month.15 Logan's leadership throughout the team's first season in Milwaukee was not lost on manager Grimm: "Logan is making great plays out there all the time, but he is so unobtrusive about it that he is pretty much taken for granted," said the skipper. "He means a great deal to the Braves."16 But the final word was reserved for Buhl. "With a display of 'ironman' guts" [Buhl] forged his victory," wrote an excited Chapman.17
Throughout his 10 years with the Braves (1953-1962), Buhl formed the "Big Three" with lefty Warren Spahn and righty Lew Burdette, winning 109 games and posting a 3.27 ERA. He concluded his 15-year career with a 166-132 record and logged 2,587 innings, but never again hurled an extra-inning complete game in 369 starts.
This article appears in "From the Braves to the Brewers: Great Games and Exciting History at Milwaukee's County Stadium" (SABR, 2016), edited by Gregory H. Wolf. To read more stories from this book at the SABR Games Project, click here.
Sources
In addition to the sources listed in the notes, the author consulted:
Baseball-Reference.com
Retrosheet.org
SABR.org
Notes
1 Lou Chapman, "Buhl Shows 'Iron Man' Guts in Forging 10th masterpiece," Milwaukee Sentinel, August 23, 1953, 1-B.
2 Red Thisted, "Braves' Buhl Beats Cubs in 14-Inning Duel, 2-1," Milwaukee Sentinel, August 23, 1953, 1-B.
3 Ibid.
4 Ibid.
5 Red Thisted, "Sorry to See Charming Cubs Leave," Milwaukee Sentinel, August 23, 1953, 2-B.
6 Red Thisted, "Braves' Buhl Beats Cubs in 14-Inning Duel, 2-1."
7 Chapman.
8 Red Thisted, "Braves' Buhl Beats Cubs in 14-Inning Duel, 2-1."
9 Chapman.
10 Retrosheet.org reports incomplete data for this game. The ninth inning is described as follows: Jackson out on an unknown play; Serena out on an unknown play; McCullough singled; Jeffcoat walked [McCullough to second]; Hacker singled [McCullough to third, Jeffcoat to second]; Metkovich out on an unknown play.
11 Red Thisted, "Braves' Buhl Beats Cubs in 14-Innings Duel, 2-1."
12 Ibid.
13 Chapman.
14 Irving Vaughan, "Braves Beat Cubs, 2-1; Sox Lose, 2-1," Chicago Daily Tribune, August 23, 1953, A1
15 Chapman.
16 Red Thisted, "Braves See Hope in Bums' Rough Schedule," Milwaukee Sentinel, August 23, 1953, 2-B.
17 Chapman.
Additional Stats
Milwaukee Braves 2
Chicago Cubs 1
14 Innings
---
County Stadium
Milwaukee, WI
Box Score + PBP:
Corrections? Additions?
If you can help us improve this game story, contact us.
Tags
https://sabr.org/sites/default/files/BuhlBob.png
600
800
admin
/wp-content/uploads/2020/02/sabr_logo.png
admin
2018-03-01 13:13:11
2020-04-17 10:24:54
August 22, 1953: Johnny Logan's walk-off single secures Bob Buhl's 14-inning gem