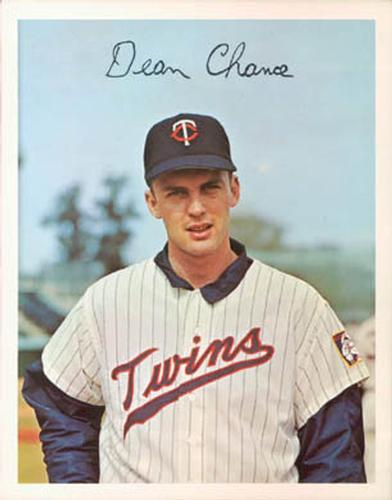 August 25, 1967: Twins' Dean Chance fires a no-hitter at Cleveland
---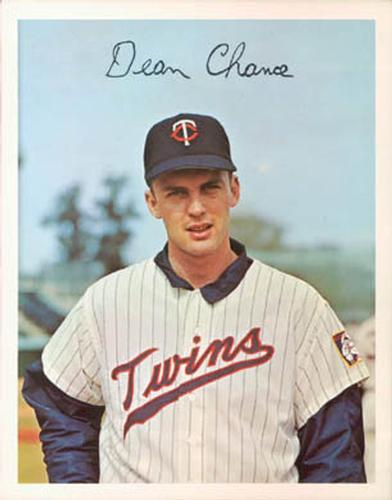 The 1967 pennant race in the American League was shaping up to be quite a doozy. With roughly five weeks left in the season, five teams were within striking distance of bringing home the flag. On August 24 Chicago (69-54) and Boston (70-55) were in a virtual tie for first place. They were followed by Minnesota (69-55-2), which was a half-game back and Detroit (69-57-1), a game and a half off the pace. California (64-62) was only a stone's throw away in fifth place and 6½ games back. But there was still a lot of baseball to be played before the matter was decided.
Minnesota, which was the AL champion in 1965, was looking strong once again as the season wound down. The Twins' offense was led by two regulars from the '65 team, Harmon Killebrew and Tony Oliva. A newcomer, Rod Carew, added some punch to the top of the batting order. The second baseman from Panama was on his way to being selected as Rookie of the Year by both The Sporting Newsand the Baseball Writers Association of America. Jim Kaat, Dean Chance, and Jim Merritt anchored the pitching corps.
The Twins were on an extended road trip that took them to Los Angeles, New York, Detroit, and Cleveland. It was a long stretch away from home; Minnesota had 16 games in 13 days. The trek started off well enough with a three-game sweep of the Angels and a split with the Yankees. But they dropped three of five at Detroit and headed to Cleveland to wrap up the series.
The four-game set began with a twilight-night doubleheader against the Indians at Cleveland Stadium on Friday, August 25. In the opener, the two teams battled to a 4-4 tie after nine innings. In the top of the 10th, Oliva led off with a single to center field off Indians reliever John O'Donoghue. Killebrew followed with a triple to left and scored one batter later on a sacrifice fly off the bat of Sandy Valdespino. Just like that, Minnesota was up 6-4.
Joe Azcue homered, his ninth of the season, in the home half of the 10th. But the one run was all the Indians could muster and the Twins won, 6-5.
The pitching matchup in the second game featured Dean Chance (16-9, 2.52 ERA) and the Indians' Sonny Siebert (6-10, 2.79 ERA). Chance had grown up in Wooster, Ohio, 60 miles south of Cleveland. "I must have gotten everybody's complimentary tickets on the team for my relatives and friends," he said.1The 1964 AL Cy Young Award winner had won five straight games from July 28 to August 16 before lasting only 2⅓ innings in a loss to Detroit on August 22. Included in Chance's winning streak was a five-inning, rain-shortened game at Metropolitan Stadium against the Red Sox on August 6. Chance set the Boston hitters down 1-2-3 for five innings, pitching a perfect game and the necessary five innings to secure a 2-0 win.
Siebert had identical 16-8 records for Cleveland in 1965 and 1966. It wasn't that he was pitching badly in 1967; the Tribe's offense was scoring a paltry three runs a game when he was the starting pitcher.
Bolstered somewhat by the contingent from Wooster, a crowd of 10,519 attended the game at Cleveland Stadium. Cleveland drew first blood with a run in the bottom of the first inning. Chance walked the first two batters in the Indians lineup, Lee Maye and Vic Davalillo. "Then pitching coach Early Wynn came out and told me my motion was too slow, "said Chance. "I did better after that."2Tony Horton reached base on a fielding error by Minnesota third baseman Cesar Tovar to load the bases with one out. Number five hitter Max Alvis stepped to the plate and struck out, but the third strike sailed past Twins catcher Jerry Zimmerman for a wild pitch, allowing Maye to score.
Minnesota evened the score in the top of the second inning. Oliva led off with a single to right field. He was off and running when Killebrew, the next batter, singled to left. A fielding error by Maye enabled Oliva to race home and tie the score.
Both pitchers had been victimized by errors that led to a run by the opposition; they both bore down as the game reached the middle innings. The score stayed 1-1 until the top of the sixth frame. With one away, Tovar singled to left and took third base when Oliva singled to right. With Killebrew at the plate, Siebert balked, sending Tovar home and giving the Twins a 2-1 advantage. Home-plate umpire Larry Napp made the balk call. He ruled that Siebert started his motion and then dropped his back foot off the mound. Siebert argued the call, but Napp insisted that Siebert lifted his arms before backing off the mound.3
Chance was better than Siebert on this night. And even though he walked five, he retired the last nine batters he faced and finished with a no-hitter. Chance struck out eight.
It was the second no-hitter for the Twins since the Washington Senators had relocated to Minneapolis in 1961. Jack Kralick pitched the first, on August 26, 1962. "I thought I had no-hit stuff," said Chance, who received a congratulatory phone call from Vice President Hubert Humphrey, a proud Minnesotan. "I threw fast balls and curves. In the last inning, I threw nothing but sliders to Davalillo, (Chuck) Hinton, and Horton to the infield."4
"Dean was just wild enough to be effective tonight," said Zimmerman "Those Cleveland hitters were hanging loose at the plate. Dean has no-hit stuff almost every time he goes out, with his fastball, breaking pitch, and that well-hidden motion."5
"Man, I didn't want no cheap hit to break his no-hitter," said Leon Wagner, who batted for Siebert in the eighth inning and struck out. "I was going home run or nothing. He's deserved a no-hitter, he's come so close so many times."6
Boston split a doubleheader with the White Sox that night and the Twins moved into first place by a half-game. Minnesota continued to hang tough and had a one-game lead over Detroit and Boston on September 29.
The Twins wrapped up the season with a two-game series at Fenway Park. Boston won the first game, 6-4, and Detroit defeated California, 5-0. On October 1, the final day of the season, Boston's Jim Lonborg (22-9) defeated Chance (20-14) and the Twins, 5-3. Boston scored five runs in the bottom of the sixth inning to bring home the pennant, as Detroit split a doubleheader with California to finish in a second-place tie with the Twins, one game back.
Sources
The author accessed Baseball-Reference.com and Retrosheet.org for box scores, play-by-play information, and other data.
retrosheet.org/boxesetc/1967/B08252CLE1967.htm.
baseball-reference.com/boxes/CLE/CLE196708252.shtml.
Notes
1Sid Hartman, Notes Column, Minneapolis Tribune, August 26, 1967: 12.
2Tom Briere, "Twins' Chance Hurls 2-1 No-Hitter," Minneapolis Tribune, August 26, 1967: 11.
3Ibid.
4Ibid.
5Ibid.
6Ibid.
Additional Stats
Minnesota Twins 2
Cleveland Indians 1
Game 2, DH
---
Cleveland Stadium
Cleveland, OH
Box Score + PBP:
Corrections? Additions?
If you can help us improve this game story, contact us.
Tags
https://sabr.org/sites/default/files/ChanceDean-MIN.jpg
600
800
admin
/wp-content/uploads/2020/02/sabr_logo.png
admin
2019-03-26 11:37:35
2020-04-17 10:23:37
August 25, 1967: Twins' Dean Chance fires a no-hitter at Cleveland