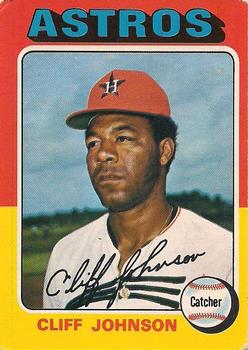 August 25, 1975: The missing 11th inning, as Cardinals-Astros ends in a tie
---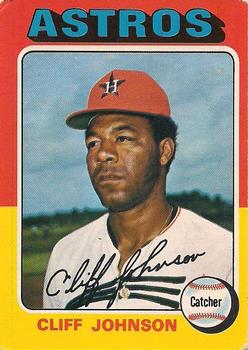 Bill Virdon became a man of leisure on August 1, 1975, when he was fired as manager by the New York Yankees, who jumped at the chance to hire the newly available Billy Martin. Virdon didn't rest long though; the Houston Astros hired him within three weeks.
At 47-80 under Preston Gomez, Houston had the worst record in the majors. Virdon took over on August 19, and the Astros produced three wins in his first five games. Cliff Johnson helped the new skipper by hitting a home run in each of those games (in addition to homering in an exhibition game on August 21, against the Iowa Oaks, a Houston farm team.)
The Astros went to St. Louis on August 25 to start a four-game series against the contending Cardinals, who were 69-59, tied with Philadelphia for second place in the National League East Division, three games behind Pittsburgh.
The series opener drew only 11,267 paid fans (although a number of free admissions brought the total to 16,467) because of the threat of storms, but the teams played in snappy fashion and it looked as though they would complete the game before it rained. Houston got a run in the top of the second off Lynn McGlothen on a leadoff double by Johnson, who came home on a two-out single by Tommy Helms.
The Cardinals countered in the third, the only inning in which they had any luck against Astros left-hander Dave Roberts. Mike Tyson singled on a grounder knocked down by shortstop Jerry DaVanon, who had no play. After a sacrifice by McGlothen, Lou Brock singled to center, scoring Tyson. On a hit-and-run, Bake McBride grounded a single to right, sending Brock to third. Brock scored on Willie Davis's sacrifice fly.
Roberts settled down and almost helped himself with a two-out check-swing double to left that sent Doug Rader to third with two out in the fourth. Howard was hit by a pitch, but DaVanon flied out to end the inning.
Whie the St. Louis bats stayed silent, Houston continued to threaten. Cesar Cedeno led off the fifth with a single off McGlothen's leg, but he was then thrown out by catcher Ken Rudolph trying to steal. Johnson walked, but Bob Watson grounded into a double play. Jose Cruz started the sixth with a double and went to third on a passed ball by Rudolph. Doug Rader struck out, and Helms hit back to McGlothen, who threw out Cruz at the plate. Roberts grounded out on a bunt to end that rally.
The Astros got two-out runners in the seventh and eighth, but Rudolph threw both out trying to steal, and the Cardinals carried their 2-1 lead into the ninth. With one out, Greg Gross hit for Helms, walked, and was replaced by pinch-runner Roger Metzger. After Milt May was sent up to hit for Roberts, St. Louis manager Red Schoendienst called for relief ace Al Hrabosky. "The Mad Hungarian," with his Fu Manchu mustache and swaggering manner, came into the game with a 1.52 earned-run average.
Although Hrabosky didn't damage his own ERA, he didn't get the job done. He gave up singles to Enos Cabell, hitting for May, and Wilbur Howard to score Metzger with the tying run. After he walked DaVanon to load the bases, Hrabosky was pulled. Mike Garman got Cedeno to fly out to shallow center and Johnson to fly to right to prevent further scoring.
Houston took a 3-2 lead in the top of the 10th inning on a sacrifice fly by Ken Boswell that scored Watson, but St. Louis came back in the bottom of the inning. Jim Crawford got pinch-hitter Buddy Bradford to foul out but gave up a single to Brock, the Cardinals' first hit since the third. On the first pitch to Bake McBride, Brock took off and was safe at second with his 49th stolen base of the season in 62 attempts. McBride lined a double to left that scored Brock and tied the game again, although Jose Cruz threw out McBride, trying to stretch the hit into a triple.
Rain was falling as the 11th inning started, and Bob Gibson came in for the Cardinals. Gibson was having a forgettable final season — dropped from the rotation nearly seven weeks before and used rarely in relief — but he retired the first two batters he faced, DaVanon on a grounder to Tyson at short and Cedeno on a strikeout. Johnson then did his damage again, launching a drive to left for a home run in his sixth straight game.
Watson popped out to second baseman Ted Sizemore, and Houston hoped for a quick bottom of the 11th as the rain was coming down harder. Crawford returned to the mound and gave up a single to Reggie Smith. Sizemore bunted to Crawford, who threw to Watson at first for the out as Smith went to second. Hector Cruz hit for Ron Fairly and looked at a third strike. One out away, Crawford prepared to face Ted Simmons. He never got the chance, as the rain was too heavy, and time was called at 10:11 p.m.
Two hours and 14 minutes later, crew chief Ed Sudol called the game. With the bottom of the 11th uncompleted, rules of the time called for the entire inning to be wiped out with the score reverting to the 10th inning. The game ended in a 3-3 tie. "I've never seen this happen in the 35 years I've been in baseball," Sudol said. "A rainout with one out to go."
Johnson had only briefly become the second National League player with homers in six straight games. Dale Long, who reached eight games, was the other. But Johnson's home run was wiped out by the rain.
The Astros missed out on a win, not just because of the rain but by squandering opportunities. Houston put 20 runners on base through 10 innings. Besides a double play and having three runners cut down stealing by Rudolph, the Astros left 13 on.
Even so, Schoendienst indicated he didn't feel relieved at getting out with a tie and responded to a reporter's question: "What do you want me to do, do cartwheels?"
A member of the Houston contingent had a more lighthearted manner when told that the Astros were 12-34 in one-run games. "Don't let that record fool you. We're not so hot in two-run and three-run decisions, either."
Finally, Cliff Johnson, whose home-run streak was stopped at five games because of the home run that wasn't, was philosophical. "That's the way it goes," he said. "At least the rain will help the farmers."
Sources
The play-by-play, including the erased 11th inning, is from the author's scorebook, which he managed to keep dry as the rain fell. All quoted material is from Neal Russo's game story, "Cards Escape in Rain Dance," St. Louis Post Dispatch, August 26, 1975: 1C.
Additional Stats
Houston Astros 3
St. Louis Cardinals 3
---
Busch Stadium
St. Louis, MO
Box Score + PBP:
Corrections? Additions?
If you can help us improve this game story, contact us.
Tags
http://sabr.org/sites/default/files/JohnsonCliff.jpg
600
800
admin
/wp-content/uploads/2020/02/sabr_logo.png
admin
2016-10-20 13:39:45
2020-04-17 10:26:00
August 25, 1975: The missing 11th inning, as Cardinals-Astros ends in a tie