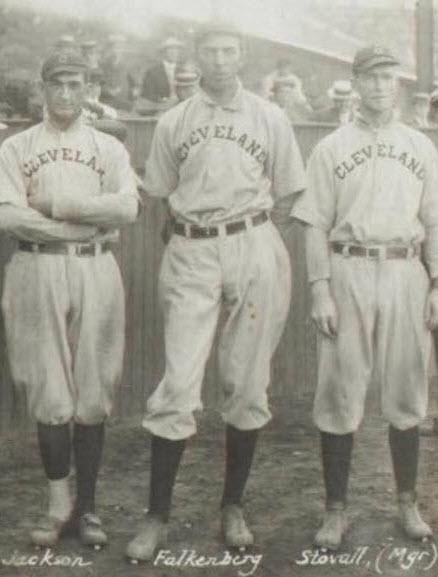 August 3, 1911: Cleveland Naps top New York Highlanders in wacky contest
---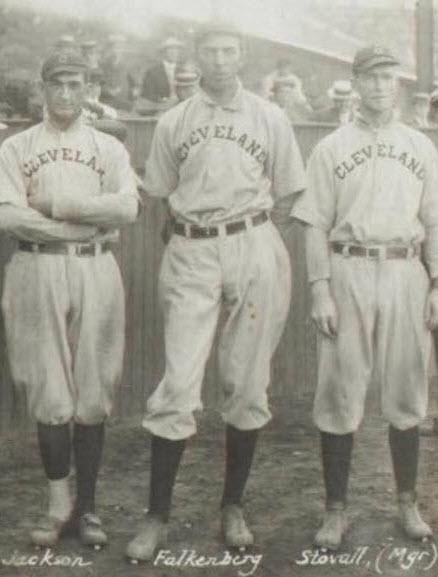 The Cleveland Naps of the American League struggled early in the 1911 season. The players were deeply saddened by the death of their ace pitcher, Addie Joss, in April. Manager Deacon McGuire resigned after the team won only six of its first 17 games. And Nap Lajoie, the star second baseman, for whom the team was named, was sidelined by injuries for more than a month.
The Naps "lacked pepper" until acting manager George Stovall instilled a "fighting spirit" that "got them all up on their toes."1 Rookie shortstop Ivy Olson was a live wire, "chock full of ginger."2 Neal Ball filled in for the absent Lajoie at second base and was "playing the game of his life."3 And phenom Shoeless Joe Jackson was hitting close to .400.
The team came to New York in August for a four-game series with the Highlanders at Hilltop Park, and won the first game, 10-8. In the second game, on Thursday, August 3, Stovall put Lajoie at first base, Terry Turner at second, Olson at short, Ball at third, and Jackson in right field.4 The Naps' starting pitcher was George Kahler, a 21-year-old right-hander who was winless in his seven starts this season.
The Highlanders were led by manager Hal Chase, a brilliant first baseman. Birdie Cree, a fleet right fielder, was hitting .346 and was second in the league with 15 triples; New York fans called him "The Three-Base-Hit Kid."5 Charlie "Eagle Eye" Hemphill, a 35-year-old veteran, patrolled center field. At shortstop was rookie Stubby Magner, starting his eighth major-league game; the former captain of the Cornell baseball team stood 5-feet-3 and weighed 135 pounds. In contrast, the starting pitcher was Big Jim Vaughn, a 6-foot-4, 215-pound southpaw.6 Vaughn had pitched erratically this season, "one day invincible and the next day batted all over the lot."7
The price of admission was 50 cents, and the game began at 4:00 P.M.8 In the first inning, after Chase singled and Hemphill walked, Cree launched his 16th triple of the season. Left fielder Jack Graney then ran to the fence to catch Jack Knight's long fly, and Cree romped home. Hemphill walked and scored again in the third inning, and the Highlanders led 4-0.
To start the fourth inning, Lajoie singled through the box and Ball doubled to left field. Neither man could score, however, as Vaughn retired Joe Birmingham and Terry Turner on groundouts and struck out Syd Smith to end the threat. But the Naps got to Vaughn for two runs the next inning, on Graney's single and doubles by Jackson and Lajoie. In the bottom of the fifth, Hemphill was robbed of a hit when Ball made a sensational one-handed grab of his "hot liner."9
In the top of the sixth the Naps rallied for five more runs. Vaughn "exploded as usual with a loud noise," reported the New York Times.10 The onslaught began with Birmingham's line single over the head of second baseman Earle Gardner, and Turner's single past third baseman Knight. Smith lined a base hit over second base that scored Birmingham. Hemphill fielded it and threw to third base, but Turner got there safely and Smith went to second on the throw. Stovall, pinch-hitting for Kahler, lifted a fly ball to Hemphill that advanced both runners, with Turner scoring. Graney followed with a single to right field to bring home Smith.
Vaughn walked Olson and had two balls on Jackson when he was relieved by Jack Warhop, a right-hander with a submarine delivery. On the first pitch from Warhop, Jackson smashed a double to center field. Graney scored, and so did Olson when Hemphill's throw bounded into the stands.
The Naps now led 7-4, but the lead was short-lived. Cleveland pitcher Willie Mitchell, a 21-year-old southpaw, entered the game in the bottom of the sixth. He fanned Magner, but Gardner singled to right field ("Jackson dropped his fly after a long run"11), Walter Blair was hit by a pitch, and both runners came home on Warhop's rousing triple to right field.
Mitchell was wilder than a March hare.12 The next batter, Bert Daniels, was also hit by a pitch. "Hit one more and you get a box of cigars," shouted a fan who had been to Coney Island.13 Chase sent a grounder to Ball and was thrown out, and Lajoie threw home to get Warhop, but the pitcher slid under catcher Smith's tag and tied the score at 7-7.
The Naps went back on top with two runs in the top of the seventh, on a double by Turner, a triple by Smith, and a single by the weak-hitting Mitchell. Warhop was not fooling anyone.
Mitchell hit Knight with an errant delivery to begin the bottom of the seventh and thus earned a box of cigars. Gardner grounded to Ball at third, who threw to Turner at second for a force out; Turner dropped the throw but recovered in time to tag Knight, who had overrun the bag. Blair drew a walk, and after Warhop singled to right field, Jackson threw out Gardner at the plate.
Jackson led off the top of the eighth with a drive down the right-field line, an apparent triple, but Cree raced over and caught it near the foul line. It was "the star catch of the game."14 Ball tapped to Warhop, who "made a wild heave" toward first base, allowing Ball to reach third base.15 Birmingham followed with a bloop single, and the Naps led 10-7.
Oh, what a jumble! The "ragged seesaw battle" continued, with more blunders to come.16 Daniels led off the bottom of the eighth with a single to center field. Chase grounded to Olson, who threw to Turner at second base, but in his haste to turn a double play, Turner dropped the ball and both Daniels and Chase were safe. Hemphill walked to load the bases. Cree then hit a long fly to Jackson, who muffed it, and Daniels scored. Knight's fly ball brought in Chase, and after eight innings the score was 10-9.
The Naps added an insurance run in the top of the ninth, on Smith's single and Graney's double. Mitchell's wildness continued in the bottom of the ninth; he walked the first batter, Blair, and had three balls on Warhop when he was replaced by Cy Falkenberg. A "gawky" right-hander with "a peculiar delivery," the 6-foot-5 Falkenberg was one of the tallest men in baseball.17 This was his first appearance since he suffered a broken left thumb while pitching batting practice on July 19.18
Falkenberg issued ball four to Warhop and allowed a single by Daniels, which brought in a run. Chase sacrificed, moving Warhop to third base and Daniels to second, and Hemphill was walked intentionally, his fifth walk of the game. This set up a dramatic showdown: With the bases loaded and one out, and the Highlanders trailing by a run, Cree stepped to the plate to face Falkenberg. But he struck out, swinging at three bad pitches, "wide outcurves that he couldn't have reached with a fishpole."19 Falkenberg then got Roy Hartzell, pinch-hitting for Knight, to pop up to Turner behind second base, and the game was over.
The final score was Cleveland 11, New York 10. The Naps outhit the Highlanders, 19 to 8, but helped them by walking 10 batters, hitting three batters with pitches, and committing four errors. The New York Press called it "the wildest, weirdest game played on the Hilltop this season."20
Sources
The author relied on the game descriptions appearing in the August 3, 1911, issue of the New York Evening Telegram, and the August 4, 1911, issues of the Cleveland Plain Dealer, New York Times, New York Press, and New York Herald.
http://www.retrosheet.org/boxesetc/1911/B08030NYA1911.htm
https://www.baseball-reference.com/boxes/NYA/NYA191108030.shtml
Notes
Additional Stats
Cleveland Naps 11
New York Highlanders 10
---
Hilltop Park
New York, NY
Box Score + PBP:
Corrections? Additions?
If you can help us improve this game story, contact us.
Tags
http://sabr.org/sites/default/files/1911-Cleveland-Indians.jpg
600
800
admin
/wp-content/uploads/2020/02/sabr_logo.png
admin
2017-03-07 15:16:20
2020-04-17 10:25:54
August 3, 1911: Cleveland Naps top New York Highlanders in wacky contest