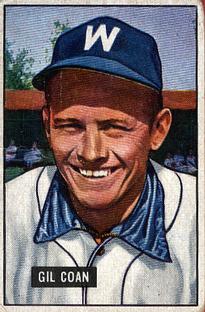 August 31, 1953: Senators nip Browns as Gil Coan homers off Satchel Paige
---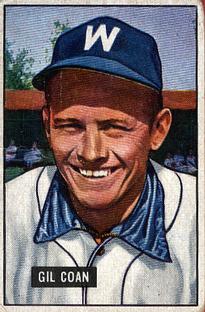 It wasn't one of the storied Bill Veeck's most creative promotions, but a "basketball-baseball doubleheader" featuring the Harlem Globetrotters put nearly 14,000 fans in the seats on Monday night, August 31, 1953, as Veeck's moribund St. Louis Browns met the visiting Washington Senators.1 The eighth-place Browns were 46-85 and 41 games out of first, though only two games behind Detroit for seventh place. Washington led the 1953 American League's second division at 65-67, 22½ games out.
At this point in the season, there was nothing on the line for either team; in his third season of ownership in St. Louis, Veeck was looking for a way to get his franchise a new start elsewhere. As things developed, however, while the Browns reappeared in 1954 as the Baltimore Orioles, Veeck wasn't along for the ride — ongoing animosity from other American League owners forced him to sell to the Baltimore group he had pursued, but he was barred from retaining a share for himself.2
Veeck had been associated with fellow impresario Abe Saperstein since their failed attempt in 1943 to purchase a major-league franchise and use it to integrate baseball.3 Saperstein's African-American Harlem Globetrotters basketball team had been playing exhibition games against local all-star teams not just in the United States but around the world to sellout crowds since the late 1920s. Veeck booked them into Busch Stadium for the evening of August 31 as prelude to the Senators-Browns game.4 The local team included Ray Sonnenberg, a former standout at St. Louis University, and was coached by early National Basketball Association star and future Hall of Famer George Mikan.5 The game was somewhat of a ho-hummer as the Globetrotters toyed with the all-stars, 45-27.6
But as intended, the fans were in the ballpark and stuck around to see St. Louis manager Marty Marion send out legendary Negro Leaguer Satchel Paige as his starting pitcher against Washington. As the owner of the Cleveland Indians in 1948, Veeck had brought the venerable Paige — then a reported age 41; 46 as he pitched in 1953 — to the major leagues.7 When Veeck acquired the Browns in July of 1951, he again signed Paige; as Paige made this start he had posted 17 wins during his St. Louis tenure, including an impressive 12-10 log in 1952 for Veeck's 64-win, seventh-place team.
Paige rolled through the Senators early, yielding only a stranded triple and a lone single over four innings. The Browns staked him to runs in the first and third innings on solo home runs by Don Lenhardt and Roy Sievers. The 2-0 deficit chased Washington starter Johnny Schmitz, as manager Bucky Harris pinch-hit for him during a mild rally in the top of the fifth inning that produced a run to make the score 2-1, Browns.
Rookie Sonny Dixon took over for the Senators in the bottom of the fifth. Paige was still in the game, but not for long — Mickey Vernon tied the game with a one-out home run in the top of the sixth. An out later, Gil Coan, whose injury-riddled career with Washington was on the wane, touched Paige for a rare homer to boost Washington to a 3-2 lead.8 After Jim Busby, the next hitter, singled, Marion replaced the tiring veteran with fireballing rookie Bob Turley, a product of an East St. Louis, Illinois, high school.9
Dixon and Turley matched goose eggs through their next half-innings. But with two outs in the Browns' seventh, Turley surprised Dixon by driving his first pitch into the left-field bleachers to forge a 3-3 tie. The burly righty couldn't muster a shutdown inning to support himself, though. Pete Runnels greeted him with a double to open the Washington eighth; Turley rallied to strike out Vernon and retire Jackie Jensen on a fly ball to center field. With lefty Coan up and Runnels on second base, Marion ordered an intentional pass so Turley could face Busby, a right-handed hitter. Busby's single had finished Paige two innings earlier, so he wasn't necessarily "due," as Marion played book baseball. Busby, though, foiled the strategy, sending a shot up the middle to score Runnels and send the Senators ahead, 4-3.
"That was the only bad pitch I made," Turley said after the game. It was a curve ball and he didn't hit it squarely, either."10
The Browns attempted a comeback in their half of the eighth, advancing Vic Wertz as far as second on a single by Vern Stephens. Dixon put out the fire by getting pinch-hitter Hank Edwards on a comebacker to the mound. St. Louis never got any closer, going out quietly in the ninth inning as Dixon gained his fifth win of the season with five innings of quality relief.
Epilogue
This game involved two players whose time was running out with their respective organizations. The Browns' Roy Sievers hit a two-out solo home run off Schmitz in the third inning to pad the then-St. Louis lead. He had reached the majors with the Browns in 1949, hit .306 with 16 home runs and 91 RBIs, and was named American League Rookie of the Year. But by 1953, his fifth season with St. Louis, he had failed to replicate the rookie success. Gil Coan, who victimized Satchel Paige with only his second home run of the 1953 season, was in his eighth season with Washington. He had arrived in 1946 after a sensational 1945 season with Triple-A Chattanooga that led to his being named The Sporting News Minor League Player of the Year. As early as his rookie year and throughout his Washington tenure, however, he was hampered by nearly-annual injuries and absence of the power the Senators expected from him. With a new season approaching on February 18, 1954, Washington, seeking more offensive punch, traded Coan, 31, to St. Louis for Sievers, 26. Thus, as the Browns were on the move to Baltimore that same offseason, Coan became an original Baltimore Oriole; Sievers went on to three All-Star selections and the 1957 American League home-run title with Washington.
Sources
In addition to the sources cited in the Notes, I used the Baseball-Reference.com and Retrosheet.org websites for team, season, and player pages and logs and the box scores and play-by-plays for this game:
baseball-reference.com/boxes/SLA/SLA195308310.shtml
retrosheet.org/boxesetc/1953/B08310SLA1953.htm
Notes
1 The Browns averaged attendance of 3,860 per game for their 77 home dates in 1953. The 13,898 paid draw for this game was the Browns' second highest of the season and was upped to 16,771 by a contingent of Legionnaires. By comparison, the August 19, 1951, game in which Veeck used 3-foot-7-inch Eddie Gaedel as a surprise pinch-hitter drew 18,369.
2 Warren Corbett, "Bill Veeck," SABR Baseball Biography Project, /bioproj/person/7b0b5f10.
3 Jim Burns, "When Veeck and Saperstein Nearly Integrated Baseball … In 1943!" CBS New York, April 19, 2012, https://newyork.cbslocal.com/2012/04/19/when-veeck-and-saperstein-nearly-integrated-baseball-in-1943/.
4 When Bill Veeck acquired the Browns in 1951, the deal included Sportsman's Park, the St. Louis ballpark shared by the Browns and Cardinals. By February 1953, when the Anheuser-Busch brewery had acquired the Cardinals, financial pressures forced Veeck to sell the ballpark to the Cardinals. It was renamed Busch Stadium.
5 "Basketball, Baseball at Ball Park Tomorrow," St. Louis Post-Dispatch, August 30, 1953: 24.
6 United Press, "Senators 4, Browns 3," Lubbock (Texas) Morning Avalanche, September 1, 1953: 6.
7 These ages are from Paige's player page at Baseball-Reference.com. Paige was always less than precise on his birth year, which seemed to vary with his mood. See: Larry Tye, Satchel — The Life and Times of an American Legend (New York: Random House, 2009), viii-ix.
8 Coan had first faced Paige, then pitching for Veeck's Cleveland Indians, on July 19, 1948, in Paige's fourth game in the major leagues. He grounded out to first base in the bottom of the ninth inning in a game Cleveland won 7-6 in 11 innings. Six weeks later, on August 30, 1948, Coan got his first career hit against Paige, an eighth-inning RBI single that cost Paige a shutout in a 10-1 Cleveland win. This August 31, 1953, home run, which came almost five years to the day after Coan's first hit against Paige, was the only one he hit against the wily veteran. Over his career, Coan hit .212 in 33 plate appearances against Paige. His seven hits included a double and this home run.
9 As a 21-year-old, Turley had started and lost one game for St. Louis in late September 1951. In 1953 he was in the Army fulfilling his military obligation, but joined the Browns on leave in August. He had made four relief appearances prior to this one. Neal Russo, "Homer-Hitting Pitcher Turley Loses to Nats in Relief, 4-3," St. Louis Post-Dispatch, September 1, 1953: 10-A.
10 Russo.
Additional Stats
Washington Senators 4
St. Louis Browns 3
---
Busch Stadium
St. Louis, MO
Box Score + PBP:
Corrections? Additions?
If you can help us improve this game story, contact us.
Tags
/sites/default/files/CoanGil.jpg
600
800
admin
/wp-content/uploads/2020/02/sabr_logo.png
admin
2020-05-19 22:14:18
2020-05-28 15:29:55
August 31, 1953: Senators nip Browns as Gil Coan homers off Satchel Paige