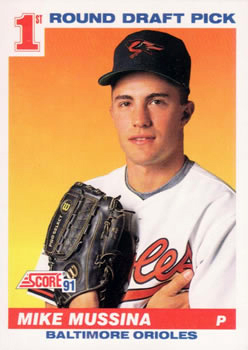 August 4, 1991: Mike Mussina tosses 4-hitter in MLB debut, but Orioles lose 1-0
---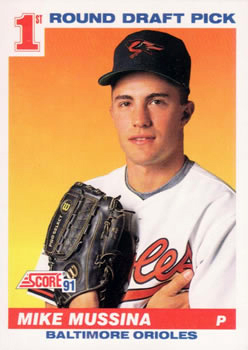 On August 4, 1991, a sellout crowd of 41,0591 packed into Comiskey Park to see the Chicago White Sox host the Baltimore Orioles. Chicago (58-45) had won eight straight games before losing the first two games of this series against Baltimore, and that 8-out-of-10 stretch had enabled them to climb into second place, three games behind the Minnesota Twins in the American League's West Division. Meanwhile, Baltimore (42-60) had gone 9-13 since the All-Star break and was looking toward the future. With no expectation of postseason play, the sixth-place Orioles were tinkering by bringing along young talent. So Baltimore skipper Johnny Oates gave the ball to rookie Mike Mussina, recently called up from Triple-A Rochester. Three days before this game, the 22-year-old Mussina told reporters, "I've only been out of college for 14 months. The 19 starts and 120 innings I got at Triple-A, there's no way that can hurt me."2
The Orioles had drafted the future Hall of Famer Mussina twice. The first time was in the 11th round of the 1987 amateur draft, but Mussina (graduating from high school) did not sign. Instead, he went to pitch for Stanford University on a partial baseball scholarship. Three years later, in 1990, the Orioles again drafted the right-hander again, this time in the first round with the 20th overall pick. Mussina signed with the Orioles on July 28, 1990, and appeared in his first major-league game just a year later.
On this Sunday afternoon, Chicago countered with 43-year-old right-hander Charlie Hough. He had signed as a free agent with the White Sox in the offseason and was making his 18th start of the year. Only twice in his last 16 starts did the knuckleballer fail to go at least seven innings. Hough had pitched in his first big-league game (August 12, 1970, with the Los Angeles Dodgers) when Mussina was only a year old.
The Orioles had an opportunity to jump ahead in the first inning. Mike Devereaux led off with a single into the hole between shortstop and third base, and with Joe Orsulak batting, Hough balked, sending Devereaux to second. Two outs later, Dwight Evans walked, putting two runners on base. However, Chito Martinez left both runners stranded when he struck out for the third out.
The first batter Mussina faced in the big leagues was Tim Raines. On a 2-and-2 count, Raines flied out to left. Mussina then gave up back-to-back walks to Robin Ventura and Frank Thomas before working out of the jam by retiring Dan Pasqua and Matt Merullo.
Hough kept the Orioles off-balance by mixing up his knuckleball speeds, later telling reporters it was "just different looks, different speeds."3 He faced the minimum in the second through fifth innings and had retired 15 Baltimore batters in a row before Orsulak singled in the sixth.
Mussina had also settled down. Thomas had doubled in the Chicago half of the third, and Raines had drawn a walk in the fifth, but the game remained scoreless until the sixth inning. Ventura flied out to center and then Thomas crushed a 2-and-1 changeup over the wall in left-center for his 22nd home run of the season, giving the White Sox a 1-0 advantage. "It didn't end up where I thought it would," said Thomas after the game, adding, "The wind was blowing pretty hard today, and it barely got out of the ballpark. I thought I hit it a lot better than that."4 Mussina admitted, "I just hung it. He hit it. That's what he's supposed to do."5
Two-out singles by David Segui and Leo Gomez in the Baltimore seventh again led to nothing for the Orioles, as Hough inducedBob Melvin to pop out to second baseman Joey Cora to end any threat of a rally.
In the eighth inning, Hough stopped the Orioles with his glove. Juan Bell led off with a single. Devereaux sacrificed Bell to second and Orsulak walked. After Cal Ripken lined out, Hough bounced a knuckleball in the dirt and it skidded to the screen; both runners advanced. With the tying run now only 90 feet away, Evans hit a hard liner back toward the mound and Hough "got his glove up, the ball stuck in it, and that was it for Baltimore."6
In the bottom of the eighth, Mussina quickly retired Raines and Ventura before Thomas stroked a double past third base, his third extra-base hit of the contest. Baltimore manager Oates strolled to the mound and called on Jim Poole to enter as a reliever, ending Mussina's day. The White Sox and their fans had been impressed with Mussina, giving him a nice ovation as he left the field. Poole then threw just one pitch to Pasqua, who flied out to Orsulak in deep left-center. The Orioles were three-up-and-three-down in the ninth, and the game ended with a 1-0 win for Hough (his seventh of the year) and the White Sox.
By all accounts, Mussina exceeded all expectations in his debut, allowing just four hits in 7⅔ innings. According to Oates, Mussina "threw well, but that old sucker threw well, too."7 Three of the White Sox hits belonged to Frank Thomas. The Big Hurt was 3-for-3 (two doubles and a homer) with a walk, and for the week he had gone 13-for-25 (.520) with 5 home runs and 13 runs batted in. None of Mussina's early-game four walks led to runs. In the locker room after the game, Mussina told Peter Schmuck of the Baltimore Sun, "I just had to get acclimated in the first few innings. It was something different looking up and seeing all those people. I needed a couple of innings to settle the adrenaline down."8
Oates was correct: Hough had been better. He pitched a five-hit complete-game shutout, walking two and striking out seven. All of the five hits he allowed were singles. Hough complimented Mussina, saying, "He was tough all day. He'll win a lot of games and make a lot of money. It didn't look like a first-game major-league appearance."9
Interestingly, Mussina wore Number 42 on his uniform in his debut. According to the Orioles, Mussina wore it for the entirety of his 1991 season.10 The next season, he took number 35 and kept it for the next 17 seasons in both Baltimore and New York.11
In his second career start (August 9), Mussina again faced Hough and the White Sox, this time at Memorial Stadium in Baltimore. The Orioles scored first, but Chicago got 11 hits off Mussina in 3⅓ innings, scoring five runs (all earned). Hough lasted only 3⅔ innings, giving up four runs on six hits and four walks. Chicago scored twice more in the ninth, and White Sox relievers Brian Drahman, Melido Perez,and Bobby Thigpen combined to shut out the Birds, preserving the 7-4 win and handing Mussina his second career loss. It was also the shortest outing of the season for Mussina. He finally picked up his first career victory in his third start, a home game versus the Texas Rangers, on August 14.
Sources
In addition to the sources mentioned in the Notes, the author consulted baseball-reference.com, sabr.org, and retrosheet.org.
retrosheet.org/boxesetc/1991/B08040CHA1991.htm
baseball-reference.com/boxes/CHA/CHA199108040.shtml
Notes
1 The attendance for the game sent the White Sox over the 2 million mark for the season.
2 Peter Schmuck, "Sunday Starter Mussina Glad for 4 AAA Months," Baltimore Sun, August 2, 1991: 3D.
3 Alan Solomon, "Hough's Stuff Handcuffs Orioles," Chicago Tribune, August 5, 1991: 21.
4 Ibid.
5 Peter Schmuck, "Hough Out-Duels Mussina, Stops Orioles on 5 Hits," Baltimore Sun, August 5, 1991: 1C.
6 Solomon.
7 Peter Schmuck, "Hough Out-Duels Mussina, Stops Orioles on 5 Hits."
8 Ibid.
9 Ibid.
10 Email correspondence with Austin Robinson, Baltimore Orioles Fan Services Team, January 25, 2019.
11 In his three years at Stanford, Mussina wore Number 25.
Additional Stats
Chicago White Sox 1
Baltimore Orioles 0
---
Comiskey Park
Chicago, IL
Box Score + PBP:
Corrections? Additions?
If you can help us improve this game story, contact us.
Tags
https://sabr.org/sites/default/files/Mussina-Mike-1991.jpg
600
800
admin
/wp-content/uploads/2020/02/sabr_logo.png
admin
2019-03-19 10:35:39
2020-04-17 10:23:37
August 4, 1991: Mike Mussina tosses 4-hitter in MLB debut, but Orioles lose 1-0