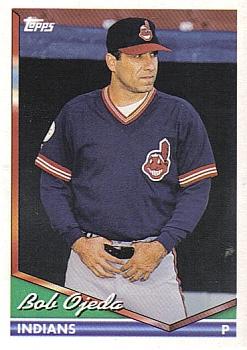 August 7, 1993: Cleveland's Bobby Ojeda returns to baseball after boat accident
---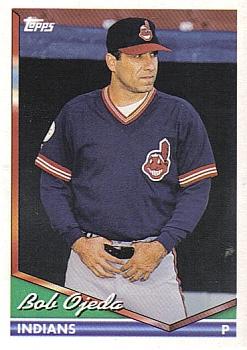 For Baltimore, 1993 was a shining era in baseball. The Orioles hosted the All-Star Game at its crown jewel, Oriole Park at Camden Yards. On August 7, Baltimore (60-49) trailed Toronto by three games in the AL East. Starting pitcher Fernando Valenzuela garnered American League Pitcher of the Month honors for July (3-0, ERA 1.56 for July; 6-7, 3.62 season-to-date).1
It was the worst of times for Cleveland. On March 22, during spring training, a boat carrying pitchers Tim Crews, Steve Olin, and Bobby Ojeda rammed into a dock at night, killing Olin immediately, Crews dying the following day, and Ojeda suffering a serious scalp injury requiring major surgery.2
Against Valenzuela, the Indians (51-58), mired in sixth place in the AL East, offered up 20-year-old pitcher Julián Tavárez in his major-league debut.
Kenny Lofton greeted Valenzuela with a bunt single.3 After Wayne Kirby grounded out, Carlos Baerga singled, putting runners on the corners. Albert Belle's sacrifice fly made it 1-0, Indians. Carlos Martínez popped out to end the half-inning.
Tavarez blanked the O's through two innings, including his first major league strikeout (Cal Ripken Jr.).
Lofton doubled in the third with one out and scored when Valenzuela made a throwing error on a bunt by Kirby for a 2-0 Indians lead. Baerga's bunt single (the third successful Indians bunt of the day) and Belle's single to short loaded the bases despite no ball having left the infield. Valenzuela set down the next two batters to escape further damage.
Orioles catcher Jeff Tackett walked to start the third. In light rain, Brady Anderson's shallow pop fly to left field bounced toward the stands. The umpires awarded Anderson a double (fan interference), keeping Tackett at third.
After a 41-minute rain delay, Mark McLemore drove in two runs with a single to center. Harold Baines drew an intentional walk and Ripken stroked a three-run homer into the left-field seats for a 5-2 Orioles lead. David Segui walked and Tim Hulett singled to left before Tavarez retired the final two batters. Tavarez later said he "didn't feel the same [after the delay]. My whole body got cold."4
Cleveland answered in the top of the fourth when Álvaro Espinoza doubled, Sandy Alomar Jr. tripled,5 and Lofton doubled to make it 5-4. Lofton stole third6 and Kirby walked before reliever Alan Mills ended the inning on Baerga's lineout followed by a throw to first for a double play.
As the Indians took the field in the middle of the fourth, the bullpen gate opened and a reliever made his way to the mound. The pitcher crossed the outfield grass to the sound of a growing buzz in the stadium, followed by applause, and finally, a standing ovation. Enter Bobby Ojeda, making his first appearance since the deadly accident in March. In addition to physical recovery, Ojeda required extensive emotional healing, including a two-day escape to Stockholm, Sweden, (telling no one of his plans) and a recent two-week stay at a Baltimore psychiatric institution. He also had unrelated shoulder surgery in April. As Ojeda took the mound for his warm-up tosses, Orioles public-address announcer Rex Barney announced his appearance causing the 46,424 fans to cheer even louder and longer. Ojeda acknowledged the ovation by waving his glove over his head.
After the game Ojeda commented, "It was phenomenal, when I came through those gates; I remembered this is what I wanted to do. I probably looked like (expletive), but I was out there."7
Anderson, however, did not greet Ojeda in the same warm manner as the fans. His sharp grounder hit Indians first baseman Martínez in the face and he advanced to second on an error by second baseman Baerga on the play. Paul Sorrento replaced the dazed Martínez at first. McLemore singled to left, advancing Anderson to third. Mike Devereaux's sacrifice fly to center made it 6-4, Orioles. Ojeda ended the inning with a 6-4-3 double play.8
Ripken hit his second home run of the game to lead off the bottom of the fifth, giving the O's a 7-4 lead. Hulett singled to left but a strike-'em-out throw-'em-out double play ended the inning: Alomar-to-Baerga-to-Sorrento at first, who tagged the retreating Hulett.
Félix Fermín singled to right in the Cleveland sixth and Alomar knocked a home run to right off Mills, cutting Baltimore's lead to 7-6. Lofton beat out an infield single to short before Kirby hit into an inning-ending double play.
There was no scoring in the seventh.
In the eighth, Baltimore's Harold Reynolds9 walked and stole second. Anderson drove him in on Baltimore's third sacrifice fly of the day.
Baltimore closer Gregg Olson set the 2-3-4 hitters down in order for an 8-6 Orioles' victory.10
Both the Orioles and Indians finished the season poorly, going 25-28. The Orioles ended up 10 games behind Toronto in third place, Cleveland in sixth.
Tavarez lasted 17 years in the majors, primarily in the relief role, and earned the AL Rookie Pitcher of the Year Award in 1995 from The Sporting News.11
Lofton, the Indians' batting star, banged out four hits (two doubles) and had a walk and a stolen base.12
Ripken entered the game slumping, hitting .232. However, his first ever two-home-run game at Camden Yards ignited him, and he batted .304 for the remainder of the season, finishing with a .257 mark.
Before leaving the field, it's worth looking back to see how Ojeda got there. Ojeda almost didn't make it to the psychiatric institution. On July 20, in his hospital room in Cleveland, he made the decision to get up, go to the airport, and leave on the first available flight. At 10 A.M., former teammate Roger McDowell knocked on the door after an all-night flight from the West Coast. McDowell helped Ojeda understand that he needed psychiatric help to deal with both the accident and the deaths. He spent 90 minutes with Ojeda and returned to the airport to fly back to Los Angeles to be back in time to pitch in the Dodgers game.13
Ojeda later commented, "If it hadn't been for Roger McDowell, there's no telling where I would be. I could be anywhere in the world right now. It was because of Roger that I was walking through that gate."14
Ojeda said pitching again would not ease the agony he had felt since that devastating spring night. "The void that was left with the accident won't be filled if I throw one more game, 100 more games or a thousand more games. One thing that has helped is the guys on the team. They have been fantastic."15 16
Why did the Indians bring Ojeda, normally a starter, into the game in relief? John Hart, Cleveland's general manager, hoped to minimize the media attention. "One thing we didn't want," Hart said, "… was to bring him in in grandiose style with trumpets blaring."17
Ojeda wrote a letter to the Baltimore fans which was first shown18 at the game on August 25 on the Camden Yards big screen:
This letter is not only overdue but it simply cannot capture what the night of Saturday, Aug. 7, meant to me. I would like to express my heartfelt appreciation for the reception you gave me when I took the mound. I was overwhelmed by the warmth and compassion that greeted me as I entered the field.

I will tell you it was the longest and most difficult walk of my life and without your help I would not have made it. On behalf of Steve, Tim and our families, I thank you for the ovation.

Your city and ballpark will forever hold a special place in my heart. Thank you again.

Bobby Ojeda.

P.S. — Never quit.19
The 8-6 final result was insignificant in the overall scope of the 1993 season. The winning pitcher? The box score lists Alan Mills, but Bobby Ojeda's return to the mound and the Baltimore fans' acknowledgment of his effort say otherwise, with a save to Roger McDowell.
Author's note
My brother, Eric, and I attended this game in our season ticket seats: Upper deck, right-field line, three rows back. When Ojeda walked through the bullpen gate in center field and began his walk to the mound in the fourth inning, it was one of the most amazing unscripted displays of appreciation and emotion that we had seen in our many years of attending baseball games. As the event happened during a commercial break, fans watching or listening at home would not have had the same experience as those of us in the ballpark.
Sources
https://baseball-reference.com/boxes/BAL/BAL199308070.shtml.
https://retrosheet.org/boxesetc/1993/B08070BAL1993.htm.
"1993 Baseball Salaries," Chicago Tribune, July 13, 1993: https://articles.chicagotribune.com/1993-07-13/sports/9307130177_1_major-league-baseball-management-and-player-sources-salaries-and-pro-rated-shares, retrieved June 2, 2018.
"Baltimore Orioles, A-to-Z Guide," MLB.com, https://baltimore.orioles.mlb.com/bal/ballpark/information/index.jsp?content=guide/, retrieved June 28 2014.
Berkow, Ira. "Baseball; the Burden of Unhealed Memory," New York Times, August 15, 1993.
"Cleveland Indians Tragedy in Spring Training, 1993: The Death of Steve Olin and Tim Crews," Misc. Baseball, December 14, 2008, https://miscbaseball.wordpress.com/2008/12/14/cleveland-indians-tragedy-in-spring-training-1993-the-death-of-steve-olin-and-tim-crews/, retrieved June 28, 2014.
"The first reliever to win the AL Rookie of the Year Award, "Rookie of the Year winners," MLB.com, https://mlb.mlb.com/mlb/awards/mlb_awards_content.jsp?content=roy_history/, retrieved June 28, 2014.
"For First Time Since Crash, Ojeda Pitches," St. Petersburg Times, August 8, 1993: Sports 1c.
Ginsburg, David. "Orioles 8, Indians 6," Associated Press, August 8, 1993.
——. "Sports News," Associated Press, Morning Cycle, August 7, 1993.
"Notes and Stuff," Orlando Sentinel, October 8, 1993. https://articles.orlandosentinel.com/1993-10-08/sports/9310080321_1_ernie-harwell-olson-john-surgery/, retrieved June 28, 2014.
"Ojeda Back on Mound for Indians," Associated Press via Chicago Tribune, August 8, 1993.
"Ojeda Makes 1993 Pitching Debut," United Press International, BC Cycle, August 7, 1993.
Wood, Brian: onsite recollection of the game.
Notes
1 baseball-reference.com/players/v/valenfe01.shtml.
2 The accident happened on Tim Crews' boat at his property in Clermont, Florida.
3 Kenny Lofton became the first official batter at Camden Yards on April 6, 1992.
4 David Nakamura, "Orioles Hold Off Indians for 6th Straight, 8-6; Cleveland's Ojeda Makes 1993 Debut," Washington Post, August 8, 1993.
5 Alomar's hit was the third triple of 10 in his 20-year major-league career.
6 Lofton led the American League in stolen bases that season with 70, the second of five consecutive years (1992-1996) he would do so.
7 Laura Lippman, "Relief at Last Intro: For Bobby Ojeda, Life Nearly Ended on a Florida Lake In 1993. It Began Again at Sheppard Pratt. Today, He Plans a Reunion," Baltimore Sun, October 19, 1995, https://articles.baltimoresun.com/1995-10-19/features/1995292048_1_sheppard-pratt-bobby-ojeda-enoch-pratt-hospital/, retrieved June 3, 2018.
8 One of the 298 double plays Baines grounded into in his career, good for seventh all-time in 2001 (11th as of 2018). Number one-all time as of 2018 was Albert Pujols, who surpassed Baines's teammate Cal Ripken in 2017 for the top spot.
9 Harold Reynolds and Mark McLemore, two former Seattle Mariners starting second basemen, were in the Orioles line up this day.
10 Olson's 29th and last save of the season and for the Orioles. He pitched in the next day's game against the Indians but appeared in just one late-September (22) game before the season ended due to a torn ligament in his right elbow. Baltimore chose not to re-sign Olson for the 1994 season and he spent the next four seasons on seven teams, earning only 13 saves until his career revived in Arizona in 1998, where he became the closer and posted 30 saves for the first-year Diamondbacks.
11 Tavárez relieved in 620 of his 828 games. He kept his suitcase packed, playing for 11 teams over his career. At the time, he stood one shy of the major-league record of 12 teams. The record as of 2018 stands at 13 (Octavio Dotel and Edwin Jackson).
12 Lofton became a regular late-season acquisition, playing for nine teams between 2002 and 2007 in five postseasons including the 2002 World Series with the San Francisco Giants.
13 McDowell had a rough outing that night. In 1⅔ innings he gave up four runs (one earned) on four hits.
14 Mel Antonen, "Friend's Visit Keeps Ojeda in Baseball," USA Today, August 9, 1993.
15 "Ojeda Returns to Ovation from Baltimore Fans," St. Louis Post-Dispatch, August 8, 1993.
16 Ojeda, a free-agent signing before the 1993 season, was the highest-paid player on the Indians ($1.7 million; Belle was second at $1.6 million). He pitched two games for the Yankees in 1995.
17 Nakamura.
18 The letter was shown thereafter for several games at Camden Yards.
19 Lippman.
Additional Stats
Baltimore Orioles 8
Cleveland Indians 6
---
Camden Yards
Baltimore, MD
Box Score + PBP:
Corrections? Additions?
If you can help us improve this game story, contact us.
Tags
https://sabr.org/sites/default/files/Ojeda-Bobby-CLE.jpg
600
800
admin
/wp-content/uploads/2020/02/sabr_logo.png
admin
2018-08-27 11:38:02
2020-08-07 00:54:43
August 7, 1993: Cleveland's Bobby Ojeda returns to baseball after boat accident