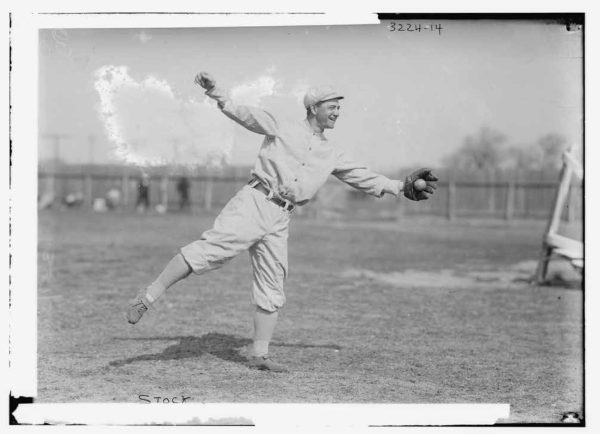 August 9, 1923: Cardinals win a wild one against defending champion Giants
---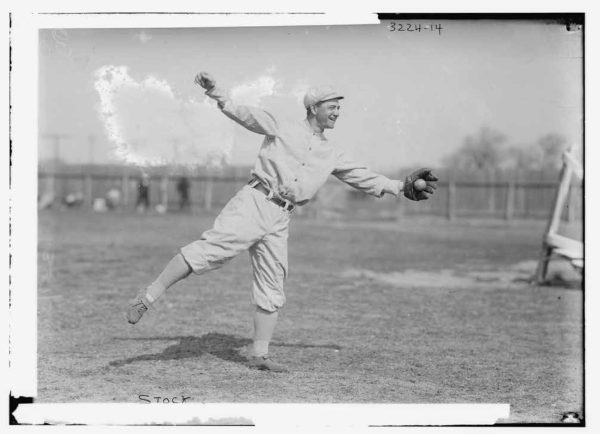 12, 15, 25, 33, 37.
Don't worry. This isn't a brainteaser where you have to guess the next number in the sequence. These figures are statistics from a wild and wacky major-league game played on August 9, 1923, between the reigning world champion New York Giants and the hometown St. Louis Cardinals. It included 12 errors (eight by the Giants and four by the Cardinals), 15 innings, 25 runs (St. Louis won 13-12), 33 hits, and 37 players used (including six pitchers by each team).1
"The game dragged through three hours and thirty-eight minutes and was a very weird affair, made up of some good baseball, but a great deal more that was decidedly bad," said the New York Times.2
The Giants, led by the Little Napoleon, John McGraw, were headed toward their third straight National League pennant, and entered the game with a 69-36 record, seven games up on second-place Pittsburgh.3 Branch Rickey, another legendary baseball figure managed the Cardinals, who were 16½ games behind the Giants at 53-53. Since this was an era where one would find wild cards only in a game of canasta, the Redbirds were effectively out of the race. That didn't mean they didn't want to win, as they had halted the Giants' six-game winning streak the day before with a 4-3 victory.
Bill Doak, one of the few pitchers still allowed to use the spitball after it was outlawed in 1920, started for the Cardinals. Although he had a moderately successful career (169-157 with ERA titles in 1914 and 1921), Doak had an impact on baseball that changed the game forever. In the game's early days, gloves were little more than padding for the hand. Doak developed the idea of adding webbing to the glove between the thumb and forefinger to make catching the ball easier, and worked with the Rawlings Sporting Goods Company to bring his idea to fruition. The revolutionary Rawlings "Bill Doak" model baseball glove was introduced in 1920, and was sold until 1953.
Neither Doak's glove nor his saliva helped him on this day. He had a 5-10 record entering the game, but with a respectable 3.26 ERA. He exited the game with a less-respectable 3.54 ERA, as he faced only four batters, all of whom scored. After Ross Youngs and Freddie Maguire singled, Frankie Frisch, who went into the game batting .355, deposited a ball into the right-field bleachers to give the Giants a quick 3-0 lead. When Irish Meusel doubled, Rickey replaced Doak with Johnny Stuart. Stuart induced Casey Stengel (the Ol' Perfessor was in McGraw's grad school at the time) to ground out to first, allowing Meusel to reach third.4 George "High Pockets" Kelly brought Meusel home with a sacrifice fly to complete the scoring. Youngs' single kept alive a hitting streak that eventually reached 12 games, and raised his batting average to .350.
Giants starter Art Nehf entered the game with a 9-8 record and a reputation for delivering when it was needed most. He had pitched complete-game victories for McGraw to clinch each of the previous two World Series, including a 1-0 victory in Game Eight of the 1921 fall classic.5 His 5.28 ERA was enough to encourage the Cardinals to think they had a good chance to eat into New York's lead, and they did, with two runs in the bottom of the first. Max Flack led off with a lucky-bounce single past second, moved to second on Ray Blades' groundout, then scored on Rogers Hornsby's single. The Rajah moved up on Sunny Jim Bottomley's groundout, then scored on Milt Stock's single. The Giants led 4-2 after one.
In the second, the Cardinals gave a good indication of what kind of game it would be when they scored two runs on one walk, one hit, and errors by Maguire and Hank Gowdy. Virgil Barnes relieved Nehf with two out in the inning, even though both Cardinal runs were unearned. The game was tied 4-4 after two, and the fun was just beginning.
"Spectators saw the Giants, heroes of 38 errorless games this season, kick the ball about in the early innings like the rankest Municipal League team," wrote Herman Wecke in the St. Louis Post-Dispatch.6
The teams exchanged runs in the third. Irish Meusel doubled to extend a hitting streak that would reach 15 games, and came home on Kelly's single. Eddie Ainsmith got that one back for the Cards when he was safe on a fielder's choice, stole second, and scored on Stuart's single.
St. Louis took its first lead of the game in the fourth, thanks to more bad Giants defense. After Blades singled, Youngs dropped Hornsby's fly ball, putting two on. After Jim Bottomley popped to first and Stock forced Hornsby at second, Heinie Mueller tripled to score two. Maguire then bobbled Ainsmith's grounder, which brought Mueller home, and then threw the ball past Kelly at first, for his second error on the same play and third of the game. It was now 8-5 Cardinals. Scorecards were starting to look pretty messy by this point.
New York got one back in its half of the fifth, using the typical McGraw-style small-ball game. After Frisch doubled, Meusel walked, and then was forced at second on a Stengel groundball. Frisch, now on third, showed why he was nicknamed the Fordham Flash as he stole home as part of a double steal, making the score 8-6.
Ah, but the baseball gods can be cruel, as Frisch went from hero to goat in the bottom of the inning. Claude Jonnard was pitching for New York and got himself in a bases-loaded jam with two out. He seemed on his way to getting out of the inning unscathed when Stock hit a grounder back to the box. The ball, however, hit Jonnard's glove and bounced toward third, where Frisch picked it up and threw it down the right-field line, bringing home two more runs and increasing the Cardinals' lead to four.
Then a strange thing happened; nobody scored in the sixth or the seventh. In the eighth, Gowdy decided that now was a good time to hit his only home run of the season, which sliced the lead to 10-7. Many teams would find it daunting to face a three-run deficit going into the ninth, but the Cardinals committed the second-highest number of errors in the National League in 1923 (232). Factor in the overall goofiness of the game, and the Giants had reason for optimism. That optimism proved warranted when they scored three unearned runs to tie the game on three hits and two errors. It was now on to extra innings, where the game went from crazy to bizarre.
After a scoreless 10th, New York caught Rickey and the Cardinals napping in the 11th. Pitcher number six for the Giants, Jack Scott, had been inserted into the eighth spot in the batting order, and was the first due up in the inning. Ninth-place hitter Frank Snyder led off instead and singled. Scott then came up and he singled as well. Both runners ended up scoring, thanks in part to a Hornsby error. According to the rules, Snyder would have been called out for batting out of order if the Cardinals had appealed, but they didn't.7
"And yet, when Frank Snyder and John sic Scott batted out of turn in the eleventh inning and singled, Rickey was as unobservant as a seventh son of a seventh Heine Mueller," wrote the St. Louis Post-Dispatch."8
We'll never know what the writer meant by the seventh son of a seventh Heine Mueller, but Hornsby atoned for his error (this seemed to be a day of atonement for a lot of players) when he smacked a two-run homer in the bottom of the inning to tie it 12-12 and keep the game going. Finally, in the bottom of the 15th, Ainsmith scored from second on a single by winning pitcher Lou North (3-3), who went four hitless innings for the win. Scott (9-7), who pitched 6⅔ innings of relief, was the loser.
Besides the wild action, lead changes, and unusual goings on, the game was interesting because a number of players, lesser-known and Hall of Famers alike, had spectacular days. Frisch whacked a home run and two doubles, raising his average to .357; he also scored three runs. Hornsby went 2-for-5 with three RBIs to keep his average at .401 (He "slumped" to .384 by the end of the season, but still won his fourth of six straight batting titles.) Stock brought his average over the .300 mark by going 4-for-8. Stuart, who came on in relief of Doak, pitched 7⅓ innings, more than any other hurler that day, and even got into the hitting act, going 2-for-4, with one run scored and one RBI.
Wecke summed up the game nicely: "It is doubtful if St. Louis fans will ever be treated to another game of baseball just like the one put on exhibition yesterday by the Cardinals and the world's champion Giants yesterday."9
This article appears in "Sportsman's Park in St. Louis: Home of the Browns and Cardinals at Grand and Dodier" (SABR, 2017), edited by Gregory H. Wolf. Click here to read more articles from this book online.
Sources
In addition to the sources listed in the Notes, the author also used:
Bill Doak biography by Steve Steinberg, sabr.org/bioproject
https://www.baseball-reference.com/boxes/SLN/SLN192308090.shtml
http://www.retrosheet.org/boxesetc/1923/B08090SLN1923.htm
Notes
1 The Giants used 20 players in all, the Cardinals 13.
2 "Cards Beat Giants in 15 Innings," New York Times, August 10, 1923: 8.
3 "The Little Napoleon" was McGraw's nickname.
4 In his SABR biography of Stengel, Bill Bishop wrote that Stengel and McGraw would often spend hours talking about strategy and tactics.
5 The World Series was a best-of-nine affair from 1919 to 1921.
6 Herman Wecke, "It Appears that Frank Snyder Was the Boy Who Caused the Disorder in the Giants' Batting Order," St. Louis Post-Dispatch, August 10, 1923: 16.
7 Scott and Alex Gaston, who replaced Snyder behind the plate, batted out of turn twice, but the Cardinals said nothing.
8 "Rickey Keeping Score When Snyder and Scott Bat Out of Turn in 11th," St. Louis Post-Dispatch, August 10, 1923: 16.
9 Wecke.
Additional Stats
St. Louis Cardinals 13
New York Giants 12
15 innings
---
Sportsman's Park
St. Louis, Missouri
Box Score + PBP:
Corrections? Additions?
If you can help us improve this game story, contact us.
Tags
https://sabr.org/sites/default/files/StockMilt.PNG
600
800
admin
/wp-content/uploads/2020/02/sabr_logo.png
admin
2018-10-30 12:32:44
2020-04-17 10:23:49
August 9, 1923: Cardinals win a wild one against defending champion Giants