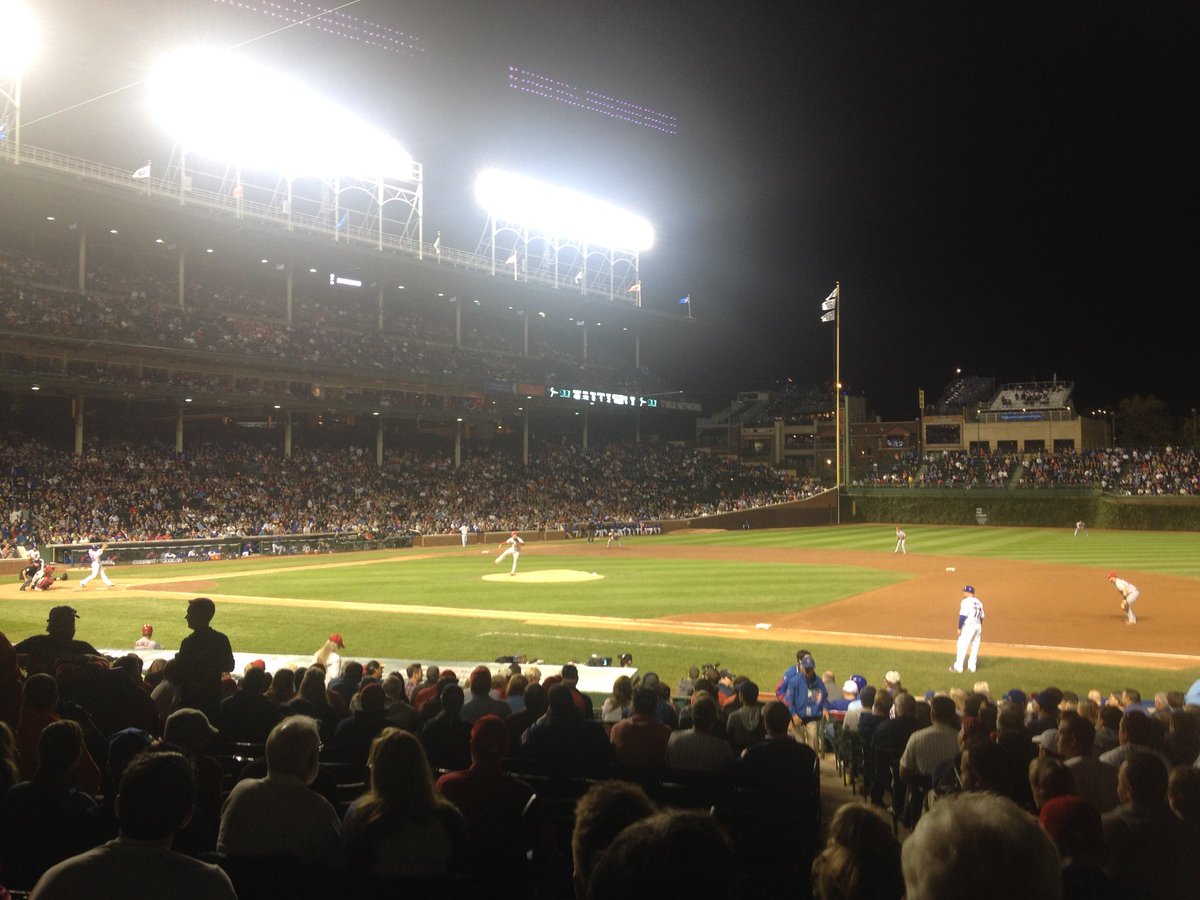 August 9, 1988: Cubs win first official night game at Wrigley Field
---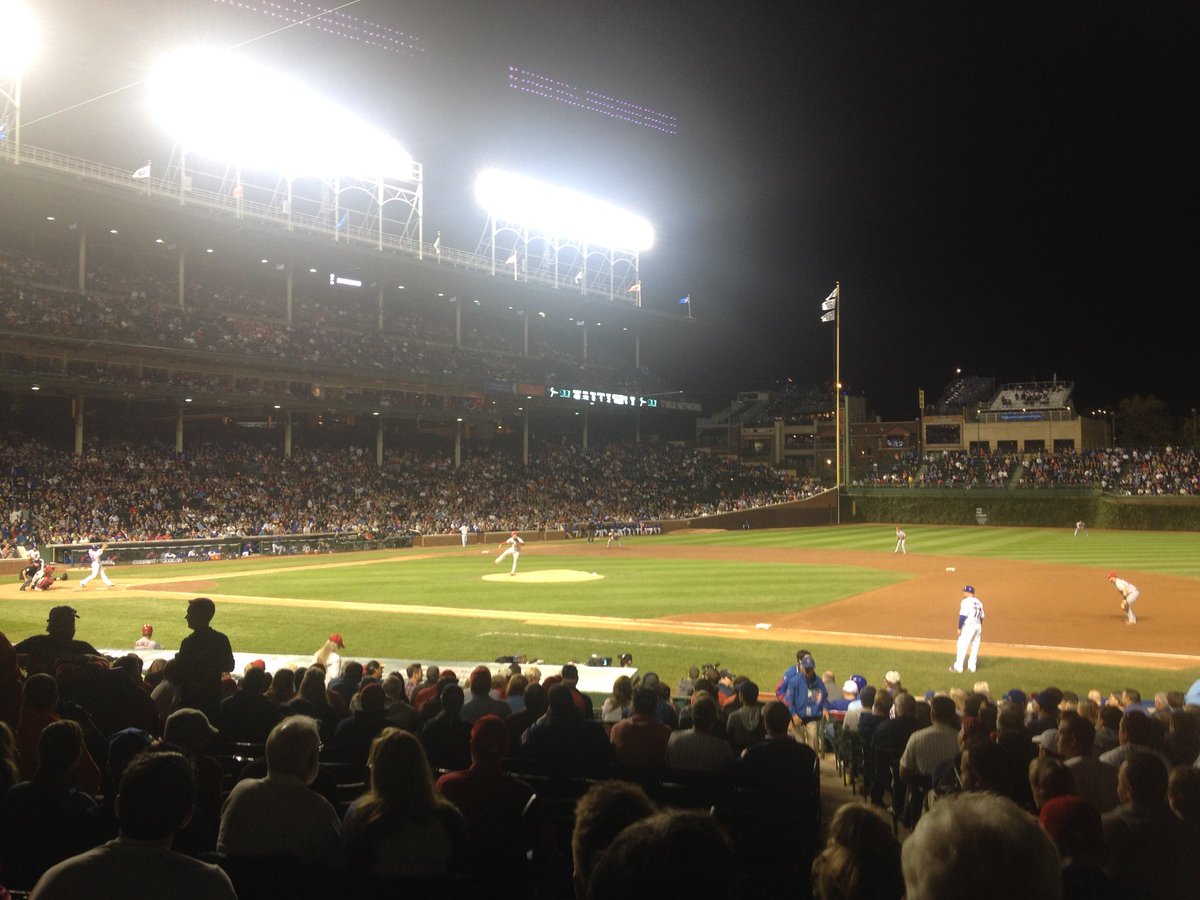 After rain washed out the Chicago Cubs' initial attempt at an inaugural game under the lights on August 8, 1988, there was an anticlimactic sense to their first official night game at home the following day. True, the game itself was historic. When umpires halted the game the day before in the fourth inning, what might have been the list of "firsts" under the lights at Wrigley — first pitch (by Rick Sutcliffe), first hit, and first home run (both by Phil Bradley, leading off for the Philadelphia Phillies) — the game of August 9 produced the list that went down into the history books. It was also the game for which the Baseball Hall of Fame and Museum requested each manager's lineup card for posterity.1
Despite that, there was considerably less ceremony the second time around. As the New York Times reported, "When the lights were turned on tonight, nearly 24 hours after a sellout crowd had screamed ''Let There Be Light,' at a game that would be rained out … there was no response. … Monday's emotional evening was a part of Chicago history, even if the rained-out game between the Cubs and Phillies was not. The experience was still a novelty tonight but the feeling had switched to wonder at the newness of a different routine."2
For Chicago Tribune columnist Bob Verdi, the difference in atmosphere between the events was like the difference between the postseason and the regular season. For him, Monday's failed attempt was a "make believe World Series shindig … folderol that rendered the game meaningless."3 On the other hand, he said, "Tuesday night's surroundings were a bit more familiar and less synthetic. …"4
While the trappings of ceremony surrounding what became the team's first official night home game were less than at the initial attempt, the game itself carried more significance. Monday's rained-out contest featured two teams that were already out of the playoff chase. Both the Cubs and Phillies were far back in the standings of what was then the National League East. Chicago (destined to finish fourth) was already 13½ games back and Philadelphia (which would finish last with the third-worst record in the majors) was already 19 games back.
On the other hand, the game that counted replaced the Phillies as the Cubs' opponent with the New York Mets, who would win the division that year. As they came to Chicago for a three-game series, they were still in the midst of something of a race for the division, leading second-place Pittsburgh by six games.
For the game, Chicago started Mike Bielecki, who was 1-0 for the season with a 4.60 ERA. Bielecki, who had come to the Cubs in an April trade with Pittsburgh, had struggled early in the season; after earning an Opening Day victory with two innings of scoreless relief, in his next six appearances he had allowed 10 runs on 16 hits and six walks over 7⅓ innings out of the bullpen and the Cubs had sent him to the minor leagues on May 6. There, he pitched well enough to earn a spot on the National League roster for the first Triple-A All-Star game and when the Cubs lost pitcher Bob Tewksbury in early July (shoulder surgery) and then weeks later lost reliever Les Lancaster (emergency appendectomy), the team recalled Bielecki to shore up the bullpen. He allowed only one run in 6⅓ innings in his first four appearances after the recall and got the start in the historic game because of an injury to yet another Cubs hurler, Calvin Schiraldi, who had strained a hamstring in his previous game.5 (Initially, there was a chance that Bielecki would get the start for the Cubs' first attempt at a night game, since Sutcliffe, whose turn it was in the rotation, had a sore back that had manager Don Zimmer considering skipping his turn.6 In the end Sutcliffe was healthy enough and pitched effectively in the four innings until the umpires called the game, allowing only a run.)
Mets manager Davey Johnson sent Sid Fernandez (6-9) to the mound to oppose Bielecki. Like the Cubs starter, Fernandez had struggled early in the season; his ERA in mid-May was 5.57 but since then he had been far more effective, having shaved more than two runs off his ERA, down to 3.25. His record likely should have been better as he had taken the loss in two consecutive July games when he allowed a combined total of four earned runs on seven hits over 14 innings, striking out 15 while walking seven; in one of those games, he'd allowed only one hit but lost 2-1, largely because of a disputed "safe" call on a stolen base and an errant throw to the plate that sailed over the head of catcher Barry Lyons.
Bielecki made what became the first official pitch in a Cubs night game at 7:06 P.M., a called strike to Mets leadoff hitter Len Dykstra.7 Dykstra flied out to center and then Bielecki recorded the first official strikeout in a night game in Wrigley when he caught the next batter, Howard Johnson, looking. Both Bielecki and Fernandez were sharp over the first four innings; neither allowed a run over that span while Fernandez limited the Cubs to only one hit, a two-out single to Mark Grace in the first (the first official hit under the lights in Wrigley), while Bielecki surrendered four singles through four innings.8
The Mets broke the scoreless tie in the fifth when Wally Backman led off with a single and with one out Dykstra hit the first official night-time home run in Wrigley, a line drive into the auxiliary seats in right field.9
The Cubs scored a run in the bottom of the fifth — after Vance Law singled, Rafael Palmeiro drove him home with a line drive to left that got past Kevin McReynolds when he slipped on turf still wet from the previous night's downpour.10 They tied it in the sixth on a run that Shawon Dunston manufactured: He singled, stole second, advanced to third on a Ryne Sandberg groundout that shattered his bat, and, after Mark Grace walked, scored when Andre Dawson's groundball forced Grace at second.
The Cubs broke the game open in the seventh, thanks in part to a small bit of fan interference. With one out, Palmeiro hit a single to right and then with two outs, Jody Davis pinch-hit for Frank DiPino, who had relieved Bielecki in the sixth, and hit a deep fly to the wall in center field, where Dykstra attempted to catch it but failed to when fans threw beer at him. Asked later if the dousing with beer had affected the play, Dykstra said it had, adding, "And it didn't taste too good, either."11 (The fans were ejected and, calling the behavior "unacceptable," Cubs GM Jim Frey ordered stronger security for night games after that point.12)
Following the beer-aided double, Mets manager Johnson sent Roger McDowell in to relieve Fernandez but he did not record an out as the Cubs added three more runs on four consecutive singles before Johnson lifted McDowell for Terry Leach, who got Vance Law to fly to center and end the inning.
The Mets tightened the score with a solo home run in the eighth by Johnson and another run in the ninth when Gary Carter led off with a double against reliever Goose Gossage and scored on a single by Dave Magadan before Gossage nailed down the Cubs' win by retiring the next three batters, getting the final out when Dykstra grounded to second, forcing Magadan. Gossage earned the save, his 12th of the season, while DiPino recorded the victory for two innings of scoreless ball when he allowed no hits and one walk, while striking out one, moving his record to 2-3. The loss went to Fernandez, whose record went to 6-10.
After the game, Sandberg echoed the general sentiment in the press about the contest: Despite its historical significance, it was more like business-as-usual than the event of the night before.
"Last night was special," he said. "Tonight it was less of a circus. It felt more natural. It was a good, exciting ballgame."13
This article appears in "Wrigley Field: The Friendly Confines at Clark and Addison" (SABR, 2019), edited by Gregory H. Wolf. To read more stories from this book online, click here.
Sources
In addition to the sources cited in the Notes, the author also accessed Retrosheet.org, Baseball-Reference.com, and SABR.org.
https://www.baseball-reference.com/boxes/CHN/CHN198808090.shtml
http://www.retrosheet.org/boxesetc/1988/B08090CHN1988.htm
Notes
1 Malcolm Moran, "2nd Night of Firsts at Wrigley," New York Times, August 10, 1988: A21.
2 Ibid.
3 Bob Verdi, "Maybe Cubs Can Light Up Our Lives," Chicago Tribune, August 10, 1988: 45.
4 Ibid.
5 Joseph Durso, "Cubs Also Light Up Their Scoreboard," New York Times, August 10, 1988: A19.
6 "Wrigley Has World Series Atmosphere," Cincinnati Enquirer, August 8, 1988: 25.
7 Verdi.
8 Unless otherwise noted, play-by-play accounts come from Retrosheet retrosheet.org/boxesetc/1988/B08090CHN1988.htm, accessed August 23, 2017.
9 Alan Solomon, "Cubs Pick a Good Time to Shine," Chicago Tribune, August 10, 1988: 45.
10 Ibid.
11 Ibid.
12 "Cubs," The Sporting News, August 22, 1988: 15.
13 Joe Goddard, "Cubs Escape the Dark Ages," The Sporting News, August 22, 1988: 21.
Additional Stats
Chicago Cubs 6
New York Mets 4
---
Wrigley Field
Chicago, IL
Box Score + PBP:
Corrections? Additions?
If you can help us improve this game story, contact us.
Tags
https://sabr.org/sites/default/files/wrigley-at-night-2014.jpg
600
800
admin
/wp-content/uploads/2020/02/sabr_logo.png
admin
2019-12-16 16:42:08
2020-04-17 10:22:21
August 9, 1988: Cubs win first official night game at Wrigley Field