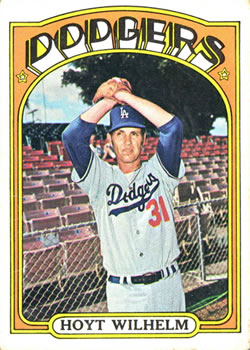 July 10, 1972: Hoyt Wilhelm appears in 1,070th and final game
---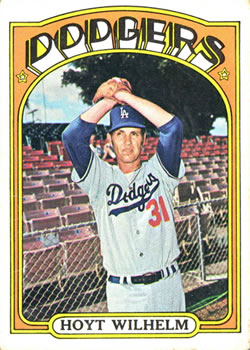 The best baseball players return reliably year after year until they seem as much a part of the game as bleacher seats and foul poles. But a career's end comes to every player, no matter how beloved or talented they are. For Hoyt Wilhelm, the major leagues' longtime leader in pitching appearances, that moment came on a July night in South Philadelphia in 1972.
Wilhelm's Hall of Fame-caliber success — as both a starting pitcher and a reliever — is a familiar story to baseball historians. The low-key North Carolinian's career highlights include a World Series championship in 1954, a no-hitter in 1958, two ERA titles, and a decade-long stretch of superb relief pitching in the 1960s that saw his ERA dip as low as 1.31 in 49 games with the 1967 White Sox.1 A reliable performer, he suffered only one significant injury in all those years, breaking a finger on his pitching hand while taking bunting practice during spring training in 1966.2
Despite his lengthy record of excellence, the final few years of Wilhelm's career turned into a merry-go-round of short-term stays, presumably as teams became convinced that a man his age must be due to lose his stuff at any moment. Between October 1968 and July 1971, Wilhelm changed teams six times, going from the White Sox to the Royals to the Angels to the Braves to the Cubs to the Braves again, finally landing with the Los Angeles Dodgers.
Wilhelm played nine particularly strong games for the Dodgers in August and September 1971, posting a 1.02 ERA. He began 1972 with the Dodgers, and earned a two-inning save in his first appearance of the season, on April 17. A hopeful preseason note in The Sporting News mentioned that Wilhelm was not suffering from shoulder stiffness for the first time in several seasons.3
But his long-reliable pitching finally began to decline in 1972. He walked more batters than he struck out, something he hadn't done in a full season since 1953. He was often used for middle-inning mop-up or late-inning close-out work when the Dodgers were trailing, and sometimes struggled in that role. At the end of June, his ERA stood at 5.01. Still, he remained in the team's bullpen as of July 10, when the Dodgers traveled to Philadelphia.
The biggest news in baseball on the day of Wilhelm's final game could be found in the opposite dugout at Veterans Stadium. The Phillies, struggling with the major leagues' worst record at 26-50,4 had fired manager Frank Lucchesi after the team's July 9 loss to San Diego. Paul Owens, who had taken over as general manager about a month before, installed himself as Lucchesi's replacement in time to manage the July 10 doubleheader against the Dodgers.5
Owens' first game as skipper did not stop the team's downward trajectory: The Phillies lost 6-4 in 11 innings. But in the second game, the team's fortunes improved, as Philadelphia pieced together a run in the first inning and two more in the third. Errors by Dodgers starting pitcher Mike Strahler and third baseman Billy Grabarkewitz contributed directly to those runs. Meanwhile, Philadelphia starting pitcher Woodie Fryman generally cruised, encountering trouble only in the fifth, when Dodgers runners made it to second and third with two outs. Fryman stranded them by getting Willie Davis to pop to the shortstop.
The Phillies batted well in their half of the fifth, driving Strahler from the game and continuing to cash in against reliever José Peña. Most of the action came from a string of singles, with center fielder Willie Montañez standing out with a two-run triple. The Phils struck again in the bottom of the sixth, with Montañez again the driving force — this time hitting a two-run homer to drive in pinch-runner Bill Robinson. Fryman, meanwhile, continued to scatter hits and walks without landing in a serious jam.
That was the setting — 9-0, Philadelphia — when Wilhelm came out of the visitors' bullpen to pitch the bottom of the seventh. In his first inning of work, Wilhelm was his old effortless self. He retired Denny Doyle on a pop to catcher Chris Cannizzaro, Fryman on a grounder to the mound, and Larry Bowa on a pop to Grabarkewitz, now playing shortstop. The Dodgers eked out their only run in the following half-inning on a homer by Manny Mota.
Wilhelm returned for the bottom of the eighth and found the going more difficult. Don Money led off with an infield single to Grabarkewitz and Tommy Hutton walked, putting runners on first and second with nobody out. The old knuckleballer recovered and got Robinson to ground into a 6-4-3 double play, sending Money to third with two out.
To escape the inning, Wilhelm would have to retire the game's hitting star, Montañez, who had turned four years old the same month Wilhelm made his major-league debut. Instead of pitching around Montañez, Wilhelm went after him, and was rewarded when Montañez grounded to Lee Lacy at second for the inning's final out. Wilhelm was yanked for unsuccessful pinch-hitter Dick Dietz in the top of the ninth as Fryman retired the last three Dodgers in order.
Wilhelm's 1,070th, and final, major-league appearance was over. News reports the next day made no special mention of a veteran reliever turning in two scoreless innings of mop-up work in a lopsided loss.
Wilhelm remained idle until July 21, when the Dodgers needed to clear a roster spot for infielder Bill Russell as he returned from military duty.6 With an 0-1 record and a 4.62 ERA, Wilhelm was given his release, and his remarkable career came to an end. News stories noted that he was five days short of his 49th birthday. In fact, he had shaved a year off his age, a deception not uncovered until after his death; he had continued to retire major-league batters until he was just shy of 50.7
Over time, changes in bullpen use and improved physical conditioning have made the 1,000-game mark easier for pitchers to achieve. As of 2020 16 pitchers can claim that distinction, with all-time leader Jesse Orosco having appeared in almost 200 more games than Wilhelm.8 Still, Wilhelm will always be the first man to reach 1,000 appearances, and is remembered as someone who threw pitches that were tough to hit — all the way to his final outing.
Sources
retrosheet.org/boxesetc/1972/B07102PHI1972.htm
baseball-reference.com/boxes/PHI/PHI197207102.shtml
Notes
1 Transaction and statistical information for Wilhelm, as well as information on day-by-day 1972 performance, taken from Retrosheet's Hoyt Wilhelm page. retrosheet.org/boxesetc/W/Pwilhh101.htm.
2 Mark Armour, "Hoyt Wilhelm," SABR Baseball Biography Project, sabr.org.
3 Bob Hunter, "Orioles' Loss of F. Robby Looks Like Dodgers' Gain," The Sporting News, April 1, 1972: 38.
4 Retrosheet, "Standings at close of play of July 9, 1972." retrosheet.org/boxesetc/1972/07091972.htm.
5 Hal Bock (Associated Press), "Owens Takes Over Struggling Phils," Nashua (New Hampshire) Telegraph, July 11, 1972: 17.
6 Associated Press, "Dodgers Release Wilhelm," Pittsburgh Post-Gazette, July 22, 1972: 8. news.google.com/newspapers?nid=gL9scSG3K_gC&dat=19720722&printsec=frontpage&hl=en
7 Armour.
8 "Career Leaders & Records for Games Played," Baseball Reference. Accessed April 11, 2020. baseball-reference.com/leaders/G_p_career.shtml.
Additional Stats
Philadelphia Phillies 9
Los Angeles Dodgers 1
Game 2, DH
---
Veterans Stadium
Philadelphia, PA
Box Score + PBP:
Corrections? Additions?
If you can help us improve this game story, contact us.
Tags
https://sabr.org/sites/default/files/Wilhelm-Hoyt-1972.jpg
600
800
admin
/wp-content/uploads/2020/02/sabr_logo.png
admin
2020-05-26 14:32:26
2020-05-28 15:29:12
July 10, 1972: Hoyt Wilhelm appears in 1,070th and final game