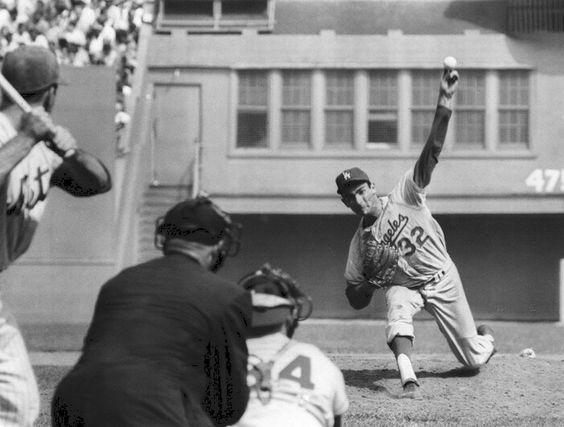 July 12, 1963: Koufax fans 13, hands Mets 13th loss in a row
---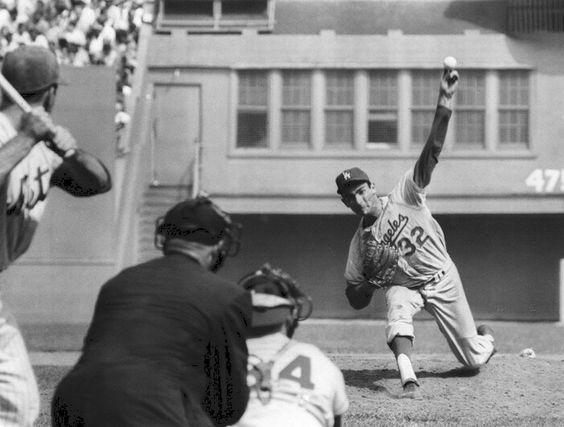 The 1962 baseball season brought the National League back to New York with an expansion team, the New York Mets, after a four-season absence. The future home of the Mets, Shea Stadium, would not be ready to open until 1964. It was fitting for the Mets to use the Polo Grounds as its home venue for its first two seasons. The New York Giants called the Polo Grounds home before moving to San Francisco in 1958, at the same time as the Brooklyn Dodgers moved to Los Angeles.
The ineptitude of the Mets in their first two seasons is well documented, beginning with their first game. Of the opener, Thomas J. Brown wrote at the SABR Games Project, "For all the hoopla surrounding the Mets as they began their inaugural season, this game turned out to be a harbinger of things to come. They made three errors and their pitchers only recorded one strikeout."1 In fact, the Mets did not relinquish their hold on last place in the National League until 1966, when they finished in ninth place ahead of the last-place Chicago Cubs by 7½ games.
It took a few seasons for the Mets to build an attendance among the National League leaders. They averaged only about one million fans for each of those seasons at the Polo Grounds. It wasn't until 1966 that the season's attendance would reach nearly 2 million, second only to the Dodgers in the National League. But National League fans were anxious to see players like Willie Mays, Don Drysdale, Jim Gilliam, and, of course, Sandy Koufax. All had played in New York in 1957, the season that preceded the exodus of the Dodgers and Giants to California. Large crowds attended Mets-Dodgers and Mets-Giants games at the Polo Grounds starting in 1962.2 In fact, those games accounted for over half of the Mets' home attendance for the entire 1962 season.
On this Friday night in July, the 34,889 spectators likely came to the Polo Grounds with one purpose in mind: to see Sandy Koufax pitch during his memorable 1963 season. The aura as well as privacy of Sandy Koufax was noted by Marc Z. Aaron in his SABR biography of the Hall of Fame pitcher. "Remaining out of the spotlight gave Koufax sightings extra cachet. 'Awestruck' is another word frequently attached to this man. Opponents and fans felt that way watching him on the mound, and he retained a unique personal presence."3
This night found Koufax in the midst of an All-Star year. His record was 14-3. In May he had turned in two stellar performances in Los Angeles: an 8-0 no-hitter against the Giants on the 11th, and a 1-0 two-hit shutout of the Mets on the 19th. The Mets, already 23½ games behind the Dodgers, sent Al Jackson, 6-9, to the mound.4
Koufax got all the support he needed in the top of the first inning. Tommy Davis got the first hit off Jackson, a two-out single to center field. A double by Frank Howard, a walk to Moose Skowron, and a double by Ron Fairly gave the Dodgers three runs.
Catcher Doug Camilli drove in two additional Dodgers runs in the second and third innings. He led off the second with his second home run of the season. In the third inning he drew a bases-loaded walk from reliever Larry Bearnarth to push the Dodgers' lead to 5-0. The Dodgers added an unearned run in the sixth inning on a walk, an error by Mets third baseman Jim Hickman, and an RBI single to left field by Tommy Davis.
Off Koufax, the Mets managed only three scattered hits and had two futile scoring opportunities. Hickman tripled to left field with two outs in the third inning, but centerfielder Jim Piersall's unsuccessful squeeze-play bunt ended that opportunity. In the fifth inning, a one-out walk to shortstop Larry Burright and a single by first baseman Tim Harkness brought pinch-hitter Rod Kanehl to the plate. Koufax got Kanehl on a swinging strikeout, then got Hickman to flyout to center field.
Sometimes the enjoyment of the game is merely the dominance of one pitcher over the other team. New York Times writer Leonard Koppett was straightforward in his account of the game. "As for the handling of the Mets, it's simply ridiculous. They have not scored on him in 34 innings, going back 14 months to May 30, 1962. Since then, he has beaten New York with a 5-0 no-hitter, a 3-0 three-hitter (pitching only seven innings), a 1-0 two-hitter and tonight's three-hitter."5 Koppett recited the litany of pitching statistics that already marked Koufax's season: his eighth win a row, his ninth shutout of the season, an earned-run average lowered to 1.63, and a scoreless streak extended to 27 innings. Koppett noted, "In victories, complete games (13), strikeouts and shutouts he leads the league."6
Many have written that Koufax's last five seasons, 1962 to 1966, represented the highest level of pitching dominance by any measure. The words of two competitors, Bob Gibson and Willie Mays, speak the loudest. Although unwilling to take a backseat as a pitcher of accomplishment, Gibson wrote in his 1994 biography, Stranger to the Game, "As far as I'm concerned, no other pitcher in the history of baseball ever put together five years like Koufax did from 1962 to 1966."7 Mays echoed Gibson: "For him to do all those things in five years, what guys take twenty years to do, that's remarkable."8 For this game and this season, Koufax's pitching performances spoke loudly.9
Author's note
I attended this game with my father, who taught me to be a Dodgers fan at a young age. I'll admit that we were both migrating toward the second-year New York Mets because of geographic proximity. We had to see Sandy Koufax pitch, an opportunity we didn't have when he pitched for the Brooklyn Dodgers from 1955 to 1957.
Sources
In addition to the sources cited in the Notes, the author also accessed Baseball-Reference.com (baseball-reference.com/boxes/NYN/NYN196307120.shtml), Retrosheet.org (retrosheet.org/boxesetc/1963/B07120NYN1963.htm) and Baseball-Almanac.com.
Notes
Additional Stats
Los Angeles Dodgers 6
New York Mets 0
---
Polo Grounds
New York, NY
Box Score + PBP:
Corrections? Additions?
If you can help us improve this game story, contact us.
Tags
http://sabr.org/sites/default/files/Koufax-Polo-Grounds.jpg
600
800
admin
/wp-content/uploads/2020/02/sabr_logo.png
admin
2016-12-14 17:38:17
2020-04-17 10:25:58
July 12, 1963: Koufax fans 13, hands Mets 13th loss in a row