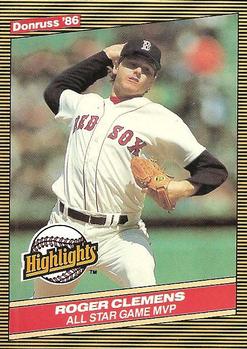 July 15, 1986: Roger Clemens wins All-Star MVP in hometown Houston; Valenzuela ties Hubbell's strikeout mark
---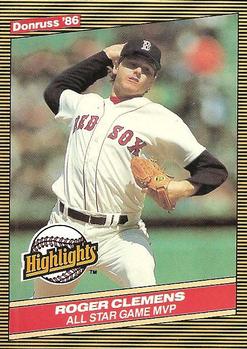 A crowd of 45,774 attended the 57th All-Star Game, held at the Astrodome in Houston on July 15, 1986. The American League's Roger Clemens (Boston Red Sox), a hometown boy, faced off against the National League's Dwight Gooden (New York Mets). They would see each other again in Game Two of the 1986 World Series. Clemens was 23 years old; Gooden was only 21, but this was the third All-Star Game for the reigning Cy Young Award winner and former Rookie of the Year.
Five starters from each All-Star squad would eventually be inducted into the Baseball Hall of Fame (National Leaguers Gary Carter, Tony Gwynn, Ryne Sandberg, Mike Schmidt, Ozzie Smith; and American Leaguers Wade Boggs, Rickey Henderson, Kirby Puckett, Cal Ripken Jr., and Dave Winfield). Three AL reserves, Eddie Murray, George Brett, and Jim Rice, also made it to Cooperstown.
There was plenty of fanfare, as this was Houston's second All-Star Game (the first was in 1968, a 1-0 win for the NL, also at the Astrodome). Vice President George H.W. Bush threw out the ceremonial first pitch. Kansas City's Dick Howser, manager of the 1985 world champion Kansas City Royals, managed the American League squad1 and St. Louis's Whitey Herzog skippered the National League team. Honorary captains were Charlie Gehringer for the AL and Rusty Staub for the NL. Staub was the Astros' All-Star representative in the 1968 All-Star Game, which was the first to be played indoors.
Puckett led off the game with a single to center field off Gooden. He was forced at second on Henderson's grounder to Sandberg. Gooden then was charged with a balk, moving Henderson up a base. The National League starter settled down and retired Boggs and Lance Parrish to end the inning.
Clemens, making his All-Star Game debut, pitched three perfect innings. He threw 25 pitches — 21 of them for strikes. "I threw strikes," Clemens told reporters after the game. "But I'm always around the plate. If I want to miss, I'll miss."2 In retiring all nine batters he faced, the man who would strike out 4,672 hitters in his career fanned only two, Sandberg and Darryl Strawberry.
With two outs in the top of the second inning, Winfield stroked a line drive to right field for a double. Lou Whitaker quickly fell behind in the count, 0-and-2, but then sent Gooden's next offering, a curveball, into the right-field grandstand, staking the American Leaguers to a 2-0 lead. Clemens struck out for the third out of the inning. Gooden was charged with two earned runs in three innings of work, which included two strikeouts.
Fernando Valenzuela came on to pitch for the National League in the top of the fourth inning. El Toro struck out the first five batters he faced (Don Mattingly, Ripken, Jesse Barfield, Whitaker, and Teddy Higuera) to tie Carl Hubbell's 52-year-old All-Star Game record.3 It was Higuera's first major-league at-bat; he had entered the game to pitch for the American League in the fourth inning. Valenzuela told reporters, "After I was removed for a pinch-hitter, I looked at the scoreboard and saw that I had tied the record. But I don't know about Carl Hubbell. I was born in 1960."4Valenzuela and Higuera had close-to-identical lines in the box score: Each had three innings pitched, one hit, no runs. Valenzuela struck out five and Higuera struck out two.
In the top of the seventh inning, Valenzuela gave way to a hometown favorite, Houston Astros pitcher Mike Scott. Scott was obviously pumped, striking out Ripken and Barfield to start the inning. Frank White then entered as a pinch-hitter for Whitaker and launched a home run to deep left-center field. The American League now led 3-0, and all runs had come via the long ball from the eighth spot in the batting order.
Charlie Hough came in to pitch for the Americans and had a 1-2-3 seventh inning. In the bottom of the eighth he ran into trouble. Chris Brown led off the inning with a double. Chili Davis struck out but during his at-bat Hough uncorked a wild pitch and Brown scampered to third base. Hubie Brooks followed Davis and also struck out, but on the third strike catcher Rich Gedman was charged with a passed ball on a dropped third strike. Brown raced home and Brooks took first base. With Tim Raines batting, Hough committed a balk that advanced Brooks to second base. Raines became the third strikeout victim for Hough; then with two outs Steve Sax lined a single to left-center field, driving in Brooks. The National League team had trimmed the lead to one run, 3-2. Dave Righetti came on as the fourth pitcher for the American League. Sax stole second base but was stranded as Astros slugger Glenn Davis fouled out for the frame's final out.
The AL batters were a quick three outs in the top of the ninth, as new pitcher Mike Krukow retired Ripken, Barfield, and White. Righetti returned to the mound and retired Keith Hernandez on a groundout to start the bottom half of the inning. Jody Davis and Dave Parker then hit back-to-back singles. The call went to the bullpen and Don Aase came on to face Chris Brown. (As Aase trotted in, Detroit closer Willie Hernandez glared at him with hands on hips, in apparent disbelief at not getting the call from Howser.) The Orioles' closer, making the only All-Star appearance of his career, threw just two pitches, but he did his job. His 1-0 pitch hit Brown's bat as he tried to check his swing. The ball bounced to second baseman White, who stepped on the bag and threw to Mattingly at first for a rally-killing, game-ending double play.
National League pitchers struck out 12 American League batters in the game. That mark equaled a record set in 1934 by the National League pitchers and tied by the 1956 AL staff and 1959 NL staff. However, it was not enough to continue the National League dominance. National League teams had beaten the American League squad in 13 of the prior 14 games, and 21 of the last 23, but not on this evening. This victory in Houston was also the junior circuit's first win in an NL park since 1962, when the AL prevailed at Wrigley Field.5
Clemens was named the game's Most Valuable Player, and he enjoyed the moment. "With all of the home folks here, I was really jumping. The best part was when I walked into the dugout and saw all those great players in there with me. I thought we had made a major trade."6 He also commented about pitching in Houston, saying, "I can say 'y'all' and not get hounded about it now. When I say it in Boston, I get hounded. In Boston, it's 'you guys.'"7
This article appears in "Dome Sweet Dome: History and Highlights from 35 Years of the Houston Astrodome" (SABR, 2017), edited by Gregory H. Wolf. To read more articles from this book at the SABR Games Project, click here.
Other sources

baseball-almanac.com.
baseball-reference.com.
mlb.com.
retrosheet.org.
sabr.org.
youtube.com/watch?v=TrC1BrP8Y64.
Notes
1 The 1986 All-Star Game turned out to be Dick Howser's final game as a manager. He told reporters that he felt sick before the game. A cancerous tumor was diagnosed, and Howser stepped down as the Royals' manager. Mike Ferraro finished the season at the helm for the Royals. Howser died on June 17, 1987, at the age of 51. Robert McG. Thomas Jr., "Dick Howser Dies at 51, Ex-Manager of Royals," New York Times, June 18, 1987.
2 Larry Whiteside, "Clemens Wins Over NL — and Skeptics," Boston Globe, July 17, 1986.
3 mlb.mlb.com/mlb/history/mlb_asgrecaps_story_headline.jsp?story_page=recap_1986.
4 Michael Martinez, "American League Beats National, 3-2," New York Times, July 16, 1986.
5 Whiteside.
6 Martinez.
7 Dan Shaughnessy, "Hometown Cooking," Boston Globe, July 15, 1986.
Additional Stats
American League 3
National League 2
---
Astrodome
Houston, TX
Box Score + PBP:
Corrections? Additions?
If you can help us improve this game story, contact us.
Tags
https://sabr.org/sites/default/files/ClemensRoger-1986.jpg
600
800
admin
/wp-content/uploads/2020/02/sabr_logo.png
admin
2018-10-01 23:44:53
2020-04-17 10:23:54
July 15, 1986: Roger Clemens wins All-Star MVP in hometown Houston; Valenzuela ties Hubbell's strikeout mark