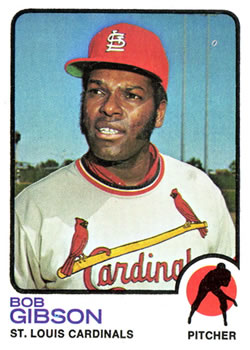 July 17, 1974: Bob Gibson notches his 3,000th strikeout
---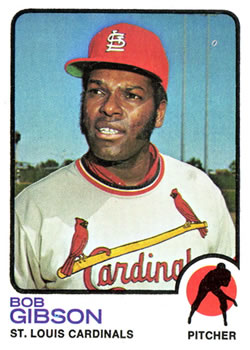 St. Louis Cardinals great Bob Gibson hurled a high fastball from the Busch Stadium mound at 8 P.M. on July 17, 1974. César Geronimo, the Cincinnati Reds' lithe centerfielder, swung and missed, making him the 3,000th strikeout victim in Gibson's Hall of Fame career.
Only the Washington Senators' Walter Johnson had ever fanned that many batters. Gibson reached the milestone on a sultry evening by the Mississippi River. He struck out three more Reds before departing after seven innings. Cincinnati won the game 6-4, thanks to George Foster's two-run double in the 12th. Gibson gave up four runs (three earned) and 10 hits.
A crowd of 28,743 watched Gibson join the 3,000-strikeout club. Umpires delayed the first pitch for 14 minutes to accommodate late-arriving fans. (The Cardinals averaged 22,696 fans per game in 1974.1) Gibson took the mound on this Wednesday night with 2,999 career strikeouts. In his previous start, on July 12 at home vs. the Atlanta Braves, he had fanned just two batters in eight innings.
Against the Reds, Gibson allowed one run in the first inning. Joe Morgan rapped a two-out single, stole second base, and sprinted home on a Johnny Bench base hit. St. Louis catcher Tim McCarver picked off Bench to end the frame.
Cincinnati made it 2-0 in the top of the second. Dan Driessen reached on an error with one out and advanced to third on a single by Dave Concepción. Driessen scored when Ken Griffey hit into a fielder's choice. Cincinnati starting pitcher Tom Carroll lined a single that brought Griffey to second. Next up, Geronimo chased a Gibson pitch that Neal Russo of the St. Louis Post-Dispatch reported "certainly was not a strike."2 That was number 3,000.
St. Louis fans didn't care that Geronimo whiffed on a bad ball. They stood up and applauded their hero, who was in his 16th season, had led the Cardinals to three pennants (1964, '67, and '68) and two World Series titles ('64 and '67), and who enjoyed a season for the ages in 1968 (22-9, 1.12 ERA, 13 shutouts, 268 strikeouts). Jack Herman wrote in the St. Louis Globe-Democrat that "at exactly 8 o'clock sharp, Busch Stadium erupted deliriously."3(Nearly six years later, on July 4, 1980, Nolan Ryan notched strikeout number 3,000. The victim? César Geronimo.)
Gibson tipped his cap to the jubilant crowd. The following day, he told Herman that the gesture was unusual, especially because the Cardinals were losing. "Foremost in my mind is winning. … I wanted the fans to know that I appreciated that they appreciated my efforts. But it's difficult for me."4
The Cardinals leaped ahead in the bottom of the second. Carroll walked Reggie Smith and Ted Simmons and then served up a 1-and-0 pitch that Joe Torre smashed over the left-center-field inner fence for a three-run home run. St. Louis led, 3-2. Smith's solo homer with one out in the bottom of the third put the Cardinals up 4-2.
Cincinnati began to creep back with a single run in the fourth. Driessen lifted a fly ball that Cardinals leftfielder Lou Brock misplayed into a two-base hit. Concepción's grounder advanced Driessen to third, and Griffey stroked an RBI double. Two innings later, Terry Crowley knocked a run-scoring single to even things at 4-4. Herman wrote that Gibson "was not at his sharpest."5
Cardinals manager Red Schoendienst summoned Al Hrabosky to relieve Gibson in the eighth inning. Hrabosky recorded just one out and gave up a walk. Mike Garman tossed a scoreless 2⅔ innings for St. Louis.
The game stayed tied through the 11th. Finally, Cardinals left-hander Rich Folkers allowed a one-out walk to Darrell Chaney in the 12th and a single to Concepción. Schoendienst asked Orlando Peña to put out the fire. Foster, though, mashed a two-run double.
St. Louis threatened in the bottom of the 12th, loading the bases with two out against Reds reliever Pedro Borbon, the last of five Cincinnati pitchers that night. Second baseman Mike Tyson ended the suspense by popping up to Morgan. Will McEnaney, who pitched a scoreless 11th for Cincinnati, earned the win. Folkers took the loss. "That's the kind of game that makes you lose your hair and get ulcers," Bench told the Post-Dispatch.6The Reds upped their season record to 56-38. The Cardinals dropped to 44-47. It was their fifth loss in a row.
Reporters looking for insightful postgame quotes from Gibby walked away disappointed. The right-hander dressed and left the locker room before media members could reach him for comment. The next afternoon, Gibson remained low-key about reaching one of baseball's great milestones. "It's something you see coming,"he told Herman.7
Gibson's achievement competed for newspaper space with several other big sports stories. Hall of Fame pitcher Dizzy Dean had died of a heart attack at age 74 that day in Reno, Nevada. Both the Post-Dispatch and the Globe-Democrat featured multiple articles about the fun-loving hurler's life and career.The Globe-Democrat ran a banner story informing readers that the ABA Spirits (formerly the Carolina Cougars) were coming to town. No matter. Gibson himself ranked the 3,000 strikeouts a few places down on his list of career highlights.
"I'd rate my '58 season first, then just getting into the World Series (in 1964 for the first time) and probably my no-hitter (August 14, 1971) ahead of this," he told Herman.8
Reds left fielder Pete Rose offered high praise for Gibson. Rose called him one of the three best pitchers he had ever faced. The Los Angeles Dodgers' Sandy Koufax threw the hardest, Rose said, while the San Francisco Giants' Juan Marichal boasted the best assortment of pitches – a fastball, curveball, changeup, slider and screwball. Rose called Gibson the greatest competitor. "I'm not taking anything away from him as a pitcher, either," Rose said. "But he's an athlete, most pitchers are not."9
The 38-year-old Gibson finished the 1974 season with 129 strikeouts, to go with an 11-13 won-loss record and 3.83 ERA. The Cardinals ended up 86-75, in second place, 1½ games behind the National League East champion Pittsburgh Pirates. Brock ran wild and turned into the story of the season in St. Louis. At age 35, he stole a major-league record (since broken by the Oakland A's Rickey Henderson) 118 bases.
Gibson pitched one more season – and not very successfully. Over 109 innings in 1975, he went only 3-10 with a 5.04 ERA, striking out just 60. He retired late in the campaign with 3,117 career K's. (Johnson, who notched his 3,000th strikeout on July 22, 1923, retired with 3,508. He pitched in the big leagues from 1907 to 1927.)
Baseball writers voted Gibson into the Hall of Fame in 1981, his first year on the ballot, with 84 percent of the vote. He posted a career won-loss record of 251-174 and an ERA of 2.91 in 17 seasons. Gibson pitched in six All-Star games, tossed 56 shutouts and, maybe most impressively, put together one of the all-time great World Series résumés. He went 7-2 in Series play with a 1.89 ERA and won Game Seven match-ups in both 1964 and 1967.
Post-retirement, Gibson opened a restaurant, worked as a broadcast analyst on ABC's Monday Night Baseball and took a job as the Atlanta Braves pitching coach in 1981. Later, he worked in that same role with the Cardinals.
A panel of experts named Gibson to the Major League Baseball All-Century Team in 1999. More recently, the pitcher has written a couple of books, including Pitch by Pitch: My View of One Unforgettable Game, about Game One of the 1968 World Series against the Detroit Tigers, when he struck out a Series-record 17 batters.
Through the 2016 season, 16 pitchers had reached the 3,000-strkeout mark. Gibson is now number 14 on the all-time list. (Ryan is first, of course, with 5,714.) The ultra-competitive Gibson – he didn't even fraternize with opposing players during All-Star games – remains one of the legendary figures in baseball history. McCarver, Gibson's longtime catcher, put it this way: "For my money, the most intimidating, arrogant pitcher ever to kick up dirt on a mound is Bob Gibson. … Bob was a man of mulish competitive instinct."10
Sources
In addition to the sources cited in the Notes, the author also consulted baseball-reference.com:
http://www.baseball-reference.com/boxes/SLN/SLN197407170.shtml
http://www.retrosheet.org/boxesetc/1974/B07170SLN1974.htm
Notes
Additional Stats
Cincinnati Reds 6
St. Louis Cardinals 4
---
Busch Stadium
St. Louis, MO
Box Score + PBP:
Corrections? Additions?
If you can help us improve this game story, contact us.
Tags
http://sabr.org/sites/default/files/GibsonBob-1973Topps.jpg
600
800
admin
/wp-content/uploads/2020/02/sabr_logo.png
admin
2017-02-13 16:43:33
2020-04-17 10:25:55
July 17, 1974: Bob Gibson notches his 3,000th strikeout