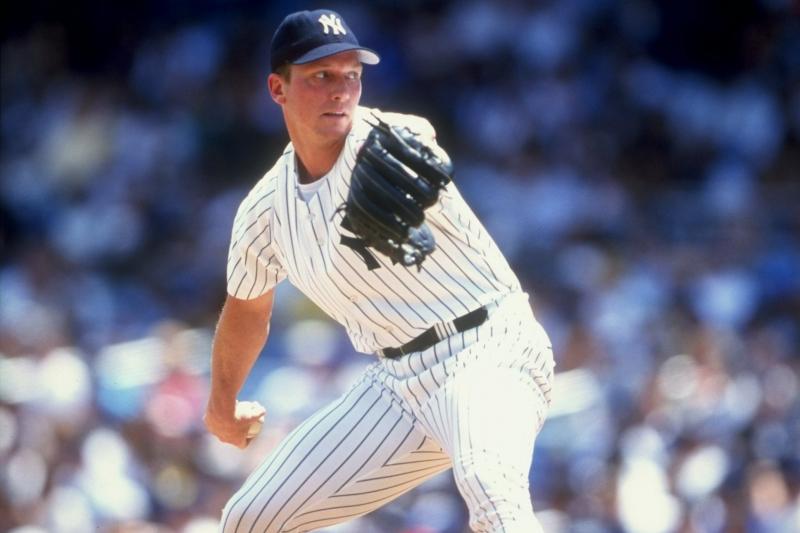 July 18, 1999: With Don Larsen watching, David Cone channels perfection for Yankees
---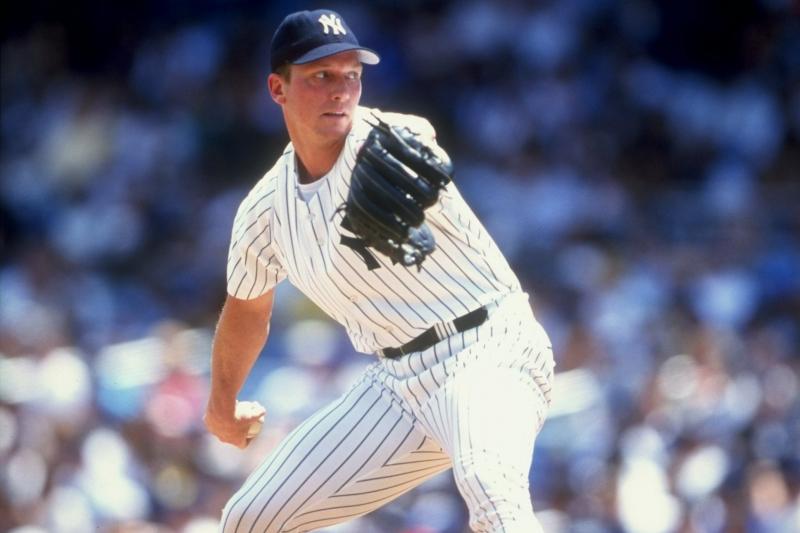 Pressure was David Cone's lifeblood. In 1996, with the Yankees, the right-hander threw seven no-hit innings on his return from a career-threatening aneurysm that had sidelined him most of the season. Only a strict pitch count prevented him from going all nine against a power-hitting Oakland club that Labor Day.
"I'll never wonder if this could have been my last opportunity to throw one," said Cone of not completing the no-hitter. "I wouldn't think that way."1
Perhaps the stakes weren't high enough. Or improbable enough.
Cone was 36 on July 18, 1999. At the time, only Cy Young himself had thrown a perfect game at an older age.2 But Cone (9-4, 2.86 ERA) had pitched for the American League All-Star team days before. The previous season, he won 20 games. He had contributed to two World Series championships in the past three years (1996 and 1998) and the Yankees would win a third in four years that fall. Sportswriters were casually floating the words "aura and mystique" and speaking of "ghosts" at old Yankee Stadium to connect the team's near-invincibility to the dynasties of old.
The strongest link to those dynasties was at the Stadium that afternoon — Hall of Fame catcher Yogi Berra, owner of a record 10 championship rings, whom the Yankees chose to honor for rekindling his connection to the team. Berra and owner George Steinbrenner had recently repaired a 14-year rift, in which Berra refused to set foot in Yankee Stadium after Big George had fired him as manager. With Joe DiMaggio's passing that spring, Berra was the greatest living Yankee.
Don Larsen, whose perfecto Berra had caught during the 1956 World Series, threw the ceremonial first pitch to Berra behind the plate.
Cone, keenly aware of the battery's historical significance, casually asked Larsen if he would "run and jump in Yogi's arms" to re-create the moment.
"You got it wrong, kid," Larsen snapped back. "He jumped into my arms."3
Fans settled for a handshake. "Perfect, it's absolutely perfect, and it has been a perfect day today," Yankees television announcer Bobby Murcer remarked prophetically as Berra and Larsen retreated to the dugout.
Cone began his warm-ups with catcher Joe Girardi. Interleague play being only in its third season, he had never faced the Montreal Expos in any recent incarnation.4
The Expos, at 33-54, had the fewest wins in baseball and were on a five-game losing streak that straddled the All-Star break. And they were tired, their bus having arrived in New York at 3:30 A.M.5 for this rare Sunday opener of a three-game set. Their starter was Javier Vazquez, nearly 23 and newly recalled from Triple-A Ottawa, where he spent a month after going 2-4 with a 6.63 ERA with Montreal. The rest of the lineup was also young; the starting nine were, on average, under 26 years old. The Yankees' batting order, in contrast, included just two players under 30, all but one of whom had been or would be an All-Star during their careers.
Tickets didn't exactly sell out, as 41,930 fans showed up to fight the 95-degree heat. But Cone preferred pitching in hotter weather, particularly since his aneurysm surgery two years earlier.
Cone struck out leadoff hitter Wilton Guerrero looking on three pitches. Then the Yankees' defense saved him when Terry Jones and Rondell White both swung deep into the outfield. Right fielder Paul O'Neill one-handedly speared Jones's ball — Cone was sure it was a triple6 — diving into a somersault in the right-center gap, and left fielder Ricky Ledee ran down White's fly near the track in left-center. Inning over.
In the top of the second, Cone fanned cleanup hitter Vladimir Guerrero and induced two weak grounders to the infield. He struck out the side in the third.
Vazquez, conversely, gave up the game in the bottom of the second. It started with a one-out walk to Chili Davis. The next batter, Ledee, homered into the empty blue seats in the right-field upper deck.
Vazquez then hit Scott Brosius's backside, allowing Girardi to drive him in on a double to center. Girardi was tagged out rounding second, but Vazquez walked Chuck Knoblauch. Derek Jeter's two-run homer in front of the numbers by Monument Park completed the Yankees' five-run inning.
Then, a sudden downpour, and the grounds crew applied the tarp with one out in the Yankees' half of the third. Cone played catch with batboy Luigi "Squeegee" Castillo to stay loose during the 33-minute delay. After play resumed, Cone continued rolling, with a seven-pitch fourth, weak fly ball after weak fly ball. The whispers started in the broadcast booth in the fifth.
"Now that would be the coincidences of coincidences. He pitched a perfect game on Yogi Berra Day? Come on," marveled broadcaster Tim McCarver after the 14th out. "It can't happen, so we just won't look for it."7
But it was progressively the all-consuming discussion among the Yankees' radio and television announcers for the game's remainder — the idea that mentioning it would hex the pitcher meant little in the booth by the late 1990s. On the bench, however, Cone's teammates, still believing they could spread bad mojo, kept their distance. The Yankees clubhouse, where Cone routinely retreated between innings to change his undershirt, was uncharacteristically deserted. An odd feeling for Cone, who a year earlier had been the one breaking the tension when former teammate David Wells was on his way to his own perfecto.
Only Davis dared cross that line. When Girardi was late to his post one inning, the Yankees designated hitter jumped in and squatted.
"You know, I used to catch in the minor leagues," Davis said to Cone. "I could catch your stuff."
Cone laughed. "That's all I needed," Cone recalled a decade later, "Chili was my guy."8
In the Expos' seventh, Wilton Guerrero hit a chopper toward the middle of the diamond that Brosius9 stabbed and threw to first for the 19th out. Back-to-back strikeouts followed, heading into the seventh-inning stretch.
"It was a sports psychiatrist's kind of a Class 101 — it was negative thoughts and positive thoughts going both ways," Cone later remembered. "It was, 'You can do this,' and the other part was, 'Don't blow it.' So it was a constant battle of, 'Don't get too far ahead of yourself — you still have to win the game, you still have a few more innings to go,' but with each out and each inning, that anxiety kinda grew."10
Jose Vidro provided the most anxiety with one out in the eighth. He lined a hard grounder up the middle that Knoblauch grabbed on the outfield grass. The Yankees second baseman, who had become notoriously unable to hit his targets recently, spun, planted, and fired on the money to first baseman Tino Martinez. Cone then caught Brad Fullmer looking. Three outs left.
Unfortunately for Cone, a seemingly interminable bottom of the eighth grew longer when back-to-back hits from O'Neill and Bernie Williams plated another run and chased Vazquez. Reliever Bobby Ayala induced Davis to ground into a double play, effectively extinguishing the Yankees' rally.
"I've never been happier to see a double play hit by one of our guys," Cone said.11
Then it was the ninth, and Cone's every pitch was met with a standing ovation, followed by silence, save for isolated whistles. He fanned Chris Widger on three straight sliders. He induced pinch-hitter Ryan McGuire to fly out in shallow left to Ledee, who nearly lost the ball in the sun.12
And on a 1-and-1 count, Orlando Cabrera popped up along the third-base line about 30 feet in front of the bag. Cone pointed to the sky, and his hands fell on his head as if to say "that's it." He sank to his knees as the ball hit Brosius's glove for Out 27.
There was no jumping into Cone's arms for Girardi — he had scarcely charged in and wrapped Cone in a "bear hug" before teammates buried them, then carried Cone off the field.13
Cone had thrown 88 pitches — with Berra's retired number 8 etched behind home plate all day.14 Not once did Cone reach a three-ball count on any hitter. In the pressroom, Cone embraced Larsen "as if he was my father."15
"You probably have a better chance of winning the lottery than this happening,"16 Cone said — "the stars aligned" for him to pitch a perfect game on Yogi Berra Day.17 Thus, his swift decline in the aftermath of being untouchable seemed both incredible and inevitable; some say the no-hitter was Cone's deal with the devil.18 Following the perfecto, Cone went 2-5 (4.82 ERA) to finish 1999, and then was 4-14 (6.91) in 2000.19
Vazquez pitched back-to-back complete games following his losing decision, going 7-3 with a 3.77 ERA to end the season.20
"It was probably as much fun as I've had losing a game in my career," Vazquez said. "Watching David Cone control the game, remembering the atmosphere, Don Larsen and Yogi Berra were there, it was unbelievable."21
This article was published in SABR's "No-Hitters" (2017), edited by Bill Nowlin. To read more Games Project stories from this book, click here.
Notes
1 Jack Curry, "Sensational Comeback for Cone: Seven Innings, No Runs, No Hits," New York Times, September 3, 1996. https://nytimes.com/1996/09/03/sports/sensational-comeback-for-cone-seven-innings-no-runs-no-hits.html.
2 In 2004 Randy Johnson completed a perfecto at the spry age of 40.
3 Steve Serby, "'My Head Was on Fire': David Cone Relives Perfect Game, 15 Years Later," New York Post, July 17, 2014. https://nypost.com/2014/07/17/my-head-was-on-fire-15-years-later-david-cone-relives-perfect-game/.
4 Cone's career record against Montreal — stemming mostly from his years with the Mets — was 10-8 with a 2.84 ERA.
5 The Expos had boarded the bus after a night game in Baltimore.
6 Serby. Cone's memory of the game in 2014 erroneously attributed the at-bat to Wilton Guerrero.
7 Fox network television broadcast of the David Cone's perfect game. See https://youtube.com/watch?v=wwod7qO4y40 (last visited March 16, 2017).
8 Tyler Kepner, "Cone's Magic Moment, 10 Years Later," New York Times, July 18, 2009. https://bats.blogs.nytimes.com/2009/07/18/cones-magic-moment-10-years-later/?_r=0.
9 Brosius won a Gold Glove in 1999.
10 Serby.
11 Murray Chass, "Baseball: On Day Made for Legends, Cone Pitches Perfect Game," New York Times, July 19, 1999. https://nytimes.com/1999/07/19/sports/baseball-on-day-made-for-legends-cone-pitches-perfect-game.html.
12 From the dugout, Yankees manager Joe Torre, celebrating his 59th birthday, was uncertain the ball was caught. Bench coach Don Zimmer assured him it was. "I'm glad he was right," Torre said after the game. Ralph Vacchiano, "David Cone Throws a Perfect Game for Yankees on Yogi Berra Day at the Stadium in 1999," New York Daily News, July 18, 2015. https://nydailynews.com/sports/baseball/yankees/yankees-david-cone-throws-perfect-game-yogi-day-1999-article-1.2294698 (reprint of original article from July 19, 1999).
13 Ibid.
14 "IT'S DEJA VU ALL OVER AGAIN…" flashed the Yankees jumbotron immediately after the game.
15 "I Was There When: David Cone's Perfect Game," December 23, 2013, https://m.mlb.com/nyy/video/topic/70621568/v31277587/i-was-there-when-david-cones-perfect-game.
16 Murray Chass, "BASEBALL; On Day Made for Legends, Cone Pitches Perfect Game," New York Times, July 19, 1999, https://nytimes.com/1999/07/19/sports/baseball-on-day-made-for-legends-cone-pitches-perfect-game.html.
17 Nick Diunte, "Yogi Berra Still Fresh on the Mind of David Cone at Cancer Fundraiser," Examiner, September 27, 2015, https://web.archive.org/web/20160129113409/http://www.examiner.com/article/yogi-berra-still-fresh-on-the-mind-of-david-cone-at-cancer-fundraiser.
18 Murray Chass, "Sports of the Times; Cone Sold His Soul to the Devil," New York Times, July 25, 2000. https://nytimes.com/2000/07/25/sports/sports-of-the-times-cone-sold-his-soul-to-the-devil.html.
19 Cone remembered, "I kind of fell on my face in the year 2000."— Joe DiLessio, "David Cone on Advanced Stats, the End of His Playing Career, and Riding on David Wells's Motorcycle," New York Magazine, May 26, 2011. https://nymag.com/daily/sports/2011/05/david_cone_on_advanced_stats_t.html.
20 Four years later, he was traded to the Yankees, only to be sent to Arizona after one All-Star season in the infamous deal that put Randy Johnson in pinstripes. He returned to the Yankees in 2010, the year before he retired.
21 Mark Feinsand, "Vazquez 'thrilled' to be a Yankee," MLB.com, December 18, 2003, originally published at https://yankees.mlb.com/NASApp/mlb/nyy/news/nyy_news.jsp?ymd=20031218&content_id=620683&vkey=news_nyy&fext=.jsp&c_id=nya [broken link]; for full text, see https://forums.nyyfans.com/showthread.php/54600-mlb.com-Vazquez-thrilled-to-be-a-Yankee.
Additional Stats
New York Yankees 6
Montreal Expos 0
---
Yankee Stadium
Bronx, NY
Box Score + PBP:
Corrections? Additions?
If you can help us improve this game story, contact us.
Tags
https://sabr.org/sites/default/files/ConeDavid.jpg
600
800
admin
/wp-content/uploads/2020/02/sabr_logo.png
admin
2018-10-23 13:18:09
2020-04-17 10:23:50
July 18, 1999: With Don Larsen watching, David Cone channels perfection for Yankees