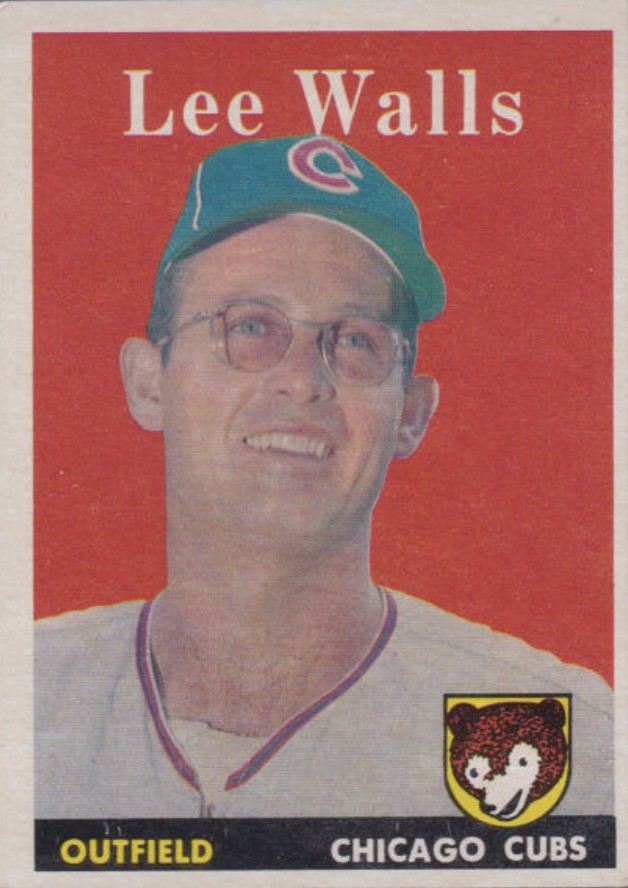 July 2, 1957: Cubs waste Lee Walls' cycle
---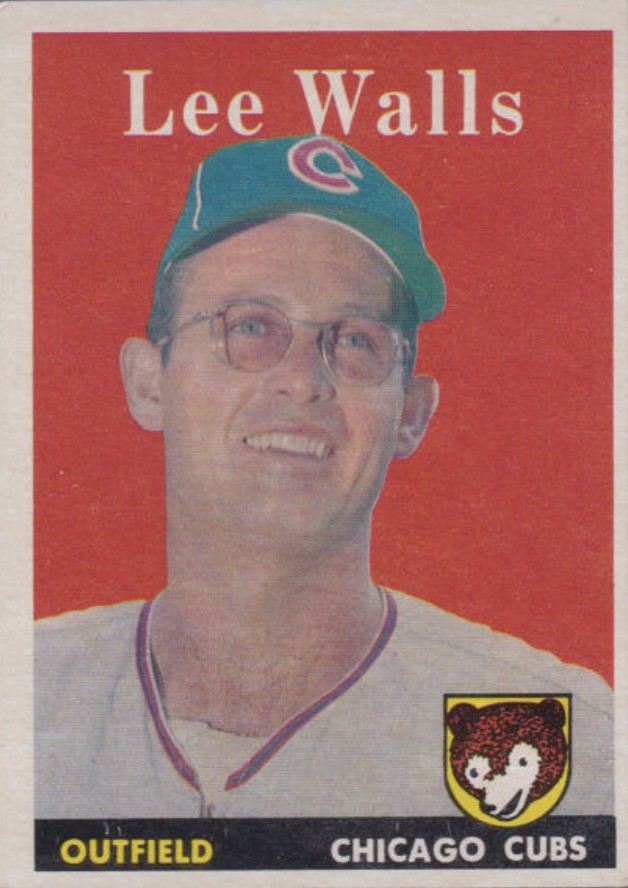 Only two months had passed since outfielder Lee Walls was traded from Pittsburgh to Chicago,1 and he had not yet become a household name in the Windy City as July 1957 began. On July 2 Walls moved up some in Cubs fans' eyes as he tried to singlehandedly lead his Chicago teammates to a victory over the Cincinnati Redlegs in an afternoon affair at Wrigley Field. Before a crowd of 10,358, the game featured plenty of action between the second-place Reds and the next-to-last Cubs, who started the day 15½ games back in the standings. As the Chicago Tribune put it, "The Cubs, who often lose but never quit, fought back to take a lead, slipped back into a tie, then lost in the 10th inning, 8 to 6."2
Walls might have been the one player on the Cubs roster least likely to hit for the cycle. He came into the game batting .228, with five doubles, four triples, and one home run in the 53 games he had played in a Cubs uniform. In eight games with the Pirates before the trade, Walls had only four hits (three singles and a double). He was slugging a meager .323. In his first 236 major-league games, Walls had gotten more than two hits just six times and more than three only once. It is reasonable to believe that no one had expectations for such a batter to amass four hits, let alone a single, double, triple, and home run, in a game.3 Yet on this summer afternoon, Walls became the fourth player in Chicago Cubs history to hit for the cycle.
Neither starting pitcher was sharp. Chicago's Don Kaiser didn't make it out of the second inning, and Cincinnati's Don Gross lasted just 2⅓ innings. With two outs, Walls "started his biggest day as a Cub with a wasted double in the first inning."4 Walt Moryn followed with a walk, but Ernie Banks ended the inning with a grounder to short.
The Redlegs jumped on Kaiser in the top of the second inning, scoring five runs, which were capped by Wally Post's grand slam. Frank Robinson led off with a walk. Ed Bailey singled, and Kaiser issued an intentional pass to Roy McMillan in order to pitch to Gross. Gross hit a "hard shot near the bag"5 at first that Dale Long could not field cleanly; Long's only play was to get Gross at first, and Cincy scored a run. Johnny Temple walked to load the bases again, and Post deposited a Kaiser offering into the left-field seats. This was Post's 11th homer and second bases-loaded shot of the season. It meant a 5-0 lead for the Redlegs, and it brought Dick Littlefield in to relieve Kaiser. Littlefield retired Gus Bell, then was lifted for a pinch-hitter in the bottom of the second.
By the bottom of the fourth, however, the Cubs had fought back and tied the game. They notched three runs in the third when Walls and Banks each sent balls over the ivy wall. Walls' second home run of the season drove in Jerry Kindall. A fan "knocked it back into left field, but [first base] Umpire Frank Dascoli ruled it a homer."6 Banks hit his 15th round-tripper of the season, a "home run that carried 425 feet into the center-field bleachers."7 Hersh Freeman trotted out from the Cincy bullpen, as Gross's afternoon was finished. An inning later, Long and Kindall both singled, and Walls' triple to the right-center barrier drove them both in, tying the game, 5-5. In four innings, Walls was already 3-for-3 with all of his extra-base hits accounted for.
A little bit of excitement and a lot of controversy arose in the Cubs' half of the seventh. With one out, Walls laced a single. He had just hit for the cycle in four straight at-bats. He moved to third on Moryn's single. Banks hit a "likely looking double-play"8 ball to short but was ruled safe at first base. Redlegs manager Birdie Tebbetts and bullpen coach Tom Ferrick thought otherwise, and "this precipitated quite a rhubarb,"9 as both Cincinnati men "were banished from protesting Umpire Frank Dascoli's 'safe' call."10 The supposedly late relay allowed Walls to score the tiebreaking run for Chicago.
Dave Hillman had been pitching for the Cubs since the top of the third. He struck out six Cincinnati batters and had been touched for only six hits coming into the eighth inning. Ed Bailey led off and launched his 11th home run of the season into the center-field stands, tying the game once more. Walls had another chance to be the hero, as he led off the bottom of the ninth, but his fly ball to right stayed in the park. With two outs, Banks also launched a fly to center, but center fielder Bell tracked it down.
The overtime inning featured extra-base hits by Cincinnati batters, as "the Reds hauled out their artillery."11 Jim Brosnan, the fourth Cubs hurler, had pitched the ninth, and Cubs manager Bob Scheffing kept him in for the 10th. George Crowe opened the inning with a double, his third hit of the game. Robinson struck out and Bailey walked, giving the infield a force at any base. However, Don Hoak "smacked a first-pitch double to left"12 to drive home Pete Whisenant, who was running for Crowe. Brosnan then walked Alex Grammas, and the bases were loaded. Turk Lown relieved. Raul Sanchez hit a slow roller to second and Bobby Morgan threw home for the force out. But Lown then walked Temple, providing the Redlegs with the second run of the inning.
The Cubs went in order in the 10th, and Cincinnati won, 8-6. The Cubs had failed to capitalize on Walls' slugging effort. Walls had gone 4-for-5 with two runs scored and four runs batted in. Banks knocked in two, but the Cincinnati pitching allowed only those six runs.
Cincinnati's Post became the first batter to hit two grand slams in 1957. While his big blow brought in four runs, Bailey had a 2-for-4 game with an RBI and two runs scored. Sanchez picked up his third victory, allowing just one hit in three innings pitched. The Redlegs moved into first place in the National League with the victory, a half-game over the Milwaukee Braves.13 Chicago's record dropped to 23-43, and the Cubs spent the rest of the season shifting between seventh and eighth place in the senior circuit.
Before Walls, the last Cub to hit for the cycle was Roy Smalley, at Wrigley Field on June 28, 1950. Walls' cycle was the first in the majors in three seasons. (Don Mueller of the New York Giants did it on July 11, 1954.) Just three weeks after Walls' performance, Mickey Mantle accomplished the rare feat for the New York Yankees (July 23, 1957).
This article appears in "Wrigley Field: The Friendly Confines at Clark and Addison" (SABR, 2019), edited by Gregory H. Wolf. To read more stories from this book online, click here.
Sources
In addition to the sources mentioned in the notes, the author consulted baseball-reference.com, mlb.com and retrosheet.org.
https://www.baseball-reference.com/boxes/CHN/CHN195707020.shtml
http://www.retrosheet.org/boxesetc/1957/B07020CHN1957.htm

Notes
1 On May 1, 1957, Walls was traded by Pittsburgh with Dale Long to Chicago for Dee Fondy and Gene Baker.
2 Edward Prell, "Cincinnati Wins, 8-6, in 10 After 5 Run Edge Over Cubs," Chicago Tribune, July 3, 1957: 34.
3 Walls finished the 1957 season at .240, but the team's batting average was only .244. He had a breakout season in 1958, batting .304, when the team batting average was .265.
4 Prell.
5 Ibid.
6 Ibid.
7 "Reds Take Cubs in 10th; Regain Lead," Pittsburgh Post-Gazette, July 3, 1957: 14.
8 Lou Smith, "Reds Take League Lead; Defeat Cubs in 10th, 8-6," Cincinnati Enquirer, July 3, 1957: 33.
9 Ibid.
10 Ibid.
11 Ibid.
12 Ibid.
13 The Redlegs defeated the Braves on July 3, to take a one-game lead over the St. Louis Cardinals. Then they lost seven in a row, dropping to fourth place, where they finished the season at 80-74. The Cubs, meanwhile, finished the season at 62-92, in seventh place.
Additional Stats
Cincinnati Redlegs 8
Chicago Cubs 6
10 innings
---
Wrigley Field
Chicago, IL
Box Score + PBP:
Corrections? Additions?
If you can help us improve this game story, contact us.
Tags
https://sabr.org/sites/default/files/WallsLee.jpeg
600
800
admin
/wp-content/uploads/2020/02/sabr_logo.png
admin
2019-12-03 13:44:39
2020-04-17 10:22:23
July 2, 1957: Cubs waste Lee Walls' cycle