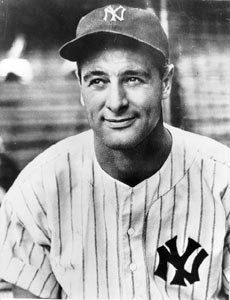 July 23, 1925: Lou Gehrig hits first of 23 career grand slams
---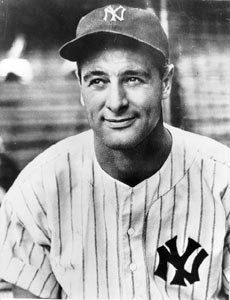 At the end of the day on July 21, 1925, the Washington Senators stood atop the American League standings with a record of 57 wins and 31 losses, which put them a half-game ahead of the second-place Philadelphia Athletics. The Senators were near the end of a 17-game road trip as they tried to repeat as American League champions.
As for the New York Yankees, not much was going well for them as they arrived home from Detroit to begin a homestand that would last until the second week of August. They were in seventh place with a record of 38 wins and 53 losses. Their superstar Babe Ruth had reported to camp well overweight at 256 pounds. He went on to have his worst season since becoming a full-time position player, batting .290, with 25 home runs and only 67 RBIs.1
Ruth also had what was referred to as "The Bellyache Heard Round the World." He had either eaten too many hot dogs or possibly had acquired something more serious, like a sexually transmitted disease. Either way, he needed minor surgery.2 Ruth realized that he needed to make a few changes if he wanted to keep playing after suffering this woeful-by-his-standards season. He went to Artie McGovern's gym after the season to get in shape.3
The Yankees' pitching staff was just not that good in 1925. All the starters ended up with records at or below .500.4
There was a bright spot for the Yankees in 1925, however, in the person of a new first baseman from Columbia University, Lou Gehrig. The local guy from Commerce High School in New York City became the Yankees' starting first baseman on June 2, taking the place of Wally Pipp. The day before, Gehrig had pinch-hit for Pee Wee Wanninger to begin what became an incredible streak of consecutive games played.
Urban Shocker (6-9) started for the Yankees on this Thursday afternoon in front of about 10,000 spectators. Tom Zachary (7-7) took the hill for the Senators.
After a scoreless first inning, Washington put three runs on the board in the second. Ossie Bluege singled with one out and went to second base on Everett Scott's hit to right field. Muddy Ruel doubled to score Bluege with the game's first run. Scott kept running and scored when Aaron Ward threw low to home. The third run of the inning came home when player-manager Bucky Harris singled to drive in Ruel.5
Goose Goslin, back in the lineup after serving a suspension for spiking Indians pitcher Bert Cole and causing a skirmish,6 tripled to open the third and scored on a sacrifice fly hit by Joe Judge. That put Washington up 4-0.
Yankees shortstop Ernie Johnson singled in the bottom of the third. Bob Shawkey, who had replaced Shocker on the mound in the top of the third, tripled Johnson home for the Yankees' first run. Shawkey scored on a single by Earle Combs; Combs followed him on after Gehrig knocked a single to center. At the end of the third inning, New York had cut the lead to 4-3.
Neither team scored in the fourth inning. Goslin doubled in the top of the fifth, advanced to third on a bunt single by Judge, and scored on a single by Bluegel. Judge advanced to third and scored on an Everett Scott force out. Ruel grounded into a double play to end the inning with the Senators ahead 6-3.
In the Yankees' half of the fifth inning, Bob Meusel singled with one out. Gehrig followed that by hitting his ninth home run of the year and bringing the Yankees to within one run, 6-5.
Firpo Marberry replaced Zachary on the mound for the Senators and held the Yankees hitless in the sixth inning; Shawkey did the same for the Yankees against Washington in the seventh.
It had been an uphill battle for the Yankees. But in the seventh inning, New York put the first three runners on base. Ward and Ruth walked, and Meusel was hit by a pitch. That brought Gehrig up with the bases loaded, and the first baseman delivered a high drive down the left-field foul line. Outfielder Goslin and shortstop Scott chased after the ball, which initially looked like it would land foul. Instead, the ball dropped a few feet in fair territory, then bounced off the "hard-baked ground"7 and into the stands. It was a home run under major-league rules then in effect. 8 Gehrig romped home behind Ward, Ruth, and Meusel.
The Baltimore Sun barely conceded Gehrig's bases-clearing shot, the first of 23 grand slams he would hit in his career.9"The big Yankee inning was a fortuitous combination of bad Senatorial pitching and good Yankee hitting. Marberry walked Ward and Ruth and then hit Meusel with a pitch to put Yankees at every base. Gehrig then hit a long fly ball which landed just inside the left field foul line. It then went into the stands for a lucky home run."10
The runs kept coming for the Yankees in the seventh. Joe Dugan and Benny Bengough began the rally with singles. Johnson forced Bengough at second for the first out of the inning, but a single by Shawkey scored Dugan and sent Johnson to third base. At this point, Harris replaced Marberry on the mound with Vean Gregg, who induced Combs to hit into a double play, with Johnson scoring. The Yankees now led 11-6.
Washington nicked Shawkey for a meaningless run in the ninth to make it an 11-7 final. Neither starter figured in the decision. Shawkey got the come-from-behind win, while Marberry took the loss for the Senators. And it wasn't Ruth who led the way for New York. It was the young slugger from Columbia. Gehrig hit two homers and single, and drove in seven.
Washington went on to win the 1925 AL pennant, finishing 28½ games ahead of the seventh-place Yankees. The Senators lost the World Series to the Pittsburgh Pirates in seven games.
As for Gehrig, he remained in the Yankee lineup every time they took the field through April 30, 1939. It was a streak of 2,130 consecutive games, a feat of endurance that remained a record until Cal Ripken Jr. of the Baltimore Orioles broke it on September 6, 1995.11
Sources
In addition to the sources cited in the Notes, the author consulted the Baseball-Reference.com website, Ray Robinson's Iron Horse: Lou Gehrig in His Time (New York: W.W. Norton & Company Inc., 1990), and Jonathan Eig's Luckiest Man: The Life and Death of Lou Gehrig (New York: Simon and Schuster,2005).
In addition to the sources mentioned in the Notes, box scores for this game can be found on baseball-reference.com, and retrosheet.org at:
http://www.baseball-reference.com/boxes/NYA/NYA192507230.shtml
http://www.retrosheet.org/boxesetc/1925/B07230NYA1925.htm
Notes
1 Allen Wood, "Babe Ruth," SABR Biography Project, sabr.org, accessed March 16, 2017.
4 For the 1925 season Herb Pennock won 16 and lost 17, Sad Sam Jones was 15-21, Urban Shocker was 12-12, Waite Hoyt was 11-14, and Bob Shawkey was 6-14.
5 Harry Cross, "Gehrig's Two Homers Beat Senators, 11-7," New York Times, July 24, 1925: 9.
6 "Suspension of Goslin Lifted by Ban Johnson," Harrisburg (Pennsylvania) Evening News, July 23, 1925: 1.
8 "Interesting Baseball Facts," http://4.stat.ncsu.edu/~reiland/baseball.html, accessed April 20, 2017. Prior to the 1930 AL season (and 1931 NL season) fly balls that bounced over or through the outfield fence were home runs. Current MLB Rules 6.09 (d)-(h) make such hits automatic, or "book-rule" (as opposed to ground rule), doubles.
9 Gehrig, the career leader in bases-loaded home runs, hit number 23 on August 20, 1938, off Buck Ross of the A's in Philadelphia. "Lou Gehrig Grand Slams" entry, Baseball-Almanac.com, accessed April 19, 2017. The term "grand slam," which originated in the game of contract bridge, was not yet in use in baseball in 1925. Paul Dickson, The New Dickson Baseball Dictionary (New York: Harcourt Brace & Co., 1999), 228.
10 Senators Bumped by Lowly Yankees," Baltimore Sun, July 24, 1925: 13.
Additional Stats
New York Yankees 11
Washington Senators 7
---
Yankee Stadium
New York, NY
Box Score + PBP:
Corrections? Additions?
If you can help us improve this game story, contact us.
Tags
http://bioproj.sabr.org/bp_ftp/images3/GehrigLou.jpg
600
800
admin
/wp-content/uploads/2020/02/sabr_logo.png
admin
2017-05-30 17:39:28
2020-04-17 10:25:50
July 23, 1925: Lou Gehrig hits first of 23 career grand slams