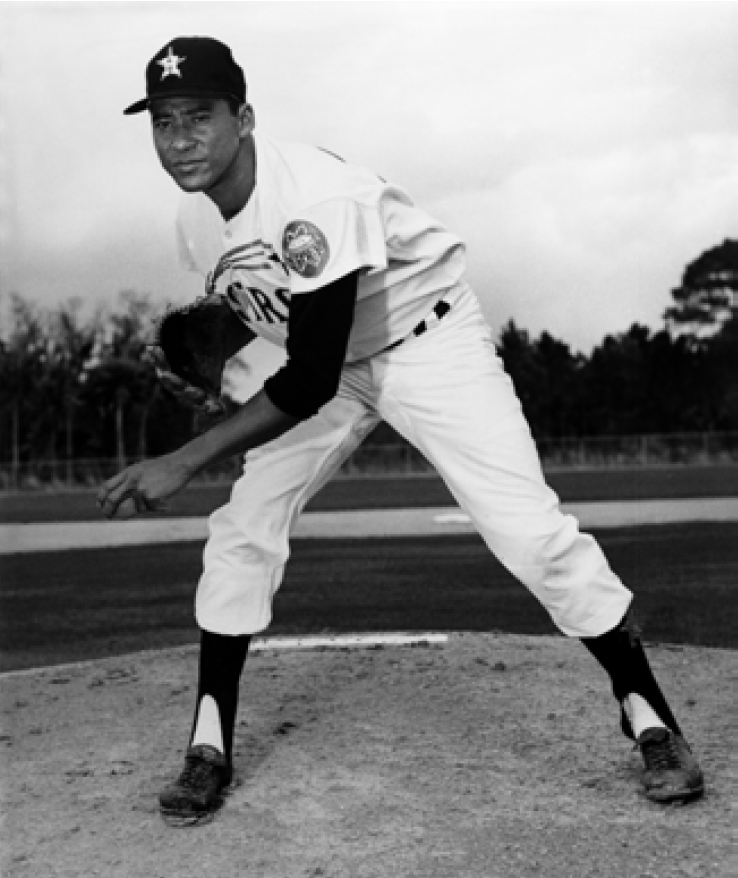 July 24, 1967: Astros' Cuellar overcomes bench jockeying to toss complete-game two-hitter and score winning run
---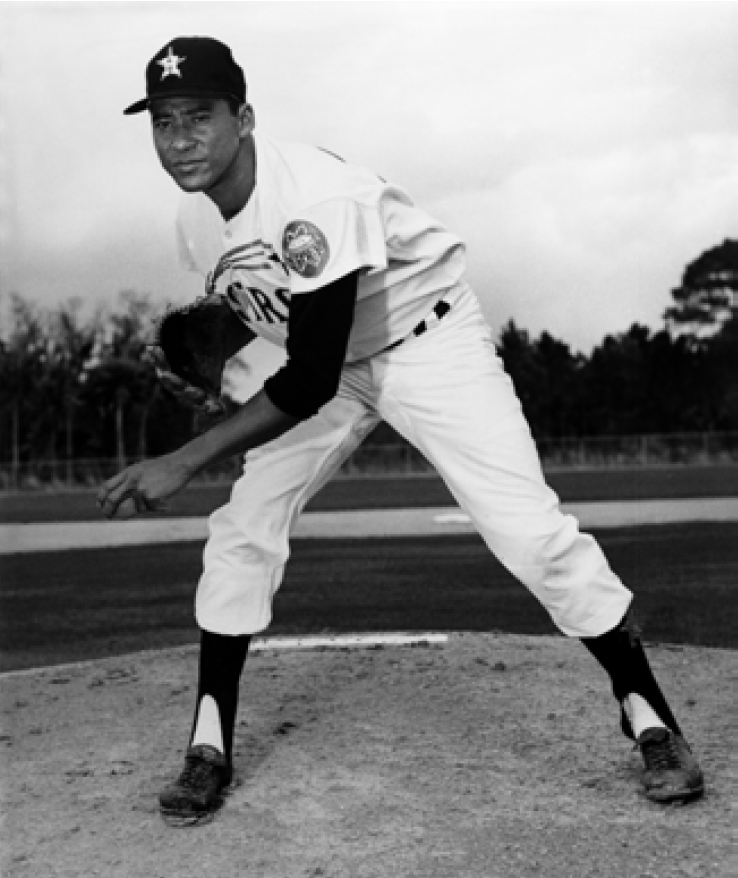 It was a recipe for disaster. Houston's Mike Cuellar, a native of Cuba, was a fiery, intensely competitive pitcher. The Phillies skipper, Gene Mauch, was known for his abrasive and combative personality. Factor in a tight game in the ninth inning, underachieving teams needing to prove something, and a good dose of bench jockeying, and the situation was on the verge of exploding. "Twice," wrote John Wilson of the Houston Chronicle, Cuellar "came within a few feet of getting into a fistfight with … Gene Mauch."1 "I got mad," said Cuellar after the game. "I wanted to hit him in the mouth."2 Notwithstanding the flaring tempers, Cuellar prevailed in an 11-inning complete game described by Houston Post beat man Clark Nealon as "tremendous."3
Skipper Grady Hatton's Astros were reeling when they arrived at the Astrodome to begin an 11-game homestand against Philadelphia. Not only were they in the NL basement, at 38-58 they owned the worst record in baseball. Houston had suffered three humiliating losses in four games to the Pittsburgh Pirates (scoring just five runs while yielding 39 in those defeats) to conclude a miserable 13-game road trip with just five wins. Mauch's Phillies had finished in fourth place in 1966 but had played lackluster ball thus far in 1967 despite increased expectations. With his club in seventh place (45-46), nine games behind the league-leading St. Louis Cardinals, the Phillies' feisty manager was on edge.
Hatton turned to his ace, southpaw Mike Cuellar, to stabilize the team. A screwball specialist who originally signed with the Cincinnati Reds as a 20-year-old in 1957, Cuellar bounced around Triple-A ball from 1957 to 1963, and failed to stick in short stints with the Reds (1959) and St. Louis Cardinals (1964) before finding a home with the Astros, who acquired him at the trading deadline in 1965. After a breakout season (12-10, 2.22 ERA) in 1966, Cuellar was named to his first of four All-Star teams in 1967. He entered this game with a 9-6 record (3.07 ERA), but had won only once since June 15. Mauch called on steady 36-year-old right-hander Larry Jackson (7-9, 3.51 ERA), who had averaged 16 wins and 249 innings per season as one of the NL's most consistent workhorses from 1957 to 1966.
While the temperature exceeded 90 degrees outside, a crowd of 20,275 enjoyed the climate-controlled 73-degree temperature in the Astrodome as they witnessed a 1960s-style pitching duel on Monday night, July 24, 1967. Cuellar mowed down the first 14 batters he faced. At one point he struck out five straight batters, and he racked up eight punchouts by the end of the fifth inning. Cookie Rojas, a former teammate of Cuellar's and a fellow Cuban national, ended the no-hitter with a hard-hit ball to shortstop Julio Gotay. The ball took a bad hop, hit Gotay's shoulder, and caromed into left field, enabling Rojas to scamper to second for a double. The partisan crowd let out a chorus of boos when the play was ruled a hit. Not to be outdone, Jackson retired 15 consecutive batters after yielding a leadoff single to Rusty Staub in the second inning.
The Phillies mounted a threat when Gotay fumbled Bobby Wine's grounder to lead off the sixth. Wine moved to second on Jackson's sacrifice, and to third on Bill White's grounder, but Cuellar retired Tony Taylor on a weak grounder back to the mound for the third out. In the seventh inning Dick Allen drew a leadoff walk, but was left stranded at second.
Poor defense contributed to the drama in the bottom of the seventh when speedy Joe Morgan beat out what Allen Lewis of the Philadelphia Inquirer called a "medium-speed grounder."4 Wynn followed with a sure double-play grounder to third base, but Allen's wild throw pulled second baseman Tony Taylor off the bag. Taylor's throw to White at first was too late to nab Wynn, and both runners were safe. Staub hit what should have been another double play, but after shortstop Wine tagged second to force Wynn, he threw a bounder to White, pulling him off the bag. The Astros finally scored the game's first run when Eddie Mathews launched a deep fly to left field to drive in Morgan. Jackson, seemingly tiring, yielded a double to Norm Miller, but Staub, a notoriously slow runner, held up at third. The Astros missed a golden opportunity to tack on more runs when Jackie Brandt grounded to short to end the frame.
Mauch's heckling and bench-jockeying had intensified as the game progressed. By the ninth inning, Cuellar had had enough. While facing leadoff hitter Bill White, Cuellar became involved in a heated exchange with Mauch when he suddenly left the mound to confront his tormentor, who swiftly popped out of the dugout. Both parties were quickly restrained as the benches cleared. After order was restored, Cuellar fanned White. The heckling and bench-jockeying did not end, however. Cuellar walked Taylor, who moved to second on Allen's grounder. Don Lock hit what appeared to be a routine hopper to third base, but Mathews' throw to first was low and in the dirt, eluding first baseman Brandt and permitting Taylor to score and tie the game.
When Cuellar retired Gene Oliver on a popup to end the inning, fireworks went off again, as Cuellar vaulted toward Mauch and the Phillies dugout. Once again Mauch was restrained by Mathews (who knew a lot about brawls from his days as the enforcer with the Milwaukee Braves), while several teammates, as well as Cuellar's friend Rojas, intercepted the hurler as benches emptied. Cooler heads ultimately prevailed to avert a fight; however, time was called so that the grounds crew could clean the infield, which had been littered with paper thrown by fans. The game went into extra innings when Philadelphia reliever Turk Farrell pitched his second of three consecutive scoreless innings.
Seemingly unfazed by the ninth-inning brouhaha, Cuellar tossed a 1-2-3 10th. He was aided by Gotay's breathtaking catch of Gary Sutherland's pop fly down the left-field line. Clark Nelson described how Gotay and left fielder Norm Miller "flattened" each other in a violent collision, but both stayed in the game.5 Cuellar began the 11th inning by whiffing pinch-hitter Chuck Hiller before yielding just his second hit of the game, a single to White. The inning ended innocuously when Taylor popped out and Allen flied out to center (just the second outfield putout of the contest for Houston).
Cuellar helped his own cause in the bottom of the inning by drawing a one-out walk on a 3-and-2 count off reliever Dick Hall, who had yielded only one non-intentional walk in 56⅔ innings thus far in the season. After Gotay's sacrifice, Bobby Wine fumbled Morgan's routine grounder to short. With runners on the corners, Jimmy Wynn, who was leading the majors with 75 RBIs, lined a single to center. ("It was a high slider," said Wynn).6 Cuellar easily scampered home to give the Astros a hard-fought 2-1 victory in 2 hours and 38 minutes.
It was, according to Houston Chronicle reporter John Wilson, a "brilliant" performance. Cuellar went the distance, yielding just one unearned run and striking out 12, in addition to scoring the winning run.7 It marked the first of 13 times in his career that Cuellar pitched at least 10 innings in a game, and was one of five times he fanned at least 10 batters in 1967. (He accomplished the feat 20 times in his career.)
Most of the press, however, focused on the confrontation between Cuellar and Mauch in the ninth inning. "That is what Mauch was trying to do, get under Mike's skin," said an irritated Mathews after the game. "He went a little too far, some of the language he was using on Mike."8 Few players (or fans for that matter) wanted to tangle with Mathews, who still commanded respect at the tail end of his career. Cuellar told reporters that it was not one thing that Mauch said, but rather the cumulative effect of the incessant harassing that set him off. "Let me do my job," said Cuellar exasperatedly.9 "I didn't call him anything he didn't call me," said Mauch somewhat childishly.10
While the players were cooling off in the clubhouse, a select group of fans were dashing wildly around the infield in a mad scramble to collect cash in a bank-night promotion. Quipped Clark Nealon, "The biggest oversight was that Cuellar didn't participate."11
The beleaguered Astros, whose manager was on the hot seat, seemed energized by the victory and the confrontation. "The Astros clubhouse seemed to reflect more pride and enthusiasm than it had in many days," opined John Wilson. Houston went on to win nine of the 11 games on the homestand before losing all 10 games on its subsequent road trip.
This article appears in "Dome Sweet Dome: History and Highlights from 35 Years of the Houston Astrodome" (SABR, 2017), edited by Gregory H. Wolf. To read more articles from this book at the SABR Games Project, click here.
Sources
In addition to the sources cited in the Notes, the author also accessed Retrosheet.org, Baseball-Reference.com, the SABR Minor Leagues Database, accessed online at Baseball-Reference.com, SABR.org, and The Sporting News archive via Paper of Record.
Notes
1 John Wilson, "Cuellar Tops Phillies in Night of Almosts," Houston Chronicle, June 25, 1967: section 2, 1.
2 Ibid.
3 Clark Nealon, "Astros Subdue Phils in 11, 2-1," Houston Post, July 25, 1967: section 4, 1.
4 Allen Lewis, "Cuellar's 2-Hitter Holds Phils Until Astros Win in 11th," Philadelphia Inquirer, July 25, 1957: 28.
5 Nealon.
6 Wilson.
7 Ibid.
8 Wilson.
9 Ibid.
10 Ibid.
11 Nealon.
Additional Stats
Houston Astros 2
Philadelphia Phillies 1
11 innings
---
Astrodome
Houston, TX
Box Score + PBP:
Corrections? Additions?
If you can help us improve this game story, contact us.
Tags
https://sabr.org/sites/default/files/CuellarMike.png
600
800
admin
/wp-content/uploads/2020/02/sabr_logo.png
admin
2018-09-11 15:13:23
2020-04-17 10:24:40
July 24, 1967: Astros' Cuellar overcomes bench jockeying to toss complete-game two-hitter and score winning run