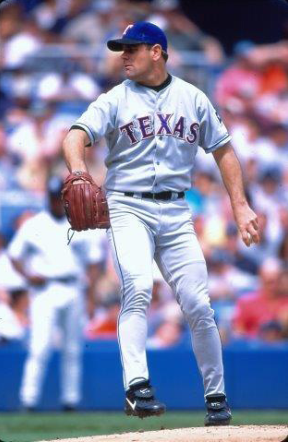 July 28, 1994: Kenny Rogers throws a perfect game in Texas
---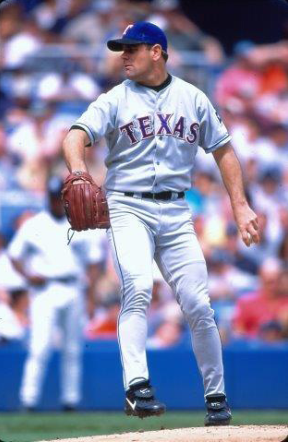 Even had Kenny Rogers not tossed a perfect game on July 28, 1994, baseball fans would have remembered the date. Earlier that day, the executive committee of the Players Association had voted to go out on strike on August 12. The culmination of a long, bitter struggle between owners and players, the strike occurred over issues most fans didn't grasp or care about: salary caps and a revamped revenue-sharing plan. No one knew it at the time, but this, the eighth work stoppage in major-league history, would also be the longest — 232 days. It would cancel the rest of the 1994 season and the entire postseason including the World Series, and shorten the 1995 season to 114 games.1
Perhaps the sense of impending doom for the season explains the near-capacity crowd of 46,581 who jammed the Texas Rangers' brand new park, the Ballpark at Arlington, that evening. They, too, had come to watch a division leader, for the Rangers were atop the new four-team Western Division of the American League by 1½ games. Impressive, until you learn that the team wasn't even playing .500 ball and their opponents that night, the California Angels, stood last in the same division, but were only 6½ games back.2
Which is not to say that Texas didn't have some good players. The nucleus of a team that would dominate the AL West in the late '90s was already there: Iván "Pudge" Rodriguez, rookie Rusty Greer, Juan "Gonzo" Gonzalez. And other pretty good players who wouldn't be around then: Will Clark and José Canseco. By contrast, the visiting Angels had few to stir much excitement, beyond two-sport wunderkind Bo Jackson in his final season and 1993 Rookie of the Year outfielder Tim Salmon. And maybe aging lefty pitcher Mark Langston and rookie Jim Edmonds, but that's pushing it.
Nor were the starting pitchers anything special either. California's starter was a tall, skinny 21-year-old left-hander named Andrew Lorraine, a rookie pitching in his third major-league game. In his 7⅔ innings pitched so far, he had yielded 17 hits (three homers), 6 walks, and 11 earned runs. Hardly an auspicious start, but he fit on a team that suffered from a lot more than just pitching woes. "The team's last-place standing just before the All-Star break," observed a Los Angeles Times staffer earlier, "doesn't even begin to tell how bad this team really is."3
Lorraine's mound opponent Kenny Rogers, another left-hander, had been with Texas since 1989. Before that he had knocked around in the Rangers' farm system for seven years out of high school. He had been converted from outfielder to pitcher on the strength of his arm, so raw at the start that he didn't know what the stretch position was. He pitched primarily from the bullpen until 1993, when he became a full-time starter and did okay: 16-10 with a 4.10 ERA. He would make a lot of money from baseball throughout his career, but he never thought Texas paid him enough. For 13 straight years Rogers and the Rangers had lived together on one-year contracts. Rogers was even further irked that the Rangers had bested him in arbitration in 1992 and '93 and not given him what he wanted for this year. Plus, he was having only a fair season, at this point 10-6, 4.32 ERA, and opponents were hitting him hard; they had a .766 OPS against him and were hitting .295 with the ball in play.4
But Rogers would be virtually untouchable this typically hot evening in the Dallas area: clear and 88 degrees at game time. The Angels were riding a six-game losing streak. The Rangers were playing the first of four with California, their fourth game in a 10-day homestand, and they were in good spirits. One Fort Worth reporter described them "as loosey-goosey as I'd seen them all season."5
Rogers didn't show anything special in the first inning. It took him 15 pitches to retire the top of the Angels order one-two-three, including a couple of strikeouts, both called with the count 3-and-2. Rogers' second strikeout victim, of an eventual eight, was Edmonds, a left-handed hitter who would not have even been in the game had not Salmon been injured. Even more curious, the home-plate umpire who rang Edmonds up was a minor-league substitute named Ed Bean, called up as a fill-in for vacationing 17-year veteran Ken Kaiser. This night was only his seventh time calling balls and strikes in the big leagues.6
Another oddity stepped in for the Rangers: Right fielder Wallace McArthur "Butch" Davis, who, hitting .297, had been called up that very day from Oklahoma City. Davis grounded out to short, Pudge Rodriguez flied out. With two out, Rogers' teammates now gifted him with two runs. The number-three Rangers hitter, steroid-sculpted DH José Canseco, deposited a home run about one row deep in the left-field stands, and third baseman Dean Palmer singled home Will Clark, who had walked and advanced to second on a hit by Gonzalez. Greer flied out to end the inning. Texas added two more runs in the third, on solo home runs by Rodriguez and Canseco (his second).7
So the score stood 4-0 as the game entered its middle innings. Rogers was cruising, the only tough play thus far being Palmer's nice scoop and throw on a hot shot in the hole by LA shortstop Gary Disarcina to end the Angels third. Kenny had found his groove. It took him only 29 pitches to record the next nine outs, including the second swinging strikeout of Bo Jackson.8
By the top of the seventh the crowd, if not aware of it before, realized that no Angels had reached first base through six innings. (The TV audience had been informed, of course.) At this point Rogers decided to put a lump in everybody's throat by going to a 3-and-2 count on all three hitters (Chad Curtis, Spike Owen, Edmonds) in the seventh. He had almost "made it an ordinary night" in the fifth, going to a 3-and-0 count on J.T. Snow before retiring him on a fly to center. It had taken 19 pitches this inning for Kenny to get his three outs and he walked back to the dugout to a rising crescendo of cheers.9
The top half of the eighth brought up the heart of the California order again: Chili Davis, Bo, and Snow. With the crowd roaring on every pitch, Rogers got Davis on a sinking liner to Gonzalez in left, the hardest-hit ball by the Angels all night. Kenny had baffled Bo Jackson all night and did again, getting him to miss a third-strike fastball. Then he caught Snow looking at a third-strike "tumbling waterfall of a curveball," and the crowd erupted. Between innings, while Will Clark went up to hit, Canseco took over his position next to Rogers on the bench, just to be certain some chatty fool didn't approach and break one of baseball's most sacrosanct taboos.10
And then the ninth. Three outs to go. With the glare of myriad spotlights on him, Rogers looked "stricken, forlorn, scared." And had he foreseen the low sinking liner to right-center that the seven-hole Angels hitter, second baseman Rex Hudler, stroked on a 0-and-2 count, it might have given him heart palpitations. Instead it just caused momentary paralysis as he watched Rusty Greer come charging in from center, make a desperate dive, backhand the ball about a foot from being a base hit, and then slide 15 feet. Practically every perfect game has a golden defensive play, and this was Rogers'. The final two Angels hitters were anticlimax: a routine grounder to short by catcher Chris Turner and then a routine fly ball to center by Disarcina.
Rogers entered the record books as the 12th pitcher of the century to pitch a perfect game, and the first left-hander in the AL ever. It had taken 98 pitches. He had gone to three balls on only six hitters. The closest the Angels had come to a hit was Hudler's flare in the ninth. Otherwise, with the stuff he had that night, a curve breaking 3½ feet for strikes, a wicked change, and a hopping fastball, Rogers could've probably beaten anybody.11
This article was published in SABR's "No-Hitters" (2017), edited by Bill Nowlin. To read more Games Project stories from this book, click here.
Sources
In addition to the sources cited in the Notes, the author relied on baseball-reference.com.
Notes
1 The strike gave rise to a host of what-might-have-beens. Up until the disastrous strike, baseball had been enjoying a golden season. In the NL, San Diego outfielder Tony Gwynn, hitting .394, flirted with the magic .400 average; Giant Matt Williams had 43 homers and was on a pace to tie, if not beat Roger Maris's season mark of 61. The Montreal Expos sported the best record in the franchise's history, 74-40, and led their division by six games, and the Yankees after years of drought had a comfortable lead in the AL East and appeared on track for the postseason. Had it not been for the strike, 1994 might have been seen as the first year of their dominance of the rest of the twentieth century.
2 James Buckley Jr., Perfect: The Inside Story of Baseball's Twenty Perfect Games (Chicago: Triumph Books, 2002), 176. By the time the season came to its inglorious close on August 12, the Rangers, who still led the division (by one game) at 52-62, had the fourth-worst record in the league. But the three teams with still worse records were all in the Western Division.
3 Gebe Martinez, "Plot in Angels Movie Hits Close to Home: Baseball : Celluloid Team Bears the Same Logo — and Losing Ways — as the Real Thing," Los Angeles Times, July 11, 1994; accessed April 13, 2016, articles.latimes.com/1994-07-11/local/me-14387_1_california-angels-baseball.. The Angels finished the 1994 season with the worst record in the AL: 47-68.
4 Buckley, Perfect, 175; Michael Coffey, 27 Men Out: Baseball's Perfect Games (New York: Atria Books, 2004), 227.
5 Jim Reeves, "On a Hot Summer Night," The Sporting News, August 8, 1994: 16.
6 Coffey, 27 Men Out, 231. Bean worked only three dozen major-league games, all in 1994.
7 A veteran minor leaguer, the 36-year-old Butch Davis had been up and down with several clubs since 1983. He played the four-game Angel series, and that ended his major-league career. Davis wasn't unknown to Ranger fans. In 1993 he functioned as a regular bench guy and appeared in 62 games. But this game was the first time he appeared in the major leagues in 1994.
8 Coffey, 27 Men Out, 234; Reeves, "Hot Summer Night." Intent on facing the meat of the California order in the fifth inning, Rogers did not notice the small fire on the concrete floor of the Texas dugout — Canseco's old red baseball shoes burning, doused with alcohol set alight by outfielder and trickster Chris James, not because José was "hot" (a speculation by the TV broadcasters), but because they stank. Loosey goosey indeed, but also an indication of the mood of the team behind a pitcher with a perfect game in progress.
9 Coffey, 27 Men Out, 235.
10 Material in this paragraph and the one that follows is from Coffey, 238. A video of Greer's great catch is at m.mlb.com/cutfour/2015/07/28/139026162/rusty-greers-catch-saves-kenny-rogers-perfect-game.
11 Oddly enough, three of the next four perfect games in the AL were thrown by lefties — David Wells, Mark Buehrle, and Dallas Braden.
Additional Stats
Texas Rangers 4
California Angels 0
---
The Ballpark in Arlington
Arlington, TX
Box Score + PBP:
Corrections? Additions?
If you can help us improve this game story, contact us.
Tags
https://sabr.org/sites/default/files/RogersKenny.PNG
600
800
admin
/wp-content/uploads/2020/02/sabr_logo.png
admin
2018-10-23 13:04:29
2020-04-17 10:23:51
July 28, 1994: Kenny Rogers throws a perfect game in Texas