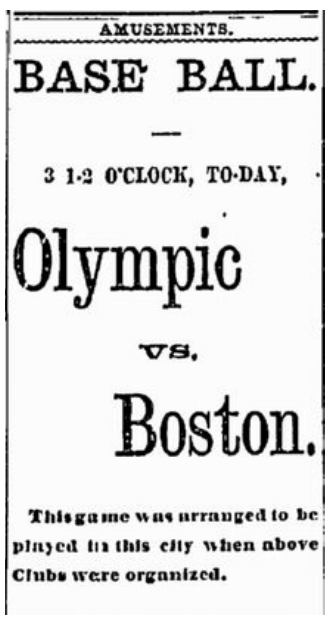 July 4, 1871: Boston defeats Washington on Fourth of July
---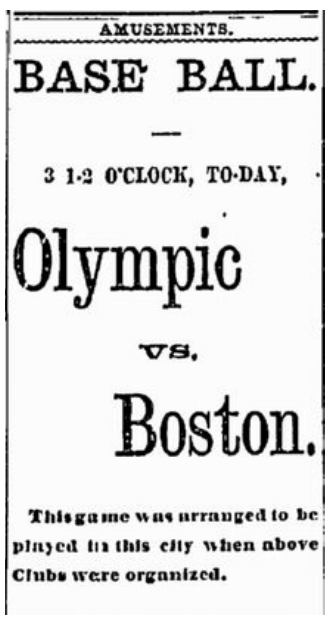 The July 4 game was played neither in Boston nor in Washington, but in Cincinnati. The Ohio city had been the home of the 1869-1870 Cincinnati Red Stockings, considered the first openly professional club — a team famous for its undefeated 1869 season and national tours.
The National Association began play in 1871. With neither a reserve nor a draft, the Cincinnati Base Ball Club had informed its players that it would not field a professional nine. The Cincinnati players soon found work with the Boston and Washington clubs, which stocked their rosters with these proven veterans. Boston manager Harry Wright took the name Red Stockings and three regulars, while manager Nick Young's Olympics, nicknamed Blue Stockings, signed the other five to contracts.2
The game at Cincinnati offered something akin to a homecoming for the original Red Stockings during the Fourth of July holiday. It offered the return of professional baseball to Cincinnati, a city that had a reputation for drawing a large crowd to a baseball game on Independence Day. Both Boston and Washington were in competition for the National Association championship.
From the old Reds, the Boston club started Cal McVey at catcher, Charlie Gould at first, and Harry Wright in center field. George Wright, the shortstop, did not travel to Cincinnati on this trip. The Olympic club fielded Fred Waterman at third base, Doug Allison at catcher, Andy Leonard at second, and Asa Brainard in the pitcher's box. Second baseman Charlie Sweasy was on the Olympics roster but did not play.
The championship game was preceded by an exhibition on July 3 when the former 1869-1870 Cincinnati Red Stockings, the "Old Reds," played a "Combination Nine," consisting of players from the Boston and Washington nines who were not on the 1869-1870 Cincinnati nine. As George Wright was not present, 1870 Cincinnati substitute Harry Deane, of the 1871 Fort Wayne Kekiongas, appeared for the Old Reds. The Old Reds lost, 15-13. The result surprised the New York Clipper's writer, but he noted George Wright's absence, and observed that Charlie Sweasy was immobile fielding at second base, ineffective at bat, and someone who played for "advertising effects" only.3
The record for the National Association championship race showed Boston at 6-6, in sixth place, while Washington was in fourth at 9-7. The two clubs had previously played three games, each team winning one with one tie. The victor on July 4 would be in position to win their five-game series.
Living up to its reputation for drawing power on July 4, this particular day was no different, with 5,000 Cincinnati spectators ready to watch the game between the Red Stockings and the Blue Stockings.
At 3:30 P.M. Dr. John Draper of the Cincinnati Base Ball Club was selected umpire and tossed the nickel. Captains Harry Wright and Charlie Sweasy watched the nickel land in the ground; Wright selected Boston to field first.4
In the top half of the first inning, the Olympics batted against pitcher Al Spalding. With one out, Davy Force reached first on a low drive to left. Everett Mills hit a ground ball directly to second baseman Barnes, who forced out Davy Force and threw to Gould to execute a double play. In the Boston half, Ross Barnes hit a ball hard to left, earning first base. Dave Birdsall hit a hopping ball to third baseman Waterman, who badly overthrew first base, enabling both Barnes and Birdsall to score. "This was a very unreasonable proceeding on Fred's part," wrote the Cincinnati Daily Gazette, "as he could not by any stretch of imagination have concluded that Mills could by personal exertion on the spur of the moment have added three cubits to his stature."5 The Washingtons completed the inning with their own double play; Sam Jackson took off from first when Harry Wright hit a long fly ball, caught by John Glenn, who earned an assist when Jackson failed to get back to first base quickly enough.
In the top of the third inning, George Hall of the Olympics reached on an infield grounder to second baseman Barnes. Harry Berthrong followed with a hard ball to shortstop Jackson, who tossed the ball to Barnes at second, forcing out Hall. Waterman hit another to Jackson, who forced Berthrong at second but threw poorly to Gould at first base, and Waterman scampered to second base on the error. Washington scored when Waterman went home on two flies, first by Force — who reached on Birdsall's error — and the second by Mills, who safely recorded a base hit with a fly to short left.
Boston increased its lead to 3-1 in the bottom half of the third inning. Fred Cone made second base when he executed a hit on a high fair-foul ball that Glenn could not reach from right field. Cone advanced to third base when Brainard was charged with a balk. Spalding then hit a line drive into left field. Berthrong grabbed it on the fly with one hand and made a throw to home plate, but Cone beat the throw, if only barely, and scored.
In the fourth inning Spalding had the breath knocked out of him when Glenn drove a pitched ball into his chest. Spalding managed to pick up the ball and throw the ball to Gould at first to force Glenn out. Washington completed another double play to end the bottom half of the fourth.
Both clubs scored in the fifth inning. In Washington's half, Hall doubled on a hit to left and scored when Berthrong hit a fly ball to right. When Waterman hit a fast grounder through the left side, a good throw from outfielder Cone to Schafer caught Berthrong trying to make third. Waterman stole second base, but Mills and Force went out. In Boston's half, Spalding hit a ball hard to third baseman Waterman, who overthrew first again, and Spalding took second. Barnes hit a line drive hard to Hall, who dropped it, and Barnes took first. Birdsall advanced the runners when he "rolled the ball" to Force and was out at first. McVey hit a drive over second and scored both Spalding and Barnes. The Reds led, 5-2.
In the sixth inning, both clubs scored the rest of their runs of the game, putting Boston up 7-3. In the top half, Allison drove a pitch into left for a single and then took second when Glenn hit one at Jackson and Barnes failed to cover second. Allison moved to third when Spalding made a balk and went home on Leonard's fly out to Cone. Boston scored two runs during its half. The Clipper's writer particularly noted Berthrong's fielding: "Wright sent a long fly to left, which Berthrong took magnificently on the back run."6 Gould singled to left. Schafer then doubled to left with a similar hit which advanced Gould to third. Force misplayed Cone's grounder, which scored Gould, advanced Schafer to third, and placed Cone on first. The Red Stockings then executed a double steal, Cone taking second and Schafer scoring on the throw. Spalding and Barnes both grounded out.
Neither club scored the remainder of the game, although Boston ended the game with second and third bases occupied. The New York Clipper evaluated the 1-hour 45-minute game as a fine one, with great catching by the catchers (neither recording an error), good hitting and fielding, and fine umpiring.
Boston finished the championship season in third place with a 20-10 record, and Washington finished fourth, at 15-15. In head-to-head matchups between the two clubs, the Red Stockings won three games to the Olympics' one, and they tied one game.
This article was originally published in "Boston's First Nine: The 1871-75 Boston Red Stockings" (SABR, 2016), edited by Bob LeMoine and Bill Nowlin. To read more articles from this book at the SABR Games Project, click here.
Sources
Unless otherwise noted, the game account is from the New York Clipper, July 15, 1871: 116. Certain details are from Baseball-Reference.com.
Notes
1 The Cincinnati Base Ball Club grounds were at the Union Grounds, at the foot of Richmond Street. See a reprint of the 1907 book by Harry Ellard, Base Ball in Cincinnati: A History (Jefferson, North Carolina: McFarland & Co., Inc., 1998), 24. The 8 acres were fenced and behind Lincoln Park near the Union Terminal. Stephen D. Guschov, The Red Stockings of Cincinnati: Base Ball's First All-Professional Team (Jefferson, North Carolina: McFarland & Co., Inc., 1998), 10.
2 See Guschov, 133-137; the Washington Olympics were called the Blue Stockings in the Cincinnati Daily Gazette account of the game. See Cincinnati Daily Gazette, July 6, 1871: 4.
3 New York Clipper, July 15, 1871: 116. A complete account of the game is recorded in the Cincinnati Enquirer, July 4, 1871: 4.
4 Cincinnati Daily Gazette, July 6, 1871: 4.
5 Ibid.
6 The writer at the Chicago Tribune wrote, "For the Boston's Harry Wright tremendous hard hit was taken in superb style by Berthrong, on a backward run, with his side turned toward the ball." Chicago Tribune, July 5, 1871: 4.
Additional Stats
Boston Red Stockings 7
Washington Olympics 3
---
Union Grounds
Cincinnati, OH
Corrections? Additions?
If you can help us improve this game story, contact us.
Tags
https://sabr.org/sites/default/files/BostonJuly41871.PNG
600
800
admin
/wp-content/uploads/2020/02/sabr_logo.png
admin
2018-08-28 13:29:27
2020-04-17 10:24:43
July 4, 1871: Boston defeats Washington on Fourth of July