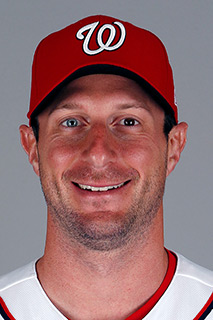 July 6, 2019: Max Scherzer strikes out 11, collects a hit, and steals a base
---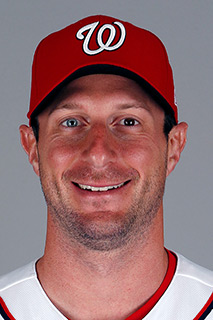 The 27,863 fans filing into Nationals Park for this 4 P.M. Saturday game knew that Max Scherzer (8-5, 2.43 ERA) would be pitching for the Nationals (45-42, third in the NL East, seven games back of Atlanta). Who knows what they might see: Mad Max might throw a no-hitter, strike out 20, hit a home run, steal a base, pitch with a broken nose, or do something else to add to the record books. They were not disappointed: Despite the "89 feels like 98" degree heat, he added another first to his résumé.
The Nationals were wearing powder blue Expos uniforms as a tribute to the 50th anniversary of the Montreal Expos.1 Max, ever the perfectionist, even threw his side session in the Expos uniform2 — and then went on paternity leave for the birth of his second daughter.3 In addition to the birth of his daughter, he was coming off an excellent month of June: His 6-0 record with a 1.00 ERA earned him NL Pitcher of the Month honors.
Before the game, Hall of Famer Vladimir Guerrero threw the ceremonial first pitch to Nationals manager Davey Martinez (who had played for the Expos 1988-1991). Even former Expo and current MASN TV broadcaster F.P. Santangelo wore his old Expos jersey while doing the TV broadcast. (Yes, it still fit.)
The Royals (30-59, last in the AL Central, already 26 games back of the Twins), were also celebrating their 50th anniversary with throwback uniforms with the original Kansas City script.4
Whit Merrifield fouled the first pitch into the press box — rare and impressive considering it's about eight stories above the field.5 Any thoughts of a Scherzer no-hitter were erased when Merrifield singled and stole second while Adalberto Mondesi struck out. After Alex Gordon walked, Hunter Dozier's fly out moved Merrifield to third. He was left there when Jorge Soler struck out.
Glenn Sparkman (2-4, 5.09 ERA) was making only the 11th start of his major-league career.6 Trea Turner singled. Adam Eaton slid into second with a double, the ball bouncing under a diving Nicky Lopez at second. Four pitches into the innning and there were already runners on second and third with no outs. Anthony Rendon flied out to right but Turner scored on Juan Soto's flare into center. Eaton was called out at home after running through a "stop sign" from third-base coach Bob Henley. (Eaton had his head down running hard and apparently missed the sign.) Sparkman avoided any further damage when Howie Kendrick grounded out.
Lucas Duda was Scherzer's third strikeout to start the top of the second. After Lopez lined out, Cam Gallagher singled to center. Sparkman had his first professional at-bat: He made contact but grounded out to third.
Matt Adams walked in the bottom of the second — only his ninth walk of the year. With Kurt Suzuki batting, Sparkman made three throws to first. That was somewhat odd since Adams had last stolen a base in 2015. Adams started laughing after the third throw. Suzuki homered over the visitors bullpen on the 10th pitch: 3-0, Nationals. Victor Robles doubled into left. Scherzer struck out swinging after two failed bunt tries. Turner lofted a base hit over a leaping Duda at first but Robles held at third. Turner deliberately got caught in a rundown between first and second, allowing Robles to score. It was a close call at home: Shortstop Mondesi was faster than Turner expected, so the throw after the tag almost got Robles. Eaton flied out to center but the Nationals led, 4-0.
Scherzer collected two more strikeouts in the third. All he allowed was a double to Gordon.
The Nationals looked as if they might put the game out of reach in their half of the third. They loaded the bases on two singles and a one-out walk but Suzuki grounded into a double play to kill the rally.
The shadows from the light standards began to cross home plate in the fourth which tended to give the advantage to the pitchers. Soler and Duda were Scherzer's sixth and seventh strikeouts. Lopez flied out to end the top of the fourth.
Robles was called out on a not-quite-checked swing to open the home half of the fourth. Scherzer (.146 BA) singled into right for his seventh hit of the year. Two pitches later, Max stole second without a throw: Sparkman hadn't been watching him at all. Many in the crowd rose to cheer. At the plate, Turner shook his head and tried to hide a smile.7 Scherzer even tried wandering off second to see if Sparkman would allow him to steal third, but Sparkman turned around and looked him back to second. Turner hit a grounder toward second. Scherzer was caught in a rundown: Third baseman Dozier realized his throw wouldn't catch Turner at first, so he ran after Scherzer instead. Scherzer was cheered again as he returned to the dugout to stand in front of the air-conditioning vent. Eaton flared to center for the third out.
All that baserunning didn't seem to faze Scherzer: He collected three outs on 12 pitches in the fifth, including a strikeout of Merrifield. Sparkman needed a few more pitches, but he also worked a one-two-three bottom of the fifth.
Scherzer allowed only a single to Gordon in the top of the sixth. Sparkman allowed no baserunners in the bottom of the frame.
Scherzer started the seventh inning at 91 pitches. Clearly, this was going to be his last inning. He struck out Duda for his ninth strikeout and Lopez for his 10th. The Nationals announced that this was his 91st game with 10 or more strikeouts. Approaching 100 pitches, he stalked off the mound, yelling, "I'm okay, I got this" at the dugout despite being soaked in sweat. Gallagher was up. When Scherzer got to strike two, the crowd rose, chanting, "Let's go Max!" Gallagher swung at the strike three. His bat went flying but Max didn't even wait to see where it landed: He headed for the dugout to a standing ovation.
In the last 100 seasons, the only other pitchers to have multiple games with a stolen base and 10 or more strikeouts are Bob Gibson (3) and Nolan Ryan (2). However, Scherzer is the only one to have a hit in each of his games (he stole his first base in a complete-game shutout against Atlanta on April 9, 2018.)8
Jorge López took over the pitching for the bottom of the seventh. Pinch-hitter Gerardo Parra singled to right, then took second when he saw that right fielder Soler bobbled the ball. After Turner struck out, Eaton singled under Dozier's glove moving Parra to third. Rendon's sacrifice fly scored Parra. Eaton stole second without a throw, putting him in position to score on Soto's single. Kendrick grounded out, but the Nationals were leading 6-0.
Nationals relief pitcher Tanner Rainey got in a bit of a jam in the top of the eighth, issuing a one-out walk to Merrifield and allowing a base hit to Mondesi. He got out of it when Gordon hit into a 4-6-3 double play.
López continued pitching in the bottom of the eighth, striking out Adams and Suzuki and getting Robles to fly out.
Martinez called on Matt Grace to finish the game. All he allowed was a single to Soler, although Dozier almost got to first on a dropped third strike.
With this 6-0 win and the Phillies' loss to the Mets later that evening, the Nationals moved into second place in the NL East, which is where they finished the season on the way to their World Series victory (via the wild card). For their part, the Royals moved up from last to fourth in their division by year-end but finished 42 games behind the Twins.
Author's Note

We attended this game. Besides being really hot (and the foul ball into the press box), what we remember was Scherzer stealing second. The first time he stole a base, we were so concerned that he'd get hurt running the basepaths. This time, with no throw, it just seemed natural. Then we started worrying again when he looked as if he'd try for third — and were relieved, really, when he got caught in the rundown and could go back to the air-conditioning in the dugout.
Sources
In addition to the sources listed in the Notes, the author viewed the recorded game at MLB.com.
baseball-reference.com/boxes/WAS/WAS201907060.shtml
retrosheet.org/boxesetc/2019/B07060WAS2019.htm
Notes
1 "Nationals Sport Expos Throwbacks Against the Royals," washingtonpost.com, July 6, 2019. washingtonpost.com/sports/2019/07/06/nationals-set-sport-expos-throwbacks-against-royals/. Retrieved July 15, 2020.
2 Ethan Cadeux, "Methodical Maniac Max Scherzer Prepares for Everything, Throwback Uniforms Included," nbcsports.com, July 3, 2019. nbcsports.com/washington/nationals/methodical-maniac-max-scherzer-prepares-everything-throwback-uniforms-included. Retrieved July 15, 2020.
3 Mark Zuckerman, "Vintage Start from New Dad Scherzer on Vintage Day," masnsports.com, July 6, 2019. masnsports.com/nationals-pastime/2019/07/vintage-start-from-new-dad-scherzer-on-vintage-day.html.
4 mlb.com/royals/fifty/uniform-history. Retrieved July 15, 2020.
5 Per the Nationals' radio announcer, Charlie Slowes, the broadcast booths are 10 floors above the field. The press box is just under the broadcast booths. I sit in the seats just below the press box. In 10 years, 50-60 games per year, this was the first ball I recall that went into the press box. Maybe the livelier ball in 2019 affected foul balls, too.
6 He also had 22 relief appearances 2017-2019.
7 Turner was the Nationals leading basestealer, with 17 in 48 games through this date in 2019.
8 Ryan's games with a stolen base and 10 or more strikeouts were October 4, 1972, and May 16, 1984.
He did not get a hit in either game: he reached on a fielder's choice and a walk. Gibson's were August 20, 1965, August 24, 1968, and April 22, 1973. The only game with a hit was 1968. In 1965 he was hit by a pitch, he walked in 1973.
Additional Stats
Washington Nationals 6
Kansas City Royals 0
---
Nationals Park
Washington, DC
Box Score + PBP:
Corrections? Additions?
If you can help us improve this game story, contact us.
Tags
https://sabr.org/sites/default/files/ScherzerMax.jpg
600
800
sabr
/wp-content/uploads/2020/02/sabr_logo.png
sabr
2020-09-03 19:11:09
2020-09-03 19:11:09
July 6, 2019: Max Scherzer strikes out 11, collects a hit, and steals a base