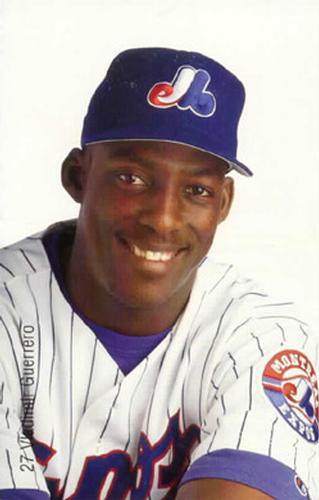 ---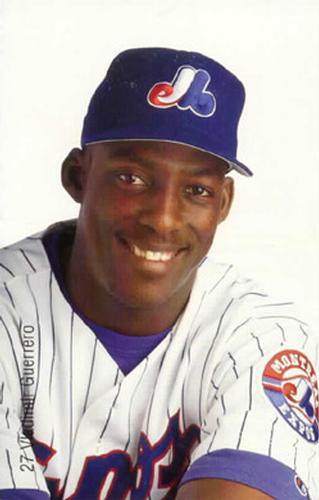 One of the most electrifying ballplayers of his generation secured his place in baseball history by following a simple rule: See the ball, hit the ball. Vladimir Guerrero was a force of nature. Watching Guerrero hit from the stands was one of the great pleasures a baseball fan can have on a beautiful summer day. While the home-run records were being shattered at an incredible pace, Guerrero set himself apart from the pack by defying the baseball gods. He was blessed with "five-tool" characteristics but played in an unconventional manner. Guerrero was gifted with a rocket of an arm, but you'd never knew if the ball was going to reach its destination. He displayed blazing speed on the basepaths. Guerrero swiped 40 bases in one year, but also got caught 20 times, leading the league in that category.
But it was the hitting that took your breath away.
The duel between a pitcher and a hitter is a complex struggle for ownership of home plate. If a pitch was delivered upstairs, or three feet outside, it didn't matter to Guerrero. He wanted to send it into a different galaxy regardless of its location. Pitching around Vladimir was futile. On the first pitch he hit .363 and slugged .660. On 3-and-1 counts, he hit .417. He slugged 126 home runs on the first pitch of an at-bat, more than Barry Bonds and Mark McGwire. "You know how you pitch around hitters sometimes," Cubs pitcher Kevin Tapani said. "He's impossible to pitch around. He can hit any pitch, and I would never ever throw him the same pitch twice in a row."1
In the era that belonged to home-run kings that destroyed the space/time continuum, Vladimir Guerrero's best years were played in front of anemic crowds in Montreal. Nevertheless, he was warmly regarded by many of his peers and fans.
Vladimir Alvino Guerrero was born on February 9, 1975, in the town of Nizao Bani in the Dominican Republic. When Vladimir's mother, Altagracia, was three months pregnant with him, his father disappeared. Along with four half-siblings, the family lived in harrowing conditions. The shack they stayed in had no running water or electricity. When a hurricane blew the roof off, all seven family members cramped together in one little room where they shared two beds. When Vladimir was 6, his mother left but didn't abandon him. Altagracia would illegally sneak into Colombia and Venezuela to work as a cook and a maid, sending her paychecks back home.2  
With no running water, Guerrero drank from puddles. As a student, he missed so many classes while working in the fields harvesting vegetables that he dropped out of school altogether after the fifth grade. That lack of education and the language barrier was the primary reason why he rarely gave interviews to the press. While working with his grandfather tending cattle in the fields, Guerrero developed an incredible grip and strength in his upper body. "I had to bring in the cattle," he said. "The bulls were stubborn, and I had to pull them until they did what they were supposed to do." He pointed to his arms: "That's what made me strong up here."3
Nizao Bani was not known as a hotbed for great ballplayers, but baseball was an integral part of the community. A lemon or lime was rolled up in old socks. A guava tree limb was used for a bat, and milk cartons were used to make fielders' gloves. By the age of 5, Vladimir was already developing his skills as a great hitter and would share the field with much older kids. His talent as a low-ball hitter would emerge during a form of baseball that the children loved playing known as "La Placa." Home was a license plate, and the batter had to keep his bat touching the dish until the pitcher released his pitch.
As Vladimir honed his craft, his older brother, Wilton, established himself as the best ballplayer in Nizao Bani. Drawing similarities to All-Star shortstop Tony Fernandez, Wilton Guerrero was a big-league prospect who signed a deal with the Los Angeles Dodgers. Wilton and Vladimir's brother, Eleazar, was another prospect but didn't make it out of the Dodgers' Dominican Academy. The youngest brother, Julio Cesar, signed a $750,000 bonus with the Boston Red Sox Class-A team, but eventually flamed out.
When Vladimir was 16, he went to Campo Las Palmas, the Dodgers' academy, for two four-week sessions. The opinion of Dodgers scouts was that he was a slow, fat player with a long swing. However, the sentiments echoed by many didn't deter Vladimir from fulfilling his destiny. "I knew I would be signed," he said. "There are so many teams. The Dodgers thought I had a long swing, and I was slow, which I was because I was fat. I started to lose weight in the Dodgers' camp because I was practicing two times a day."4
The Texas Rangers also gave Vladimir a look but also passed on him.
Montreal Expos scout Fred Ferreira, a Latin America scout who was universally recognized by many as the "Shark of the Caribbean," offered Vladimir a tryout. With just a pair of mismatched spikes and a sock jammed into one that was too big, Guerrero hopped on the back of a friend's motorcycle and headed for the training camp. Although he pulled a muscle running to first base in his only at-bat, Vladimir so impressed Ferreira with his arm, decent speed, and his trim physique that he signed with the Montreal Expos on February 24, 1993, two weeks after his 17th birthday, for $2,000.
Now a member of the Expos farm system, Guerrero began to shoot up the ranks as quickly as possible. In 1994, he played in 37 games for the Expos' team in the Gulf Coast rookie league and batted .314 with 5 home runs and an OPS of .928. The next season he jumped to number 85 in Baseball America's top 100 prospects list by slugging 16 home runs and batting .333 for the Class-A Albany (Georgia) Polecats. Guerrero's raw talent and work ethic impressed Albany skipper Doug Sisson. "He worked hard, and he had an innocence to him," Sisson said. "He went out and played with a smile on his face. He never thought about messing up. When we're 6 years old, we're trying to just go out and do something great. He played like that. He just thought about how much fun he could have and how many great plays he could make."5
In 1996 Guerrero impressed Expos brass with a .360/.431/.618 performance that included 24 home runs and 96 RBIs in both Single-A and Double-A ball. On September 19, 1996, Guerrero made his major-league debut by going 1-for-5. His lone hit was a single off Atlanta Braves left-hander Steve Avery. Two days later, Guerrero hit his first major-league home run, off Mark Wohlers on a fastball that was low and away and just a few inches off the plate.
In 1997, Guerrero ranked number 2 in Baseball America's prospect list behind the Braves' Andruw Jones. In spring training, he won a spot as the Expos' starting right fielder, but in late March he broke a bone in his left foot when he fouled a ball off it, delaying his season debut. On May 3, he made his first appearance of the year, against the San Diego Padres. In two at-bats, he went hitless. The next day Guerrero hit his first major-league home run, in the fifth inning off Sterling Hitchcock as the Expos defeated San Diego, 9-3. Three days later, Guerrero had the best game of his young career as he hit a double and two singles, drove in one run and scored three in Montreal's 19-3 rout of the San Francisco Giants.
In a June 3 game against the host New York Mets, Guerrero displayed his defensive skills as he threw out catcher Todd Hundley trying to score on Carlos Baerga's double to the wall. Guerrero made the out from the warning track on a one-bounce strike. After the game Mets manager Bobby Valentine said, "That was an awesome throw. That guy doesn't need a cutoff or relay. He needs a bigger ballpark."6
After a second stint on the DL, Guerrero returned to action on June 21. He homered and had two hits in Montreal's 4-3 victory over the Florida Marlins. For the season he posted a .302/.350/483 line with 11 home runs and 40 RBIs, and finished sixth in the NL Rookie of the Year voting. He also tied for the league lead in errors by an outfielder with 12. Living in a different town with a different language presented some challenges. While getting accustomed to his new way of life, Guerrero brought his mother to Montreal to feed him. And when he brought leftovers to his teammates, the tradition continued all the way to his stint with the Los Angeles Angels.
Having manager Felipe Alou and reigning Cy Young Award winner Pedro Martinez as mentors helped Guerrero tremendously. Martinez gave Guerrero the address to his apartment in the event he got lost in the city.
The Expos knew they could not afford to pay Martinez what he could attract in free agency, and traded their All-Star pitcher to the Boston Red Sox. In the ruins of a 1998 season in which the Expos lost 97 games, Guerrero emerged to become the team's new star. He finished the campaign with a .324/.371/.589 line. He slugged 38 home runs, had 109 RBIs and 202 hits, and posted a WAR of 7.4. Guerrero finished 13th in the NL MVP voting. After the departure of Pedro Martinez, fans clamored for the Expos to not let this new budding superstar walk away. Before the end of the 1998 season, the Expos signed Guerrero through 2003 for $28 million. The magic continued in 1998, as Guerrero's brother Wilton joined the club in a seven-player-deal. The two brothers lived in apartment with their mother.
With a new deal that secured his stay in Montreal, Guerrero kicked off the 1999 season with a three-hit performance that included a home run in the top of the first off Pirates pitcher Francisco Cordova and four RBIs as the Expos won their Opening Day contest in Pittsburgh, 9-2. Wilton Guerrero contributed three hits as well. On July 27, Guerrero went 1-for-4 in a 4-2 loss against the Chicago Cubs but it was the start of the longest major-league hitting streak in 12 years. On August 10, Guerrero slugged two home runs and drove in four runs as the Expos topped the Dodgers, 6-4. On the 20th he homered and rapped two singles to help lead Montreal to a 5-3 win over the Cincinnati Reds. Then on the 23rd Guerrero hit two singles, sent a homer to right, and drove in three runs as the Expos beat the visiting St. Louis Cardinals, 11-7. His 31-game hitting streak came to a halt on August 27 as the Expos lost to the visiting Cincinnati Reds, 4-1. Guerrero went 0-for-2 with an intentional walk. "Maybe I had a pitch to hit in my first at-bat but after that, I never saw a good pitch," he said. "I was trying to hit the pitches, but only if they were strikes."7
In his next game Guerrero exacted his revenge with a two-out walk-off home run off Scott Williamson to give the Expos an 8-6 edge over the Cincinnati Reds.
In the next to last game of the 1999 season, Guerrero slugged two home runs and drove in six runs as the Expos defeated the Philadelphia Phillies, 13-3.
Guerrero completed his fourth season in the majors hitting .316/.378/.600 with 42 home runs, 131 RBIs, 193 hits, and a 4.4 WAR. He made his first All-Star Game appearance, finished 11th in the NL MVP voting and won his first Silver Slugger award.
Guerrero was quietly emerging as one of the more exciting superstars in major-league baseball. With all the endorsement opportunities at his disposal, he remained humble and committed to his Dominican roots. The Expos suggested that Guerrero take English lessons but there was no persistent need. His bat would do the talking for him.
The 2000 Montreal Expos finished the season in fourth place in the NL East with a 67-95 record. Guerrero slugged 44 home runs with a .345/.410/.664 line and finished with a WAR of 5.9. His most notable moment came on April 26 when he hit his 100th career home run, off the Colorado Rockies' Julian Tavarez.
In 2001 and 2002, Montreal won 151 games and lost 173. Major League Baseball proposed elimination of the franchise (along with that of the Minnesota Twins) as a ploy by the owners to put pressure on the players union during discussions for a new contract. MLB acquired ownership of the franchise before the 2002 season, with owner Jeffrey Loria being allowed to purchase the Florida Marlins. But the uncertainty shrouding the Expos' future didn't derail Guerrero's production on the field. He compiled a .322/.398/.580 line in those two seasons, including 73 home runs. He stepped up his running game and joined the 30/30 club (30 home runs/30 stolen bases) in both seasons, and was one homer short of making it 40/40 in 2002.
What Vladimir Guerrero was missing in his impressive résumé was a postseason appearance.
Under second-year manager Frank Robinson, the Expos contended for wild card in 2003, but for Guerrero the season was gearing toward disaster. After injuring his back during a game against the Florida Marlins in late May, the right fielder was in so much pain that he could barely get out of bed in his Miami hotel room. For the first time in six seasons, he had a stint on the disabled list with a herniated disk. "I thought his season was over, and I thought our season was over," said general manager Omar Minaya.8 With Guerrero on the DL from early June until late July, the Expos limped to an 18-29 mark.
But from August 13 to August 28, Guerrero carried Expos to the thick of the wild-card race, batting.327/.407/.731 with 5 home runs and 14 RBIs. But even his hot bat wasn't enough to stop the team from fading down the stretch. Montreal finished the season in fourth place in the five-team NL East with an 83-79 mark. Despite his lengthy stint on the DL, Guerrero managed to squeeze in another productive season with a .330/.426/.586 and 25 home runs. In his most notable game, on September 14, he hit for the cycle and drove in three runs as the Expos defeated the visiting New York Mets, 7-3.
With all the ambiguity surrounding the Expos, it was certain that Guerrero wouldn't sign with the team once he decided to test the waters of free agency, even though the organization offered him a five-year, $75 million offer. (He rejected it.) Guerrero was pursued by the Orioles, the Mets, and the Dodgers. Baltimore offered him a six-year deal in the neighborhood of $78 million. The Anaheim Angels, under the new ownership of Arte Moreno, were making a splash in free agency in their attempts to repeat their postseason success of 2002. They signed pitchers Bartolo Colon and Kelvim Escobar. They also committed to outfielder Jose Guillen. Out of nowhere, Moreno landed the biggest fish in the free-agency pond, when he signed Guerrero to a five-year, $70 million deal that included a $5 million signing bonus. The Angels had a $15 million option for 2009 that included a $3 million buyout.
The New York Mets had offered Guerrero a deal worth five years and $71 million but with only three years and $30 million guaranteed. The Mets couldn't obtain insurance in the event of another back injury to Guerrero. Arte Moreno was willing to roll the dice.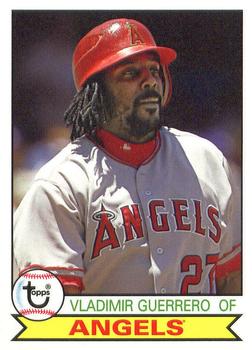 At his unveiling as a new member of the Angels, Guerrero spoke to sportswriters in Spanish as he received his jersey number 27. Arte Moreno stepped up to the lectern to interpret. "He said, 'I am very happy to be here,'" Moreno said, "And I am very happy to be here, too."9Angels manager Mike Scioscia was also pleased. "We got the number one guy out there on top of everyone's list," Scioscia said.10
Guerrero's first April with the Angels was productive. He was .326/.374/.598 with six home runs and 15 RBIs as the Angels finished the month with a 13-10 record. But it was the month of September that paid huge dividends for the organization. On September 1, the Angels were three games behind the first-place Oakland Athletics. Guerrero kicked it into high gear, going .363/.424/.726 with 11 home runs and 25 RBIs as the Angels slid past the A's to win the AL West Division title. Guerrero would finally display his talents in baseball's biggest showcase, the postseason. In his first postseason game, against the Boston Red Sox, Guerrero went 0-for-5. With Anaheim down 6-2 in the top of the seventh inning of the deciding Game Three, Guerrero slugged a grand slam off Mike Timlin to tie the game and give the Angels new life just as he had in the month of September. But in the end, Red Sox DH David Ortiz blasted a two-run homer off Jarrod Washburn to complete a sweep of the Angels in the Division Series.
Although the Red Sox sent the Angels packing for the winter, the risk Arte Moreno took on Guerrero paid off. Throughout his career in Montreal, Guerrero played in relative obscurity. Now in a major market, with a playoff berth under his belt, Vladimir received the AL's Most Valuable Player Award. He Guerrero hit .337/.391/.598 with 39 homers, a league-leading 366 total bases, 126 RBIs, and a WAR of 5.6. It was the fifth time in baseball history that a player switched leagues and won the MVP in his first season with the new team.11
"Our expectations were high, and he met every one of them," said manager Scioscia. "He carried the team single-handedly [down the stretch]. All of major-league baseball had its eyes on Vlad, and he had an incredible season, and I think it speaks volumes about the talent he has."12
The next season, the Angels repeated as AL West champions. Guerrero's production took a bit of a dip; he finished.317/.394/.565 with 32 home runs and 108 RBIs. In the Division series against the New York Yankees, Guerrero hit .333 as the Angels beat the Yankees in five games. However, the story was much different in the ALCS as the Chicago White Sox held Guerrero in check with a minuscule batting average of .050, as the White Sox won their first pennant since 1959.
Between 2006 and 2008, Guerrero hit .319/.384/.541 and averaged 29 home runs. The Angels won consecutive division titles in 2007-08, but wound up losing to the Red Sox in the Division Series each year. Guerrero hit .360 in the seven postseason games against the Red Sox in 2007-08. In 2009, now used primarily as a DH, Guerrero had a lackluster season, playing in just 100 games (he went on the disabled list twice), hitting only 15 home runs and driving in 50 runs with a WAR of 0.7
The Los Angeles Angels once again won the division title and secured another date in the postseason with the Red Sox. This time, the Angels exacted their revenge by sweeping the Red Sox and punching their ticket to the ALCS against the Yankees. Guerrero batted. 400 in the series against Red Sox, with two RBIs.
After dropping the first two games to the Yankees in New York, the Angels needed a win in Game Three. In the bottom of the sixth, with the Angels down 3-1, Guerrero slammed a two-run homer off Andy Pettitte to tie the game, and the Angels eventually won, 5-4 in 11 innings. In Game Five, with the Angels down to the Yankees three games to one and on the brink of elimination, Guerrero hit a single to center in the bottom of the seventh to the tie the game, 6-6. Kendrys Morales hit a go-ahead single to give the Angels new life with a 7-6 victory.
In the end, however, the Yankees proved to be too much as they won the ALCS in Game Six, 5-2, and went to the World Series. Just as he did in that blazing 2004 season, Guerrero stepped up and carried his team when they needed him the most in the ALCS. He batted .370, with 10 hits and 5 RBIs.
Injuries were starting to pile up on Guerrero. He partially separated his shoulder while diving head-first into home plate in 2005, and sat out three weeks. In 2008, he needed surgery to repair a torn meniscus in his right knee. The march of time couldn't be stopped. In an exhibition game against the Los Angeles Dodgers, Guerrero tore his right pectoral muscle while making a throw from right field to third.
After the 2009 campaign, Guerrero left the Angels for the hitters' paradise known as the Ballpark in Arlington. As a DH, he enjoyed a productive season with the Texas Rangers. He hit .300/.345/.496 with 29 home runs and helped the 2010 Rangers earn their first trip to the World Series. The Series was different for Guerrero. In his first at-bat in his first World Series appearance, he singled off San Francisco Giants pitcher Tim Lincecum in the top of the first to give the Rangers a 1-0 lead. But he went hitless in his next 13 at-bats. For the 2010 postseason, Guerrero went .220/.242/.271 with no homers. Father Time had caught up with him.
A free agent after the season, Guerrero signed with the Baltimore Orioles for 2011. It was a disappointing season. The 36-year-old finished .290/.317/.416 with just 13 homers. The Orioles let him go after the season, and as the 2012 season approached, Guerrero remained unsigned. On May 10, 2012, he signed a minor-league deal with the Toronto Blue Jays. In his first game for the Class-A Dunedin Blue Jays, he hit a home run. After 20 at-bats (four homers), he was promoted to the Triple-A Las Vegas 51s. He batted .303 but asked for and was granted his release on June 12.
After the minor-league stint, Guerrero returned home to the Dominican Republic to get another crack at baseball glory. On November 4, 2012, he signed with the winter-league Tigres del Licey. But after two weeks, Guerrero quit upon being informed by the club that he would be used primarily as a pinch-hitter.
Guerrero put together a video of him working out in hopes that a major-league club would give him an opportunity to continue his career. But the only club to offer a comeback shot was the Long Island Ducks of the independent Atlantic League. He declined their offer. On September 14, 2013, Guerrero announced his retirement during a radio interview in the Dominican Republic. Citing his family as his main priority, Guerrero said his biggest regret was not reaching the 500-home-run mark. He retired with a .318/.379/.553 line, 449 home runs, and 1,496 RBIs. He and Garry Templeton are the only major leaguers to have one-third of their walks be intentional.
In July 2015, Guerrero's son, Vladimir Jr., an infielder, signed a $3.9 million deal with the Toronto Blue Jays at the age of 16. That season was ranked as the top international free agent by Baseball America. In September 2017, ESPN named him the top prospect of the year.
In an interview in March 2009, Vladimir Guerrero disclosed that he was 34 years old, a year older than the record books said.13
In June 2012, after being hit with a paternity suit by a woman named Heidy Ogando, he was required to release the details of his finances and it was revealed that he had fathered eight children with five different women and paid $25,621 a month in child support. The report said that throughout his career he had accumulated more than $25 million in stocks and bonds.14
In January 2017, Guerrero missed election to the Hall of Fame by just 15 votes in his first year of eligibility. On January 24, 2018, the man who dazzled fans throughout his career with his unorthodox style earned entry into the Hall. With 92.9 percent of the vote, he joined Chipper Jones, Jim Thome, and Trevor Hoffman as the newest inductees elected by the members of the Baseball Writers Association of America (BBWAA). Jack Morris and Alan Trammell were selected as 2018 inductees by the veterans committee the previous month.
"I'm extremely proud of that and I'm humbled," Guerrero said through an interpreter. "There were so many great Dominican players before me, and I never thought I'd be the first position player to make it.
"I know there's a group coming that could give me some very good company from my country: Adrian Beltre, David Ortiz, Albert Pujols. … I know I'll have some company very soon."15
Despite having his best years in an Expos uniform, it was announced that Guerrero would wear an Angels cap on his Hall of Fame plaque, the first player in the franchise's history to do so.
"I will forever be thankful to the Expos and to the beautiful people of the city of Montreal, sad that the team does not exist any more, and in a way it made the decision a little easier," Guerrero told the Los Angeles Times. "But with the Angels and how much Arte believed in me when he invested in me, the chance to win, the great memories with the playoffs, the fans, celebrating championships, that's what drove me to this decision."16
Guerrero will join pitchers Pedro Martinez and Juan Marichal as the third Hall of Famer to represent the Dominican Republic. When he returned to the island after the voting results were announced, he was greeted at the airport by music and dancers. His fellow countrymen paid their respects to the newest Hall of Famer by throwing a small parade in his honor.
"This award is for the entire Dominican Republic, it's for all of us," Guerrero said. "This is proof that you have to pursue your dreams. When I signed, a lot of people said I would last only three months and that I was going to be released. Today I can say I played in the big leagues for 16 years."17
Last revised: February 2, 2018
Sources
In addition to the sources cited in the Notes, the author consulted baseball-reference.com and retrosheet.org.
Notes
1 Tom Verducci, "Expo 2000," Sports Illustrated, May 1, 2000: 44. http://si.com/vault/issue/704438/62/2.
2 Jay Jaffe, "JAWS and the 2017 Hall of Fame Ballot: Vladimir Guerrero," SI.com, December13, 2017. http://si.com/mlb/2016/12/13/jaws-2017-hall-of-fame-ballot-vladimir-guerrero
3 Esmeralda Santiago, "The Quiet Warrior," Sports Illustrated, August 30, 2004: 74.
4 Ibid.
5 Mark Simon, "Legend of Vladimir Guerrero Goes Way Beyond His Numbers," ESPN.com. http://espn.com/blog/sweetspot/post/_/id/77157/legend-of-vladimir-guerrero-goes-way-beyond-his-numbers.
6 Ibid.
7 http://washingtonpost.com/archive/sports/1999/08/28/guerreros-hit-streak-comes-to-an-end-at-31/21cb30f4-a5a8-48a2-9e81-59bbe33416f4/?utm_term=.5c352856afdd.
8 Albert Chen, "The Last Run? Free-Agent-to-Be Vladimir Guerrero Has Kept Montreal in the Playoff Race," Sports Illustrated, September 8, 2003: 83.
9 http://espn.com/mlb/news/story?id=1706614.
10 Ibid.
11 The other four were Frank Robinson (1966), Dick Allen (1972), Rollie Fingers (1981), and Kirk Gibson (1988).
12 Dave Sheinin, "Angels' Guerrero Named AL MVP," Washington Post, November 17, 2004: D06.
13 Tim Brown, "Angels' Guerrero Is A Year Older Than Listed," Yahoo! Sports, March g, 2009. https://www.yahoo.com/news/angels-guerrero-older-listed-224800441–mlb.html?soc_src=mail&soc_trk=ma
14 Daily Mail Reporter, "Baseball Star Fathers EIGHT Children by FIVE Different Women… and They Cost Him $25,000 a Month," Daily Mail (United Kingdom), June 11, 2012. http://www.dailymail.co.uk/news/article-2157578/Major-League-Baseball-star-Vladimir-Guerrero-My-children-cost-25k-month–thats-cool.html#ixzz55x77u996
15 Bill Shaikin, "Vladimir Guerrero Elected to Baseball Hall of Fame Along With Chipper Jones, Jim Thome and Trevor Hoffman," Los Angeles Times, January 24, 2018. latimes.com/sports/mlb/la-sp-hall-of-fame-announcement-20180124-story.html.
16 Bill Shaikin, "Vladimir Guerrero Will Go Into Hall of Fame in an Angels Cap," Los Angeles Times, January 25, 2018. latimes.com/sports/mlb/la-sp-vladimir-guerrero-hall-20180125-story.html.
17 Daniel Kramer and Dionisio Soldevila, "Vlad Receives Hero's Welcome in Return to DR," MLB.com. mlb.com/news/vladimir-guerrero-gets-heros-welcome-in-dr/c-265477118.
Born
February 9, 1975 at Nizao, Peravia (Dominican Republic)
If you can help us improve this player's biography, contact us.
https://sabr.org/sites/default/files/GuerreroVladimir.jpg
600
800
admin
/wp-content/uploads/2020/02/sabr_logo.png
admin
2018-02-02 12:33:51
2022-04-04 17:41:04
Vladimir Guerrero