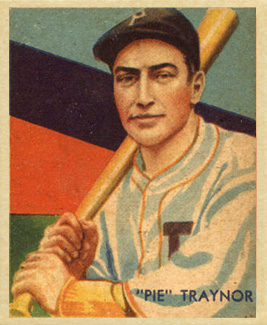 July 7, 1923: Pie Traynor hits for the cycle in Pirates' rout over Phillies
---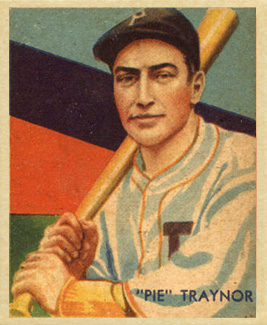 The Pittsburgh Pirates clashed with the Philadelphia Phillies on a Saturday afternoon in July at the Baker Bowl in Philadephia. The game "brought out a test of strength between the two pitchers who figured in the recent trade involving the Pirates and Quakers — Lee Meadows and [Whitey] Glazner."1 On May 23, 1923, Meadows and his 1-3 record (and 13.27 ERA) had been traded by Philadelphia with Johnny Rawlings to Pittsburgh for Glazner (2-1, 3.30 ERA), Cotton Tierney and $50,000. Coming into this game, Meadows had built a record of 5-3 with a 3.06 ERA for the Pirates, while Glazner was 2-5 with the Phils.
In front of 10,000 hometown spectators,2 the Phillies (21-50) were hoping to build on their 5-2 win over Pittsburgh from the previous day. It was only the second time they had beaten the Pirates in eight previous meetings. The Pittsburgh newspapers had dubbed the Phillies "The Tailenders."3 The second-place Pirates (43-26) sought to avenge that defeat and gain ground on the league-leading New York Giants.
The hero of the game was future Hall of Famer Pie Traynor, playing in his second full season for the Pirates. Charles J. Doyle of the Pittsburgh Post-Gazette reported that "Pie went to the barrier six times and six times he was on the heated runways."4 In leading his squad to a blowout victory, Traynor accomplished the rare feat of hitting for the cycle.
The Pirates plated four runs in the first inning "on a trio of hits, a hit batsman, a walk and a sacrificial fly."5 With one out, Max Carey was hit by a Glazner fastball. Carson Bigbee swatted a double off the right-field wall. Reb Russell hit an RBI single to center, scoring Carey. Traynor walked to load the bases. Charlie Grimm singled over short, driving in Bigbee and Russell; Traynor advanced to third. Pie scored on Rawlings' fly out to right.
Philadelphia was four runs in the hole before its first at-bat, but Johnny Mokan led off the bottom of the inning with a single. Cy Williams singled up the middle. Center fielder Carey threw to third, but Traynor misplayed the ball, which scooted into the dugout, allowing Mokan to score and Williams to move to second base. Grounders by Curt Walker and Tierney enabled Williams to advance to third and then home, cutting the Pirates' lead to 4-2.
The game settled down until Glazner "was solved for five tallies in the fifth."6 Carey started the attack with a single to right. Bigbee forced Carey at second and then advanced himself on a passed ball. Russell seized the opportunity and delivered a single to center for his third run batted in of the game. Traynor, who had reached on an error in the third, crushed a two-run "wallop into the stands in left center over near where the players make their exit to the club house."7 It was his seventh round-tripper of the year. Edward F. Balinger of the Pittsburgh Daily Post described the blow as "a beautiful rainbow fly that sailed over deep left and landed high up in the bleachers."8 Grimm walked and, an out later, stole second. Phillies backstop Jimmie Wilson made an errant throw into center, allowing Grimm to scamper to third. Walter Schmidt singled Grimm home, and then Meadows helped his own cause with a run-producing double. Glazner had been tagged for nine runs.
When the top of the sixth inning began, Glazner was gone and "Broadway Jones was ordered upon the firing line."9 Neither he nor his successor, Bill Hubbell, fared much better than Glazner. According to the Pittsburgh Daily Post, "[T]he Pirates did not seem to care who pitched to them,"10 as they batted around in the fifth and in the ninth. Carey led off the sixth with a walk and stole second. Bigbee grounded out, sending Carey to third. Russell drew a free pass, and Traynor stroked a single to right, scoring Carey. Russell had motored to third and scored when Grimm sent a long fly ball to left. It was now 11-2.
Philadelphia mounted a mini-comeback in the bottom of the seventh. With one out, Frank Parkinson reached on an infield single, and Jones reached on an error. Mokan's single brought in Parkinson. Both runners advanced on Cy Williams's groundout, and they both scored when Walker lined a hit to center. Those three runs, however, were the last scored by the Phillies.
In the eighth inning, the Pittsburgh hit parade continued. With one out, Bigbee walked and Russell singled to left. Traynor then "dented the scoreboard" with his ninth triple of the season, increasing Pittsburgh's lead to 13-5. The 24-year-old Pirates third baseman led the National League in triples in 1923 (with 19).
In the final frame, Pittsburgh exploded once more. Jones walked leadoff batter Schmidt, and manager Gavvy Cravath signaled to the bullpen for Hubbell. Schmidt swiped second as Meadows struck out. Hubbell then walked Rabbit Maranville and Carey, loading the bases. Bigbee singled to right, moving everyone up a base (Schmidt scored). Russell forced Bigbee at second, and Maranville crossed the plate. With three hits already to his credit, Traynor blasted a double into the left-center gap. Carey scored, but Russell stopped at third. Grimm followed with a base-clearing single, and the score was now 18-5, where it remained. With his double, Traynor had hit for the cycle.
The six runs batted in were a season high for Traynor. It was the fourth time in 1923 that he had collected four hits in a game (he did it once more in August). His home run in the fifth inning extended his hitting streak to 11 games. He continued with the blistering bat for another 13 games. When the Boston Braves held him hitless on July 20, Traynor's 24-game hitting streak was over.11 Traynor became just the seventh player in Pittsburgh franchise history to hit for the cycle,12 and it was the only occurrence in the majors in 1923.
With the win, the "Moran-men reduced the gap separating the Giants to three games."13 In addition to Traynor's hitting barrage, "Reb [Russell] got three in five trips, while Lefty Grimm annexed three out of four."14 Seven different Pirates totaled 15 base hits against the locals, and the Phillies pitchers issued nine bases on balls. In earning his seventh overall win of the season, Meadows did allow 10 hits to his old teammates, but "only in the first and seventh were any of them clustered."15 Each team left seven runners on base.
In the August 21, 1921,16 edition of the Tennessean, it was reported that George Sisler "hit the cycle." Ten years passed before newspapers mentioned the phrase "hitting for the cycle"17 and started popularizing the characterization of a single, double, triple, and home run in the same game with the cycle tag. However, after this game, the Pittsburgh Post-Gazette printed that "Traynor achieved that rare feat of hitting a homer, a triple, a double and single, in one ball game,"18 recognizing that this accomplishment was indeed a rare event. Even more rare is the fact that Traynor collected all of his hits after the fourth inning. He was fortunate enough to get four at-bats in the Pirates' final five innings, and he hit one of each type of hit in the fifth, sixth, eighth, and ninth frames.
Ironically, the Pittsburgh Post-Gazette inserted a short story breaking up Charles J. Doyle's account of the Pittsburgh-Philadelphia game, called The Star of the Day. In that piece, Babe Ruth was named the Star with the description "Slugging right fielder of the New York Yankees, who scored all of his team's runs with circuit drives in the game with St. Louis."19 Ruth blasted two home runs and scored three times in a 13-3 loss to the Browns. How that could be more important than Traynor's 4-for-5 performance with a walk, three runs scored, and six RBIs is a mystery, especially when published by a Pittsburgh paper.
Sources
In addition to the sources mentioned in the notes, the author consulted baseball-reference.com, mlb.com and retrosheet.org.
baseball-reference.com/boxes/PHI/PHI192307070.shtml
retrosheet.org/boxesetc/1923/B07070PHI1923.htm
Notes
1 Charles J. Doyle, "Bucs Beat Quakers, 18 to 5, as Giants Lose," Pittsburgh Post-Gazette, July 8, 1923: 22.
2 "Tailenders are Mauled," Pittsburgh Press, July 8, 1923: 11.
3 Ibid.
4 Doyle.
5 Pittsburgh Press.
6 Doyle.
7 Pittsburgh Press.
8 Edward F. Balinger, "Corsairs Trounce Phillies, Gain on Pace Setting Giants," Pittsburgh Daily Post, July 8, 1923: 26.
9 Ibid.
10 Ibid.
11 The next day (July 21), Traynor started another streak and hit safely in his next nine games, raising his batting average to .373.
12 The other Pittsburgh players who hit for the cycle prior to Traynor were Fred Carroll (May 2, 1887), Fred Clarke (July 23, 1901, and May 7, 1903), Chief Wilson (July 3, 1920), Honus Wagner (August 22, 1912), and Dave Robertson (August 30, 1921).
13 Doyle.
14 Pittsburgh Press.
15 Ibid.
16 "High Lights of Mace and Mound in Two Leagues Last Week," Tennessean (Nashville, Tennessee), August 21, 1921: 12.
17 Michael Huber and Allison Davidson, "The Origin of 'Hitting for the Cycle' and an Approach to How Cycles Occur," SABR Baseball Research Journal, Spring 2018.
18 Doyle.
19 "The Star of the Day," Pittsburgh Post-Gazette, July 8, 1923: 22.
Additional Stats
Pittsburgh Pirates 18
Philadelphia Phillies 5
---
Baker Bowl
Philadelphia, PA
Box Score + PBP:
Corrections? Additions?
If you can help us improve this game story, contact us.
Tags
http://bioproj.sabr.org/bp_ftp/images5/TraynorPie.jpg
600
800
admin
/wp-content/uploads/2020/02/sabr_logo.png
admin
2018-06-28 16:49:05
2020-04-17 10:24:45
July 7, 1923: Pie Traynor hits for the cycle in Pirates' rout over Phillies