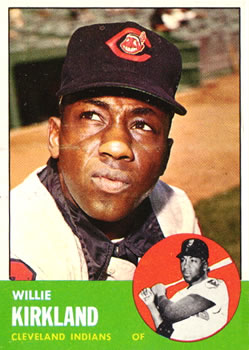 July 9, 1961: Willie Kirkland hits 3 homers, bunts in the ninth inning
---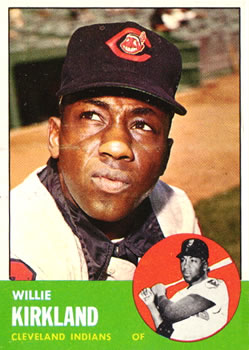 Frank Lane was no longer Cleveland's general manager. He resigned in early January 1961 to take the GM job with the Kansas City Athletics and their new owner, Charles O. Finley.1 The Indians' vice president of business affairs, Nate Dolin, summed up Lane's tenure: "Lane did a good rebuilding job for us. But last year Lane went too far in his trades. However, we feel the last trade he made for us was a very good one."2
Lane made the last of his numerous transactions for the Indians on December 3,1960, trading Harvey Kuenn to San Francisco for veteran pitcher Johnny Antonelli and outfielder Willie Kirkland. "I felt this trade would help us because it gives us a starting pitcher and an outfielder who hits with power," Lane said at the time.3 He was asked if the deal might be an admission that trading Rocky Colavito for Kuenn the preceding April was a mistake. "I wouldn't make a Kirkland for Kuenn deal even up. But I just couldn't pass up the chance to strengthen our pitching staff," Lane said.4
Antonelli was a major disappointment for the Indians at the start of the 1961season. By mid-May he was 0-4, with a 6.04 ERA after five starts. He started only two more games before being sold to the Milwaukee Braves on July 4. In seven starts (11 games) for the Tribe, Antonelli failed to capture a victory.
Kirkland also started slowly, with no home runs in April. After missing the first week of May with the flu,5 he finally hit his first home run, against Baltimore in the second game of a doubleheader on May 14. Victories in both games that day started the Indians on a streak that would see them win 25 of 31 games. On June 11 Kirkland hit a homer in each game of a doubleheader sweep of Kansas City. That evening the Indians stood in first place, a game and a half ahead of the Tigers and two games ahead of the Yankees.
The 1961 season had gotten off to a poor start for the Chicago White Sox. A seven-game losing streak to start May was "the most games I've ever lost in succession in my 11 years as manager," said skipper Al Lopez.6 By the end of May the White Sox had fallen to last place in the American League, 12 games behind the league-leading Detroit Tigers..
Chicago then won 22 of 32 games in June. By the July 7 start of their four-game weekend visit to Cleveland, the White Sox had climbed to fifth place. With a 40-42 record, they were still 12½ games behind the first-place Tigers.
The Indians lost seven straight games beginning on June 18, and won only 5 of their 19 games before the White Sox series. By then Cleveland had fallen to third place, 7½ games behind Detroit and seven games behind the Yankees.
Cleveland beat Chicago 9-0 in Friday night's series opener, as Barry Latman pitched a complete-game shutout. Kirkland contributed a two-run homer, his 11th of the season. On Saturday Cleveland's Mudcat Grant won his eighth game of the year, 3-2, with ninth-inning help from reliever Frank Funk. Going into the ninth inning of Sunday's first game, the Indians were winning 5-2. Funk, who had pitched a perfect eighth inning in relief of starter Wynn Hawkins, gave up a two-out grand slam to Sherm Lollar, and the White Sox won, 7-5.
Southpaw Juan Pizarro was Chicago's starting picture on Saturday, and lefty Billy Pierce pitched the first game on Sunday for the White Sox. Indians manager Jimmy Dykes chose to start Chuck Essegian in right field in place of the left-hand-batting Kirkland in each of those games. Kirkland did see action as a late-inning pinch-hitter and defensive replacement for Essegian, but did not get a hit in either of his at-bats.
Kirkland was in the starting lineup to face Chicago's Cal McLish in Sunday's second game. A 19-game winner for Cleveland in 1959, McLish had been traded to Cincinnati as part of the deal that brought second baseman Johnny Temple to the Indians. After a poor year with the Reds in 1960, McLish was sent to the White Sox, along with Pizarro, in exchange for third baseman Gene Freese.
After a leadoff walk to Bubba Phillips in the bottom of the second inning, Kirkland hit a two-strike McLish fastball deep into the right-field seats, putting Cleveland ahead 2-0 in the doubleheader nightcap.7 Facing McLish in the bottom of the fourth, Kirkland hit a solo homer to right, this time off a two-strike slider.8 The score now was 3-0, Indians.
Jim Perry, an 18-game winner in 1960 for Cleveland, held the White Sox scoreless on one hit through the first four innings. A leadoff home run to center by Al Smith in the fifth was the start of a five-run inning for the White Sox. Chicago sent nine more hitters to the plate, as Perry allowed four singles and a walk. Perry also made a mental error when he threw to second base on a grounder back to the mound, thinking a force play was possible. However, with runners only on second and third, the batter was safe at first on a fielder's choice.9
With the White Sox now ahead 5-3, Bob Allen relieved for the Indians in the top of the sixth. After getting the first out, he gave up two singles. McLish, the next batter, hit a fly to right that Kirkland dropped, resulting in two unearned runs and making the score 7-3.10
In the bottom of the sixth, with two out and nobody on base, McLish faced Kirkland again. "I decided to come in with a sinker," said McLish. "The count was 3-and-2 and I wanted to make sure it was in the strike zone. I guess I came in too high with it."11 Kirkland hit his third consecutive homer to right, and the score now stood at 7-4.
J.C. Martin hit a two-run homer off Allen in the seventh to extend Chicago's lead to five runs at 9-4. Vic Power doubled to lead off the home half of the inning. Singles by Mike de la Hoz and Don Dillard, an RBI groundout by Ken Aspromonte, and a single by Jim Piersall scored three runs for the Indians. Lefty Frank Baumann relieved for Chicago. Tito Francona grounded to short, with Piersall out at second base on a force play. A wild pitch advanced Francona to second and Phillips drove him home with a single to left. Chicago was now ahead by only one run, 9-8. With two outs and a runner on first, Bauman walked Kirkland. Turk Lown relieved to face John Romano, who grounded into a force out at second, ending the inning.
The score was still 9-8 as the Indians came to bat in the bottom of the ninth. Lown, after giving up a double and a walk in the scoreless eighth inning, remained on the mound for Chicago. Francona started the inning with a single to left. Phillips bunted. Lown fielded the ball, and his throw to second was too late to force Francona.12
Kirkland came up to the plate with no outs and Indians on first and second. Cleveland manager Dykes called for a bunt, and Kirkland's sacrifice moved both runners into scoring position. With first base open, Lown walked Romano intentionally to load the bases. Power was the next batter. He had doubled and tripled in four previous at-bats. This time Power hit into a game-ending double play.
"Sure I would have liked another crack at it," said Kirkland after the game. "That's the first time I've hit three in the majors. I'm not complaining though. Maybe I would have hit into the double play. Vic rapped that ball pretty good but right at the shortstop." Asked if he thought about ignoring the bunt sign, he replied, "Never crossed my mind."13
Sources
The author accessed Baseball-Reference.com and Retrosheet.org. for box scores/play-by-play information, player, team, and season pages, pitching and batting game logs, and other data:
baseball-reference.com/boxes/CLE/CLE196107092.shtml
retrosheet.org/boxesetc/1961/B07092CLE1961.htm
Notes
1 Harry Jones, "Lopez No. 1 Candidate as Lane Quits Indians," Cleveland Plain Dealer, January 4, 1961: 23.
2 Regis McAuley, "Tribe Seeking G.M. Who'll Tilt the Spotlight Toward Field of Play," The Sporting News, January 11, 1961: 2.
3 Harry Jones, "Indians Get Antonelli for Kuenn," Cleveland Plain Dealer, December 4, 1960: 48.
4 Hal Lebovitz, "Antonelli, Kirkland Plug Tribe's 2 Big Gaps," The Sporting News, December 14, 1960: 9.
5 Bob Dolgan, "Score and Perry Duel in Chicago," Cleveland Plain Dealer, May 10, 1961: 29.
6 Edgar Munzel, "Senor Stews Over Sharp Nosedive by Pale Hose Hill Vets," The Sporting News, May17, 1961: 22.
7 Chuck Heaton, "Willie Hopes for Hit Sign, But Strategy Calls for Bunt," Cleveland Plain Dealer, July 10, 1961: 29.
8 Ibid.
9 Dolgan, "Kirkland Hits 3 in 2d Game," Cleveland Plain Dealer, July 10, 1961: 29.
10 Ibid.
11 Chuck Heaton, "Willie Dumps Bunt," Cleveland Plain Dealer, July 10, 1961: 30.
12 Dolgan, "Kirkland Hits 3 in 2d Game."
13 Heaton.
Additional Stats
Chicago White Sox 9
Cleveland Indians 8
Game 2, DH
---
Cleveland Stadium
Cleveland, OH
Box Score + PBP:
Corrections? Additions?
If you can help us improve this game story, contact us.
Tags
https://sabr.org/sites/default/files/KirklandWillie.jpg
600
800
admin
/wp-content/uploads/2020/02/sabr_logo.png
admin
2019-10-31 15:50:44
2020-04-17 10:22:25
July 9, 1961: Willie Kirkland hits 3 homers, bunts in the ninth inning