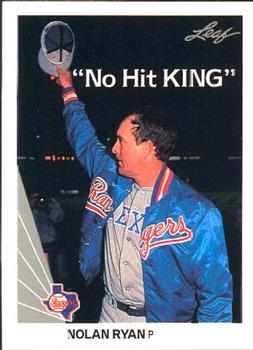 June 11, 1990: Rangers' Nolan Ryan fires his sixth career no-hitter
---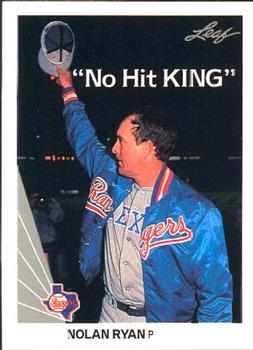 "This has a special place right up there with the fifth one because it comes so late in my career," said Nolan Ryan of the Texas Rangers after tossing his sixth career no-hitter.1 At 43 years of age, Ryan became the oldest pitcher to hurl a no-hitter and the first to fire one with three different teams. The first four came with the California Angels in a three-year span (1973-75) and the record-breaking fifth one in 1981 with the Houston Astros.
As skipper Bobby Valentine's scuffling squad (24-33) prepared for an AL West intradivisional matchup with the reigning World Series champion Oakland A's, who also sported the majors' best record (38-17), Ryan was feeling every bit of his age. The oldest player in the big leagues, Ryan had begun his 24th season on a tear, winning his first four starts, the final of which was a one-hitter with 16 strikeouts. Despite that success, he had battled a sore back, a source of extreme pain the previous seasons. The Express struggled in his next four starts, yielding 19 earned runs in just 16⅓ innings and landed on the DL. In his first game back, against the A's on June 6 in Arlington Texas, he labored through five innings, tossing 113 pitches and fanning eight, but lost, dropping his record to 4-3 with a 5.11 ERA.
Ryan had long been admired for his work ethic, dedication, discipline, and motivation, and still maintained his rigorous pregame routine of riding a stationary bike and lifting weight to loosen his back and legs. "[H]e's willing to pay the price," opined Valentine, "and that's even more remarkable at his age."2 Ryan, however, recognized that his pain was serious, perhaps even career-threatening. "I think the doctor is concerned," he said before the game, "because [the pain] has been persistent and hasn't really improved. … "[H]e feels like if it was just a muscle spasm, we would have seen improvement in it."3
On a Monday evening the Oakland-Alameda County Coliseum was packed with 33,436 spectators.4 The Rangers' Gary Pettis led off with a single against Scott Sanderson, a 33-year-old oft-injured right-hander, whose strong start to the season (7-2) pushed his career slate to 105-91. Two batters later, Julio Franco sent a line drive over the wall in deep right-center field for the game's first runs. Those tallies were all the Rangers needed. They scored three more, one on John Russell's solo shot in the second, and a pair on Franco's second round-tripper off Sanderson, another line drive, this time to left field, driving in Rafael Palmeiro, who had walked with two outs in the fifth.
This game was about Ryan, the laid-back, often self-effacing hurler from Alvin, Texas. His quest for a sixth no-no had taken on a "personal obsession," suggested Rangers beat writer Randy Galloway.5 In his 42 starts since signing as a free agent with the club for the 1989 season, the Express had taken a no-hitter into the eighth inning five times, all of which came in that season when Ryan (16-10) fanned 301 and led the league in strikeouts for the 10th time.
Ryan breezed through the first three innings, punching out four and walking one, a one-out free pass to Walt Weiss, who also stole second. Absent from the A's lineup were the Bash Brothers. Manager Tony La Russa gave a day off to Mark McGwire, who had fanned all three times he faced Ryan five days earlier, and Jose Canseco was out with a painful sciatic nerve.6
An intriguing subplot to this game was backstop John Russell, who was catching Ryan for the first time in his career. A seven-year veteran, Russell had been out of baseball in 1990 and was coaching a high-school team in Philadelphia just four weeks earlier when the Rangers signed him. Primary catcher Geno Petralli was scheduled to start, but he was scratched with a strained neck muscle and backup Mike Stanley had a bruised shoulder. Making his third straight start donning the tools of ignorance, Russell had no intention of telling Ryan what to throw and let the future Hall of Famer call his own game.7 "It was like being in a tunnel," said Russell about tuning out all distractions and concentrating on Ryan. "It seemed like there was no one out there but Nolan and me."8
A tense moment occurred to lead off the fourth when Ryan thought he had fanned Willie Randolph on a 2-and-2 pitch, but the pitch was called a ball. Ryan walked off the mound, yelling to himself, eliciting a visit from home-plate umpire Don Denkinger, who thought the veteran was chirping at him. Randolph sent Ryan's next pitch to deep left field and it looked like a double, according to Fraley, but Pete Incaviglia snared the ball on the run.9
Ryan fanned the side in the fifth and added another in the sixth, increasing his total to nine, and also walking his second and last batter. After relying on his changeup in the first few innings while struggling somewhat with the location of his heater, Ryan was in a groove. "It's amazing," said La Russa. "You had a feeling early that this would be something special."10
It seemed like the only thing that could derail Ryan was his back. By the end of the sixth, Ryan's agony was readily apparent to his teammates. Valentine recognized Ryan's suffering, but positioned himself at the far end of the dugout so he couldn't make eye contact with his pitcher. "I wanted only the good to happen," he said.11 Normally a fast worker, Ryan took extra time between pitches, reported Fraley, to give himself a breather.12 He made "odd gyrations," rolling his hips and trunk after each pitch and walked around the mound to stay loose.13
Fans were cheering vocally for Ryan by the seventh inning, when he reached a full count on all three hitters, fanning the final two, and then whiffed the first two batters of the eighth.
Tension was palpable as Ryan took the mound in the ninth. He punched out Ken Phelps to register his 14th and final strikeout of the game. All of Ryan's whiffs were of the swinging variety and were an "indication of how good his combination of changeup and fastball was," gushed Fraley.14 Ryan's circle change, described by sportswriter Leonard Koppett as "more devastating than anything else," made his heater seem even faster and kept batters off balance. The next batter after Phelps, Rickey Henderson, hit a slow roller to shortstop Jeff Huson. It was the kind of grounder that the speedster Henderson made a career out of beating out; however, Huson made the "best defensive play of game," gushed Fraley, corralled the ball and quickly tossed to first for the second out. "I wasn't nervous," admitted Huson, "but after the play my heart was pounding."15
Randolph lofted a soft fly on a 2-and-0 count to right fielder Ruben Sierra, who corralled the ball in foul territory to end the game in 2 hours and 49 minutes, securing Ryan's unprecedented sixth no-hitter. Rangers players from the field and dugout rushed to the mound to congratulate Ryan and carried him on their shoulders off the field.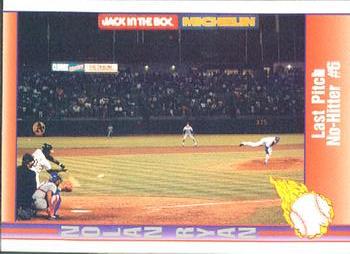 In fashioning his 294th win, 59th shutout, and 201st game with at least 10 strikeouts, Ryan tossed 130 pitches, including 93 fastballs, and registered 86 strikes.16 "It was his game," gushed Russell. "He had that look, unlike anything I'd ever seen. He smelled it."17
"The key to the game was I had real good command of my fastball," said Ryan in his down-home Texas drawl. "I had a good changeup when I got behind. Oakland is a free-swinging club, and because of that they swung at my change even when it was out of the strike zone."18 Long known for his reserved, low-key personality, Ryan preferred to reflect on his career rather than talk about his accomplishment. "I've been blessed with a good body and maybe the aging process hasn't caught up with me as early as it has some other players," he said about becoming the oldest pitcher to hurl a no-hitter, breaking Cy Young's 82-year-old record. "Concentrating my entire career on proper mechanics is paying dividends now."19
Ryan's accomplishment was widely hailed as a victory for the "old-timers" and aging veterans in a sporting environment that championed the next young star. "More than anything," said Hall of Fame pitcher Jim Bunning, "[Ryan] has that mental toughness to be competitive at 43. Warren Spahn used to tell me as I grew older that the biggest problem you have is want to. The desire to maintain and be number 1 is a mental challenge, rather than physical."20
That mental toughness was on display the rest of the season. Ryan battled through excruciating back pain to finish with a 13-9 record and led the AL in strikeouts (232), WHIP (1.034), and fewest hits (6.0) and most strikeouts (10.2) per nine innings. On August 22 against the A's, Ryan reached a milestone by fanning Rickey Henderson to record his 5,000th strikeout.21
Acknowledgements
The essay was edited by Len Levin and fact-checked by Bruce Slutsky. Photos courtesy of Trading Card Database.
Sources
In addition to the sources cited in the Notes, the author also accessed Retrosheet.org, Baseball-Reference.com, Newspapers.com, and SABR.org.
baseball-reference.com/boxes/OAK/OAK199006110.shtml
retrosheet.org/boxesetc/1990/B06110OAK1990.htm
Notes
1 Gerry Fraley, "Ryan Throws Sixth No-Hitter," Dallas Morning News, June 12, 1990: B1.
2 Leonard Koppett, "Ryan's Reaction? Back to Work," New York Times, June 13, 1990: D25.
3 Jerry Crowe, "He's Still Expressive," Los Angeles Times, June 13, 1990: C1.
4 A complete recording of this game is available on YouTube. youtube.com/watch?v=4DFC-fADsjk.
5 Randy Galloway, "Rangers Soon Must Face Life Without Nolan Ryan," Dallas Morning News, June 13, 1990: B1.
6 Jackie Krentzman, "Canseco Out With Sore Back," The Press Democrat (Santa Rosa, California), June 9, 1990: C3.
7 Fraley, "Ryan Throws Sixth No-Hitter."
8 Gerry Fraley, "Ryan Memories Priceless on Both Ends of Pitch … As New Ranger Quickly Finds a Spot," Dallas Morning News, June 13, 1990: B1.
9 Fraley, "Ryan Throws Sixth No-Hitter."
10 Ibid.
11 Crowe.
12 Fraley, "Ryan Throws Sixth No-Hitter."
13 Ibid.
14 Ibid.
15 Ibid.
16 BaseballReference.com gives a pitch count of 130; sportswriter Gerry Fraley provided a pitch count of 132 and noted that 93 were fastball and 22 changeups. Fraley, "Ryan Memories Priceless on Both Ends of Pitch … As New Ranger Quickly Finds a Spot."
17 Fraley, "Ryan Throws Sixth No-Hitter."
18 Ibid.
19 Crowe. Cy Young was 41 years and 3 months old when as a member of the Boston Red Sox he no-hit the New York Highlanders, 8-0, on June 30, 1908. Ryan was 43 years, 5 months old.
20 Tracy Ringolsby, "Members of No-Hit Fraternity Simply Marvel at Ryan's Feats," Dallas Morning News, June 13, 1990: B6.
21 See a YouTube video clip of Ryan's 5000th strikeout. youtube.com/watch?v=YQgvr8ygb-U.
Additional Stats
Texas Rangers 5
Oakland Athletics 0
---
Oakland-Alameda County Coliseum
Oakland, CA
Box Score + PBP:
Corrections? Additions?
If you can help us improve this game story, contact us.
Tags
https://sabr.org/sites/default/files/RyanNolan-1990.jpg
600
800
admin
/wp-content/uploads/2020/02/sabr_logo.png
admin
2018-07-12 02:54:57
2020-04-17 10:24:45
June 11, 1990: Rangers' Nolan Ryan fires his sixth career no-hitter