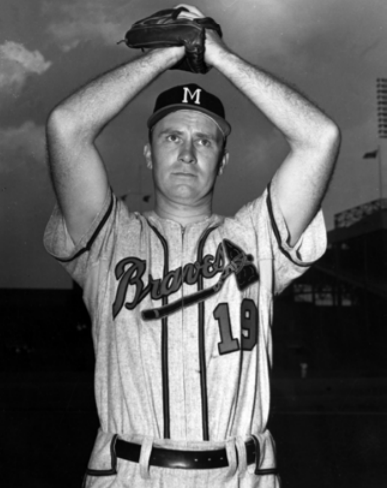 June 12, 1954: An unlikely candidate: Jim Wilson hurls first no-hitter at Milwaukee's County Stadium
---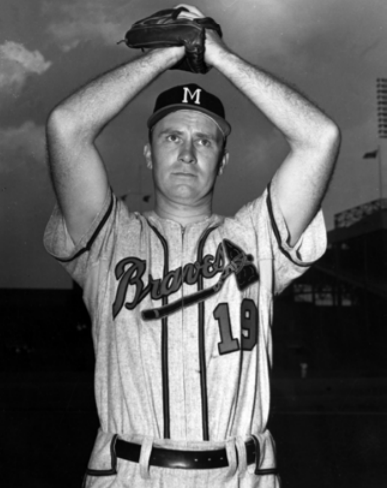 Milwaukee Braves beat reporter Lou Chapman characterized the accomplishment as "stranger than fiction."1 Jim Wilson, a 32-year-old spot starter who had almost been placed on waivers in spring training, tossed the first no-hitter in the history of County Stadium on June 12, 1954, when he blanked the Philadelphia Phillies. Described by Lloyd Larson as "one of baseball's real hard-luck guys and one of the most courageous," Wilson was lucky to be alive, let alone playing baseball.2
The Braves were reeling when they arrived at County Stadium on a sunny, warm Saturday afternoon in Beer City. Lew Burdette's five-hit shutout the previous night in the first game of a three-game set with the Phillies had ended the club's five-game losing streak and marked just their third victory in 13 games, all at home. In first place on May 30, skipper Charlie Grimm's squad had fallen to fourth (26-24), five games behind the Brooklyn Dodgers. Manager Steve O'Neill's Phillies, on the other hand, were playing their best ball of the season and had won 11 of their last 15 games before Burdette's gem. They were in third place (28-22).
As a rookie with the Boston Red Sox in August 1945, Wilson, an affable, sandy-blond-haired "pipe-smoking right-hander," was struck in the head by a line drive off the bat of the Detroit Tigers' Hank Greenberg.3 He was "carried unconscious off the field" and rushed to Ford Hospital in Detroit, where he underwent surgery for a skull fracture.4 Some sportswriters and teammates predicted he would never return to the mound; "He'll be gun shy from now on" was an oft-heard refrain.5 It appeared as if the pitcher had used all of his luck to survive the scare. In 1947, as a member of the Triple-A Louisville Colonels, he suffered a broken leg when hit by another line drive and missed most of that year's campaign. Traded to the St. Louis Browns in the offseason, he crushed his hand in a "trailer accident" prior to the 1948 season.6 Wilson bounced around in several organizations (Red Sox, St. Louis Browns, Cleveland Indians, Philadelphia A's, and Detroit Tigers) before reviving his career by going 24-11 with the unaffiliated Seattle Rainiers in the Pacific Coast League in 1950. After being acquired by the Braves in a trade with the Rainiers, Wilson won seven games in 1951, his first big-league victories since his rookie year. Wilson had "brilliant promise," wrote Lou Chapman, but "never quite realized his potential."7 He went 12-14 and logged 234 innings in 1952, but was seldom used in 1953, the Braves' first season in Milwaukee; he lost his post in the rotation and won just four times. He was described by Chris Edmonds of the Associated Press as the "forgotten man on the Milwaukee Braves mound staff."
Wilson's spot on the team was in jeopardy in 1954.8 He had made only six mostly ineffective relief appearances, surrendering 14 hits and 7 runs in 8⅔ innings before making an unexpected start on June 6, replacing Gene Conley, who was sidelined with a back injury. Wilson responded by tossing his first shutout in nine years, blanking the Pittsburgh Pirates on four hits at County Stadium, earning himself another start on June 12.
Wilson got the crowd of 28,218 in a good mood by setting down the side in order in the first inning, aided by third baseman Eddie Mathews' "neat stab" of leadoff hitter Willie Jones's "sizzler."9 Braves fans who followed baseball closely might not have been smiling when they saw Robin Roberts take the mound. The 27-year-old right-hander had led the NL in victories the previous two seasons and was en route to his fifth of sixth consecutive seasons with at least 20 victories and 300 innings. He had feasted on the Braves of late, defeating them nine straight times. But the Braves drew first blood when Johnny Logan clubbed a one-out homer 380 feet into the left-field bleachers for a 1-0 lead in the first inning.10
Wilson, a quick worker on the mound, methodically mowed down the Phillies. He permitted only two baserunners the entire game. In the second inning, he issued a two-out walk to Smoky Burgess, who batted .368 in 1954 and earned the first of his six All-Star berths. The stocky catcher drew his second walk in the fifth inning, but was caught stealing in what was probably a hit-and-run when Johnny Wyrostek whiffed in an inning-ending double play.
Roberts "hurled his usual cagey, deliberate contest," wrote Red Thisted of the Milwaukee Sentinel.11 In the bottom of the fifth inning, Del Crandall belted a two-out solo shot to left field to give the Braves a 2-0 lead. Roberts surrendered just seven hits and did not issue a walk in a tough-luck complete-game loss.
"One could feel the tension," wrote Larson, as Wilson continued his mastery of the Phillies.12 With two outs in the eighth, Wyrostok "lashed a hard straight drive" back to the mound and through Wilson's legs.13 It looked as though it would be a seeing-eye single that would signal the end of the no-no, but shortstop Logan made a "pretty play back of second" to scoop up the ball and throw to first baseman Joe Adcock for the out.14
The crowd was "roaring itself hoarse as the epic contest rolled through the late innings," reported Thisted.15 In the final, history-making frame, Wilson induced Bobby Morgan to pop up to Adcock and dispatched pinch-hitter Mel Clark with his sixth punch-out of the game. Just one out away from pitching immortality, Wilson had to endure one final, stomach-churning moment. On a 3-and-2 count, Wilson tossed an "inside curve" to Willie Jones, who sent a screaming liner over Mathews' head at third base.16 As it hooked, the ball "missed being fair only by inches."17 Said Wilson after the game, "I kept trying to push that ball foul with body English."18 Jones fouled off the next pitch, too, before hitting an "easy roller" to second baseman Danny O'Connell, who fired to Adcock for a routine, game-ending out that sent the crowd into a "thunderous ovation."19
Wilson, who needed just 1 hour and 40 minutes to complete the game, was swarmed on the mound by his teammates. The celebration continued in the clubhouse, where Wilson was besieged by sportswriters. "No, I wasn't nervous," said the hurler. "I didn't think it could happen to me." The no-hitter was his second in Organized Baseball (the first was with the Buffalo Bisons in 1949) and extended his scoreless inning streak to 21⅔ innings (eventually reaching 25 innings). "My slider was really working out there and I had a good slow curve to go with it," added Wilson.20
Wilson continued his remarkable turnaround over the next month by winning a career-high six consecutive starts and earning a berth on the NL All-Star team. He pushed his record to 8-0 on August 10 by tossing his fourth shutout of the season to defeat the St. Louis Cardinals in Sportsman's Park. Thereafter he struggled and did not win another game, finishing the season 8-2. In the offseason, the Philadelphia chapter of the Baseball Writers Association of America (BBWAA) named Wilson the "most courageous athlete in 1954."21
This article appears in "From the Braves to the Brewers: Great Games and Exciting History at Milwaukee's County Stadium" (SABR, 2016), edited by Gregory H. Wolf. To read more stories from this book at the SABR Games Project, click here.
Sources
In addition to the sources listed in the notes, the author consulted:
Baseball-Reference.com
Retrosheet.org
SABR.org
Notes
1 Lou Chapman, "Jim Adds Bright Chapter To His 'Hard Luck' Story," Milwaukee Sentinel, June 13, 1954, 2-B.
2 Lloyd Larson, "No-Hitter Tops All Sports Thrills," Milwaukee Sentinel, June 13, 1954, 2-B.
3 Lou Chapman, "'Never Thought It Could Happen,' Says Wilson; "Just Obeying Wife's Orders,' " Milwaukee Sentinel, June 13, 1954, 1-B.
4 Associated Press, "Beaned Boston Hurler Improves In Hospital," Fresno Bee The Republican (Fresno, California), August 9, 1945, 12.
5 Chapman, "Jim Adds Bright Chapter To His 'Hard Luck' Story."
6 Chapman, "Braves' Wilson Named 'Most Courageous,' "Milwaukee Sentinel, February 1, 1955, 9.
7 Chapman, "Jim Adds Bright Chapter To His 'Hard Luck' Story."
8 Chris Edmonds, Associated Press, "Braves' Wilson Pitches No Hitter Against Phils," The Pantagraph (Bloomington, Illinois), June 13, 1954, 12.
9 Red Thisted, "Wilson's No-Hitter Beats Phils, 2-0," Milwaukee Sentinel, June 13, 1954, 1-B.
10 Edmonds.
11 Thisted.
12 Larson.
13 Edmonds.
14 Thisted.
15 Ibid.
16 Larson.
17 Thisted.
18 Chapman, "'Never Thought It Could Happen,' Says Wilson; "Just Obeying Wife's Orders.' "
19 Thisted.
20 Chapman, "'Never Thought It Could Happen,' Says Wilson; "Just Obeying Wife's Orders.' "
21 Chapman, "Braves' Wilson Named 'Most Courageous.' "
Additional Stats
Milwaukee Braves 2
Philadelphia Phillies 0
---
County Stadium
Milwaukee, WI
Box Score + PBP:
Corrections? Additions?
If you can help us improve this game story, contact us.
Tags
https://sabr.org/sites/default/files/WilsonJim.png
600
800
admin
/wp-content/uploads/2020/02/sabr_logo.png
admin
2018-03-01 16:18:29
2020-04-17 10:24:54
June 12, 1954: An unlikely candidate: Jim Wilson hurls first no-hitter at Milwaukee's County Stadium