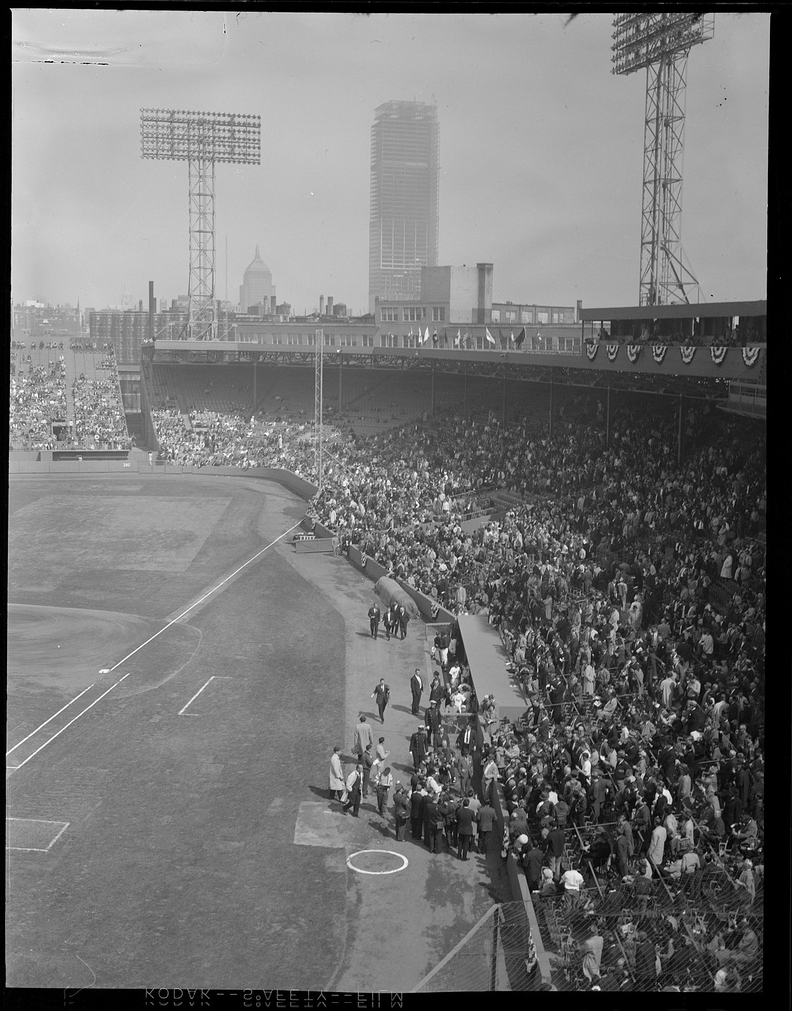 June 13, 1947: Red Sox win first night game at Fenway Park
---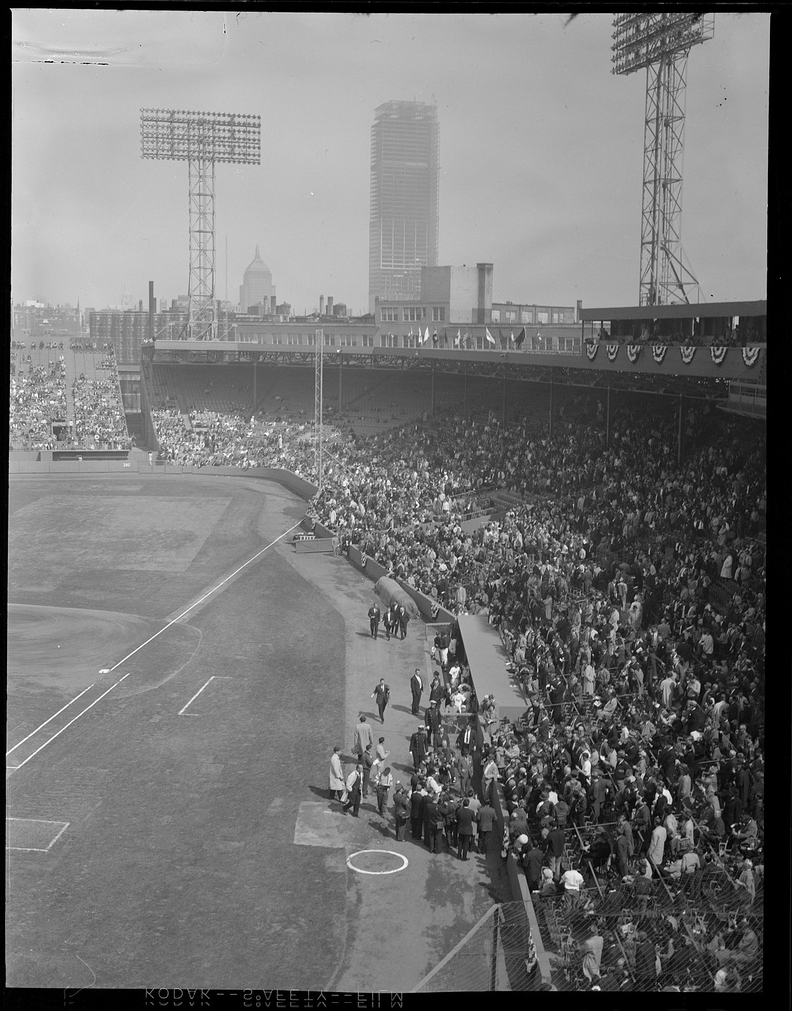 In 1946, 11 years after the Cincinnati Reds had hosted the first night game in major-league history, the Boston Braves and New York Yankees installed lights in their home ballparks. Just three teams would continue to play all of their home games during the day that season: the Boston Red Sox, Detroit Tigers, and Chicago Cubs. But a week before the Braves hosted their first night game on May 11, 1946, Red Sox general manager Eddie Collins announced that the club planned to follow suit, and by the end of the month the team had officially requested permission from the City of Boston to construct two light towers on city-owned land behind Fenway Park's left-field wall.1
The 1946 Red Sox went on to win the American League pennant, and drew over 1.4 million fans, nearly double their previous attendance record. After the season, owner Tom Yawkey invested some of this windfall back into his ballpark, spending a reported $500,000 on a series of improvements.2 The clubhouses were enlarged and a new dressing room was constructed for the umpires, but the most conspicuous additions were seven light towers around the park. To provide sufficient concrete foundations for the two towers behind the left-field wall, contractors had excavated over 20 feet below the surface of Lansdowne Street that winter, using temporary steel dams to keep the water table at bay until the work was completed. Five additional towers were placed on Fenway Park's roof, and the Red Sox installed additional lighting for the three streets that surrounded the park (Lansdowne, Jersey, and Van Ness).3
By Opening Day, with the completed towers looming overhead, the left-field wall had been repainted green, covering over the ads that had long adorned it, and the outfield grass, which had been damaged by vehicles used during the construction of the towers, had been repaired.4
But the lights themselves were not yet ready; additional wiring work would be completed during the Red Sox' first road trip of the season in mid-April.5 The finished system included 1,120 of General Electric's 1500W L-69 floodlights, the same model used at Yankee Stadium.6 On May 26 the press was invited to tour the park with the lights on. The Boston Globe remarked that "[t]he experimental test was satisfactory, but it proved that further focusing will be necessary to eliminate a few shadows" in the farthest reaches of center field.7 General Electrical engineers, on hand that week to fine-tune the orientation of the individual floodlights, compared the overall level of illumination to what was required for "a four-lane highway from New York to Boston."8
The first night game was scheduled for Friday, June 13. At dusk on Thursday, June 12, Tom Yawkey presided over a final test of the lighting system. Two months earlier, Yawkey had sounded less than enthusiastic about the new lights, telling reporters, "They're up there because the people want them, I suppose. Our policy will be to play 14 games under the lights. … I'd be happier if all the clubs agreed to limit themselves to seven home games under the lights. I'm not forgetting that many people can't get to afternoon games, but in my mind major-league baseball will always be essentially a daylight game."9 Boston center fielder Dom DiMaggio was among those on hand to determine whether the lights would be too bright for the fielders, but those fears were quickly allayed.10
On Friday evening, crowds began to gather outside Fenway Park a half-hour before the gates opened at 6:30 P.M. to buy the remaining 8,500 bleacher tickets for a game that would not begin until 8:45 P.M., about 20 minutes after sunset.11 After a comfortable day in the mid-60s, the temperature was expected to stay in the upper 50s through the evening under increasingly cloudy skies. Red Sox manager Joe Cronin had the lights turned on at 7:30 P.M. while his team was taking batting practice, telling reporters he wanted to "let the boys grow up under the lights."12
Boston entered the game with a record of 24-22: far behind their blistering pace of a year earlier (41-10). They were in third place, 2½ games behind the Detroit Tigers, and two games in front of this evening's opposition, the Chicago White Sox. Ted Williams, en route to his second Triple Crown-winning season, was mired in a slump, hitting just .186 (8 for 43 with 2 HR and 6 RBI) in his last 16 games, and his batting average for the season had fallen from .337 to .291. Meanwhile, Dom DiMaggio had been out since June 2 with a left shoulder injury. Rookie right fielder Sam Mele had slid over to center in his absence, with Wally Moses taking Mele's place in right. But with lefty Frank Papish pitching for Chicago, the left-handed-hitting Moses was replaced by right-handed Leon Culberson.
Papish, a lifetime 13-11 pitcher, was hardly a star, but he entered this game riding a streak of 27 consecutive scoreless innings pitched, having not given up a run since the sixth inning of a game against the St. Louis Browns on May 27. Since then Papish had pitched two scoreless innings of relief, a complete-game shutout of the Philadelphia A's, and 13 scoreless innings against the Washington Senators on June 8. Papish's performance against the Senators was not enough to earn a victory, as Walt Masterson pitched 16 scoreless innings of his own, and Washington triumphed, 1-0 in 18 innings. Tonight, Papish was opposed by Boston's Boo Ferriss, who had posted a 25-6 record in 1946, but had already lost five games in 1947.
Third baseman Floyd Baker of the White Sox became the first batter to step to the plate at Fenway Park after dark, and lined out to Red Sox third baseman Don Gutteridge for the first out. There were no special pregame ceremonies to mark the occasion, unlike at Braves Field a year earlier.13 The 34,510 fans in attendance were in awe of the radiant atmosphere created by the new lights, "startled" by how bright they appeared against the darkening skies.14 Ferriss's struggles continued as the White Sox collected 11 hits off the righty, beginning with a single by Dave Philley in the first inning. (Ferriss failed to record a clean inning in the game, lasting just 5 1/3 innings.) Chicago later pushed across single runs in the third and the fifth for a 2-0 lead.
But in the bottom of the fifth, the Red Sox sent 10 men to the plate and scored five times to end Papish's scoreless streak at 31⅔ innings. Papish contributed to his own demise with subpar fielding. After walking Ferriss and Gutteridge, he failed to touch first base while trying to cover the bag after Johnny Pesky hit a slow grounder to first baseman Jake Jones. Then, with the bases loaded and two out, Ted Williams hit a groundball into the "Williams shift" between first and second base. Second baseman Don Kolloway fielded the ball but Papish was unable to cover first in time to record the final out; Ferriss and Gutteridge, both running on contact, scored easily.15
White Sox manager Ted Lyons, mindful of Papish's long outing five days earlier, pulled him from the game and inserted Earl Caldwell, who promptly gave up an RBI single to Sam Mele to move Boston ahead, 3-2. Bobby Doerr then hit a grounder to short and was ruled safe at first when Luke Appling's throw pulled Jake Jones off first base. Both Williams and Mele scored, and while Jones complained to first-base umpire Bill Grieve about the call, left fielder Jack Wallaesa ran into the infield to confront Grieve. In the words of Boston Herald sportswriter Burt Whitman, Wallaesa "appeared on the verge of going berserk"16 before he was ejected for protesting too emphatically.
The White Sox drove Ferriss from the game with another run in the sixth, which ended the scoring. The Red Sox sent their fans home happy — at approximately 11:20 P.M. — with a 5-3 victory.
The first night game at Fenway Park had produced the second largest crowd of the season so far for the Red Sox, a harbinger of things to come. The Red Sox' 14-game evening slate in 1947 would attract an average of 33,130 fans per game, accounting for 32 percent of Boston's home attendance for the season. Despite those robust numbers, Tom Yawkey remained a proponent of day baseball, and would not expand the use of night games at Fenway for a decade.17
Sources
Baseball-reference box score: https://baseball-reference.com/boxes/BOS/BOS194706130.shtml
Retrosheet: https://retrosheet.org/boxesetc/1947/B06130BOS1947.htm
Photo credit: Courtesy of the Boston Public Library, Leslie Jones Collection.
Notes
1 Melville Webb, "Red Sox Have Plans Set for Night Games but Need Material," Boston Globe, May 3, 1946; "Red Sox Seek Permit to Erect Towers on City-Owned Property," Boston Globe, May 30, 1946.
2 Hy Hurwitz, "Yawkey Will Get View of Revamped Sox Park Today," Boston Globe, April 10, 1947.
3 Melville Webb, "Pile Driver's Thud Harbinger of New Fenway Floodlights," Boston Globe, January 5, 1947.
4 Henry Wilson, "Red Sox Infielders Don't Alibi Errors on Their Groundkeeper," Boston Globe, April 27, 1947.
5 Hurwitz, "Yawkey Will Get View of Revamped Sox Park Today."
6 Webb, "Pile Driver's Thud Harbinger of New Fenway Floodlights"; "Brighter Outlook as Fens Turns on New Lighting System," Boston Traveler, May 27, 1947; "Fenway Park Gets Lights," New York Times, January 5, 1947. The 1,120 floodlights were to be divided as follows: 144 first base, 144 third base, 168 left-field roof, 96 left-field tower, 160 center field, 168 right field, 240 between first base and right field. The Yesterday's Game website features a photograph from the General Electric archives showing the towers above the left-field wall before the ads were painted over (the 1946 Boston Yanks football schedule is still visible at the lower left): yesterdaysgame.net/bos-1947-1975-perspectives.html, accessed May 19, 2018. Note on Yankee Stadium's usage of L-69s is taken from "Conference on Lighting Opens Today," Schenectady Gazette, September 23, 1946.
7 "Sox Park Has Dress Rehearsal of Lights," Boston Globe, May 27, 1947.
8 "Brighter Outlook as Fens Turns on New Lighting System," Boston Traveler, May 27, 1947. "Fenway Park Lights Brighter than Team," Boston Traveler, May 28, 1947. "Things Brighter at Fenway Park — Lights On," Boston Herald, May 27, 1947.
9 George C. Carens, "Fenway Lights People's Choice, Admits Yawkey," Boston Traveler, April 11, 1947. A limit of 14 night games was common practice at the time, but the Boston Braves planned to play 29 in 1947, and the Senators and Cardinals hosted over half of their games after dark. See the Retrosheet original regular season schedule file for 1947: retrosheet.org/schedule/1947SKED.ZIP, accessed May 19, 2018.
10 Burt Whitman, "Hot Red Sox Christen Lights Tonight," Boston Herald, June 13, 1947.
11 Bob Holbrook, "34,510 Watch Sox Win, 5-3 in First Fenway Night Tilt," Boston Globe, June 14, 1947. Sunset was at 8:22 P.M. per "Miniature Almanac," Boston Globe, June 13, 1947. Gordon Campbell, "Sox-Chisox Tilt Tonight to Draw Capacity Crowd," Boston Traveler, June 13, 1947.
12 Burt Whitman, "34,510 See Sox Win First Night Game," Boston Herald, June 14, 1947.
13 Hy Hurwitz, "Sox to Play First Fenway Night Tilt," Boston Globe, June 13, 1947. The Braves pregame festivities are described in the SABR Games Project account of that game: sabr.org/gamesproj/game/may-11-1946-braves-field-hosts-its-first-game-under-lights.
14 Holbrook, "34,510 Watch Sox Win, 5-3, in First Fenway Night Tilt."
15 Irving Vaughan, "Boston Defeats White Sox, 5 to 3," Chicago Tribune, June 14, 1947.
16 Whitman, "34,510 See Sox Win First Night Game."
17 Retrosheet schedule data reveals that Yawkey and the Briggs family in Detroit continued to schedule 14 night games a season through 1956, fewer than any other team except the Cubs, who didn't install lights at Wrigley field until 1988. In 1956, for example, the other 13 teams scheduled an average of 34 night games. In 1957 the Red Sox scheduled 18, and the Tigers, under new ownership, scheduled 21. These figures do not include games made up as part of doubleheaders, or otherwise rescheduled during the season.
Additional Stats
Boston Red Sox 5
Chicago White Sox 3
---
Fenway Park
Boston, MA
Box Score + PBP:
Corrections? Additions?
If you can help us improve this game story, contact us.
Tags
https://sabr.org/sites/default/files/Fenway-Park-lights-1963-BPL.jpg
600
800
admin
/wp-content/uploads/2020/02/sabr_logo.png
admin
2018-07-24 11:45:49
2020-04-17 10:24:44
June 13, 1947: Red Sox win first night game at Fenway Park