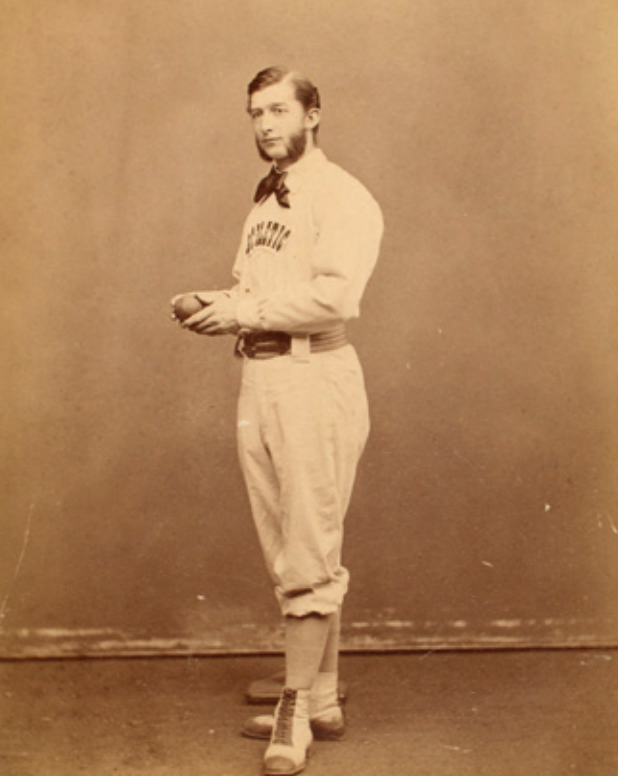 June 14, 1873: Philadelphia Athletics shut out Red Stockings in front of 'great' Boston crowd
---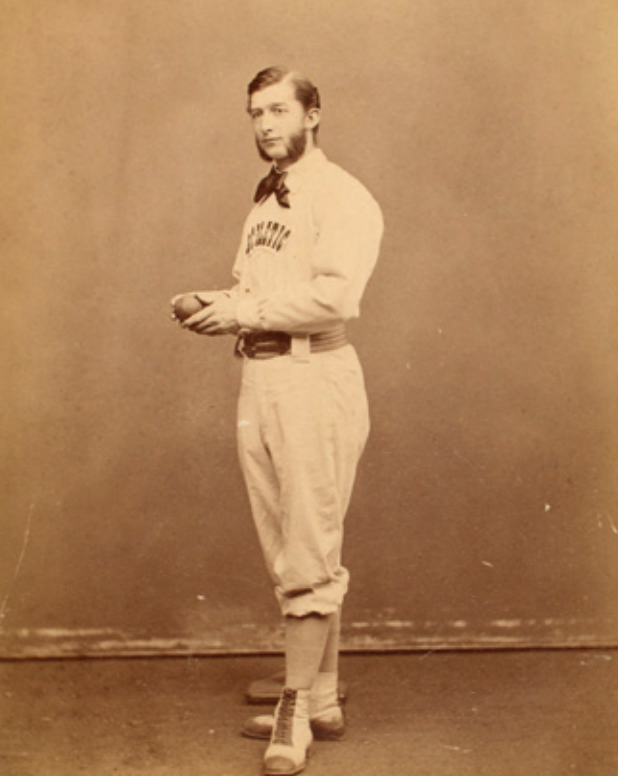 Ace hurler John Dickson McBride stood in the pitcher's box in the unseasonably brisk June wind. He was again flirting with a grand accomplishment as he had twice the previous year, 1872. But this time things were a bit different; he was not at his home ballpark at 125th and Jefferson Streets in North Philadelphia. "Dick" was at rival Boston's South End Grounds, 45 feet from the powerful champs, whom he had efficiently stifled all day. It was Boston's eighth inning. They had two earlier paltry hits, by Ross Barnes and Jack Manning, and the Athletics clung to a 3-0 edge.
The year before, on July 27, 1872, McBride led 4-0 in the eighth thanks mainly to his own batting, when Fraley Rogers' second base hit scored Philly native son Harry Schafer, but the Athletics cruised 9-1. In the Athletics' final game that year, on October 7, which happened to be versus Boston, McBride led 1-0 in the eighth. Right fielder Al Reach threw out George Wright at the plate to maintain the shutout. Then 20 minutes of rain fell, leaving pools of mud and water under a dark sky. Umpire Scott Hastings (Baltimore Canaries) ruled the game should continue, as Boston had requested. With two out in the ninth a controversial base on balls was given to Barnes, a notorious "waiter" on pitches. After a passed ball moved Barnes to second, Andy Leonard followed with a clean safety and Levi Meyerle's throw home could not prevent Boston from scoring its only tally in a 5-1 loss. Twice McBride had a "chicago" (the term for shutout in those days) within his grasp versus Harry Wright's Run Machine and both times they narrowly escaped. But those outcomes occurred on McBride's turf; he was now in the enemy's ballyard.
The pure numbers were simple and ugly for South End visitors to face. To that point in 1873, the Reds had scored an average of 11.4 runs in 96 games over two-plus National Association seasons. They touched the plate about 12 times on average in 45 home games. There had never been a game, in the Boston team's three seasons to date, in which they had failed to score.
In 13 total NA games with the near equally talented Athletics, Boston "only" scored 9.7 runs per game, but at the South End Grounds they were 6-0, averaging 13 runs off McBride. The Athletics veteran had shut out the strong Mutual bats in 1872 and again a month before this mid-June Boston game. Opposing pitchers Candy Cummings (Mutuals) and Al Spalding (Boston, end of season, two days before that 5-1 loss in Philly) each had whitewashed the Athletics in 1872, but the Red Stockings remained un-chicagoed. Not only was all this history blowing competitive-charged memories in the June gusts, but on that afternoon first-place Boston was 12-5 while Philly was 10-4. In 1872 Harry Wright's club had taken the NA championship from 1871 winner Philadelphia, and were now the defending champs. This was a grudge match on many levels.
Timely hitting by Wes Fisler, Bill "Cherokee" Fisher, and Ezra Sutton combined with two Boston errors plated two runs in the second inning and another in the seventh for the Athletics. Throughout the game, respected ump Theodore Bomeisler (Newark, New Jersey) tended to business as rain clouds threatened and temperatures fell to April-like degrees. It was then, or maybe never, for McBride, and he managed craftily to dispatch the Red Stockings batters in order in both the eighth and ninth innings for the unthinkable 3-0 victory, completed in 100 minutes in front of "a great number of spectators" (Boston Courier). The Courier also commented that it was "the worst defeat, which the present champions have ever experienced."
With no Sunday issue the Boston Daily Advertiser said on Monday, "The Bostons met a Waterloo on Saturday, playing the first game since their existence as an organization in which they failed to score. … There were about 2,000 persons on the grounds in spite of the cold weather and disagreeable high winds." The Boston Herald also had Monday words: "At last we have something 'new under the sun' to record for the Boston club in the shape of a large-sized cipher as the result of a full game." The weather was described as "extremely raw and cold" with "a high wind which interfered seriously with hard hit balls by deadening their force and causing them to fall easy victims for the outfielders." The Boston Globe's Monday account echoed the competition: "The Bostons have again been unfortunate, and more unfortunate than ever before." On the weather, "The afternoon was very unfavorable to players and spectators, the air being cold and raw and the wind disagreeably high."
Dick McBride was a pioneer of early Philadelphia ball teams, first notable in 1863 with the amateur Athletics guided by Hicks Hayhurst. Though the Red Stockings eventually took the 1873 banner with a 43-16-1 record to fourth-place Philly's 28-23-1 mark, the exciting battles between these foes were the best the Association had to offer. McBride actually took that season's series five wins to four despite losing 7-6 and 8-7 in Boston. In their October 6 thriller (which ended the Athletics' campaign), he bested Spalding 12-11 in eight innings at the South End Grounds, a contest involving true "gamesmanship" by McBride. Late in the game he threw to first base several times as the sun started to set. Philly wanted the game called while they led. In the ninth inning they scored four more runs but Boston rallied in the home half and plated a run and had other runners on base when umpire Nick Young called a halt to the action at 5:10 P.M., much to the dismay of the howling crowd. But the next day Boston newspapers said it was the proper thing to do because it was just too hard to see the ball by then. The score at the end of the eighth inning prevailed.
At 125th and Jefferson in 1873, McBride won 5-4, 5-4, and 10-6 but dropped a 10-4 decision. Over the course of the five NA seasons, McBride held the Stockings to five or fewer runs a record 13 times.
This article was originally published in "Boston's First Nine: The 1871-75 Boston Red Stockings" (SABR, 2016), edited by Bob LeMoine and Bill Nowlin. To read more articles from this book at the SABR Games Project, click here.
Photo caption
Dick McBride (Spalding Collection)
Sources
Boston Daily Advertiser, Boston Globe, Boston Herald, and Boston Post of June 15 and 16, 1873.
New York Clipper, June 21, 1873.
Additional Stats
Philadelphia Athletics 3
Boston Red Stockings 0
---
South End Grounds
Boston, MA
Corrections? Additions?
If you can help us improve this game story, contact us.
Tags
https://sabr.org/sites/default/files/Screen%20Shot%202018-09-04%20at%201.19.47%20PM.png
600
800
admin
/wp-content/uploads/2020/02/sabr_logo.png
admin
2018-09-04 13:17:36
2020-04-17 10:24:42
June 14, 1873: Philadelphia Athletics shut out Red Stockings in front of 'great' Boston crowd