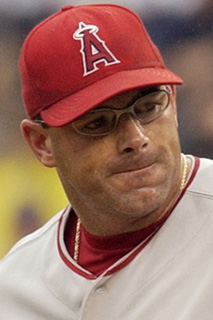 June 14, 2005: Pine tar on the glove, fracas on the field: Who tipped off Frank Robinson?
---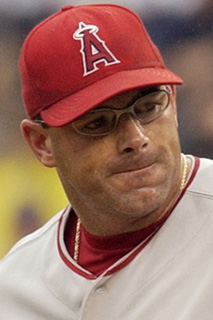 The visiting Washington Nationals (37-27) were enjoying an unexpected inaugural season, leading the NL East by 1 game. The Angels (37-26) were also leading their AL West Division, by 2½ games.
Rookie pitcher Ervin Santana (1-1, 4.15 ERA) was making his third big-league start for the Angels. He had been roughed up a bit in his first start on May 17, but his second was a complete-game shutout lowering his ERA from 13.50 to 4.15. After that game he was placed on the disabled list, so it had been three weeks since he pitched in the majors.1 He certainly didn't look rusty as he induced three swinging strikeouts (including José Guillén) in the top of the first inning.
Liván Hernández (9-2, 3.35 ERA) took the mound for the Nationals. He started by walking Chone Figgins, who advanced to third on a single by Darin Erstad. But Hernández struck out Vladimir Guerrero looking, and got Garret Anderson to pop out with Figgins still at third. With Steve Finley batting, Erstad stole second but Hernández won the battle with Finley, getting a groundout on the 10th pitch of the at-bat.
Santana didn't get any more strikeouts in the top of the second, but two fly outs and a groundout got him back in the dugout on 15 pitches. Hernández got two quick outs in the bottom of the second, but then walked Orlando Cabrera. When Adam Kennedy reached on an error, Hernández again had two baserunners but Figgins popped out to end the inning.
Santana didn't quite have a 1-2-3 top of the third: Cristian Guzmán singled but was caught stealing for the third out. Hernández also allowed one hit in the bottom of the frame (a double by Anderson) but that was all.
The Nationals got two baserunners in the top of the fourth: Both Ryan Church and Nick Johnson walked, sandwiched between a strikeout and a fly out. Vinny Castilla ended the threat by striking out. In the bottom of the fourth, Hernández worked into, and out of, a bases-loaded jam. He gave up three singles (Bengie Molina, Cabrera, and Kennedy) to load the bases with one out. But Figgins fouled out to the third baseman and Erstad grounded out to leave the score unchanged.
Santana worked a 1-2-3 top of the fifth on two fly balls and a strikeout. Hernández walked Guerrero on four pitches. He then got two quick groundouts, but Anderson (who had forced Guerrero at second) was able to score when Molina singled since he had advanced to second on the second groundout. Dallas McPherson quashed any potential rally by striking out leaving the score at 1-0, Angels.
The Nationals got on the board in the top of the sixth. Two quick groundouts were followed by two singles. Johnson followed with a third single, driving in Church from second, tying the game. Castilla walked but Wil Cordero struck out, leaving the score tied, 1-1. The Angels answered in the bottom of the sixth. Cabrera singled and moved to second on Kennedy's sacrifice bunt. After Figgins struck out swinging, Erstad singled to score Cabrera. Guerrero then doubled, scoring Erstad. Nationals manager Frank Robinson decided that was enough from Hernández (at 120 pitches). He summoned Gary Majewski, who needed only one pitch to get out of the inning on a groundout with the score now 3-1, Angels.
Before going to the seventh inning, a diversion to the events of September 25, 2004, is in order. José Guillén was then with the Angels. Angels manager Mike Scioscia lifted him for a pinch-runner in the eighth inning. Guillén took exception to this and threw a temper tantrum. Given his history of such episodes with the Angels and his prior teams,2 the Angels had had enough, and suspended Guillén for the rest of the season,3 trading him to the Nationals in the offseason. Before the first game of the current series, Guillén had held a brief press conference in the visitors' dugout, but Robinson made it clear that no questions regarding the previous year's events would be allowed.4
Now, on to the seventh inning. Santana took the mound and walked Junior Spivey on four pitches. Although he was erased on Brian Schneider's groundout, Scioscia decided to pull Santana at 102 pitches. Santana left to an ovation from the crowd of 43,874. Scioscia summoned Brendan Donnelly, who did not have the opportunity to throw a pitch to the next batter: Robinson asked the umpires to check Donnelly's glove after he had thrown his warm-up pitches. When they did, they found "quite a bit" of pine tar. Despite Scioscia's protestation that "pine tar doesn't affect the flight of the ball," the umpires confiscated the glove and ejected Donnelly.5 Scioscia threatened to have every Nationals pitcher "undressed."
After Scioscia summoned his next pitcher, Scot Shields, Robinson and Scioscia started jawing near the first-base line.6 Screaming ensued, the benches and bullpens emptied. Mostly it was the usual pushing and shoving, but Guillén had to be restrained by Nationals bench coach Eddie Rodriguez and bullpen catcher Josè Martinez. Guillén said afterward that none of the Angels players said anything to get upset him, but that he felt Scioscia had disrespected Robinson.7 Despite the rhubarb, only Donnelly was ejected. He was eventually suspended for 10 days, but it was reduced to eight on appeal.5
Why did Robinson ask the umpires to check Donnelly's glove? Guillén said later, "I don't know anything. That's not my business." Robinson said that he and the coaches saw something on video they had reviewed. Eddie Robinson, the video tech, said that if he saw problems, he alerted the coaches, but wouldn't say if he had done so in this case. Robinson also accused Donnelly of having sandpaper but hiding it before the umpires could find it. The umpires did not find any sandpaper.8 Readers may draw their own conclusions regarding the source of Robinson's information.
Shields was finally able to take the mound and get the two outs he needed on six pitches. After his glove was inspected at Scioscia's request, Majewski continued pitching for the Nationals in the bottom of the seventh, allowing only a single to Finley. The umpires did require Majewski to fix the laces on his glove, though.9
Unlike his seventh inning, Shields ran into trouble in the eighth. First he hit Church with a pitch. Then Guillén took his revenge on his former team, hitting a line-drive homer into the Angels' bullpen, tying the game. After Johnson was out on a fly to left, shortstop Cabrera misplayed a grounder by Castilla, allowing Castilla to reach. Cordero singled, advancing Castilla to second. The Nationals capitalized on the error when Spivey singled, allowing Castilla to score. They weren't done as Schneider hit a sacrifice fly to center, scoring Cordero. Jamey Carroll struck out but the Nationals had taken the lead, 5-3. Luis Ayala took over pitching for the Nationals in the bottom of the eighth, allowing only a single to Erstad.
Jake Woods took the mound briefly for the Angels in the top of the ninth. After he walked Brad Wilkerson and allowed him to advance to second on a sacrifice, he was replaced by Joel Peralta. Peralta succeeded in getting Guillén out on a fly to center, then intentionally walked Johnson to pitch to Castilla. He might have been out of the inning, but Cabrera again misplayed Castilla's grounder, allowing another run to score. Peralta finally did finish the inning by picking Johnson off second, with the score 6-3, Nationals. Closer Chad Cordero worked a 1-2-3 inning for his 20th save of the season.10
Although the Nationals were leading the division at the time, they faded after the All-Star break and finished in fifth place, nine games back. For their part, the Angels were able to keep up their strong performance, winning their division and winning the AL Division Series over the Yankees. Their season ended when they lost the AL Championship Series to the White Sox.
As for Guillén, he had a productive year with the Nationals but then suffered an ulnar collateral ligament tear in mid-2006, ending his tenure with the Nationals. He went on to play for Seattle, Kansas City, and San Francisco. His major-league career ended in 2010 under suspicion of use of performance-enhancing drugs.11
This was Donnelly's only ejection for doctoring a ball, although he was ejected in 2006 and 2007 for intentional HBPs.
Sources
baseball-reference.com/boxes/ANA/ANA200506140.shtml.
retrosheet.org/boxesetc/2005/B06140ANA2005.htm.
Notes
1 en.wikipedia.org/wiki/Ervin_Santana.
2 Guillén played for 10 teams in his 14-year career, never lasting even three full years with any one team. His temper was probably a contributing factor.
3 Mike DiGiovanna, "Angels Suspend Guillen," Los Angeles Times, September 27, 2004: D1.
4 T.J. Simers, "It's Tough to Be Frank with Robinson Around," Los Angeles Times, June 14, 2005: D2.
5 Mike DiGiovanna, "Donnelly Hopes for Smooth Absence," Los Angeles Times, July 2, 2005: D7.
6 Robinson and Scioscia were fined and suspended for one game each. Angels coach Mickey Hatcher was also fined. Steve Springer, "Donnelly to Appeal 10-Game Suspension," Los Angeles Times, June 18, 2005: D9.
7 Barry Svrluga, "Guillen, Nats Get In the Last Word," Washington Post, June 15, 2005, washingtonpost.com/wp-dyn/content/article/2005/06/15/AR2005061500211.html?tid=a_inl_manual, accessed March 22, 2019.
8 Ibid.
9 Ken Peters, "Guillen Returns with a Blast to Dump Angels," Santa Maria (California) Times, June 15, 2005: D1.
10 He finished 2005 with a major league-leading 47 saves.
Additional Stats
Washington Nationals 6
Los Angeles Angels of Anaheim 3
---
Angel Stadium
Anaheim, CA
Box Score + PBP:
Corrections? Additions?
If you can help us improve this game story, contact us.
Tags
https://sabr.org/sites/default/files/DonnellyBrendan.jpg
600
800
admin
/wp-content/uploads/2020/02/sabr_logo.png
admin
2019-05-22 12:43:58
2020-04-17 10:23:34
June 14, 2005: Pine tar on the glove, fracas on the field: Who tipped off Frank Robinson?