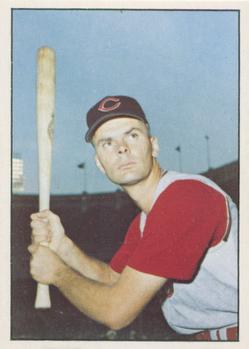 June 16, 1962: Cleveland's Jerry Kindall tops Mantle's dramatic blast
---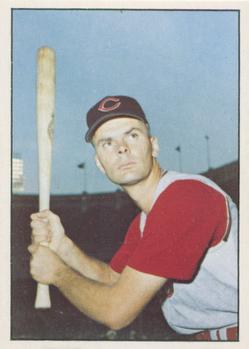 The New York Yankees were hurting. The 1961 AL Fireman of the Year, Luis Arroyo, had not pitched since the end of April and was on the disabled list with a sore elbow.1 Mickey Mantle had torn a muscle in his right thigh on May 18 while running out a grounder for the final out in a loss to Minnesota.2 Reigning Cy Young Award winner Whitey Ford was suffering from a sore shoulder.3 He hadn't pitched since he lasted only one inning in a start eight days before. Still, the Yankees began their mid-June four-game series in Cleveland only a half-game behind the surprising Minnesota Twins in the AL pennant race.
After a disappointing second half in 1961, the Indians had made several moves to restructure their team. Mel McGaha was named manager, at 35 the youngest in the majors.4 Gone were everyday starters Jim Piersall, Vic Power, and Johnny Temple. Jerry Kindall was obtained from the Cubs to play second base and Tito Francona was moved from left field to first base. Rookies Ty Cline and Al Luplow, along with holdover Chuck Essegian, were counted on to fill the resulting outfield vacancies. Veteran pitchers Dick Donovan and Pedro Ramos were added to an otherwise young staff.5
With Donovan winning his first eight decisions, the Indians' season got off to a good start. They moved into first place after taking three of four games at home from the Yankees in mid-May. They were still tied for the lead before being shut out in back-to-back games at Yankee Stadium on June 6 and 7.
When the Yankees came to Cleveland's Municipal Stadium on June 15 for the Friday-night series opener, the Indians were third, trailing the Yankees by one game and the Twins by a game and a half. They pulled even with New York after winning 3-0 behind Mudcat Grant's shutout before a crowd of 49,422. Luplow tagged a two-run homer in the sixth off Ralph Terry. Kindall, who had hit Yankees pitching well all season, contributed two doubles in a 3-for-3 effort.
Jim Perry was tapped as the Indians starter for Saturday. Perry, an 18-game winner during his 1960 sophomore season, had a terrible second half in 1961 (3-12 with a 5.52 ERA) after being selected to the American League All-Star team. He did not make his first start in 1962 until May 5, but was 5-3 with a 2.82 ERA after pitching a shutout in Boston the preceding Monday.
The Indians got Perry three runs in the opening inning off Yankees starter Rollie Sheldon. Cline's leadoff double was followed by singles from Luplow, Francona, and Willie Kirkland. Francona scored the final run despite being caught in a rundown between third base and home. Elston Howard, believing Francona was out for obstruction, threw his mask in the air while protesting the safe call and was ejected from the game.6
The Indians scored another three in the second. Two singles chased Sheldon with one out. With men on first and second, Bud Daley relieved. An errant pickoff throw to first base scored one run. A double by Francona, followed by Kirkland's single, scored two more for a 6-0 lead.
Meanwhile, Perry blanked New York through the first three innings, yielding a walk in the first and solitary singles in the second and third. In the fourth the Yankees reached him for two runs on three singles, a passed ball and an RBI groundout. The Indians got one of those back in the bottom of the inning when Kindall greeted Hal Reniff, the fourth Yankees pitcher, with a leadoff double. Perry's sacrifice moved him to third and Cline knocked in the run with a groundout to first base.
New York cut the lead to 7-4 in the fifth when Johnny Blanchard hit a two-out, two-run homer off Perry. In the home half of the fifth, Cleveland wasted a bases-loaded opportunity as lefty Marshall Bridges relieved and struck out pinch-hitter Essegian to end the inning.
In the seventh Perry gave up a one-out single to Bobby Richardson and was replaced by Bob Allen. Roger Maris greeted the southpaw with a two-run homer to cut Cleveland's lead to one. After the Indians went down quietly in their half of the seventh, the visitors started the top of the eighth down 7-6. Allen got Bill Skowron on a grounder for the first out, but a pinch-hit double by Hector Lopez and a walk to Tresh put the tying and winning runs on.
Mantle, who hadn't seen any action in almost a month, had been saying, "I can hit, but I can't run."7 Still, manager Ralph Houk pinch-hit him for Bridges. Gary Bell came in to face Mantle. Bell, a hard-throwing right-hander, had been used exclusively as a starter in 1961, but after two poor starts in May he had been pitching out of the bullpen. With the count one ball and two strikes, Mantle crushed Bell's next offering 460 feet for a three-run homer.8 Suddenly the Indians' once comfortable six-run lead had become a two-run deficit.
Cleveland cut the lead in half off Bob Turley in the bottom of the eighth. After a one-out walk, Francona singled, his fifth hit of the day, moving the runner to third base. Jim Coates replaced Turley and gave up a sacrifice fly that made the score 9-8, Yankees, going into the ninth. Maris, leading off the inning, hit a long drive off Bell to center that was caught for the first out. Two groundouts followed.
The lower part of the order was due up for the Indians in the bottom of the ninth. Woodie Held led off and was hit on the knuckles of his right hand by Coates.9 Held left the game for pinch-runner Jim Mahoney. The next batter, Bubba Phillips, popped up to Skowron on a failed a bunt attempt.
With Mahoney still at first base, Kindall batted for the fifth time. He had singled and scored in the second, doubled and scored in the fourth, and singled again in the fifth. But he had also hit into a double play in the seventh. "When I went up there I hadn't the faintest idea of hitting the ball out. I was determined not to strike out," Kindall said. "I wanted to be sure and get the bat on the ball."10 Kindall drove a Coates fastball to left.11 "It felt good and I figured I had at least a two-base hit," he said later.12 As the ball cleared the fence to propel Cleveland to a 10-9 win, the crowd of 50,254 erupted. "My legs would hardly hold me up going around those bases," Kindall said.13 He was mobbed at home plate by his teammates.14
On Sunday 70,918 watched the Indians further frustrate the Yankees with a doubleheader sweep. They won the first game 6-1, as Kindall started the scoring in the second with a two-run homer off Bill Stafford. In the nightcap New York scored two runs in the in the first, but the Indians countered with three in the bottom of the inning and three more in the third to win 6-3. Mantle pinch-hit in the seventh with two on and two out. Bell again came in to face him. This time Mantle struck out.
The sweep gave Cleveland a 9-4 record against New York to that point in the season. Kindall's Yankee-killer hitting (.413 with a 1.221 on-base plus slugging percentage) had been a major factor.15
That evening the Indians stood in first place, two games in front of Minnesota, with New York three back. In the Yankee series Kindall went 8-for-14, with three doubles and two home runs. His game-winning home run on Saturday overshadowed the 5-for-5 performance by Francona.
Mantle's homer on Saturday and Ford's scoreless inning of relief in Sunday's second game were precursors for New York. Ford started at Baltimore the following Thursday and didn't allow a run in notching the first of his 14 wins over remainder of the season. Two days later in Detroit, Mantle hit a home run as he returned to the starting lineup for good; he performed at a level thereafter that earned him his third MVP Award.
The Indians were in and out of first place until a loss in Baltimore on July 13 started a nine-game losing streak. By the end of July they were fourth, 10 games out, and by the end of the season they had slumped to sixth place, 16 games behind the pennant-winning Yankees. New York, seemingly so out of sorts in Cleveland in June, went on to top the San Francisco Giants in the 1962 World Series.
Author's note
I attended this game with my family as a nine-year old boy. My memory of some of the game details have faded since then. I do remember the sinking feeling I had in my stomach when Mantle homered. After Kindall homered to win the game, it felt like the whole Stadium was shaking as fireworks exploded from the centerfield scoreboard.
Sources
The author accessed Baseball-Reference.com and Retrosheet.org. for box scores/play-by-play information, player, team, and season pages, pitching and batting game logs, and other data:
baseball-reference.com/boxes/CLE/CLE196206160.shtml
retrosheet.org/boxesetc/1962/B06160CLE1962.htm
Notes
1 Til Ferdenzi, "Sore-Wing YoYo Shelves Fireman Hat for 30 Days," The Sporting News, June 2, 1962: 9.
2 Til Ferdenzi, "June Will Tell if Yankees Play Flag Bride or Bridesmaid Role," The Sporting News, June 2, 1962: 9.
3 Til Ferdenzi, "Battered Bombers Plot Reprisal in Fast Retreat from Lake Erie," The Sporting News, June 30, 1962: 9.
4 Bob Dolgan, "M'Gaha Gets Job of Curing Indians' Ills," Cleveland Plain Dealer, October 3, 1961: 27.
5 Bob Dolgan, "Pitching Big 'If' in Tribe's '62 Outlook," Cleveland Plain Dealer, April 8, 1962: 60.
6 Bob Dolgan, "Indians Triumph in Ninth," Cleveland Plain Dealer, June 17, 1962: 51.
7 Ibid.
8 Ferdenzi, "Battered Bombers," The Sporting News, June 30, 1962: 9.
9 Hal Lebovitz, "Tribe Rallies Remind Fans of '54 Flag Team," The Sporting News, June 30, 1962: 14.
10 Chuck Heaton, "Kindall, Hitting Yanks for .450, Surprises Self with Big Homer," Cleveland Plain Dealer, June 17, 1962: 48.
11 Hal Lebovitz, "Tribe Sweep," The Sporting News, June 30, 1962: 14.
12 Heaton.
13 Ibid.
14 A photo on the front page of the Plain Dealer sports section shows a grinning Gary Bell, suddenly the winning pitcher, in the middle of the players congratulating Kindall. Cleveland Plain Dealer, June 17, 1962: 48.
15 Hal Lebovitz, "Hats Off," The Sporting News, June 30, 1962: 23.
Additional Stats
Cleveland Indians 10
New York Yankees 9
---
Cleveland Stadium
Cleveland, OH
Box Score + PBP:
Corrections? Additions?
If you can help us improve this game story, contact us.
Tags
https://sabr.org/sites/default/files/KindallJerry-TCMA.jpg
600
800
admin
/wp-content/uploads/2020/02/sabr_logo.png
admin
2019-09-18 13:57:07
2020-04-17 10:22:33
June 16, 1962: Cleveland's Jerry Kindall tops Mantle's dramatic blast