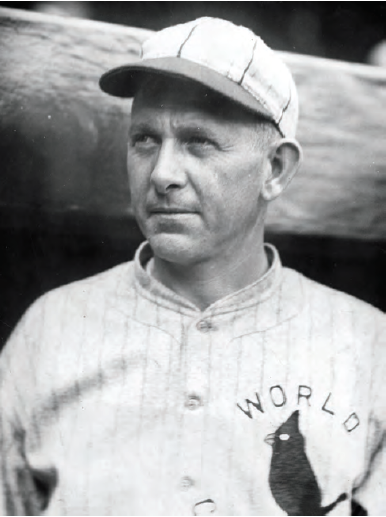 June 21, 1927: Jesse Haines goes the distance; Cardinals win on Les Bell's 13th-inning single
---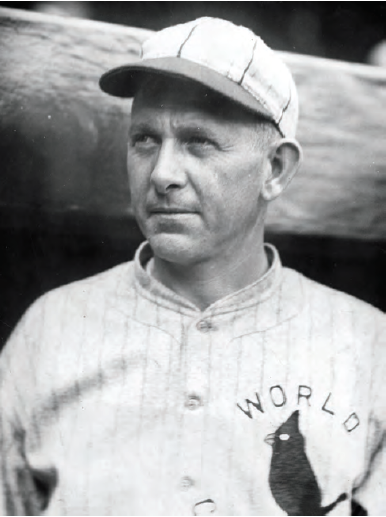 On Tuesday, June 21, 1927, at Sportsman's Park, the reigning World Series champion St. Louis Cardinals hosted the Chicago Cubs in a doubleheader. The Cardinals trailed the Cubs by two games for second place and were four behind the first-place Pittsburgh Pirates. Chicago, recently off a recent 12-game winning streak, had lost three of its last four.
A crowd of 10,000 plus "3,000 members of the Knothole gang"1 looked forward to a duel between Jesse Haines and "Sheriff" Blake of the Cubs. Haines, unlike most knuckleballers, gripped the ball with his knuckles instead of his fingertips to increase the velocity of his pitches.2 Blake, on the other hand, relied on keeping his fastball and a fast-breaking curveball low. He was known for being a quick worker and for his extensive use of the rosin bag.3
In the top of the first, Cubs rookie Earl Webb, in the middle of a .300 season, stroked the first hit of the game, a one-out single past shortstop Tommy Thevenow that advanced Eddie Pick (on via an error) to second. Haines retired the next two hitters to keep the Cubs scoreless.
In the Cardinals' first, Taylor Douthit bunted for a single. First baseman Charlie Grimm made a nice stop of a grounder by Frankie Frisch, forcing Douthit. After Frisch stole second, one of his league-leading 48 for the season, Jim Bottomley flied to Riggs Stephenson in left. Frisch made an ill-advised decision to take third. Riggs Stephenson had a weak throwing arm but got enough on the throw to cut down Frisch and end the threat. But in the third, Frisch, who entered the game with a .364 batting average, atoned for that mistake with a solo home run, his fifth of the season – for a 1-0 Cardinals lead.
In the Cardinals' fourth, center fielder Hack Wilson lost a two-out fly ball by Thevenow in the sun. Ruled a double, it put runners on second and third, but Haines contained the Cubs for no runs.
Douthit singled to center to lead off the bottom of the fifth. A groundout and a fly out by Bottomley (a sacrifice fly under the scoring rules of the time) moved him to third, and Wattie Holm plated the Cardinals' center fielder with a looping single to left, increasing the St. Louis lead to 2-0. 4
Stephenson singled past third in the Cubs' sixth and Mike Gonzalez singled past second, putting runners on first and second. Clyde Beck's triple drove both runners home,5 tying the game, 2-2. Blake hit a fly into left-field foul territory, but it was not deep enough for Beck to score. Haines then struck out 5-foot-5 Sparky Adams looking to end the inning.
In the sixth another fly ball by Thevenow gave Wilson problems, and this time he dropped it for a two-base error. But Haines escaped again without any damage. Wilson's adventure foreshadowed a similar set of sun-assisted plays two years later, when he lost two balls in the sun in the seventh inning of Game Four of the 1929 World Series, resulting in a single and a three-run inside-the-park home run. The Philadelphia Athletics scored 10 runs that inning against Wilson's Cubs to overcome an 8-0 deficit. Chicago lost the game (the losing pitcher, coincidentally, was Blake) and eventually the Series. This game's sun-related miscues, however, did not directly contribute to any runs.
Wilson fared no better at the plate. He became irate and had to be separated from home-plate umpire Cy Pfirman after being called out on strikes to end the seventh. Wilson shoved Pfirman and almost knocked down the Cubs' captain, Grimm, who was trying to calm the situation.6
As the ninth inning began, the teams were tied, 2-2. For the Cubs, Beck doubled to left-center. Blake tried to lay down a sacrifice bunt but Haines threw out Beck at third. Adams singled to right and Blake sailed into third. Next, Pick grounded to first baseman Bottomley, whose wild throw to the plate allowed Blake to score the go-ahead run.7 The Cubs led for the first time, 3-2.
Frisch began the bottom of the ninth with a single to center. Holm's one-out single put runners at first and third, and a single to center by Billy Southworth scored Frisch, tying the game, 3-3. An intentional walk loaded the bases with two outs. Cardinals skipper Bob O'Farrell called on George "Specs" Toporcer, considered to be the first position player to wear eyeglasses,8 to pinch-hit for Thevenow, who was batting below .200 for the season, but was 3-for-4 this day. With the winning run on third, Blake stopped Toporcer's scorcher up the middle and forced Holm at home, sending the game into extra innings.
New Cubs pitcher Charlie Root allowed a two-out hit by Frisch in the 10th but Frisch was thrown out attempting to take an extra base for the second time when Wilson's throw to Beck erased him as he tried to stretch his single into a double.
In the next two innings, Haines gained strength, surrendering only a single to Root, the pitcher's 12th hit of a career high 27 in 1927. But Frisch made a spectacular play ranging to his right and grabbed Pick's grounder to force Root and end the 11th.
The Cubs' Webb led off the 12th by powering his 12th home run of the season over the roof of the right-field pavilion, giving Chicago a 4-3 lead. But St. Louis quickly tied the game when Johnny Schulte homered over the right-field pavilion roof in the bottom of the 12th.
Once again, the Cubs struck in the 13th. Gonzalez, a light-hitting catcher who would tally only 13 homers in a 17-year major-league career, banged out his only home run of the season into the busy right-field pavilion (four home runs were hit there in the game) to make it 5-4. Finding their backs against the wall once more, the Cardinals answered. Douthit knocked a triple to the left-field wall. Pick snatched Frisch's grounder at third and froze Douthit before getting the out at first. However, Bottomley singled to center, tying the game, 5-5 (one of his 124 RBIs in 1927). A groundout and intentional walk put runners on first and second with two outs. Up to the plate stepped Les Bell, who singled to left field. Bottomley scored from second, giving St. Louis a 6-5 victory in 13 innings. Four lead changes and five ties punctuated the back-and-forth contest. Chicago could not hold three one-run advantages in the last five innings.
Neither team took advantage of its opportunities. Although the two teams combined for 32 hits, (19 for St. Louis, 13 for Chicago), they left 27 runners on base (16 for St. Louis and 11 for Chicago). The starting pitchers held firm in the clutch giving up just three hits in 22 at-bats with runners in scoring position.
Root, the losing pitcher, went on to lead the National League in games pitched (48), innings pitched (309), walks (117), and victories (26), all career highs. He placed fourth in the NL MVP voting. Frisch placed second, batting .337 with only 10 strikeouts. One spot behind him was the man the Cards traded for him prior to the 1927 season, Rogers Hornsby of the New York Giants.
Haines also produced career numbers in 1927, topping the league in complete games (25) and shutouts (6), plus a career-best 24 wins and a 2.72 ERA, finishing eighth in the MVP voting. This was one of three extra-inning complete games the knuckleballer pitched in 1927, including another game of 13 innings and one of 11.
The Cardinals swept the doubleheader beating the Cubs, 12-3, in the nightcap and tying Chicago for second, 2½ games behind first-place Pittsburgh. Bottomley socked two triples in the second game9 but Thevenow broke his ankle sliding into second base and was on the shelf for nearly three months.10
Hack Wilson's struggles with the arbiters continued into the second game. In his first at-bat, Ernie Quigley called him out on strikes, and Wilson, after again expressing his displeasure, found himself ejected from the game for the first time in his career. Skipper Joe McCarthy joined in and received his first career walking papers, too.
The Cardinals ended the season in second place behind Pittsburgh. Streaky Chicago gained first place on July 7 during a nine-game winning streak, only to later lose 9 of 12 and fall out of first. The Cubs rebounded and on August 19 sported a five-game lead over the Pirates. However, losing 16 of 20 dropped them out of contention, and they finished in fourth place.
This article appears in "Sportsman's Park in St. Louis: Home of the Browns and Cardinals at Grand and Dodier" (SABR, 2017), edited by Gregory H. Wolf. Click here to read more articles from this book online.
Sources
In addition to the sources listed in the Notes, the author also consulted baseball-reference.com and retrosheet.org.
Notes
1 J. Roy Stockton, "Cards 6, Cubs 5 (First Game); Four Homers in Game," St. Louis Post-Dispatch, June 21, 1927: 13. Irving Vaughn of the Chicago Tribune reported the attendance as 15,000. Retrosheet and Stockton said it was 10,000. Stockton also reported the 3,000 Knothole gang members.
2 "Cards All-Time Top 40 – Jesse Haines #16," The Cardinal Nation, scout.com/mlb/cardinals/story/617326-cards-all-time-top-40-jesse-haines-16?s=321 February 8, 2007.
3 Gregory H. Wolf, "Sheriff Blake," SABR BioProject, sabr.org/bioproj/person/d30272b3.
4 From 1926 to 1930, a fly ball caught in the outfield that resulted in a runner advancing to any base was scored as a sacrifice and the batter was not charged with an at-bat. Under today's rules it is a sacrifice fly only if a runner scores on the play. John Schwartz, "The Sacrifice Fly," Society for American Baseball Research, research.sabr.org/journals/sacrifice-fly.
5 The St. Louis Post-Dispatch said the ball was hit to left-center field and the Chicago Tribune said it was hit to right-center field.
6 The Chicago Tribune's Irving Vaughan, showing his partisan colors, described Pfirman as "one of the league's unique umpires who is guided by his sense of smell and not sight." Irving Vaughan, "Cardinals Take 2 From Cubs, 6-5, 12-3," Chicago Tribune, June 22, 1927: 19.
7 Associated Press, "Cardinals Nest in Second Place by Double Victory Over Cubs," Omaha World, June 22, 1927: 7
8 A nineteenth-century pitcher, Will White, who played from 1877 to 1886, was the first player to wear glasses. Toporcer's use of spectacles paved the way for position players to do so. Bill Koenig, " Spectacular Players Can Wear Spectacles," USA Today, Baseball Weekly, June 6, 1996. By 1951, Toporcer lost his eyesight because of detached retinas. Fred Lieb, "Specs Toporcer: Still Tops," St. Petersburg Times, January 13, 1971: 4C.
9 Several references state that Bottomley hit three triples in the second game, but Retrosheet shows only two.
10 Associated Press, "Thevenow Suffers Fracture of Ankle," Omaha World, June 22, 1927: 7.
Additional Stats
St. Louis Cardinals 6
Chicago Cubs 5
13 innings
Game 1, DH
---
Sportsman's Park
St. Louis, MO
Box Score + PBP:
Corrections? Additions?
If you can help us improve this game story, contact us.
Tags
https://sabr.org/sites/default/files/Jesse%20Haines.png
600
800
admin
/wp-content/uploads/2020/02/sabr_logo.png
admin
2018-11-08 16:04:07
2020-04-17 10:23:48
June 21, 1927: Jesse Haines goes the distance; Cardinals win on Les Bell's 13th-inning single