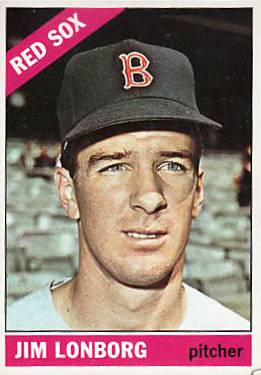 June 21, 1967: Lonborg, Red Sox trade beanballs with Yankees
---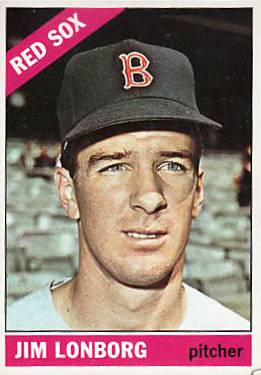 On June 21, 1967, the fourth-place Boston Red Sox faced the ninth-place New York Yankees in the second game of a two-game set at Yankee Stadium. The Red Sox had easily won the previous game, 7-1, behind the five-hit pitching of Gary Bell and home runs by Joe Foy and Carl Yastrzemski. The loss was New York's fourth straight and ninth in 12 games, and the Yanks were getting feisty.
The Yankees' fall from grace was quick and steep. In only two seasons the then 20-time champions went from 99 wins and a seven-game loss to the St. Louis Cardinals in the 1964 World Series to 70 wins and a last-place finish in the American League in 1966. The Red Sox, on the other hand, had been perennial doormats since finishing third in 1958 and had lost 100 games in 1965 for the first time since 1932. No one knew it at the time, but heading into the 1967 season the teams were going in opposite directions.
Pushed by rookie manager Dick Williams, a hard-nosed taskmaster who toiled in the majors for 13 years as a versatile utilityman, the Red Sox were competitive early on, though they were in the middle of the pack and sat in a fourth-place tie with the Twins at 32-31 after beating the Yankees on June 20.
The Yankees, meanwhile, were led by tough-as-nails Ralph Houk, a former catcher who earned his nickname "The Major" after he reached that rank with the Army during a tour that found him on Omaha Beach in 1944 and later at the Battle of the Bulge. He was in his second stint as Yankees manager, having led them to World Series titles in 1961 and '62, and a pennant in '63 before stepping down, but was on the verge of a second straight terrible season. After play on June 20, the Yanks were 28-34 and only a half-game ahead of the lowly Washington Senators.
Taking the mound for the Red Sox was ace Jim Lonborg, a gangly 25-year-old Californian who was coming into his own in his third big-league season. Going into the game, Lonborg was 8-2 with a 3.30 ERA and a league-leading 98 strikeouts. He also paced the circuit in hit batters with eight and it's no coincidence that his success came around the same time he decided to take back the inside half of the plate.
Opposing Lonborg for the Yankees was 26-year-old rookie right-hander Thad Tillotson, who was making only his fifth major-league start after 13 straight relief appearances. He'd been very good to that point, going 3-2 with a save and pitching to a 2.78 ERA, but had been knocked around in his last two starts, against the Chicago White Sox and Senators.
Boston struck early and often, plating four runs in the top of the first. Mike Andrews led off with a single to third and went to second on third baseman Charley Smith's error. Foy walked and Yastrzemski scored Andrews with a hit to center that sent Foy to third. Yastrzemski moved to second on a Jake Gibbs passed ball before 22-year-old slugger Tony Conigliaro belted a three-run homer to stake the Red Sox to a 4-0 lead.
Tillotson settled down and struck out Rico Petrocelli, got George Scott on a grounder to short, and coaxed Bob Tillman to loft a fly to right to end the onslaught. The Yankees fought back in the bottom of the inning and had runners at first and second with no outs thanks to consecutive singles by Horace Clarke and Ruben Amaro to lead off the frame. Lonborg fanned Mickey Mantle for the first out, then faced the dangerous left-handed bat of Joe Pepitone, who was coming off a career-high 31 homers in 1966.
Pepitone lofted a fly ball down the left-field line that looked as if it might drop in for extra bases, but Yastrzemski made a long run from left-center field and backhanded the ball in front of the stands for the second out. Lonborg got out of the jam by retiring Steve Whitaker and the teams went into the second with Boston still up 4-0.
The Red Sox extended their lead to 5-0 and could have plated more but for a Pepitone assist. Reggie Smith led off the frame with a single to center and tried to stretch it into a double, but Pepitone fired a strike to Amaro to nab Smith for the first out. Lonborg fanned, but Andrews walked to keep the inning alive and that brought Foy to the plate, setting off a chain reaction that would eventually escalate into a brawl.
Foy took a Tillotson fastball off his helmet and fell to the ground, but was able to stay in the game. Yastrzemski followed with another base hit and knocked in Andrews again to push Boston's lead to 5-0 before Conigliaro flied to left to end the inning. Tom Tresh led off the Yankees' second with a hit, Gibbs flied out to center, Charley Smith grounded into a force play that erased Tresh from the bases, and that brought up Tillotson.
With a five-run lead and two outs, Lonborg wasted no time exacting revenge and promptly drilled the Yankees hurler between the shoulder blades with a pitch. Tillotson said something to home-plate umpire Cal Drummond, then began motioning to Lonborg and pointing to home plate as he walked up the first-base line as if to warn, "You have to bat, too." That brought both teams out of their dugouts and an enraged Foy started toward Tillotson to protect his pitcher. "Come after me, not Lonborg," Foy yelled.1Pepitone countered with "never mind him, I'll fight you."2
Petrocelli and Pepitone, who grew up in the same neighborhood and played for rival high schools, began jawing at each other and Petrocelli had to be held back by Scott, who later admitted he thought the two were just joking around.3 But the argument escalated as both tried to get to each other amid a swarm of bodies, prompting both bullpens to join the fracas. "Next thing you knew," wrote the White Plains Journal News, "there were Pepitone and Petrocelli going for each other's jugular vein."4
Legendary sportswriter Red Smith described the scene as only he could. "One Thaddeus A. Tillotson, a refugee from the Dodger chain, started the dust-up by bouncing a pitch off the plastic Yomulka [sic] of Joe Foy, the Red Sox third baseman. When Tillotson came to bat, Boston's Jim Lonborg, an excellent marksman, retaliated by potting the Yankees' pitcher between the shoulder blades. There was an exchange of compliments, a massing of troops, and for the next five minutes members of both squads were kicking, gouging, and rolling on the grass."5
In the ensuing melee Scott got the better of Pepitone, who left the game with a sprained wrist. According to reports, it took 12 New York policemen, one of whom was Petrocelli's brother, to restore order. When the game commenced, Lonborg fanned Clarke to end the inning. Then, as if to rub salt in the Yankees' wounds, Scott homered in the top of the third to give the Red Sox a 6-0 lead. Tillotson continued to take aim at Red Sox hitters and threw one at Reggie Smith's ankles, rankling the Red Sox center fielder before he grounded out to end the inning.
Lonborg stepped to the plate in the fourth and Tillotson brushed him back with a high and tight fastball before fanning him. Andrews walked and Foy singled to center, which poignantly ended Tillotson's stint. Former Red Sox darling and Massachusetts native Bill Monbouquette stepped into the fray and was immediately greeted with another run-scoring single by Yastrzemski followed by an RBI single by Conigliaro that had Monbouquette and Houk steaming mad.
Conigliaro bounded a dribbler down the third-base line and appeared to beat Charley Smith's throw to first, but Monbouquette begged to differ and pleaded his case with first-base umpire Bill Haller. Houk came out of the dugout to argue the call and was ejected from the game with his team down, 8-0.
The Yankees went down in order save a two out single in the bottom of the fourth, but not before Lonborg sent some chin music at Charley Smith before striking him out. Then Lonborg fired another shot in the bottom of the fifth when he felled pinch-hitter Dick Howser with a pitch to the head. Howser was able to make his way to first base before he collapsed and was replaced by pinch-runner John Kennedy.
The umpires had had enough and warned both managers that ejections would be forthcoming if the beanballs continued. Walks to Clarke and Mantle sandwiched around an Amaro force out and an error by Andrews gave the Yankees their first and only run of the game as Lonborg cruised to an easy 8-1 complete-game victory that ran his record to 9-2 and dropped his ERA to 3.03.
Sources
In addition to the sources mentioned in the notes, the author consulted Retrosheet.org and Baseball-Reference.com.
https://www.baseball-reference.com/boxes/NYA/NYA196706210.shtml
http://www.retrosheet.org/boxesetc/1967/B06210NYA1967.htm
Notes
Additional Stats
Boston Red Sox 8
New York Yankees 1
---
Yankee Stadium
New York, NY
Box Score + PBP:
Corrections? Additions?
If you can help us improve this game story, contact us.
Tags
http://bioproj.sabr.org/bp_ftp/images2/LonborgJim.jpg
600
800
admin
/wp-content/uploads/2020/02/sabr_logo.png
admin
2017-09-21 17:20:12
2020-04-17 10:25:43
June 21, 1967: Lonborg, Red Sox trade beanballs with Yankees