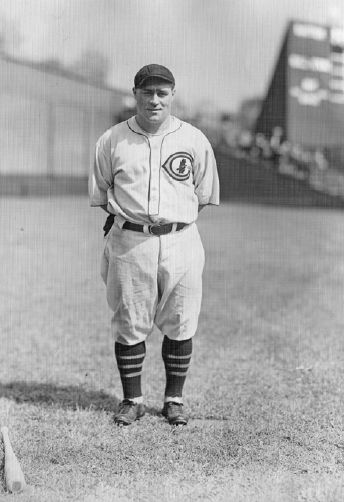 June 23, 1930: Hack Wilson hits for the cycle as Cubs pound Phillies
---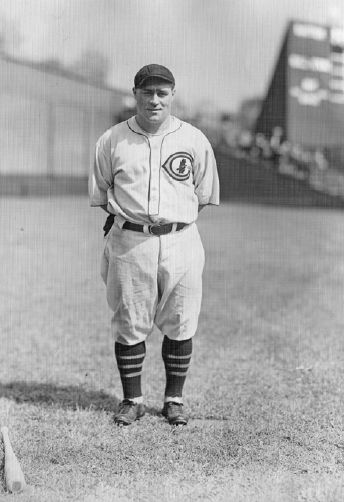 In a Monday-afternoon game at Wrigley Field, the "Cubs buried Philadelphia under an avalanche of twenty-four hits," defeating the Phillies, 21-8.1 Every Chicago batter had at least one hit, reached base at least twice, and scored at least one run.2 Cubs center fielder Hack Wilson led the barrage with five hits, including the cycle. The game was chock full of excitement, featuring not only the cycle but also a rundown, a double steal, and lots (and lots) of singles.
The two teams were headed in opposite directions. Chicago, the defending National League champion, again knocked at the first-place door of the league for much of the season. The Cubs came to this contest 11 games above .500 (36-25) and had just won five of their last six. They were in the midst of a 15-game homestand. This game began a three-game series with the not-so-successful Phillies. The Phillies, departing St. Louis in the midst of a 12-game road trip, had lost three of four to the Cardinals, and were 23-31, positioned 12 games behind the league-leading Brooklyn Robins.
Chicago's Guy Bush faced Claude Willoughby on the mound. Despite his 6.62 earned-run average, Bush had won five in a row after losing his first two decisions. Willoughby came into the game with a 1-4 record and an ERA of over 9 runs per game. In 1929, he led the National League in both runs and walks allowed. Though his free passes were down in 1930, he was still allowing far too many runs for the Phillies to stay competitive.
The Cubs "revealed their intentions right at the start,"3 getting to Willoughby in the first inning. Footsie Blair reached on an error by Phillies second baseman Bernie Friberg, and he scored after a walk to Woody English and a single by Kiki Cuyler. Center fielder Denny Sothern misplayed Cuyler's ball, allowing the runners to advance. Wilson then smashed his 22nd home run of the season, a three-run shot into the right-field seats.
In the top of the second, Philadelphia's bats tried to make up for their "wabbly fielding."4 Pinkey Whitney doubled but was thrown out at third when Friberg grounded to short. Tommy Thevenow singled and Spud Davis launched a three-run home run, putting the Phillies back in the game. The next four half-innings went by without much incident.
With Chicago still leading 4-3 in the fourth, "a double by [Gabby] Hartnett inaugurated the five run riot."5 Then Clyde Beck, Bush, Blair, Cuyler, Wilson, and Riggs Stephenson all reached on singles, and the Cubs added five more runs to their tally. Charlie Grimm grounded into a double play, or Chicago might have made more trouble for the Phillies. An inning later, Willoughby walked Beck with one out and then surrendered a triple to right to pitcher Bush. That led to a mound visit by Philadelphia skipper Burt Shotton and a ticket to the showers for the Phillies hurler. By Speece came on in relief.
In the Phillies sixth, Lefty O'Doul and Chuck Klein led off with back-to-back singles. Whitney walked, but O'Doul rounded third base too far, and was tagged out in a rundown (shortstop to catcher to third to pitcher). Both Klein and Whitney moved up on the play, and Klein scored on a sacrifice fly to center by Thevenow. Davis then "belted another circuit smash which was good for half of a four run rally."6 The Phillies had clawed their way back, but Chicago still led, 10-7.
The Cubs continued the hit parade. In the sixth, Cuyler reached on an error and Wilson followed with a triple. Stephenson singled; so did Grimm. An out later, Beck walked to load the bases, but Bush struck out. With two outs, Blair singled, driving in two runs and sending Beck to third. Then, with English batting, Beck and Blair pulled off a double steal; Beck stole home and Blair took second. English was then called out on strikes, but nine Cubs batters had been in the batter's box, and five of them had scored. In the seventh, Chicago again batted around and again scored five runs. The first six batters reached on five singles and a double (Wilson singled for his fourth hit of the game). Bush drove in his third run with a groundout. After Blair flied out, English struck out to end the inning and his participation in the game. Twice he had ended the inning by being called out on strikes, and the second time, he argued the call, so home-plate umpire Lou Jorda ejected the Cubs third baseman. In the sixth and seventh innings, Speece did not fare much better than Willoughby, the starter. He had allowed 10 runs, nine earned. Then Speece yielded another run in the eighth, when "Wilson and Stephenson had to have their bit of fun."7 Wilson doubled and scored on Stephenson's single, giving the Cubs their 21st run.
Although Bush didn't cruise in the complete-game victory, "he was enabled to loaf along with the big margin presented him by his team-mates."8 He picked up his sixth win of the season. In nine games against Philadelphia, Bush started four and won all four with complete-game victories. Manager Joe McCarthy also was not afraid to use Bush as a reliever (he started only 25 of 46 games in which he appeared in 1930). At the plate, the right-hander had two singles and a triple with three RBIs. His batting average was a phenomenal .423 (11-for-26).9
According to the Chicago Tribune, "Winning was merely incidental,"10 as the Cubs mustered 24 hits, sending 51 batters to the plate. There were only six extra-base hits (three by Wilson), meaning that Chicago had banged 18 singles. Stephenson had four of those singles, increasing his batting average to .394. Philadelphia had 12 hits (seven singles). Still, the game was completed in 2 hours and 7 minutes.11
For Philadelphia, O'Doul, Klein, and Davis accounted for seven of the Phillies' 12 hits. Davis smashed two round-trippers and drove in five runs. O'Doul's 3-for-4 performance raised his batting average to .402.
The 21 runs scored were the highest total for the Cubs in the 1930 season. In a five-game stretch from June 1 to June 6, they scored at least 10 runs in each contest, but the most before this game was only 18 runs (against Boston). Chicago scored 19 runs twice, later in the season, on July 24 versus Philadelphia and on September 6 against Pittsburgh (both were away games). Only four teams scored at least 20 runs in a game in 1930, but they all scored them against Philadelphia opponents.12
Wilson had hit for the cycle, the first Cubs player to ever do so and the second of three major leaguers to hit for the cycle in 1930.13 Further, he added five RBIs to his record-setting season total of 191.
This article appears in "Wrigley Field: The Friendly Confines at Clark and Addison" (SABR, 2019), edited by Gregory H. Wolf. To read more stories from this book online, click here.
Sources
In addition to the sources mentioned in the Notes, the author consulted baseball-reference.com, mlb.com, retrosheet.org, and:
Schott, Thomas E. "Hack Wilson," SABR BioProject, https://sabr.org/bioproj/person/e2c5ebeb.
https://www.baseball-reference.com/boxes/CHN/CHN193006230.shtml
http://www.retrosheet.org/boxesetc/1930/B06230CHN1930.htm
Notes
1 "Cubs' 24 Safeties Overcome Phillies," New York Times, June 24, 1930: 35.
2 Cubs infielder Les Bell entered the game in the top of the eighth inning as a defensive replacement for Woody English at third base, but Bell did not have a plate appearance.
3 Irving Vaughan, "Cubs Roll Up 24 Hits; Overwhelm Phillies 21 to 8," Chicago Tribune, June 24, 1930: 19.
4 Ibid.
5 Ibid.
6 Ibid.
7 Ibid.
8 "Cubs' 24 Safeties Overcome Phillies."
9 This was the highest Bush's average would get to all season. He finished 1930 batting .282, and three of his seven RBIs came in this game.
10 Vaughan.
11 From box score in Chicago Tribune, June 24, 1930: 19.
12 The other three teams were the Cleveland Indians (25-7 on May 11 versus the Philadelphia Athletics), the New York Yankees (20-13 on May 22 in the second game of a doubleheader versus the Athletics), and the Brooklyn Dodgers (22-8 on September 6 versus the Phillies).
13 In the nineteenth century, Jimmy Ryan had accomplished the rare feat twice for the National League Chicago club, on July 28, 1888 (for the Chicago White Stockings), and on July 1, 1891 (for the Chicago Colts). In 1930, the other two batters to hit for the cycle were New York Giants' Freddie Lindstrom (May 8) and St Louis Cardinals' Chick Hafey (August 21).
Additional Stats
Chicago Cubs 21
Philadelphia Phillies 8
---
Wrigley Field
Chicago, IL
Box Score + PBP:
Corrections? Additions?
If you can help us improve this game story, contact us.
Tags
https://sabr.org/sites/default/files/Hack%20Wilson.JPG
600
800
admin
/wp-content/uploads/2020/02/sabr_logo.png
admin
2019-12-02 14:39:53
2020-11-10 12:34:39
June 23, 1930: Hack Wilson hits for the cycle as Cubs pound Phillies